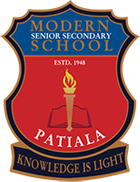 MODERN SENIOR SECONDARY SCHOOL
&
MODERN NURSERY SCHOOL, PATIALA
ESTD. 1948
(Affiliated to CBSE)
Education does not by itself promise success in life. It certainly does not guarantee happiness. However, when education is SWEETENED with GOOD, STRONG VALUES - then there is every chance that students will grow up with higher ideals and the heroism to pursue them in a spirit of service - thereby achieving SUCCESS and REAL HAPPINESS for themselves and the world around them.
Guru Nanak Dev ji strongly espoused values like 'Naam Japo' (remembering the Lord), 'Kirat Karo' (living with honesty) and 'Vand Chhako (sharing with others). MK Gandhi was an ordinary educated barrister. But he became Mahatma Gandhi when, inspired by the values of the Bhagavad Geeta, he found an ideal of achieving independence for his country. It changed his own life and the life of all his countrymen and women. The great saint Swami Chinmayananda once said: "Never can children's education be complete, unless we impart in them a true appreciation of the eternal values of life".
Our school is inspired by the ethos of providing excellent education sweetened with good values. Good values are of many kinds - spiritual and moral values (honesty, service to others, etc.), social values (politeness, etiquette, etc.), personal values (cleanliness, cheerfulness, etc.), environmental values (conserving water, reducing pollution, etc.), civic values (not spitting, not littering, etc.) and more. Our school endeavours to allow students to learn, appreciate and practice good values as part of their everyday lives. As the saying goes: VALUES ARE VALUABLES!
Here are some inspiring quotes, videos and articles.


Guru Nanak Dev ji's birthday was celebrated in the school in special assemblies with the singing of His shabads and explanations of the Guru's basic teachings.

Significance of Navaratri - by Swami Chinmayananda.

Modern School students reciting the Japji Sahib!

What is the one thing everybody really wants in life?

Speaker: Swami Swaroopananda, Global Head, Chinmaya Mission.

Your browser does not support HTML video.

Why Japanese kids are different from the rest of the world.

Your browser does not support HTML video.

What these people do will restore your faith in humanity.

Watch this amazing video!
G.D.N.S. Road, Patiala - 147001, Punjab
Telephone: 0175-5007335
Email: mssspatiala@gmail.com
G.D.N.S. Road, Patiala - 147001, Punjab
Telephone: 0175-5007335
Email: mssspatiala@gmail.com