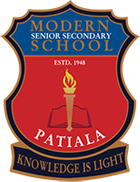 MODERN SENIOR SECONDARY SCHOOL
&
MODERN NURSERY SCHOOL, PATIALA
ESTD. 1948
(Affiliated to CBSE)
The school is affiliated to the CBSE. Our academic curriculum is designed to help students foster curiosity, becoming independent learners and acquire 21st century skills of logical thinking, creativity, collaboration & problem-solving. We provide 'smart' classrooms for technology-driven teaching, including projectors.
PRE-PRIMARY SCHOOL (Pre-Nursery, Nursery, KG)
Individual care is given to each child. Children are encouraged to talk and express themselves. They are given hands-on experience, which enables them to develop the essential skills of cooperation, sharing and taking responsibility. There are group and one-on-one interactions. The focus is on literacy & language building, numeracy, cognitive & aesthetic development and knowledge & understanding of the world with theme-based learning.
The socio-emotional development of a child is very important in pre-primary classes. We focus on this with various tools including daily Circle Time, where children are engaged in small group conversations and activities which involve thinking, reflection and sharing. It is also said that value systems are set in the first five years of life. Therefore, we provide our children with good spiritual, social and environmental values. This is a priority for our school.
A comprehensive record of each child is maintained and shared with parents on a regular basis.
For the physical well-being of children, our school provides an extremely safe environment. We have clean & hygienic washrooms, including female helpers. There are CCTV cameras in the premises. And a very secure entry and exit process in and from the school.
PRIMARY SCHOOL (Classes 1 to 5)
This is where formal subject-learning comes into play. In languages, we provide a rich environment inside and outside the classroom to ensure fluency in English, as well as Punjabi and Hindi. The medium of instruction is English. Punjabi is introduced from KG. Hindi is introduced as a third language from Class 3 onwards. We also have story-telling periods from Class 1 onwards for the development of language skills.
In Mathematics, the focus of learning is on developing number sense, spatial sense, recognizing patterns and gradually rising to attend to problems with algorithms and abstractions. Teachers use concrete materials and problem-solving contexts to help students.
The Environmental Studies programme, which is based on Sciences and Social Sciences, allows students to relate to the world around them. Children have so many sharp observations and questions about the world. Environmental Studies enables them to investigate, think and reach conclusions as part of team-work.
The process of evaluation is comprehensive and continuous. There are no formal examinations. However, assessment is embedded in the learning process. Class work, homework and worksheets are regularly assessed and feedback is given to students. A comprehensive report is provided to parents twice a year.
MIDDLE SCHOOL (Classes 6 to 8)
The academic curriculum is aligned to the CBSE and covers all disciplines of learning - English, Punjabi, Hindi, Mathematics, Physics, Chemistry, Biology, IT & Computer Science, History, Political & Social Life and Geography.
Formative assessment is carried out using assignments, projects and class tests. Summative assessment is done in the form of written assignments, which may consist of objective type questions, short answer questions and long answer questions. The grading pattern is as per the recommendations of the CBSE.
SENIOR SCHOOL (Classes 9 to 12)
We follow the CBSE pattern. In Classes 9 and 10, the scholastic subjects offered are English, Hindi, Punjabi, Mathematics, Sciences and Social Sciences; and the co-scholastic subjects are Art, Music and Physical Education.
In Classes 11 and 12, we follow the three CBSE streams of Science (Medical and Non-Medical), Commerce and Humanities. The subjects offered are:
Science - Medical
Compulsory - English, Biology, Chemistry and Physics.
Optional (any one subject) - Computer Science, Home Science, Punjabi and Physical Education.
Science - Non-Medical
Compulsory - English, Mathematics, Chemistry and Physics
Optional (any one subject) - Computer Science, Home Science, Punjabi and Physical Education.
Commerce
Compulsory - English, Business Studies, Accountancy and Economics.
Optional (any one subject) - Computer Science, Home Science, Punjabi and Physical Education.
Students may opt for Mathematics as an Additional Subject.
Humanities
Compulsory - English.
Optional (any one subject) - Computer Science, Home Science, Punjabi and Physical Education. (Any three subjects) - Economics, History, Political Science and Psychology.
Students may opt for Mathematics as an Optional or Additional Subject.
SCHOOL LIBRARY
The school library is a wonderful resource centre for students with over 14,700 books and specimens on diverse topics including biographies, history, politics, economics, sciences, arts, religion, fiction, children's books, comics, dictionaries, thesauruses and encyclopedias. The school also subscribes to several dailies and periodicals.
Students of Classes 1 to 8 have one Library Period every week, where they get a dedicated opportunity to read good books. Besides this, students of all classes are free to walk into the library during their free periods and read books there or have books issued and take home to read.
We also have Reading Periods inside the classroom. Classes 1 and 2 have two Reading Periods every week and Classes 3 to 8 have one such period every week. During these Reading Periods, which are part of English subject teaching, students are allocated good books to read in order to improve their English language skills.
SCHOOL TEXT BOOKS
For text books of 2023-24, please click here .
G.D.N.S. Road, Patiala - 147001, Punjab
Telephone: 0175-5007335
Email: mssspatiala@gmail.com
G.D.N.S. Road, Patiala - 147001, Punjab
Telephone: 0175-5007335
Email: mssspatiala@gmail.com