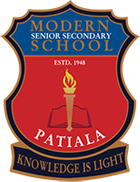 MODERN SENIOR SECONDARY SCHOOL
&
MODERN NURSERY SCHOOL, PATIALA
ESTD. 1948
(Affiliated to CBSE)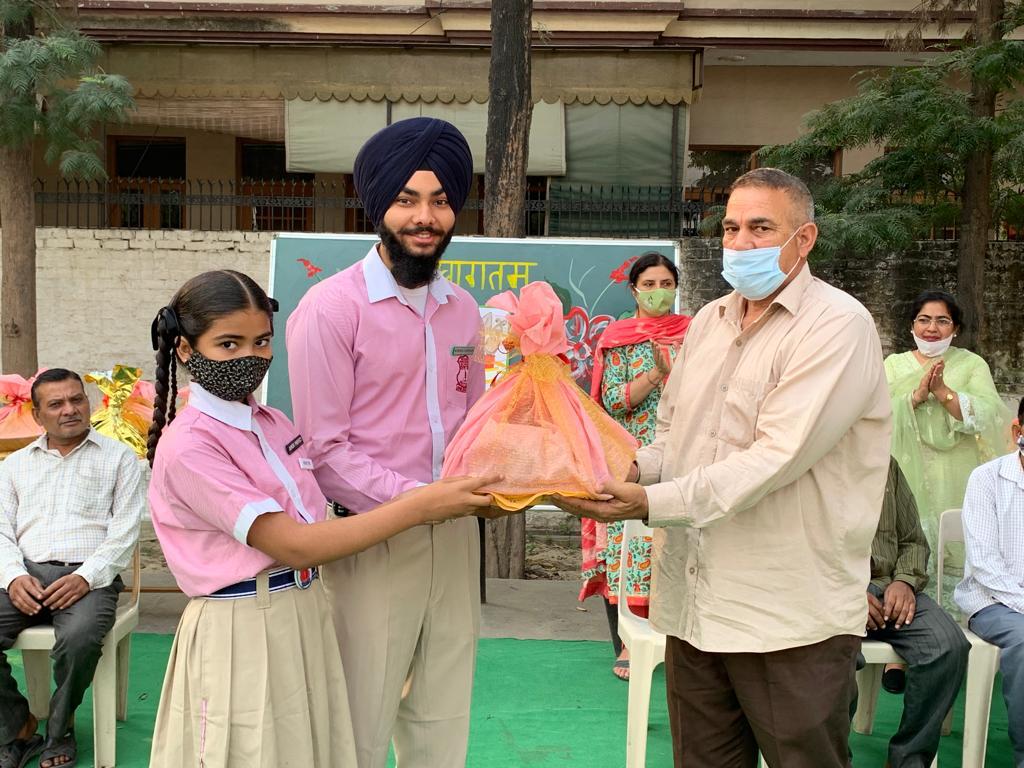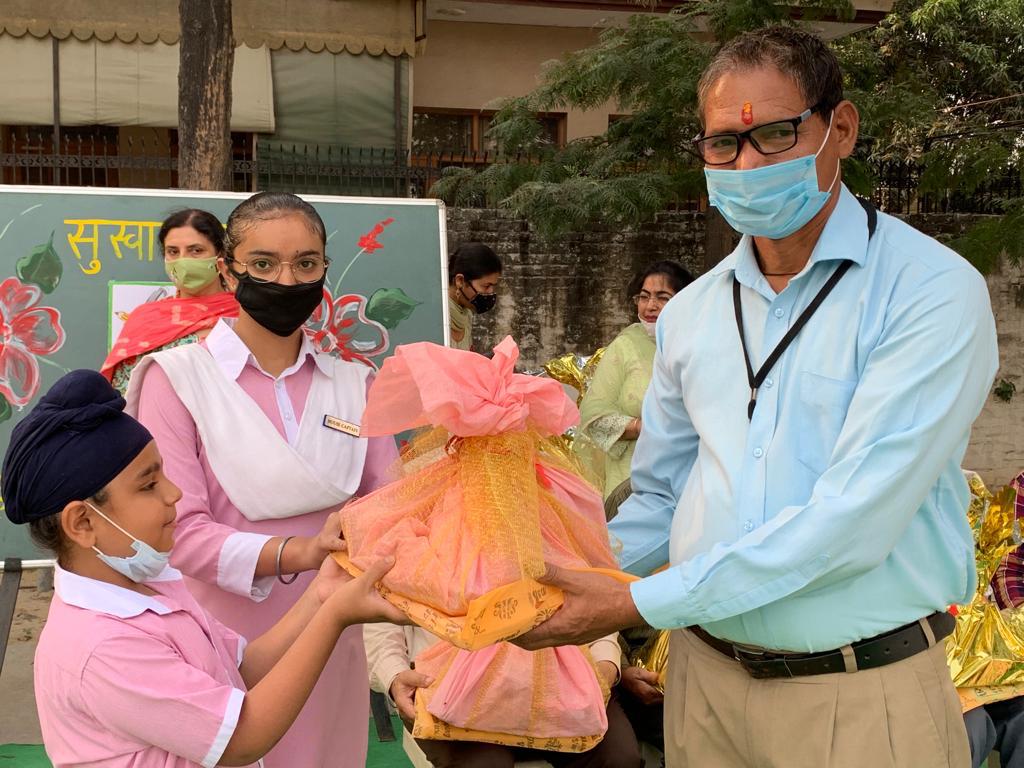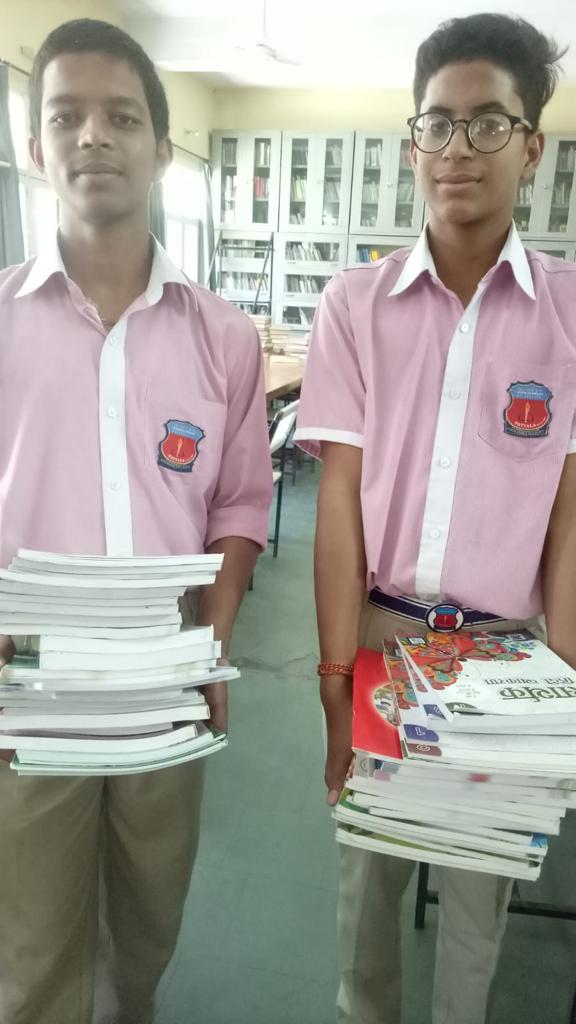 Thanking School Support Staff
On 1 May, students celebrated Labour Day by recognising and thanking the school support staff - with gifts from Student Council members and prefects - for keeping the school clean, green and safe.
Students also cleaned up the school grounds, arranged the library and adorned the bulletin boards in honour of Labour Day.
The school choir recited 'Ae Malik Tere Bande Hum' during a Special Assembly, hosted by Jupinder Kaur (XII-A), exclusively for the support staff. Sargunjit Kaur (X-A) recited a poem dedicated to the support staff, expressing gratitude on behalf of the MSSSP family.
CELEBRATING EARTH DAY!
Earth Day was celebrated in a big way on 22 April 2022. The Eco Club of the school led a very special assembly to mark Earth Day.
The middle & primary school students made posters, slogans and held quiz and spell bee competitions on the environment.
Watch this wonderful video: Click here!
Meanwhile, our KG, Nursery and Pre-Nursery children taught each other about the value of reducing noise pollution, saving resources by turning off taps and lights when not in use, reducing paper and plastic use, not wasting food and planting greenery.
A short video: Click here!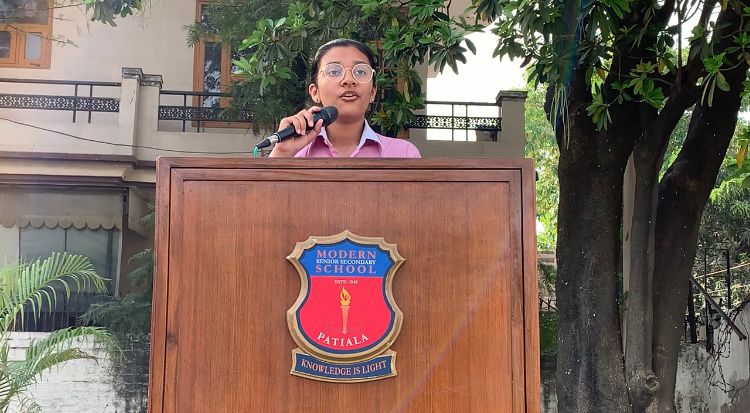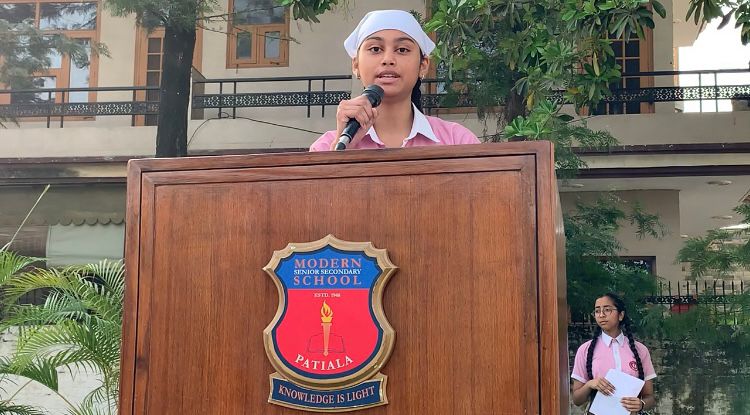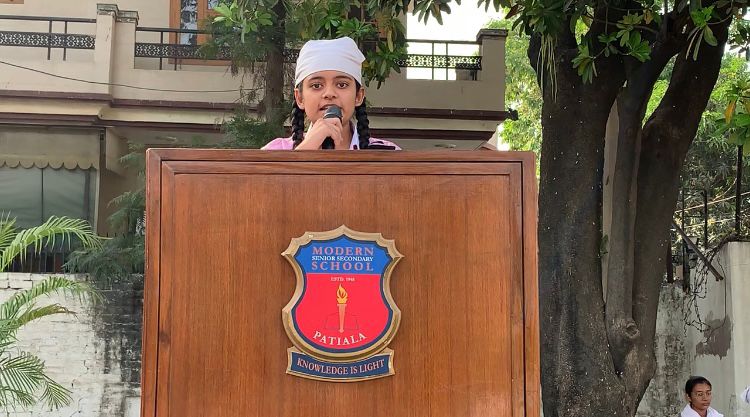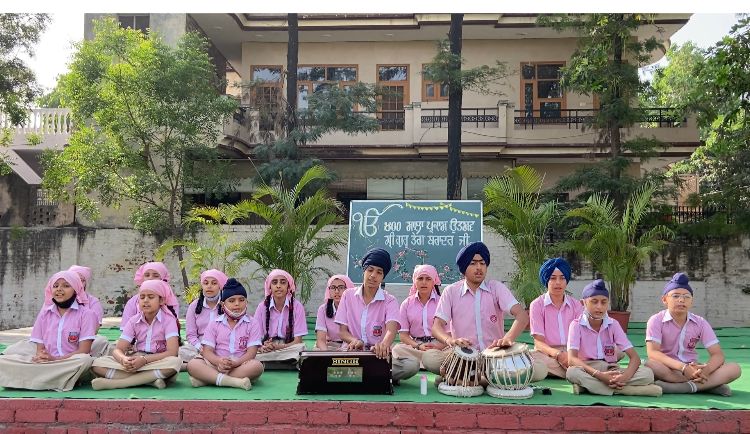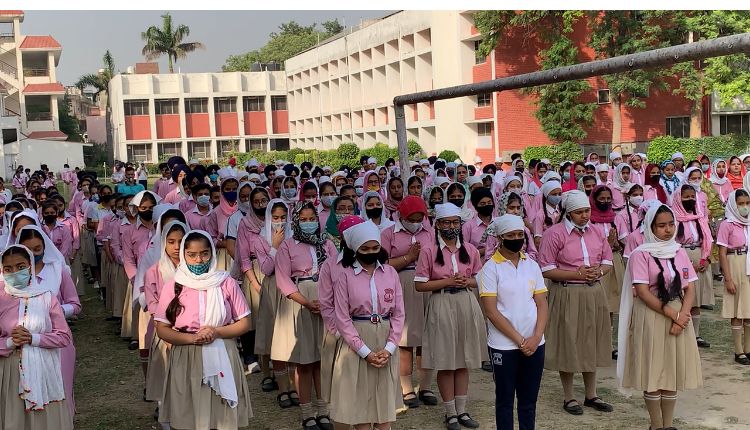 Celebrating 400 years of Guru Tegh Bahadur ji!
The school had a very special assembly to celebrate and pay reverence to the ninth Guru of the Sikhs. A famous shabad 'Guru Tegh Bahadur Simariye' was recited by primary students. There were also wonderful speeches by Tanya (Class 8-A), Mokshita Garg (Class 9-A) and Sukhnoor Kaur Khanna (Class 12-C). The programme was anchored very ably by Karmanpreet Kaur (Class 9-C).
Nursery kids celebrating Baisakhi
Here's a video: Click here!
Graduation Day for KG Kids!
Our KG kids celebrated their graduation from KG to Class 1 with little performances, speeches and fun, in the presence of their families and teachers. Next stop - senior school!
Here's a video: Click here!
Teachers as students!
A session on 'Social and Emotional Well-Being of Our Learning Community' was conducted on 5 March 2022 for our teachers by Dr. Jasmine Vij on how to handle emotions, manage time, manage job stress and create mindfulness. Thereafter, Zumba trainer, Zin Simran, guided teachers on how to destress while dancing to the beats of music!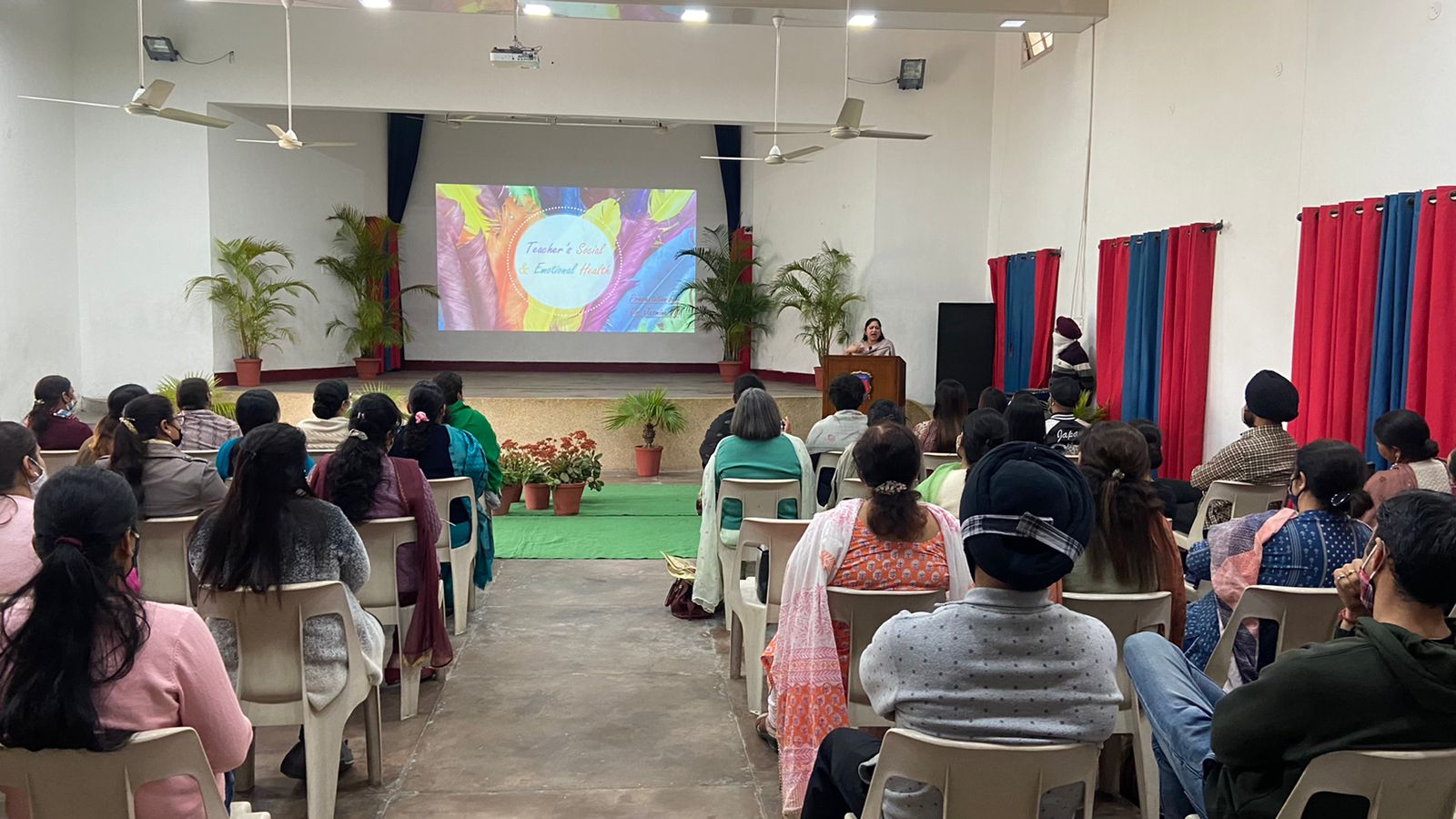 Women's Day Celebration
A special assembly was held to celebrate Women's Day on 8 March 2022. Students from different classes expressed their views on gender equality and the achievements women in India and abroad. 21 students from Classes I to 5 stole the show with their song and dance performances on the role of women in our lives.
Here's a video: Click here!
Celebrating 'Mother Language Day'
21 February was Mother Language Day - a UNESCO effort to promote cultural diversity and multilingualism. Our school organized a special assembly, where Sargunjeet Kaur (9-A) gave a speech on the importance of one's mother language. Senior students also participated in activities to show (off!) their mother language skills (see pics).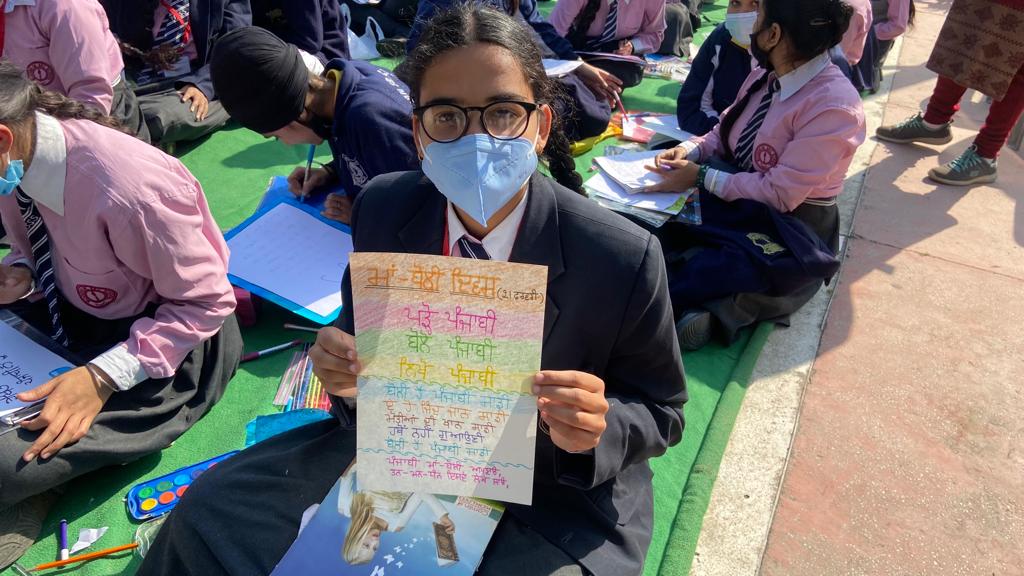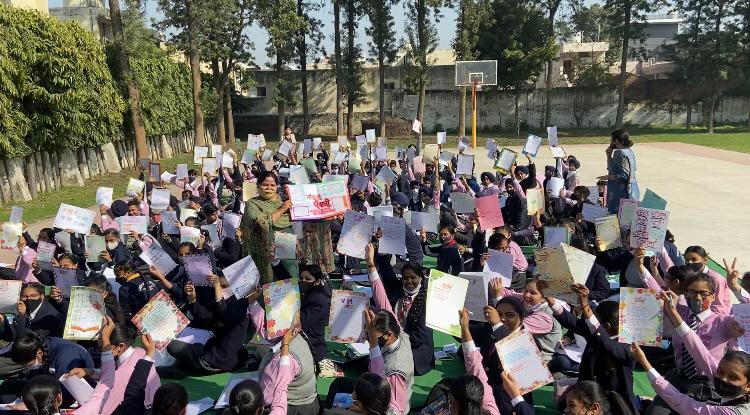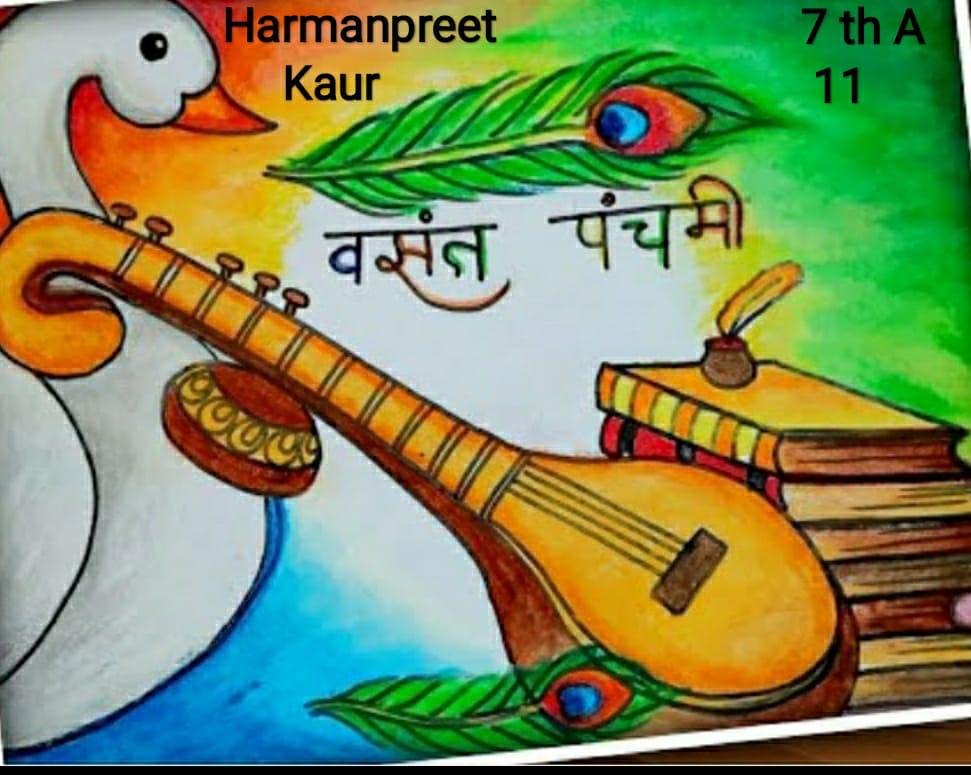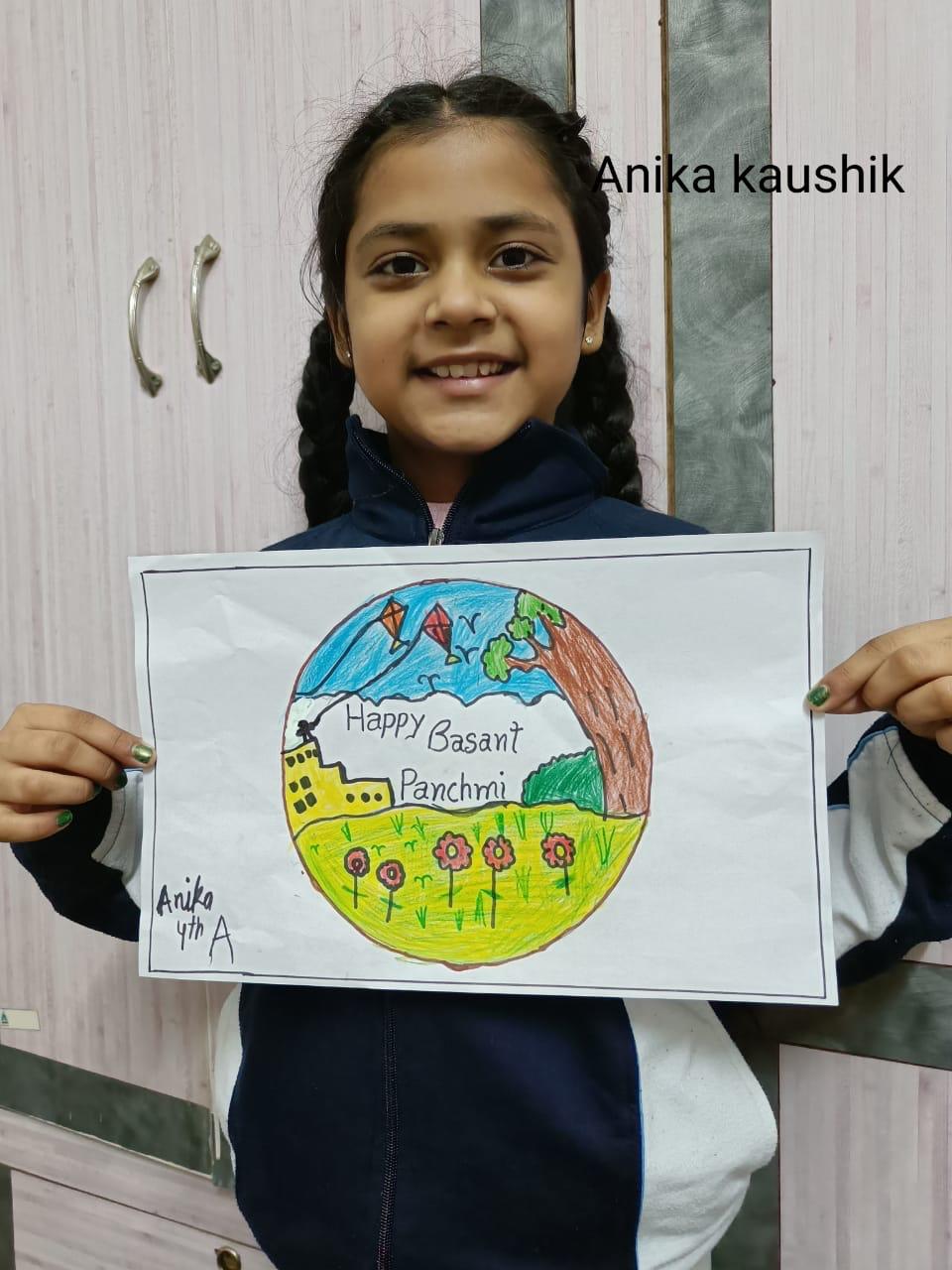 Basant Panchami Greetings!
Here are a couple of images from the celebrations of this auspicious day.
Republic Day 2022
The school celebrated Republic Day - online. We had special assemblies for all classes with patriotic music, dance, poetry, rangoli, poster-making and even patriotic food! Jai Hind!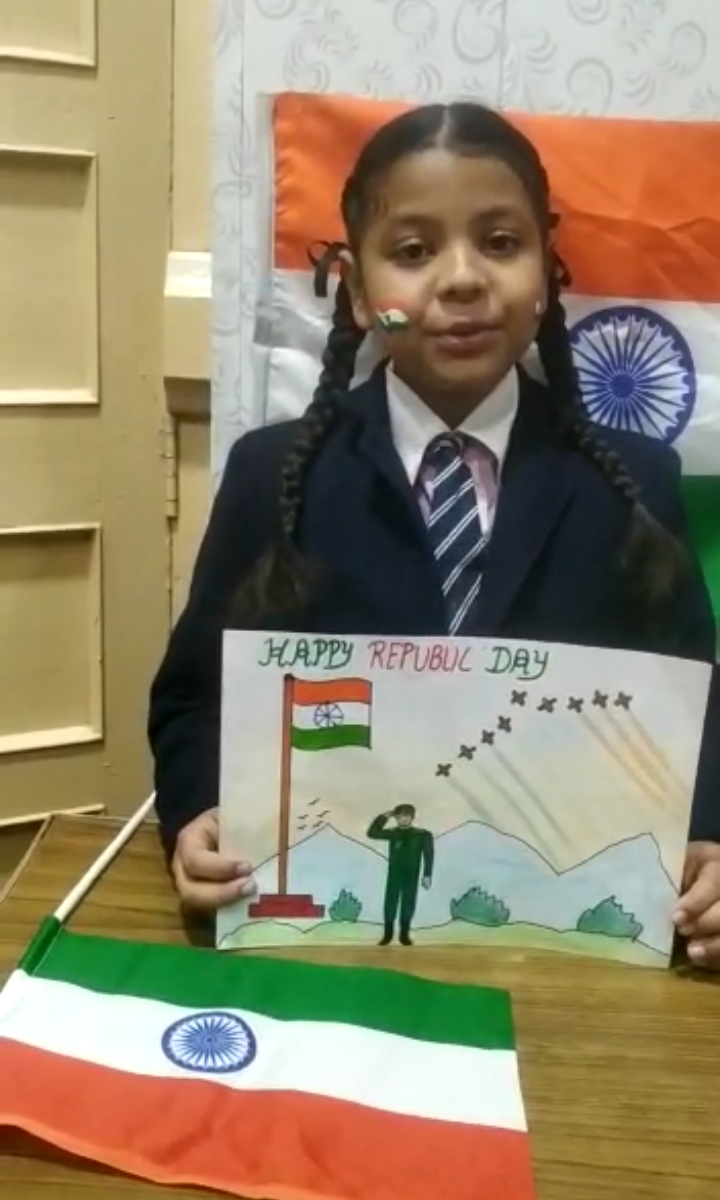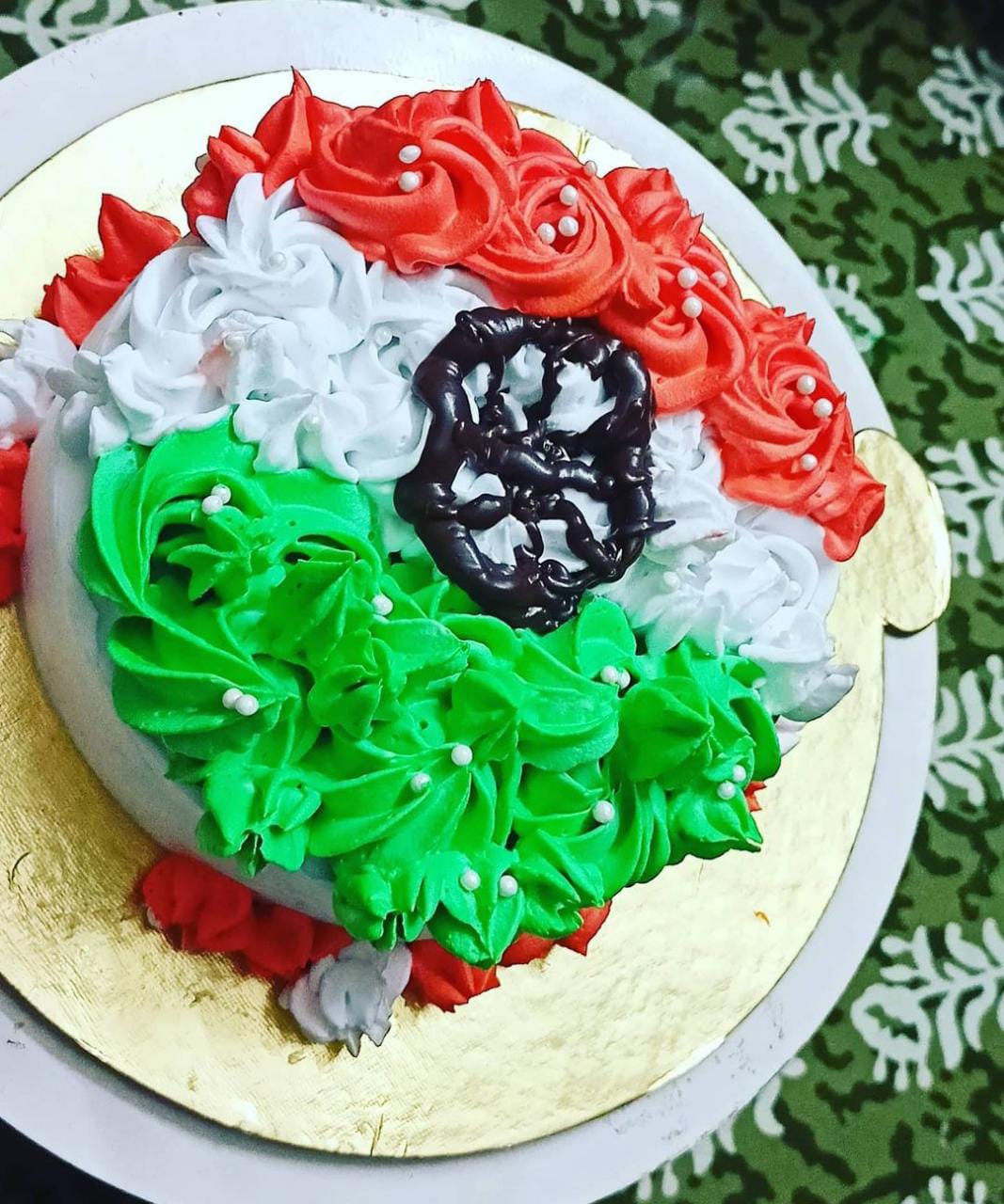 Vaccination Camp at School
The school tied-up with Radio Orange 106.4 FM and Mata Kaushalya Hospital, Patiala, to hold a Covid vaccination camp for children between the ages of 15 and 18 and adults on 24 January 2022 at the school campus. Booster shots were also available for elderly people.
Here's a video: Click here!
Founder's Day celebrations!
The school marked its 74th Founder's Day on 8 January 2022, the birth anniversary of its founder, Sardar Mohan Singh. There was a special online assembly to mark the day.
As we move towards 75 years, students are enthusiastically working on the theme 'My Dream School: A Green School'. We will keep you posted!
Link to YouTube video: Click here!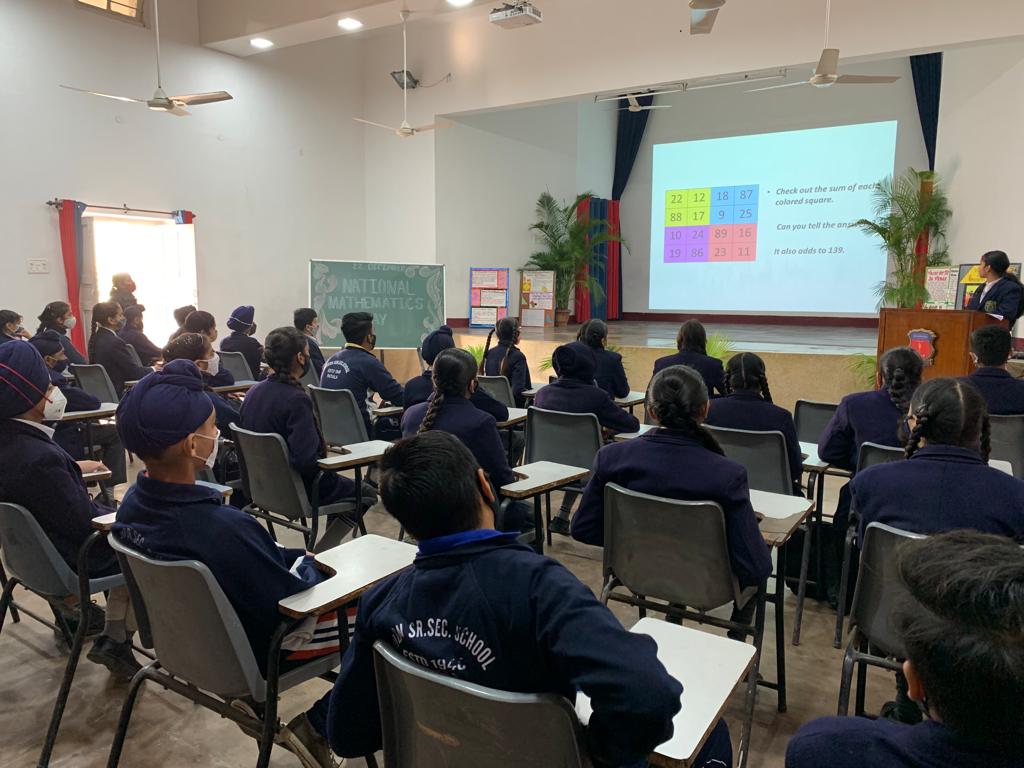 Celebrating the genius S. Ramanujan!
The birthday of the great Indian Mathematician Srinivasa Ramanujan, celebrated as 'National Mathematics Day', was marked by students on 22 December 2021 with great interest. Mansi of Class 10A made a beautiful speech on Ramanujan. Achita of Class 11B explained experimentally the Ramanujan Magic Square. Mokshita Garg of Class 8A shared an inspiring short story around Ramanujan Number 139. Students of Class 8, along with Maths teachers, were the audience!
To watch celebration video: Click here!
Human Rights Day!
Students of Classes 7 and 8 participated in a school event to mark Human Rights Day on 10 December 2021. Jhanvi, Gurleen Kaur and Kayna (all of Class 8) made very thought-provoking speeches or recited poems on human rights.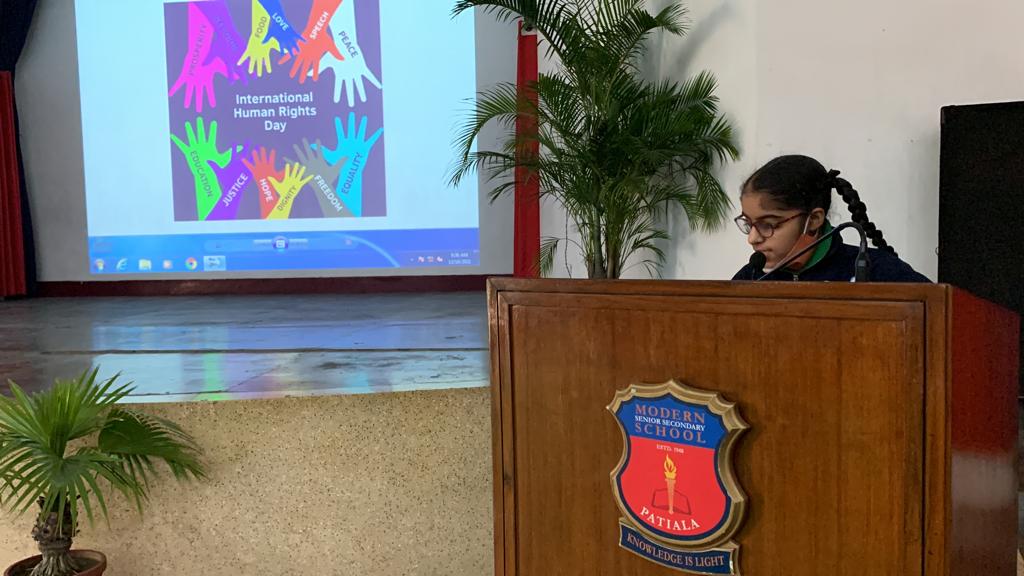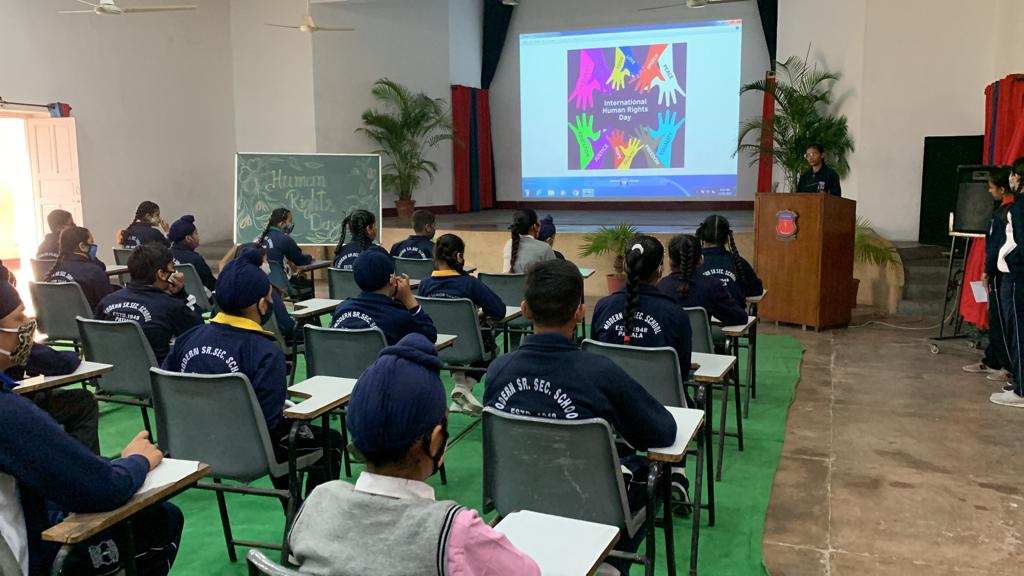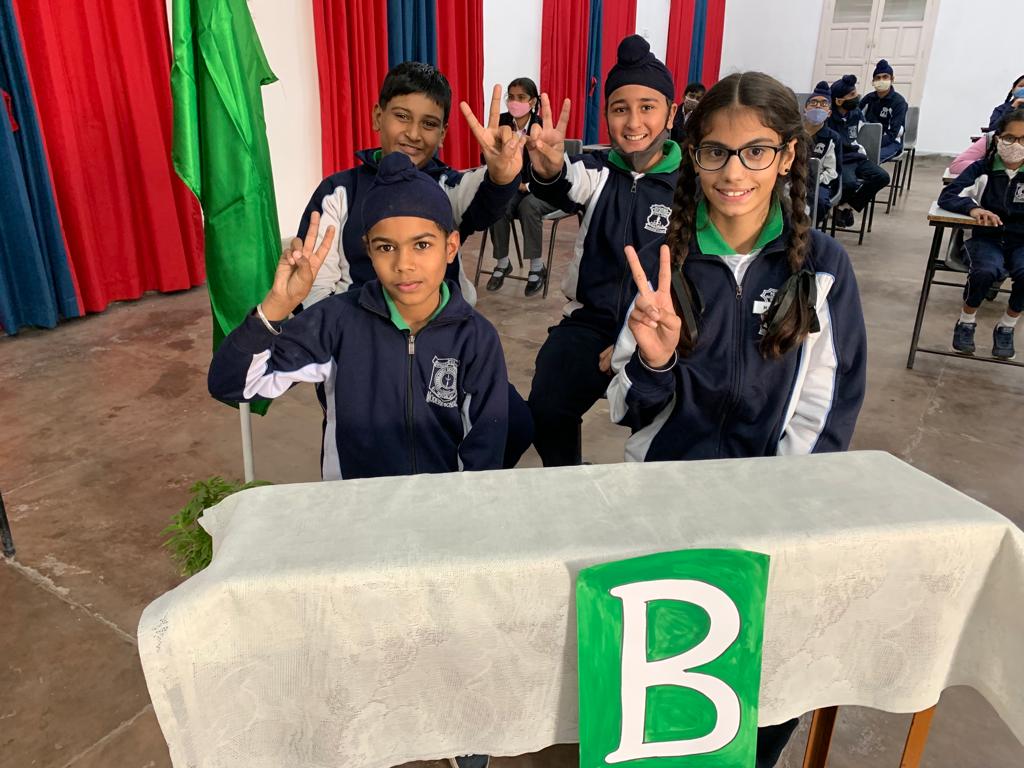 Inter-House Science Quiz!
An Inter-House Science Quiz for Class 6 students on 7 December 2021 saw Varsha House winning the day. Congrats Anmolpreet (6A), Pranav (6A), Ridhima (6B) & Amanpreet (6B)! The questions revolved around the environment, food, life processes, electricity, etc.
Story Time, Fun Time!
An English story-telling session has been held for Grade VI students, where students narrated interesting stories on topics like Friendship, Lying, Hard Work, Value of Time, Kindness and Anger. Students made use of props to bring extra drama to their stories!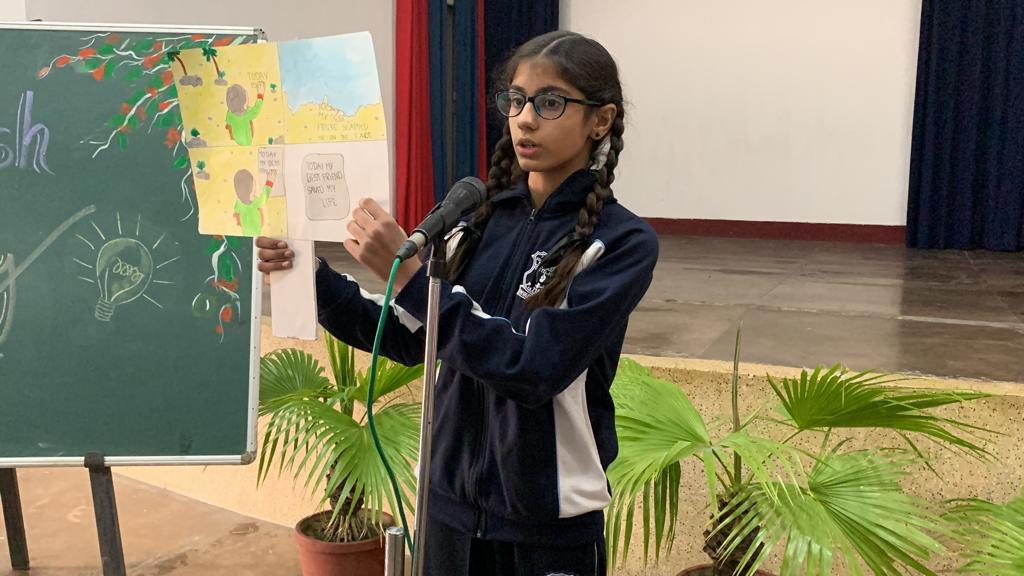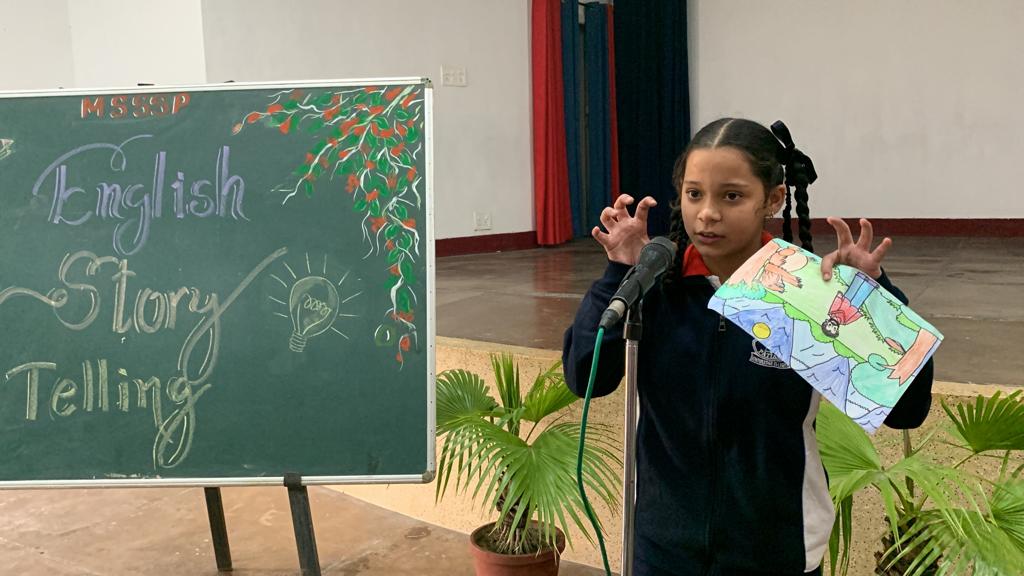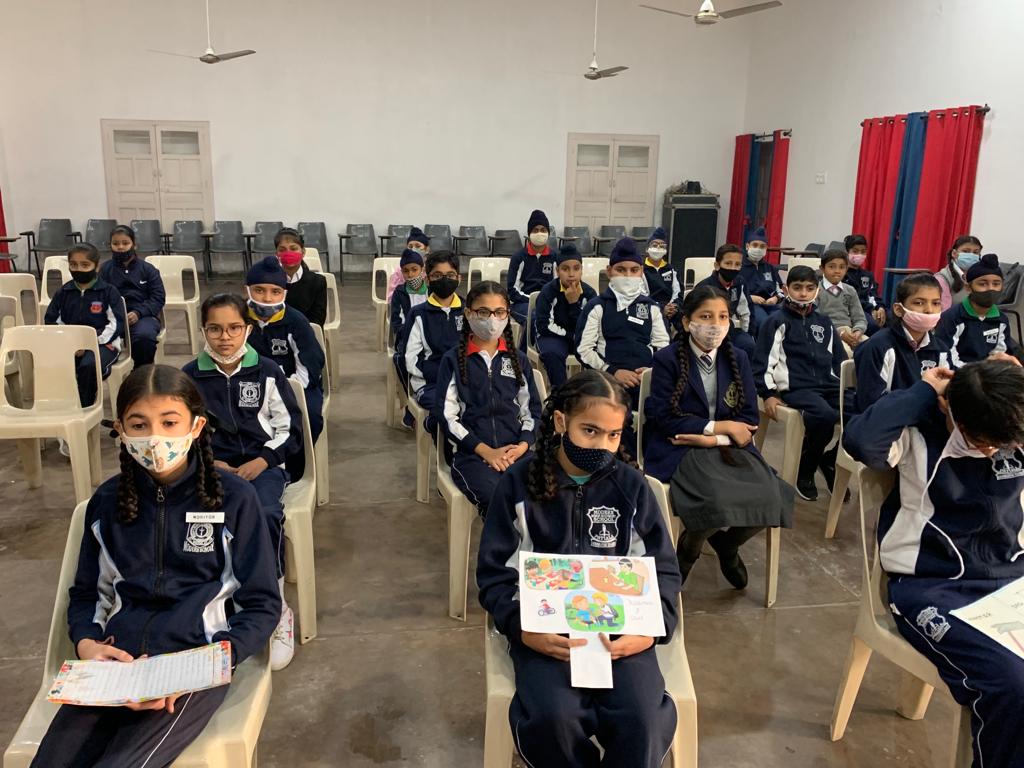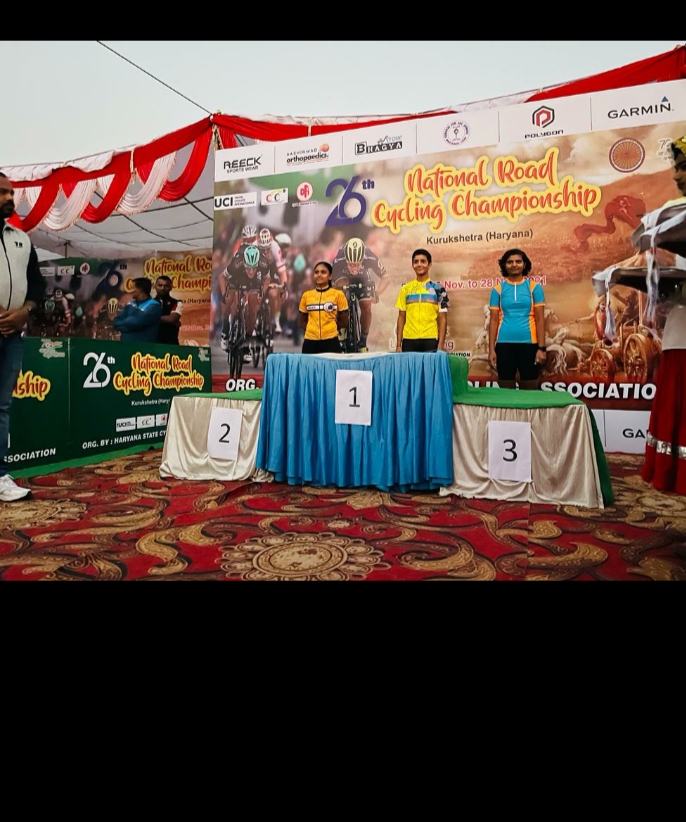 Modern School's Golden Girl!
Harshita Jhakhar of IX-C has won the Gold Medal in the 15 km Individual Time Trial, clocking 23:45 minutes, in the Sub-Junior category in the 26th National Road Cycling Championship. Three cheers (and many more) for Harshita!!
English Reading Activity!
A Paper Reading Activity for Class 5 students on 18 November 2021 saw 12 students speak on topics including 'Hard Work', 'Outdoor Games', 'Healthy vs Unhealthy Food', 'Books are our Best Friend' and 'Respecting Elders'.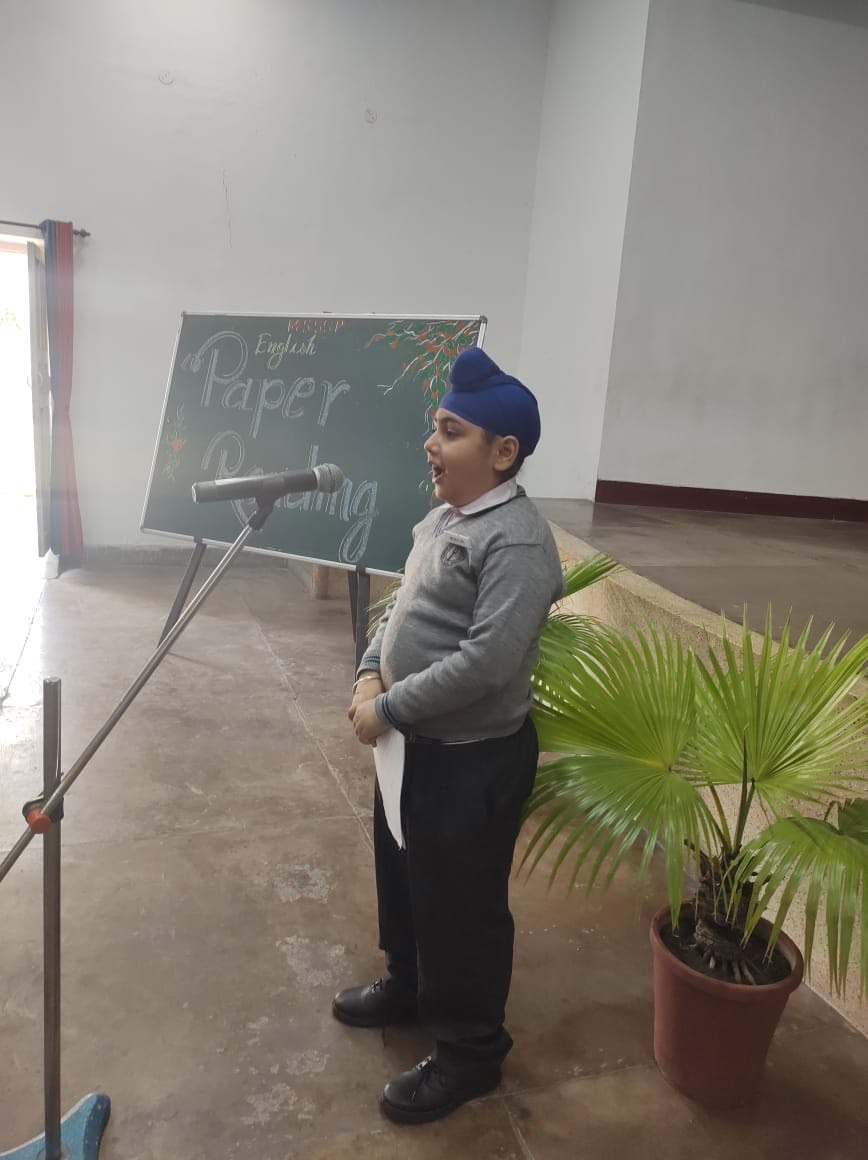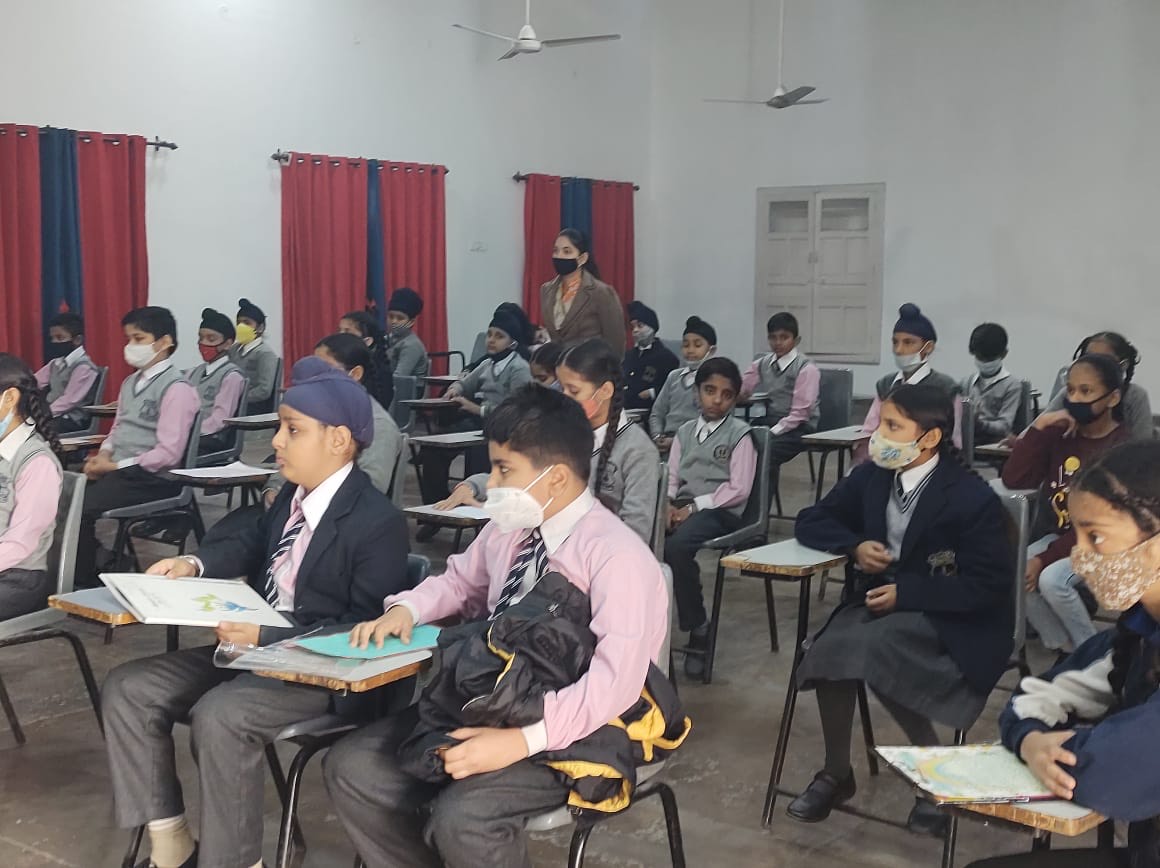 Fun on Children's Day!
Children's Day 2021 was celebrated with lots of fun games like a coin race, zig-zag race, German drill, etc. There were plenty of prizes given out. There were also talented performances put up by teachers - for students!
Check out the two videos - one from the middle and primary wings and one from the nursery wing of the school.
Say yes to diyas, no to patakas!
Students celebrating Diwali with prayers, rangoli (50 rangolis around the school), art & craft and making of diyas & candles!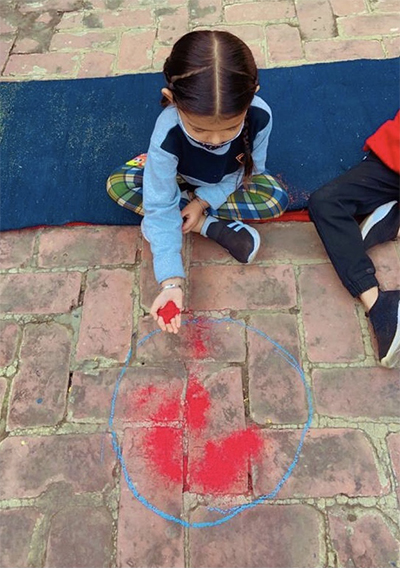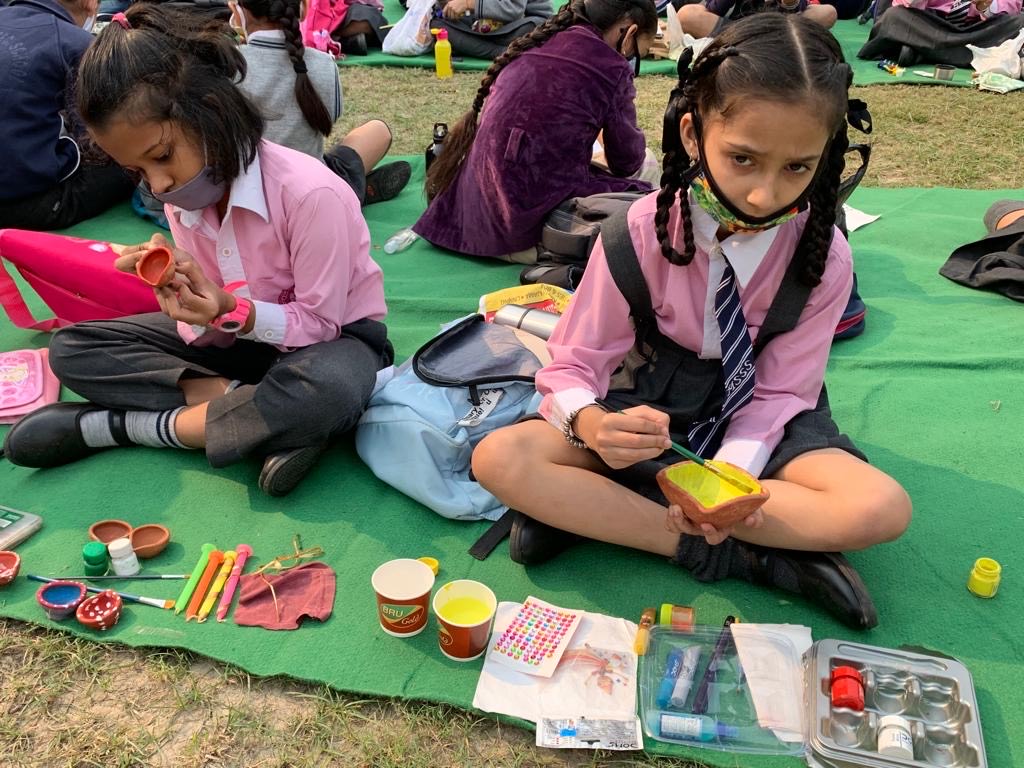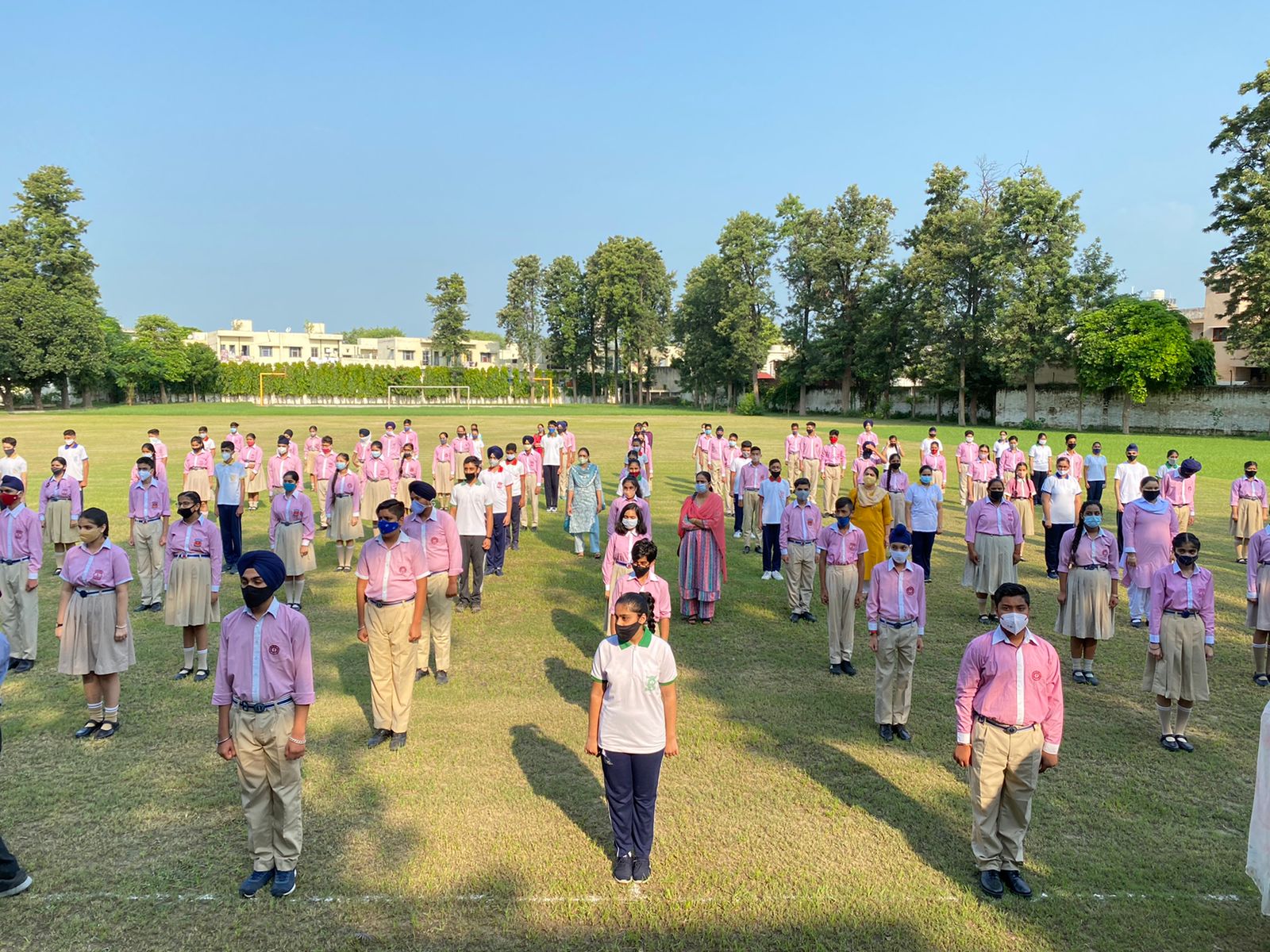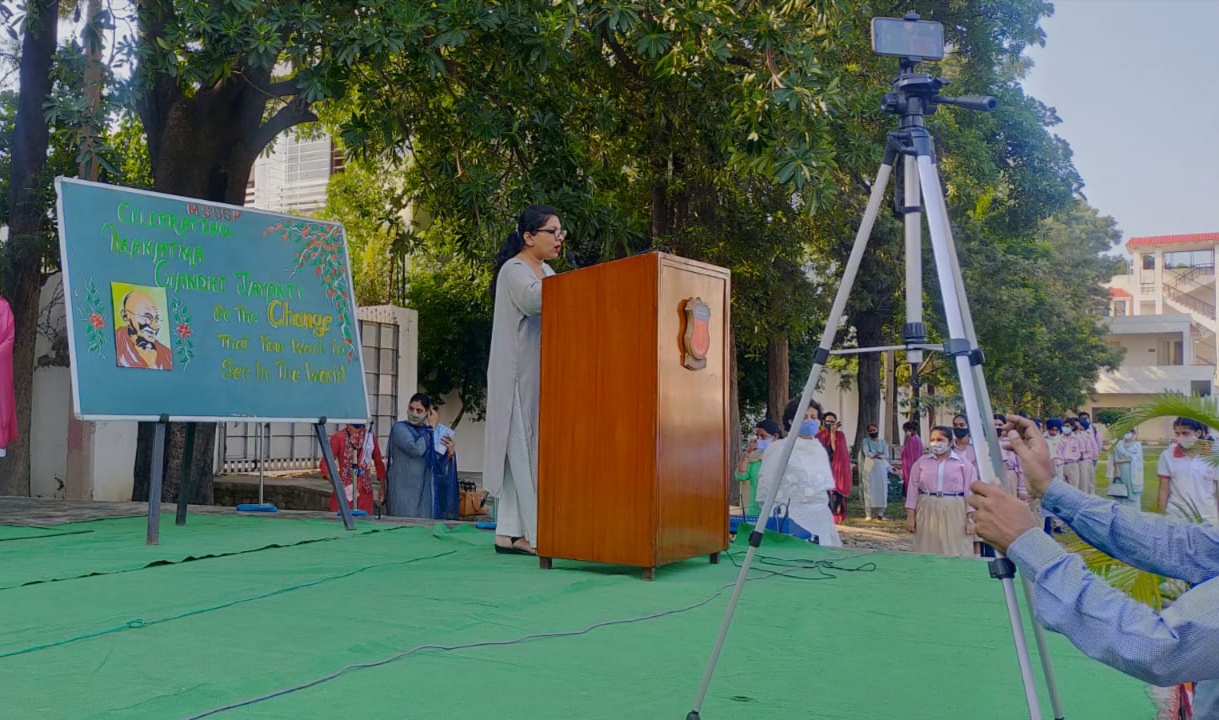 Remembering Bapu
Gandhi Jayanti on 2 October 2021 was celebrated with stories of Gandhiji and renditions of his favourite bhajans. Vaishnava Janato really touched the hearts of students and staff! For Classes 9 and 10, the celebration was offline. For others, it was online.
Gratitude on Teachers' Day!
Teachers' Day (5 September) was celebrated both online and offline with students offering their gratefulness to teachers in various creative ways. In our country's tradition, the teacher (Guru) occupies a very reverential space - and for good reason. Kudos to them!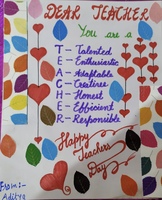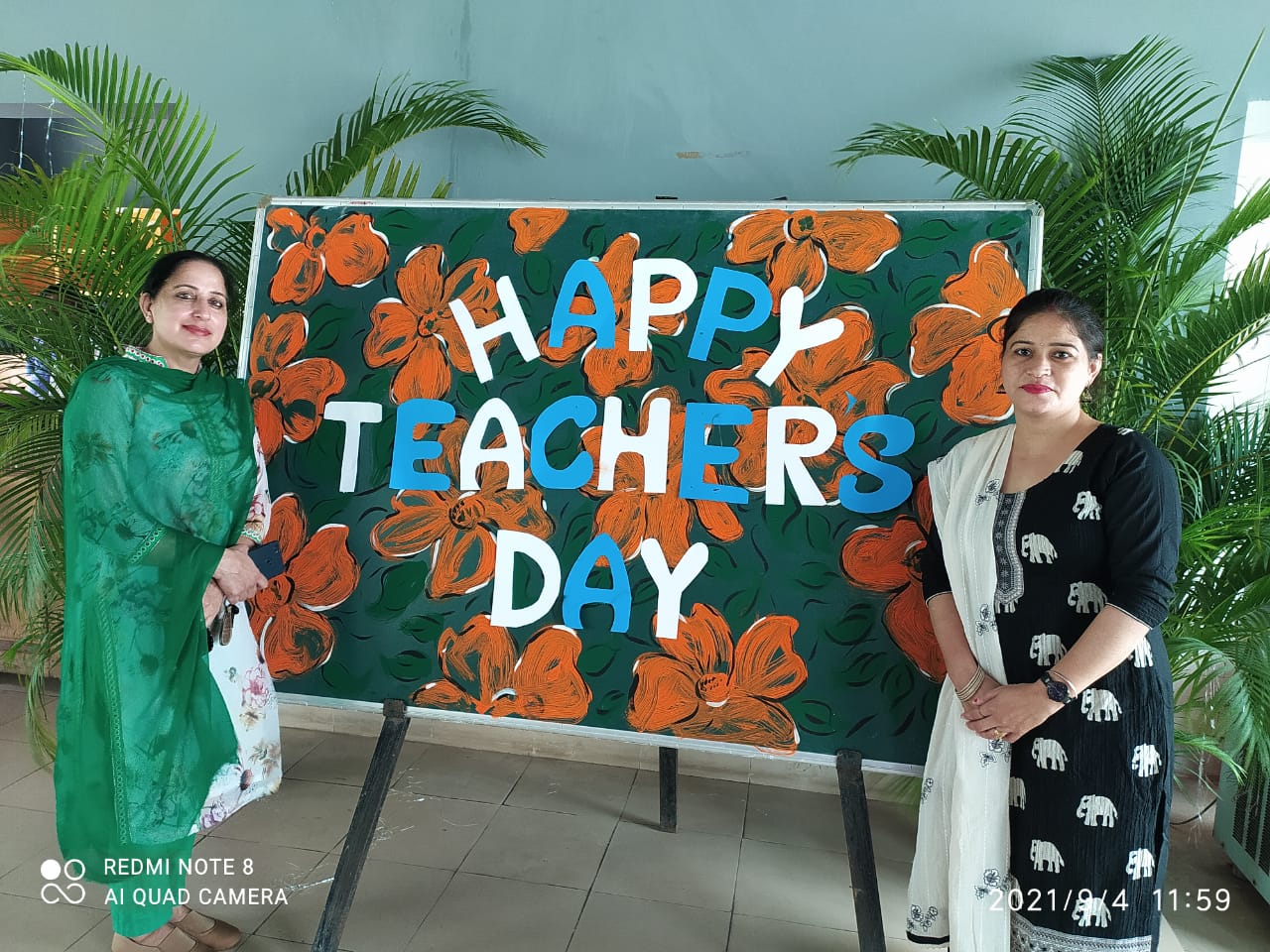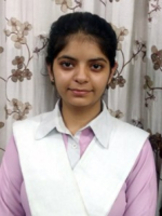 Jashanpreet Kaur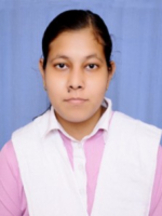 Yashana Goel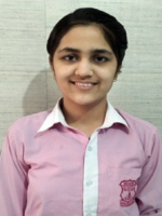 Manjyoat Kaur Pawar
MSSSP shines in Class 12 CBSE Board Examinations 2021!!
24 of our students have got 90% and above! 28 have got between 80% and 90%. 100% of our students have passed. The school toppers are:
(Commerce)
Jashanpreet Kaur: 97.2%.
Sampda Goel: 95.8%.
Anamika Sharma, Harpreet Singh & Yugum Kumar: 95.6%.
(Humanities)
Yashana Goel: 96.6%.
Priya Khanna: 95.6%.
Aritika Sharma: 95.4%.
(Science)
Manjyoat Kaur Pawar: 96%.
Gurnaaz Grewal & Harshpreet Singh: 94%.
Sagarika: 93.2%.
BIG BIG CONGRATULATIONS to the toppers and ALL the Class 12 students and all the staff of the school for these strong, fabulous results!!
MSSSP toppers in Class 10 CBSE Board Examinations 2021!
3 of our students have got over 90% and 16 have got between 80% and 90% marks! 100% of our students have passed. Here are the toppers!
Harpreet Singh Rajput: 92.6%.
Vishavjeet Singh: 92%.
Anoop Kaur: 90.4%.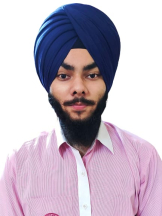 Harpreet Singh Rajput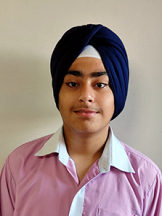 Vishavjeet Singh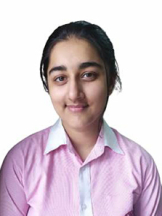 Anoop Kaur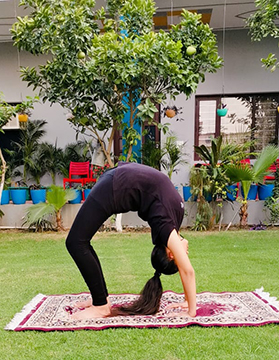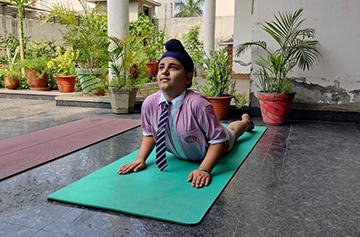 International Day of Yoga
On 21 June 2021, Modernites celebrated International Day of Yoga - from their homes. Yoga is one of the activities offered by our school and so many of our students do it on a regular basis. May all have peace and health!
Gunbir Singh, Class 5, is Punjab Champion!
Gunbir Singh of Class 5A has participated in the 58th National Roller-Skating Championship in Mohali in April 2021.
Earlier, he won the Gold Medal in the 1,000 metres and the Bronze Medal in the 500 metres at the 32nd Punjab Roller - Skating Championship at Rink Hall, Patiala, in February 2021.
Very proud of you Gunbir!!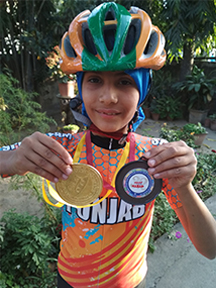 Gunbir Singh, Class 5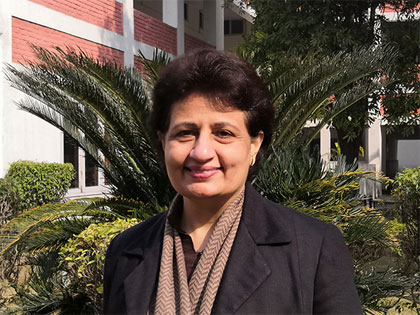 Mrs. Manpreet Sharma, M.Sc., B.Sc., B.Ed.
New School Boss Appointed!
Modern Senior Secondary School, Patiala, is pleased to announce that Mrs. Manpreet Sharma, M.Sc., B.Sc., B.Ed., has been chosen to officiate as the Principal of the School with effect from 1 April 2021!
Manpreet ji has been with the institution for nearly 25 years. She loves teaching Chemistry to Class 12 students. She's been serving as Vice Principal and has considerable administrative experience as well. All the very best to Mrs. Manpreet Sharma!!
Modernite Becomes National Chamption!
It's a matter of huge pride that Harshita Jakhar of Class 9C has, in the Youth Girls category, won the 10 KM Time Trial event at the 72nd National Track Cycling Championship in Hyderabad in March 2021 AND at the 24th National Road Cycling Championship in Mumbai!! A major celebration is due!!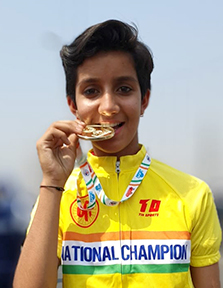 G.D.N.S. Road, Patiala - 147001, Punjab
Telephone: 0175-5007335
Email: mssspatiala@gmail.com
G.D.N.S. Road, Patiala - 147001, Punjab
Telephone: 0175-5007335
Email: mssspatiala@gmail.com