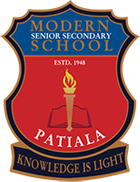 MODERN SENIOR SECONDARY SCHOOL
&
MODERN NURSERY SCHOOL, PATIALA
ESTD. 1948
(Affiliated to CBSE)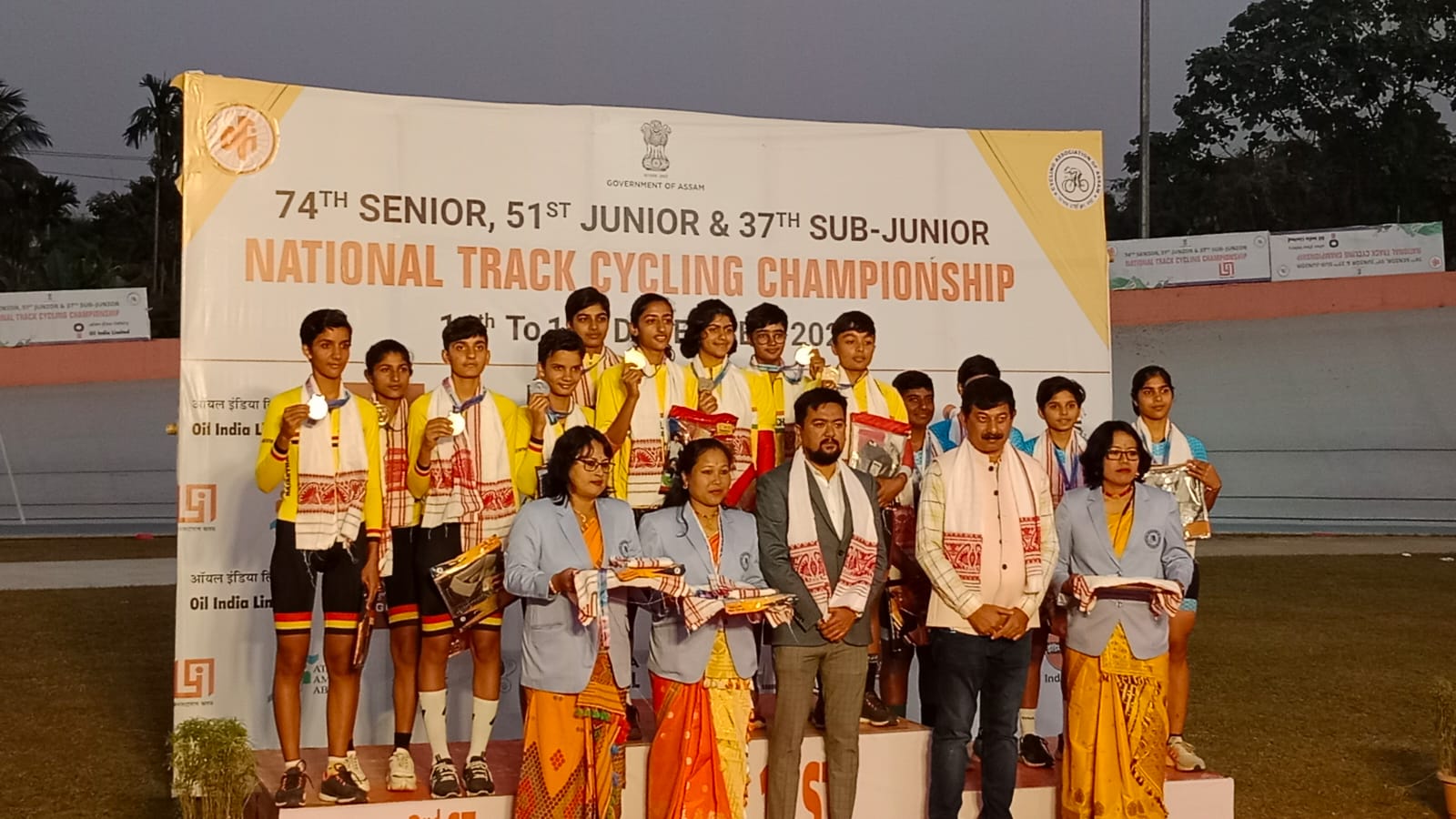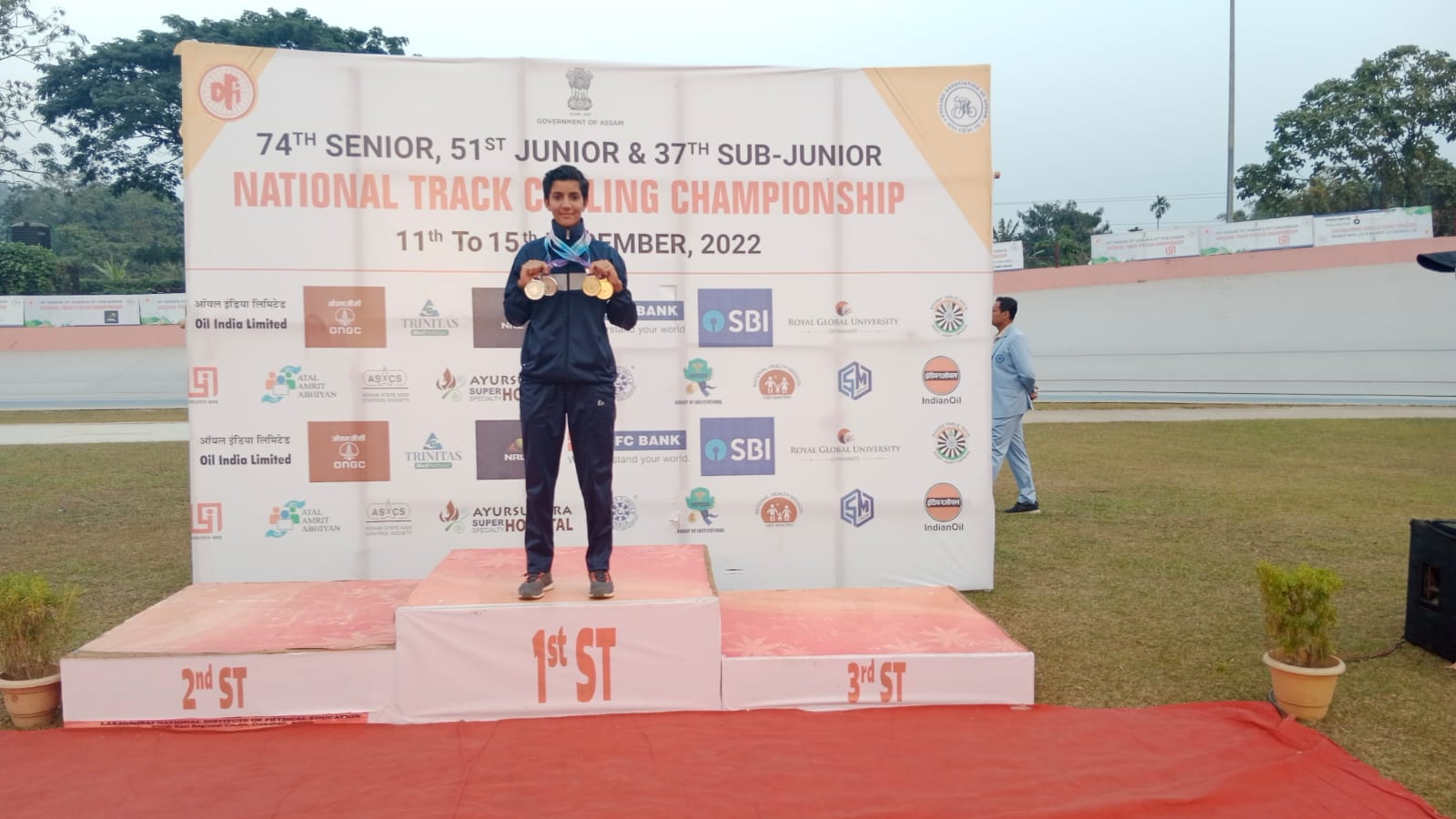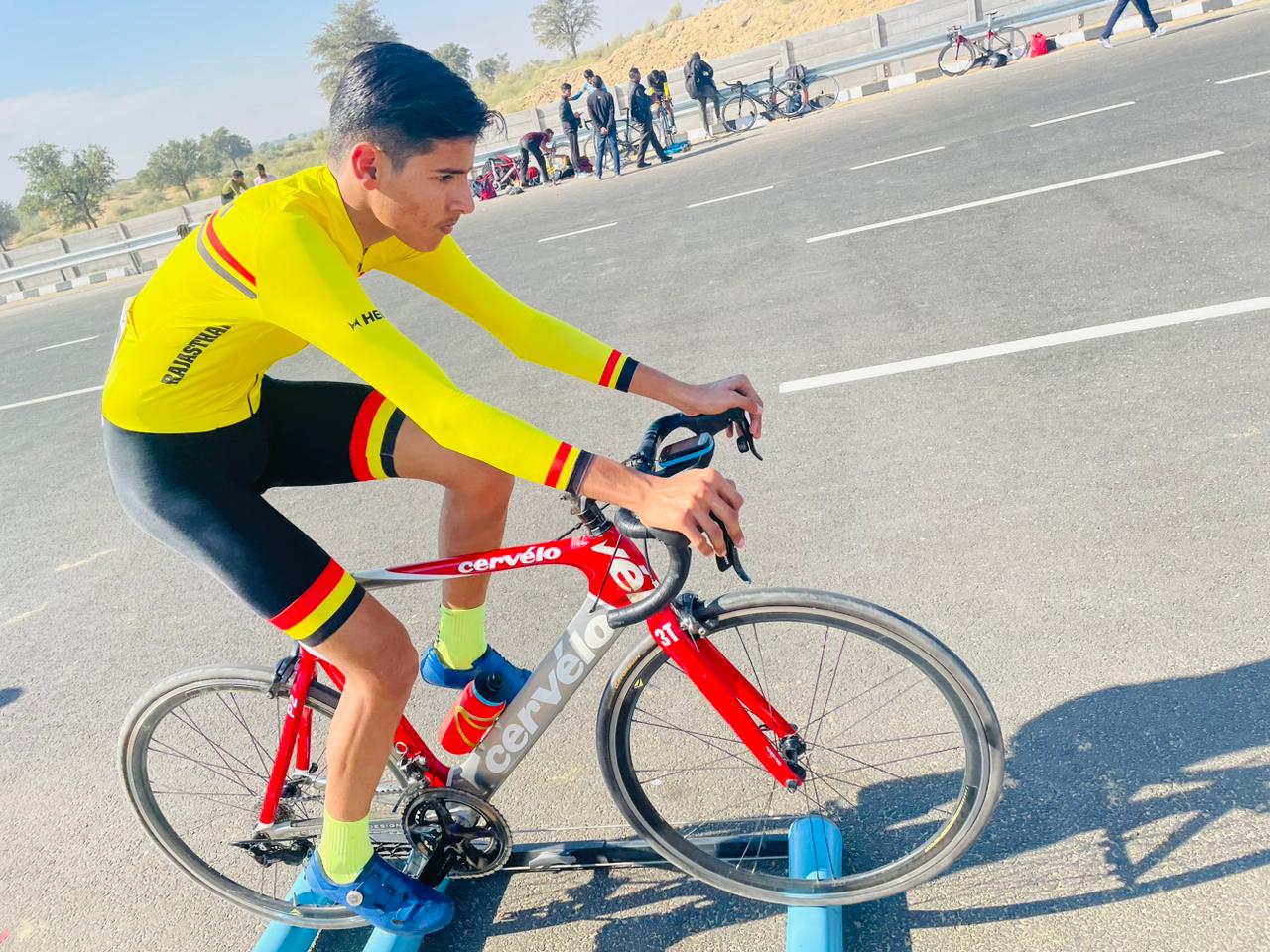 Modernite Sets New National Record In Track Cycling!
The National Track Cycling Championships in Guwahati, Assam, in December 2022 brought glory to the school with Harshita Jakhar (10-C) winning two Gold Medals (Individual Pursuit) and two Silver Medals (Team Event). Harshita also set a new National Record!!
Another of our students, Anjali Jakhar (8-B) won a silver medal in the 2 KM Individual Pursuit and Aditya Jakhar (10-C) stood fourth in Individual Pursuit. Congratulations!!!
Class 11 students on a field trip to Chandigarh
Class 11 students sang songs as they went on a journey to Chandigarh on 17 December 2022. Once there, at the Rock Garden, they enjoyed the intricate art made of waste that we usually throw away. One could see the creative potential of broken bangles, plates, cups, etc.
Thereafter, at the Sukhna Lake, students took photos while walking along the lake path. After lunch at Hotel Clarion Inn, the group went to Gurdwara Nada Sahib ji to complete the trip to Chandigarh. It was indeed a really fun day out!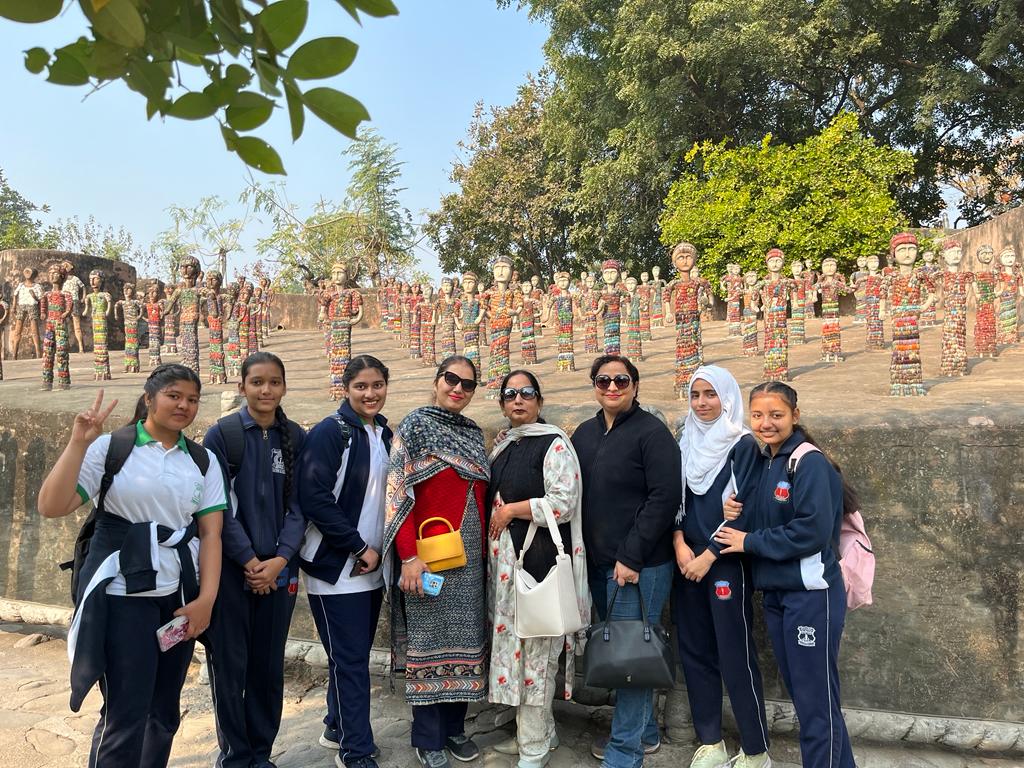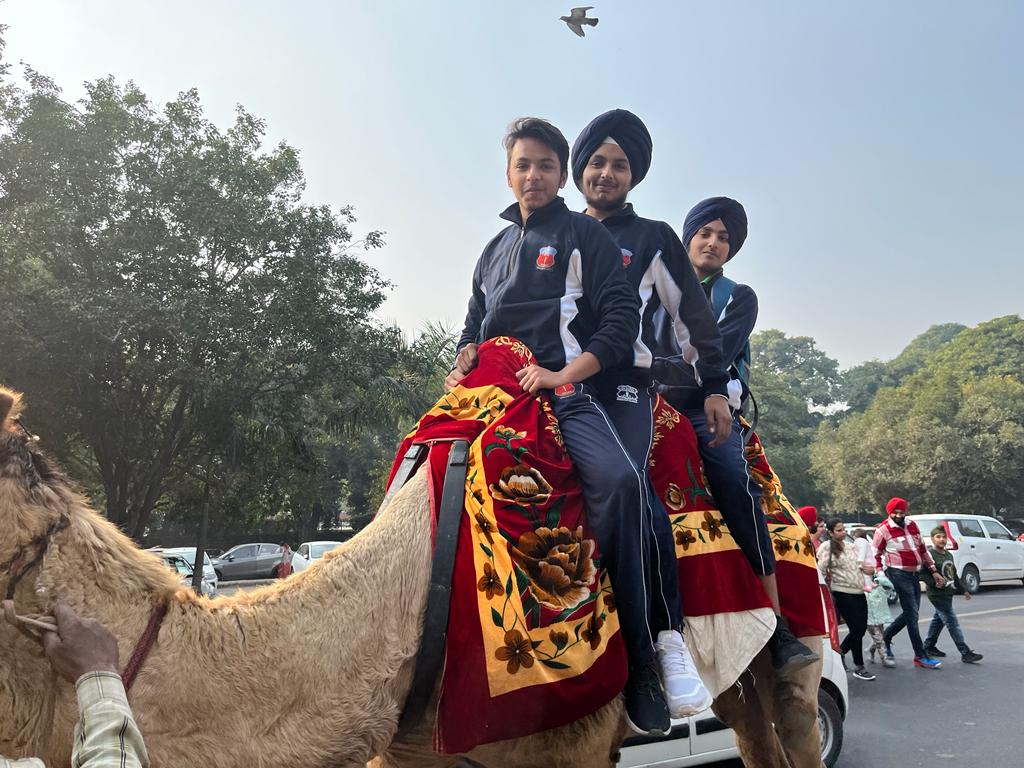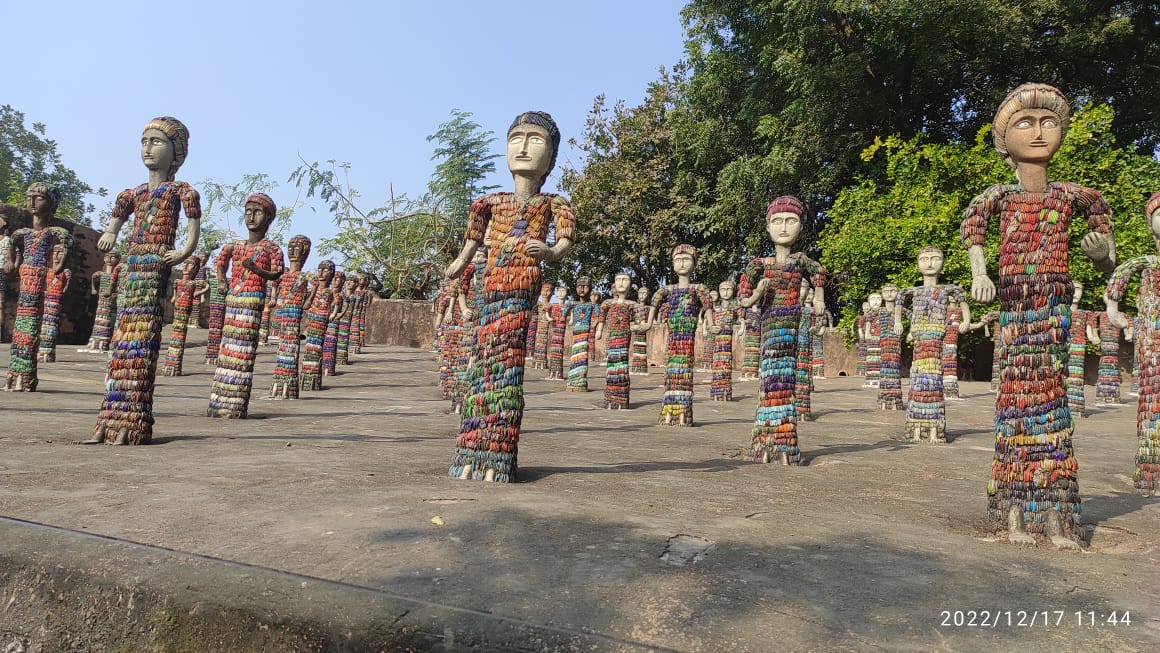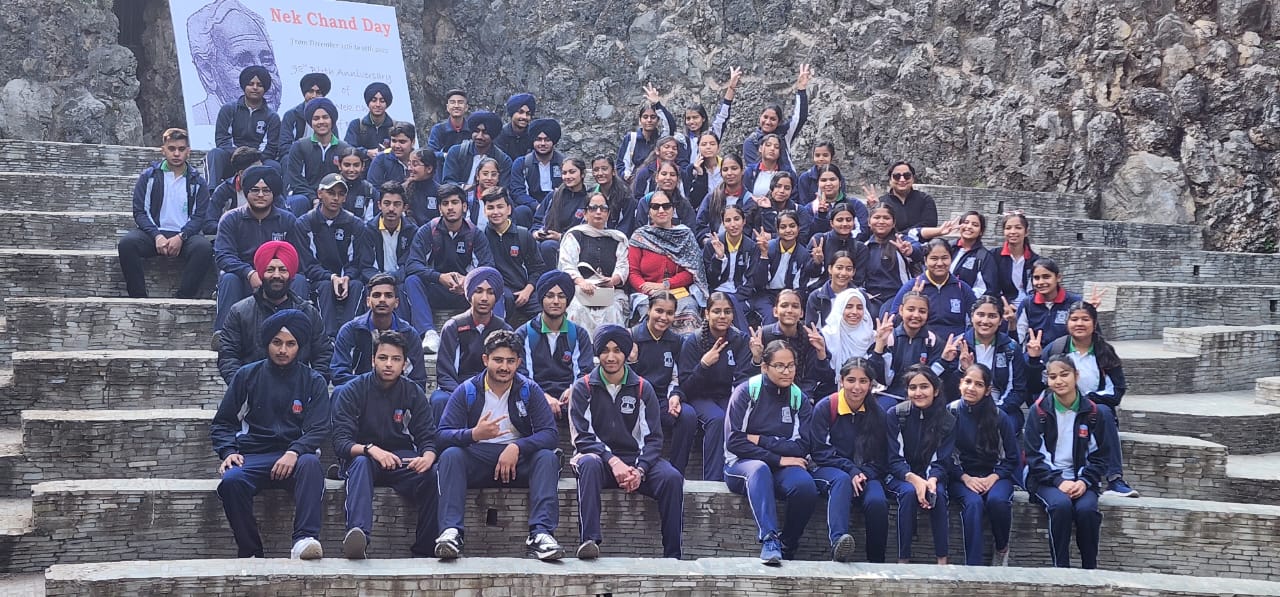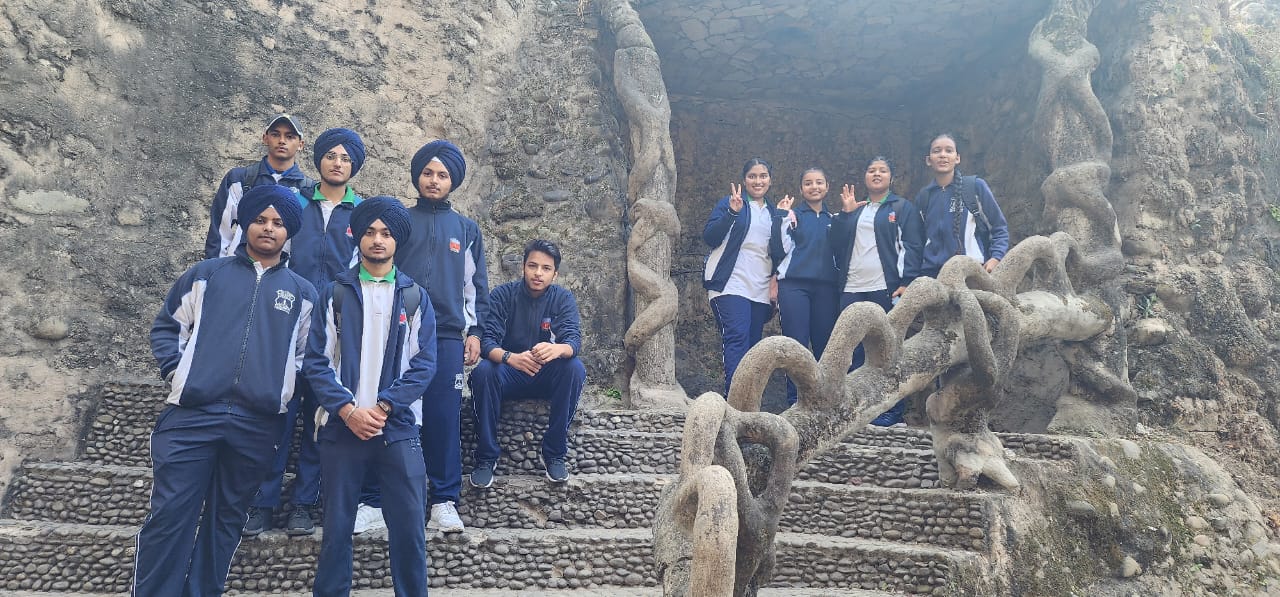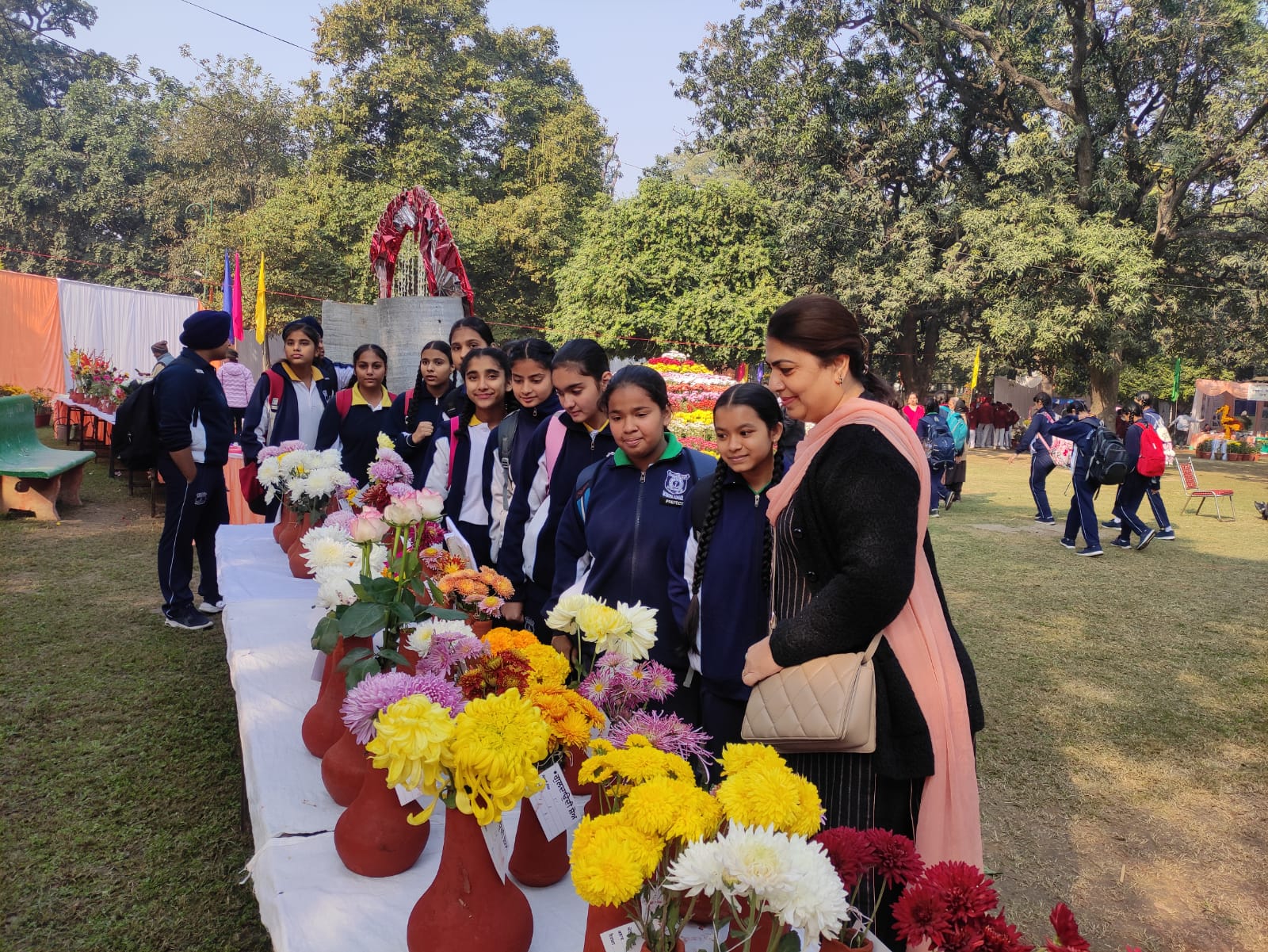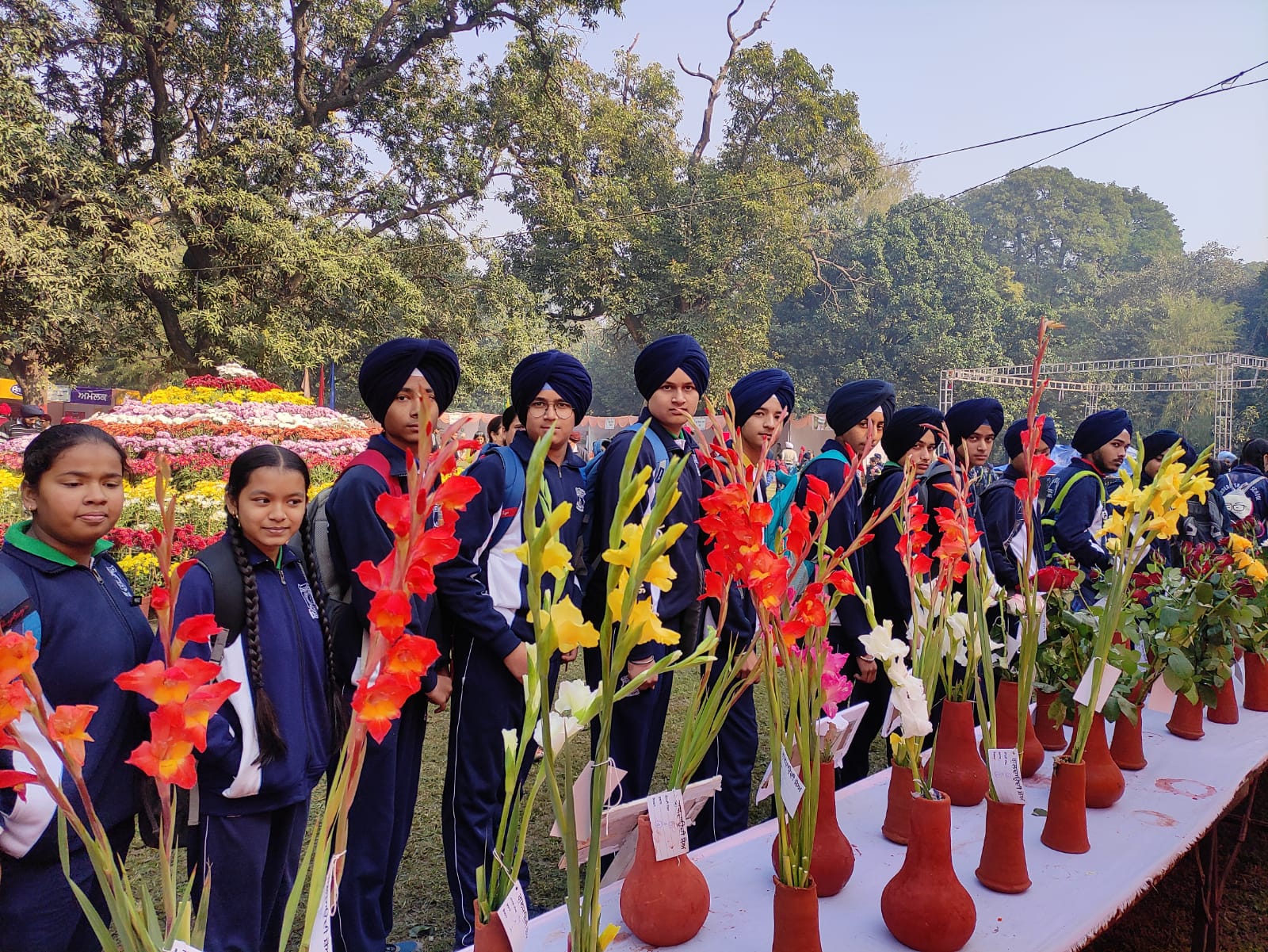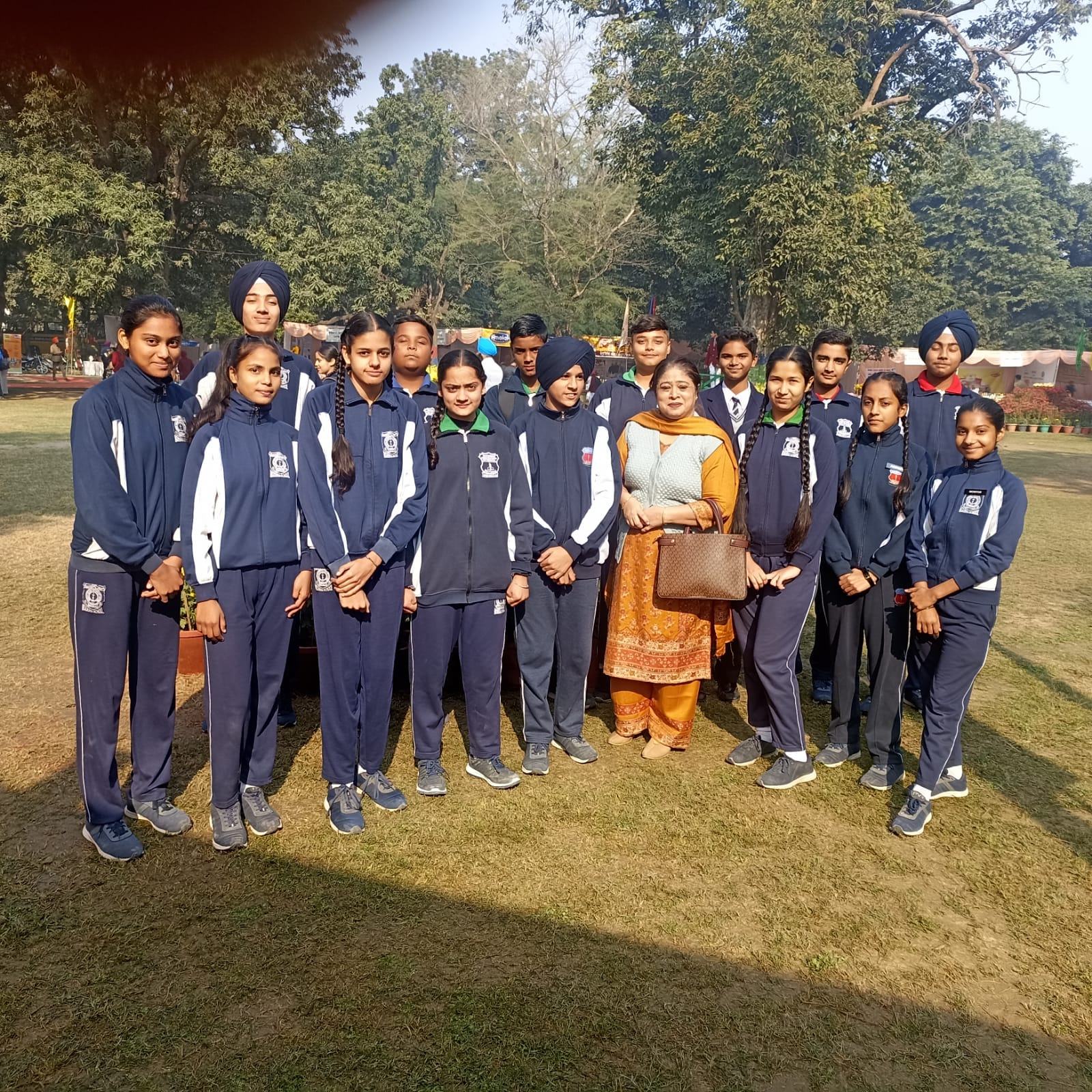 Baradari Gardens Guava Festival & Flower Show
To mark the inauguration of the Heritage Festival 2022-23, a Guava Festival and Chrysanthemum Show at the ancient Baradari Gardens was organized by the Patiala Horticulture Department and Patiala District Administration. The students of Grade 9 enjoyed the show and learnt about the various varieties of flowers and guavas!
Visit to NIS Patiala & Gurudwara Moti Bagh Sahib
The students of Class 8 visited the Netaji Subhash National Institute of Sports, Patiala, and the adjoining Gurudwara Moti Bagh Sahib on 9 December 2022 . At the NIS, Ms Parul was the guide who took the students to the Fencing Hall, Judo Club and Weightlifting Hall. The coaches there talked about the facilities at NIS and about sports as a career.
Students also visited the historical Gurudwara Moti Bagh Sahib, built in memory of Guru Teg Bahadur Sahib. Students performed seva with great enthusiasm and devotion and enjoyed the entire trip.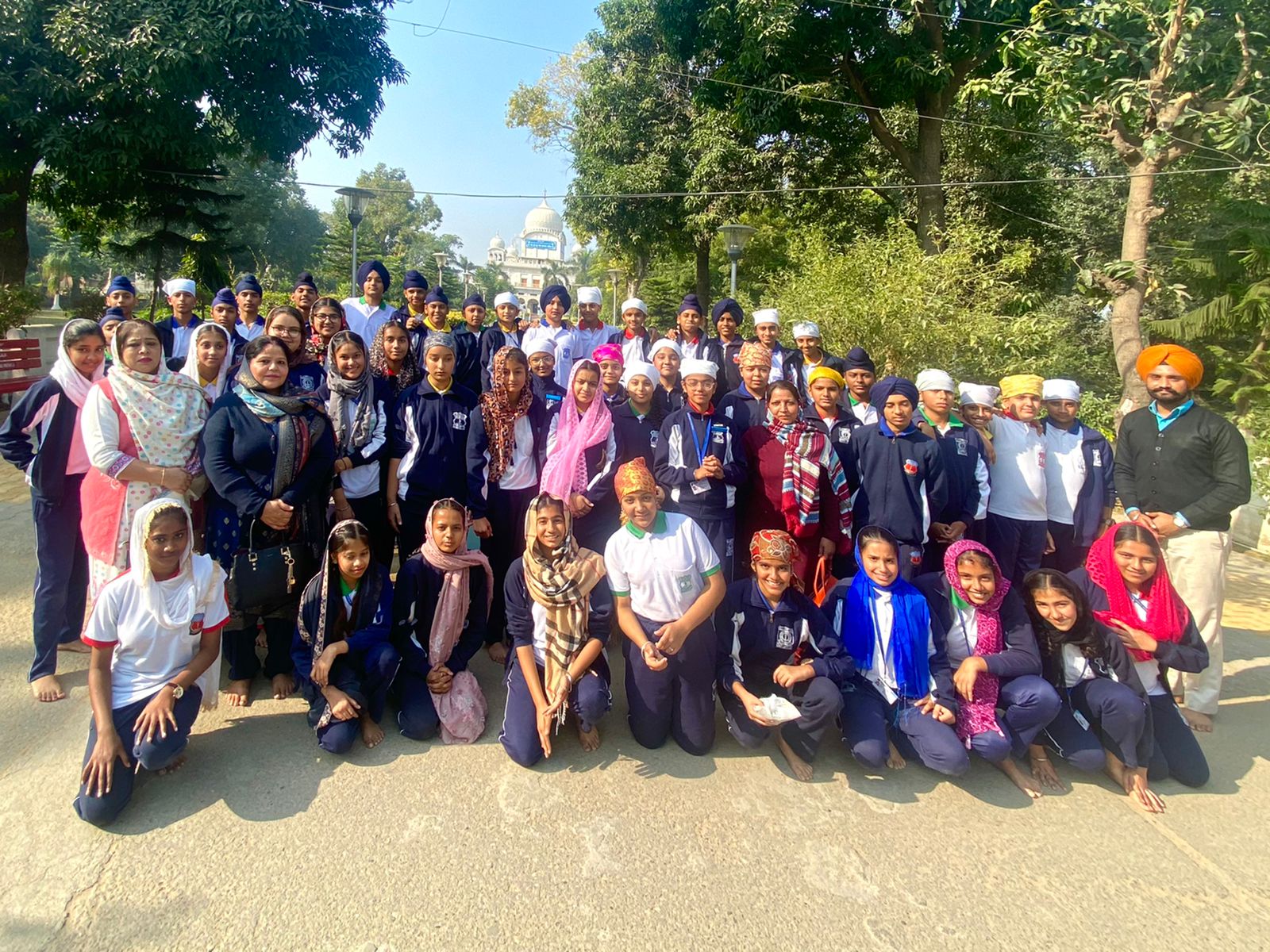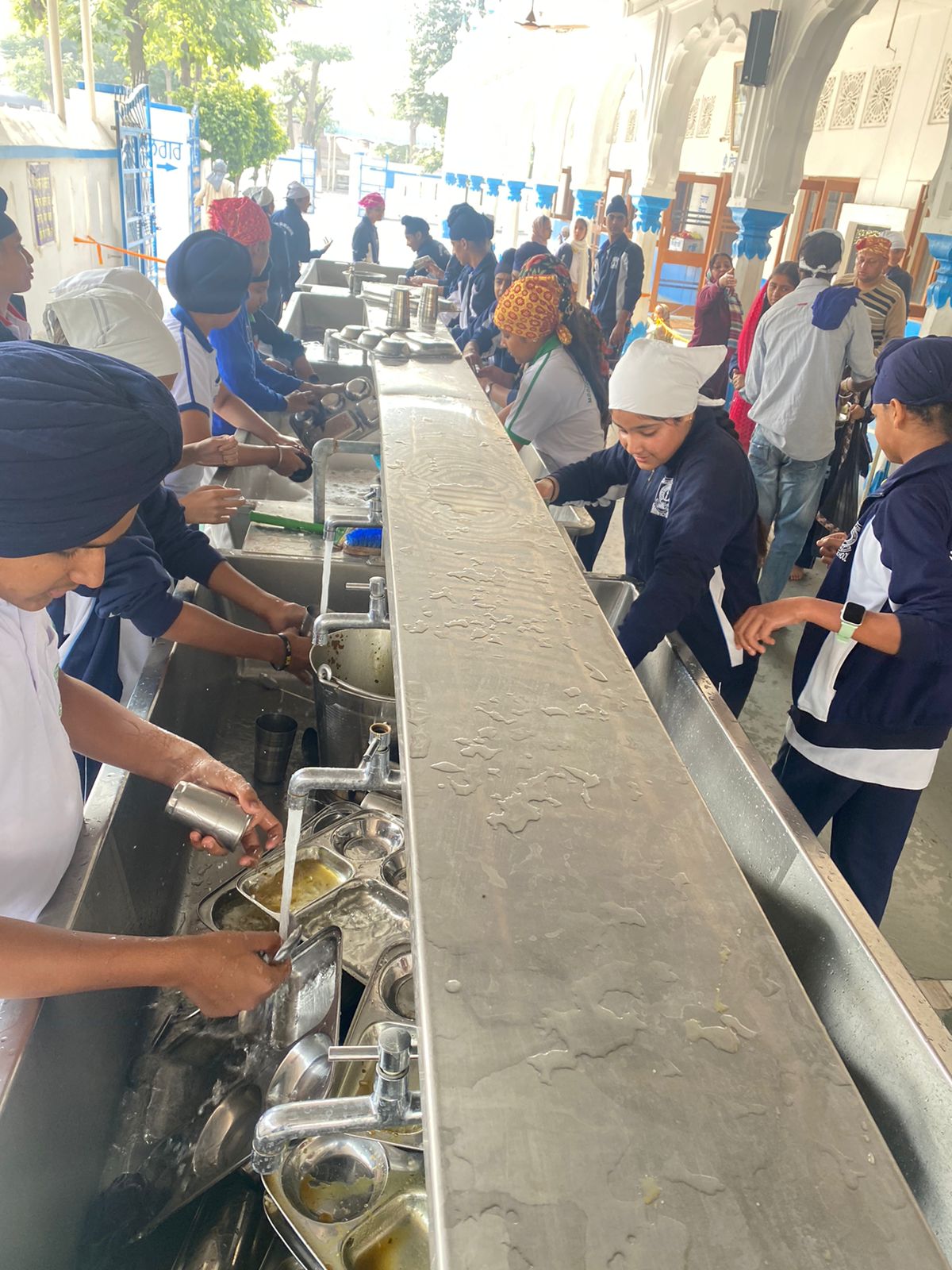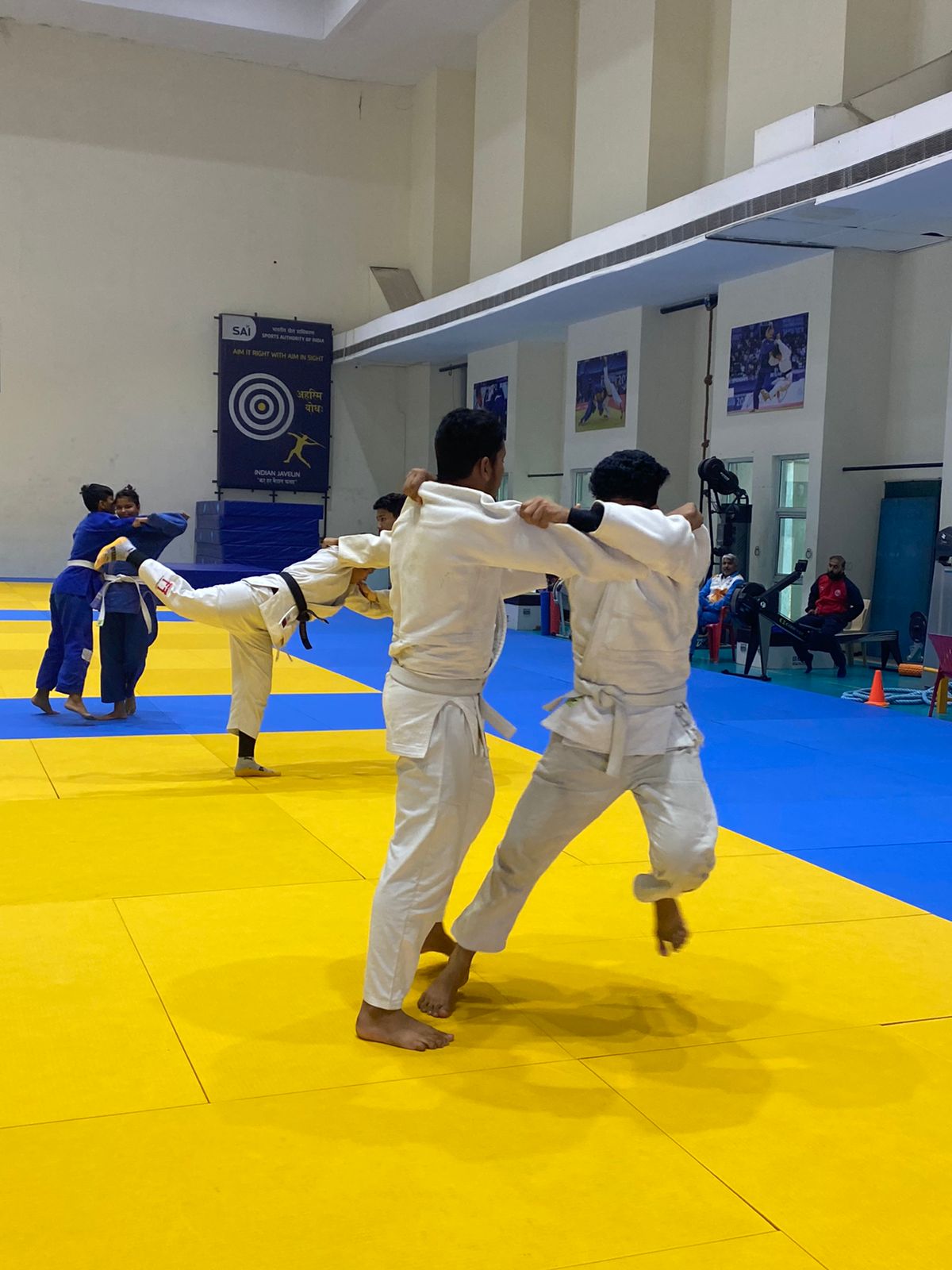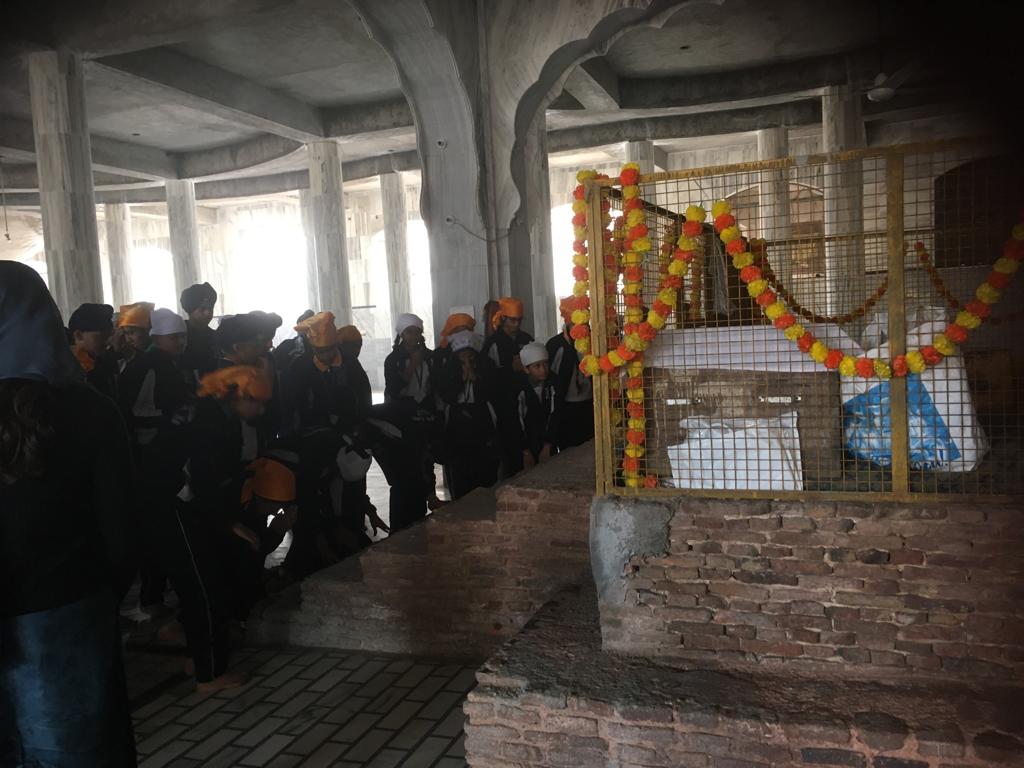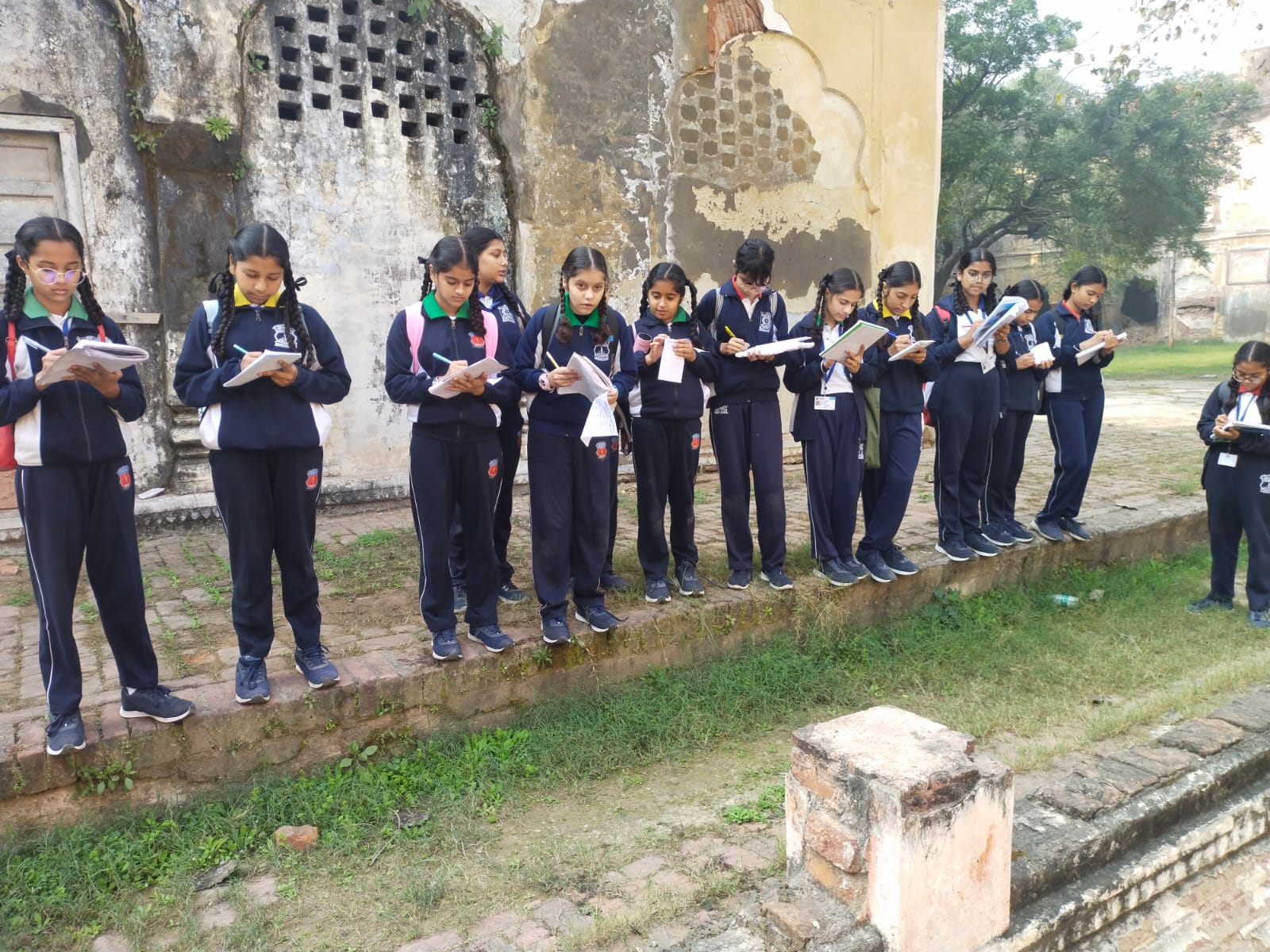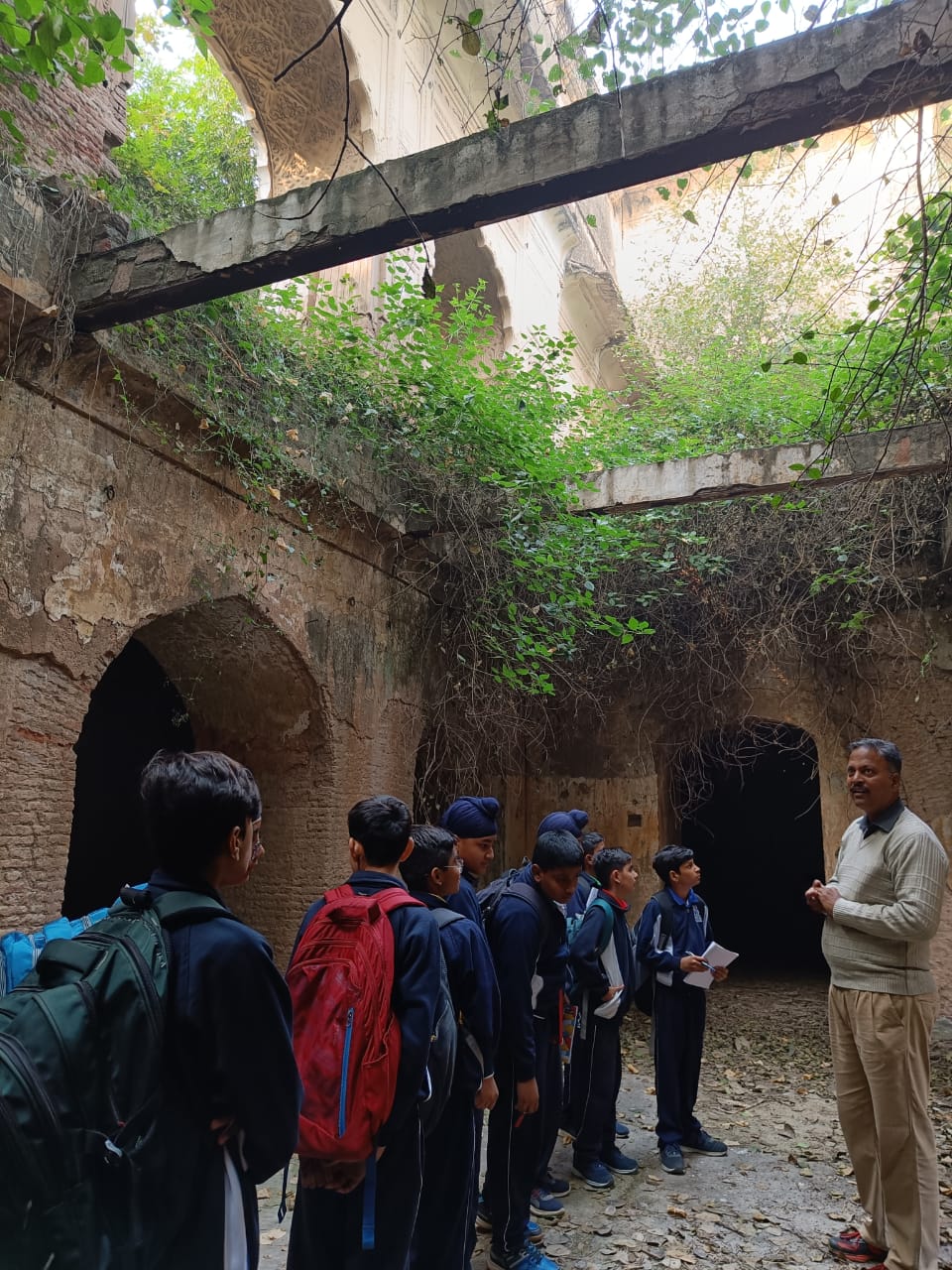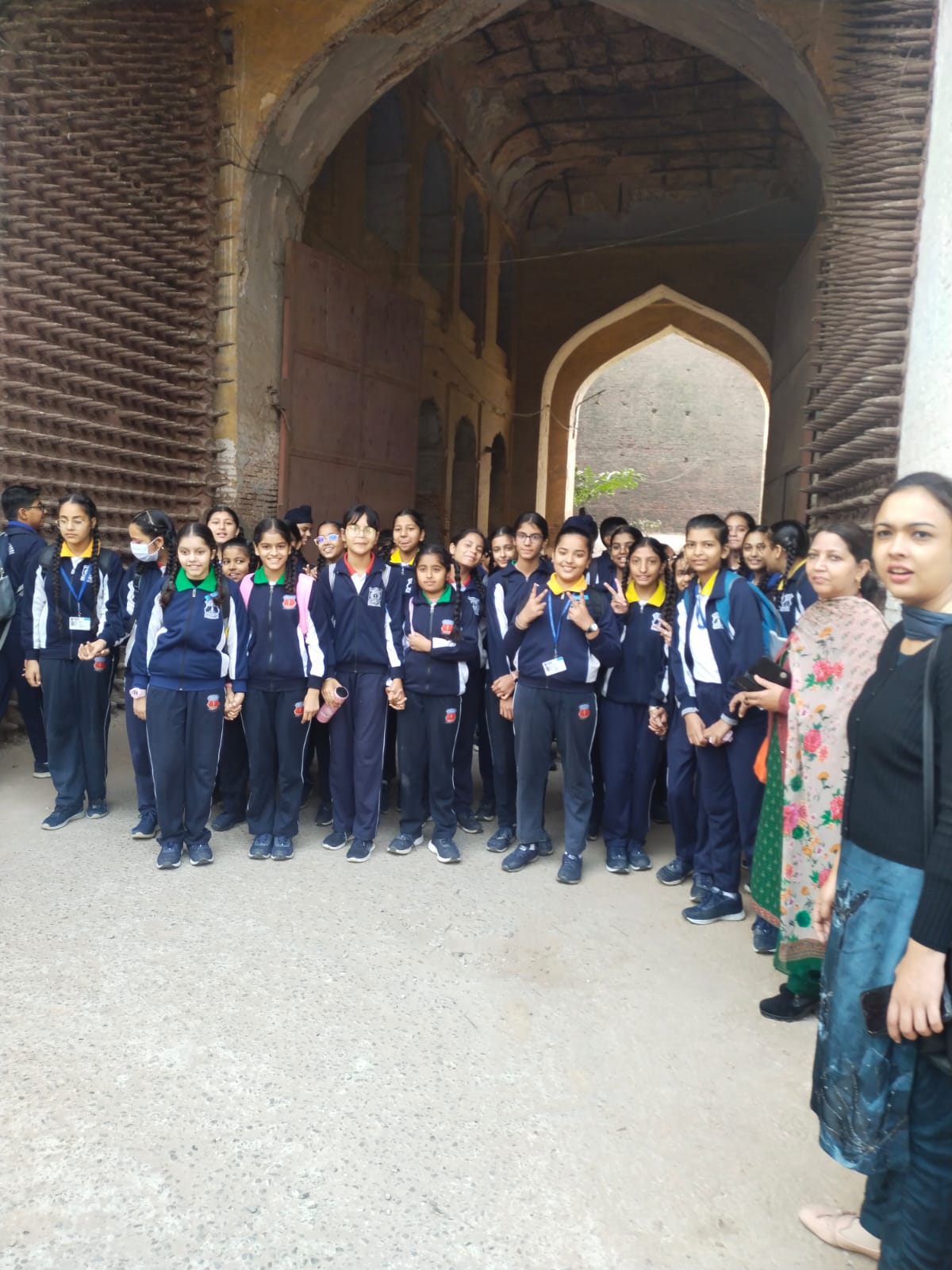 Field Visit to Bahadurgarh Fort, Patiala
This trip was organized for Class 7 students on 3 December 2022. The students were stunned to see the octagonal turrets around the walls and the lotus-shaped pinnacle domes in the rooms. They paid obeisance in a sanctum for the holy Guru Granth Sahib named after 'Gurudwara Sahib Patshai Nauwien' inside the fort and also relished Langar in Gurudwara Bahadurgarh Sahib.
Field Visit to Punjabi University Botanical Gardens
On 30 November 2022, Class 9 students visited the above-mentioned Botanical Gardens in Patiala. At the gardens, Mr. Manish Kumar, Asst. Professor, and his team explained the different species of Angiosperms and Gymnosperms. Students also holistically learnt about sacred plants, different varieties of cactus, tropical and subtropical plants and their environmental conditions for survival. It was a wonderful day out of the class room for experiential learning!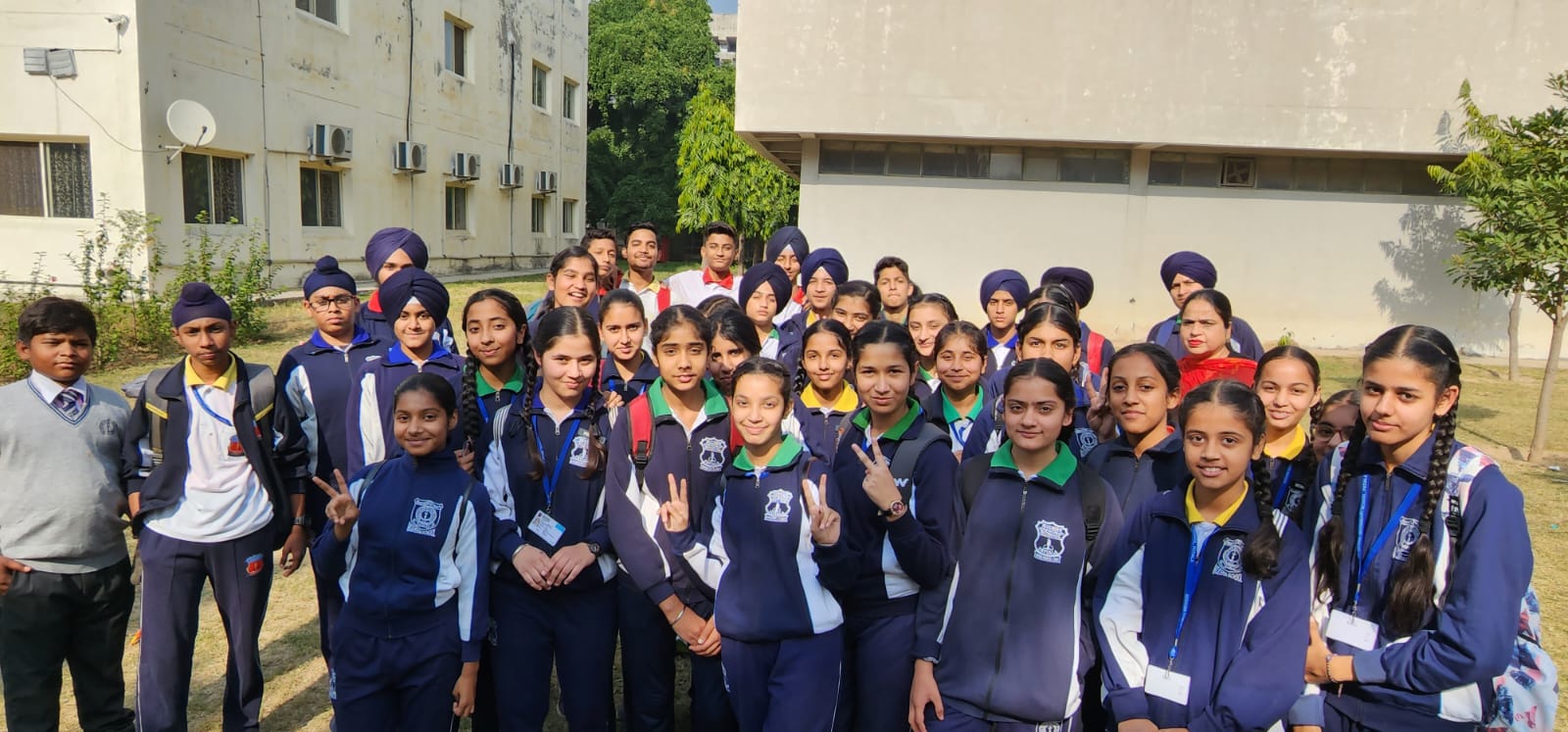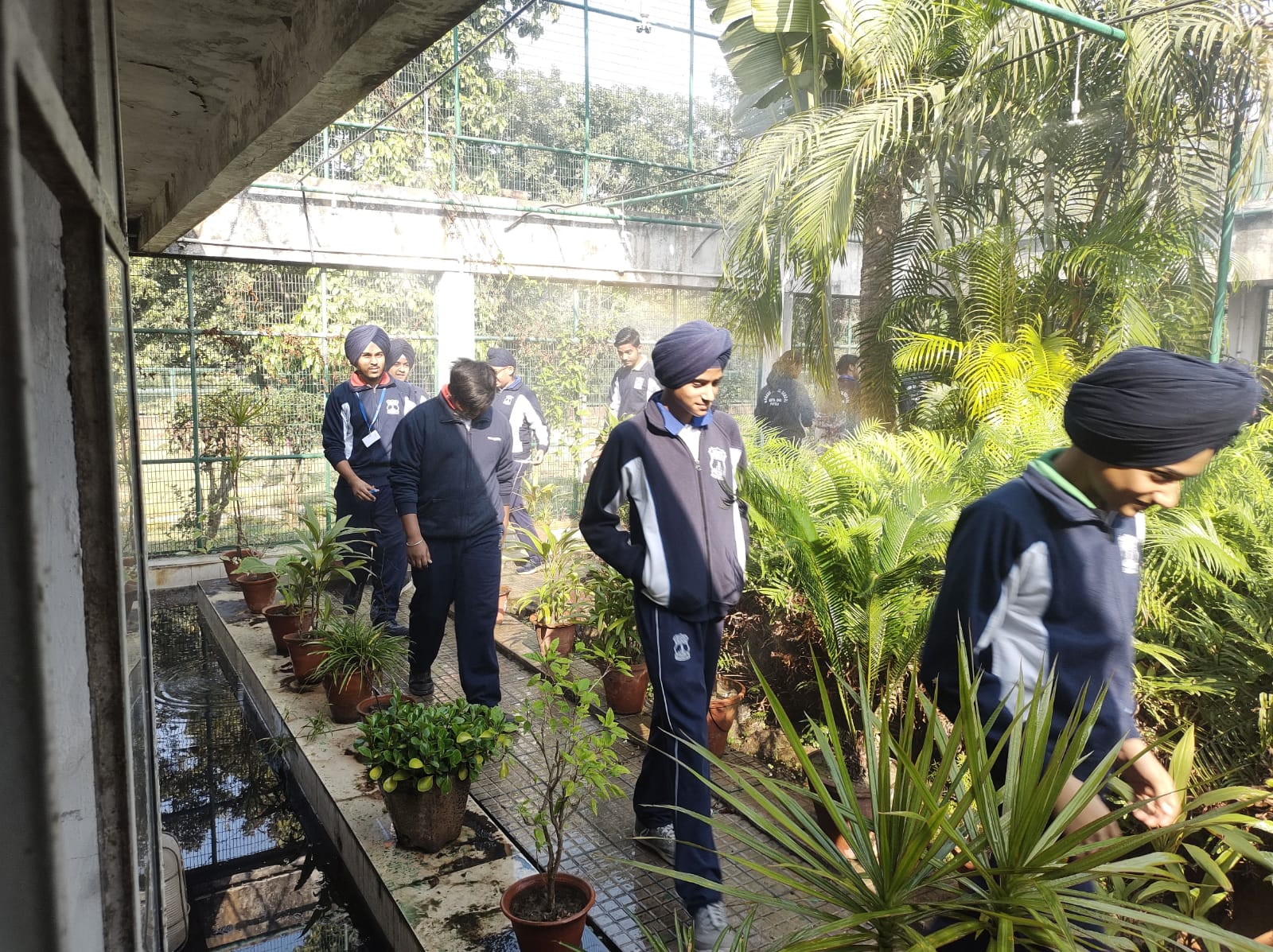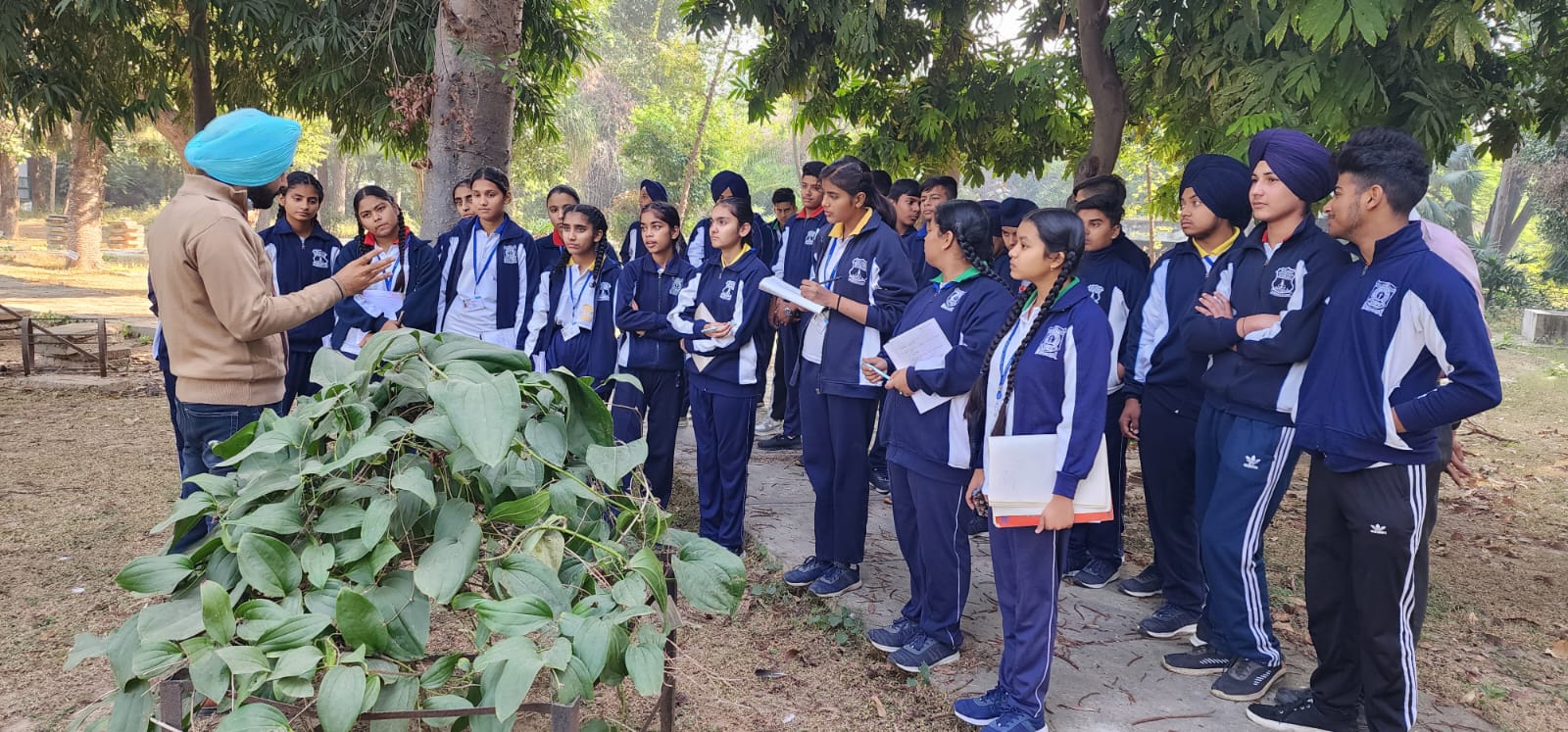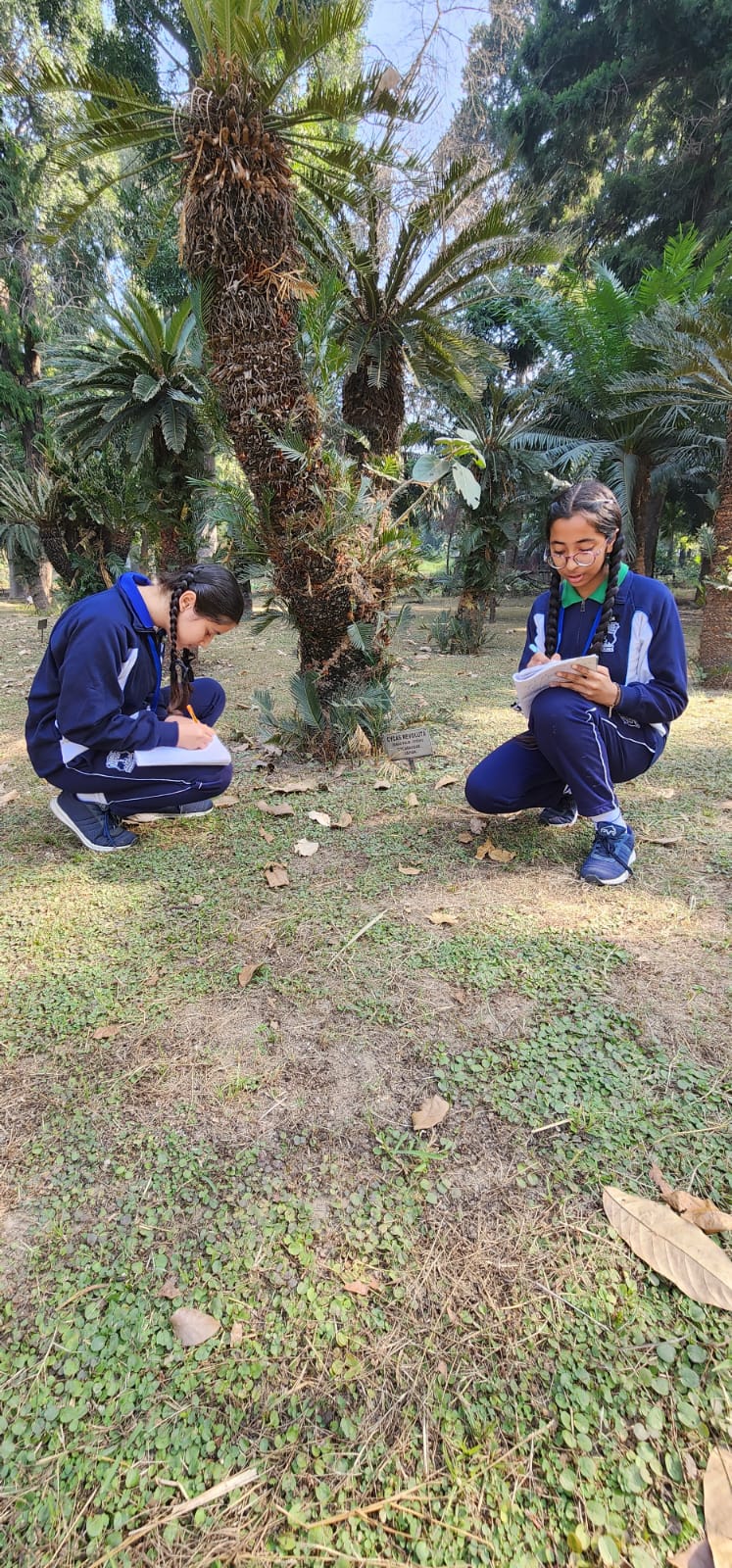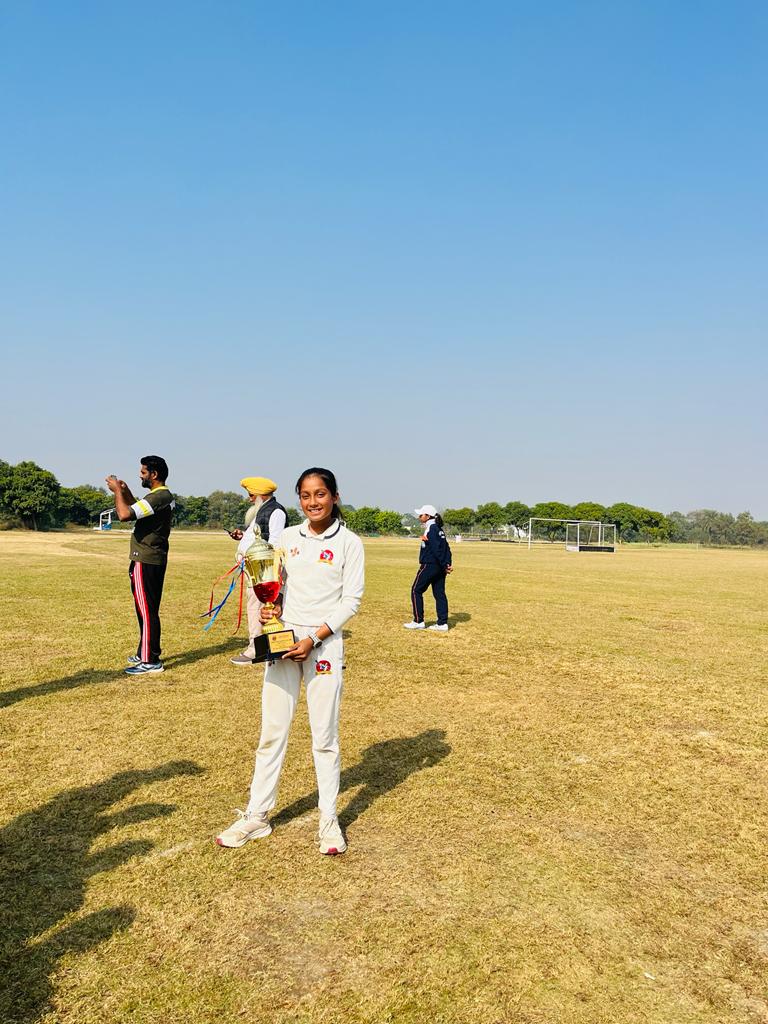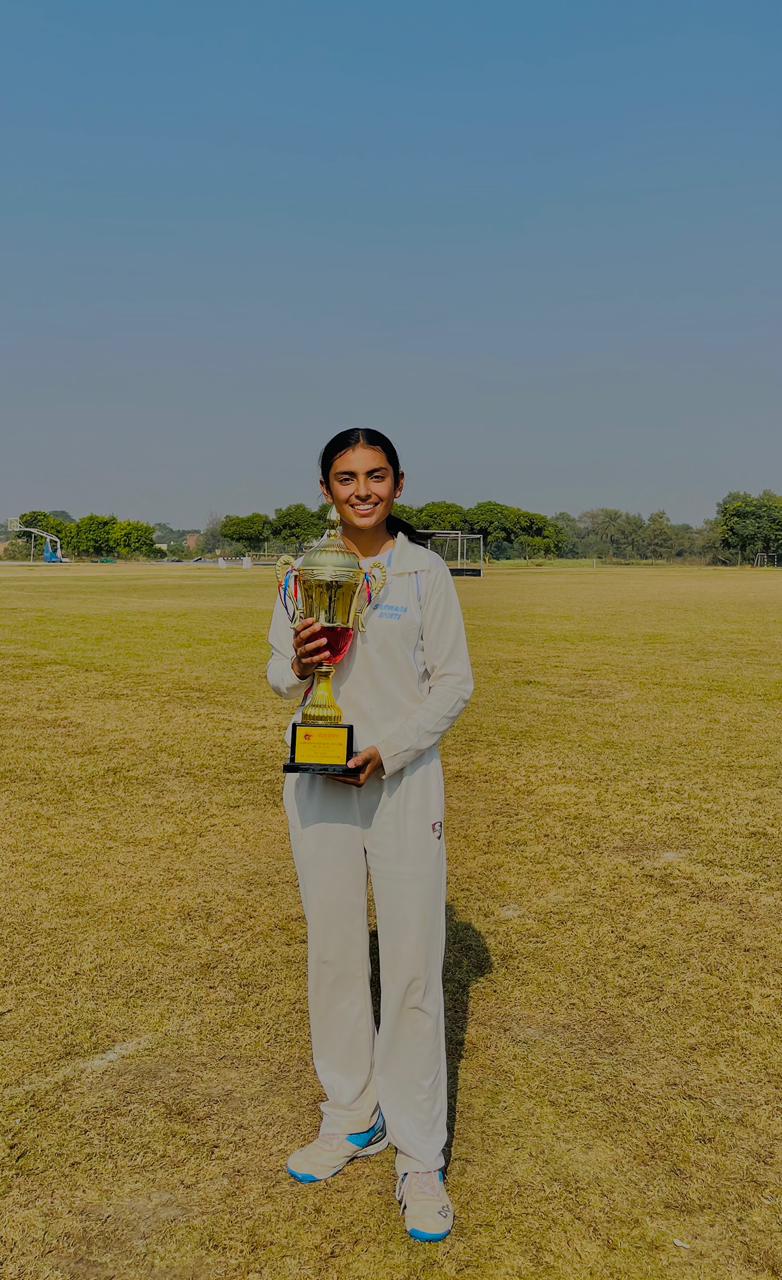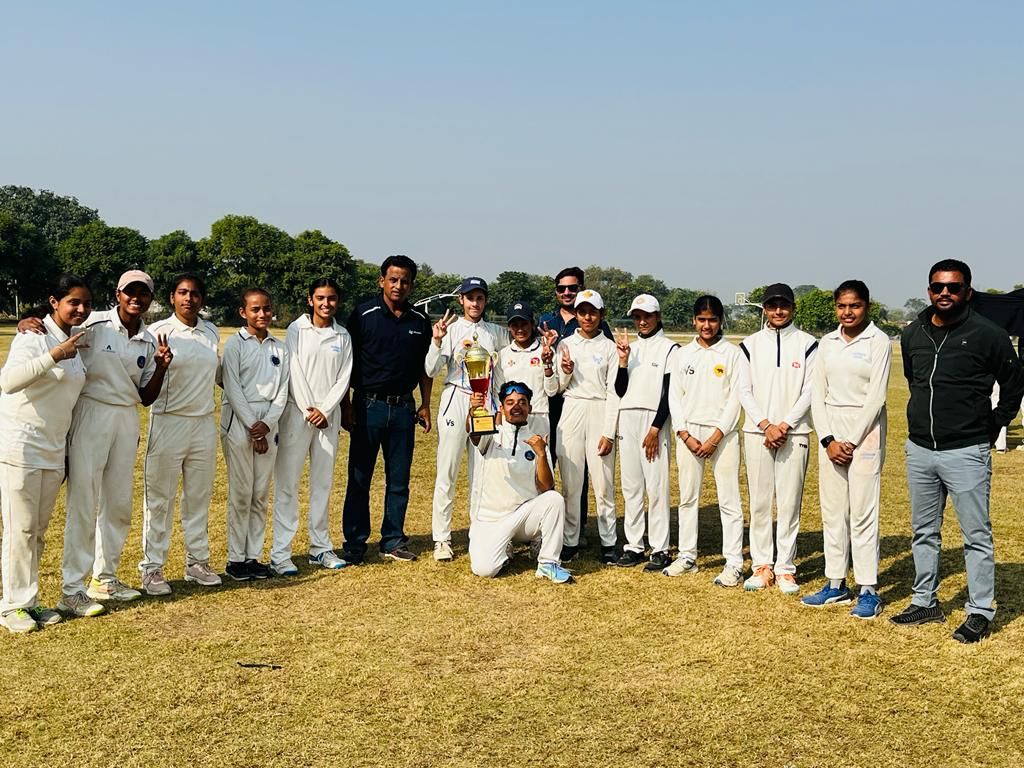 Our Young Cricketers Shine!
The Patiala girls under 17 Cricket team has won the Punjab State Inter-District School Tournament at Fatehgarh Sahib from 22 to 25 November 2022. Two of our students, Jashanpreet Kaur (11 B) and Shamta Mandora (8 B), are members of the winning team! Kudos!!
NCC Girls Take Centrestage
A Combined Annual Training Camp of NCC (Girls' wing) was held at Rupnagar 14 to 21 November 2022. The camp was attended by 22 Cadets of our school (10 from the Senior Wing and 12 from the Junior Wing). Karmanpreet Kaur (IX-C) won a gold medal and Namanreet Kaur (IX-C) won a silver medal in the Declamation Contest. Harsdeep Kaur (IX- B) won a gold medal in the Firing Competition. Nitya Kapoor (XII-C1) performed a Kathak dance, which was much applauded.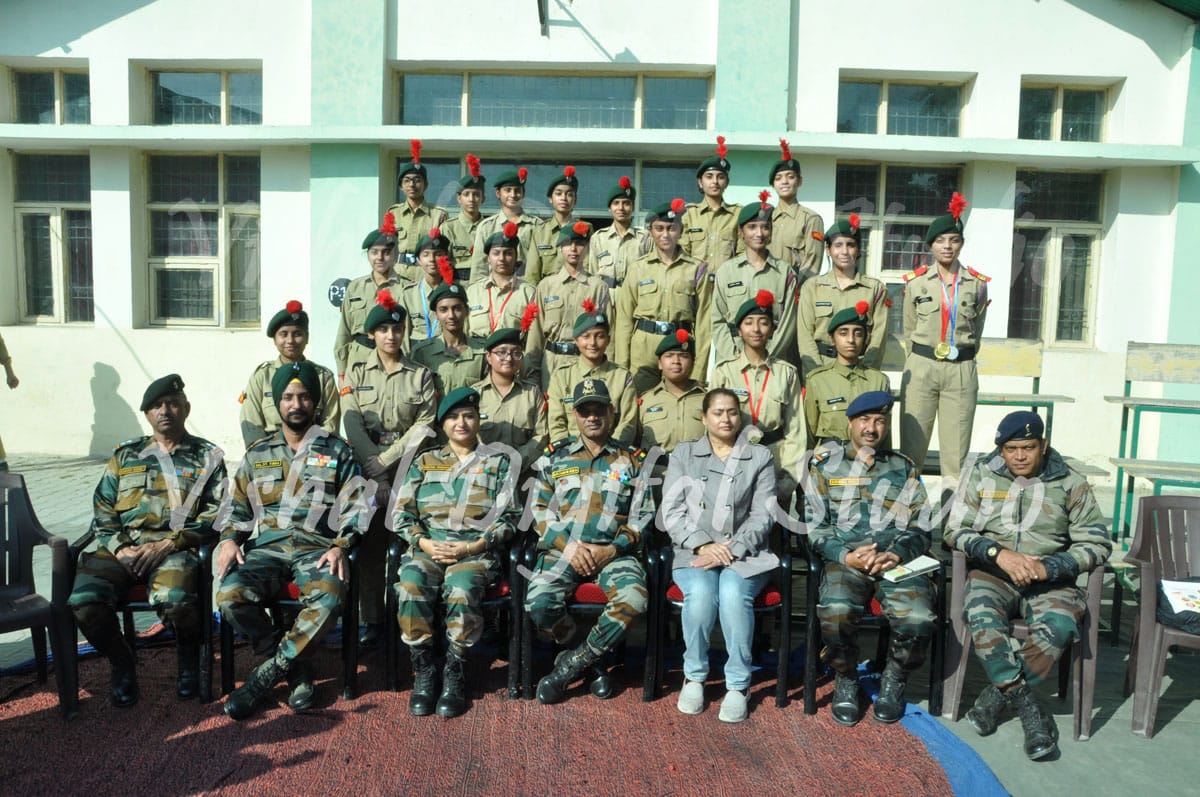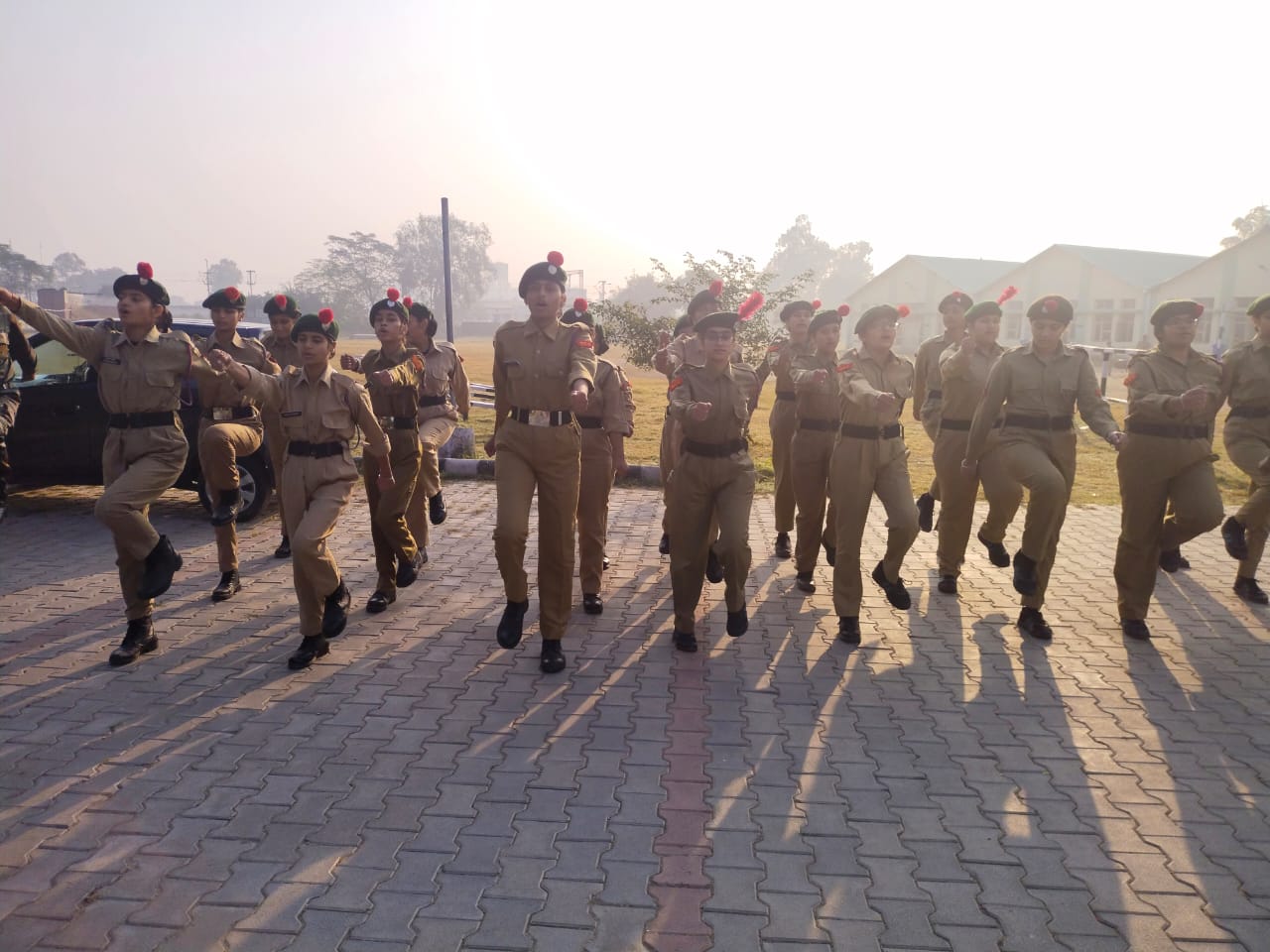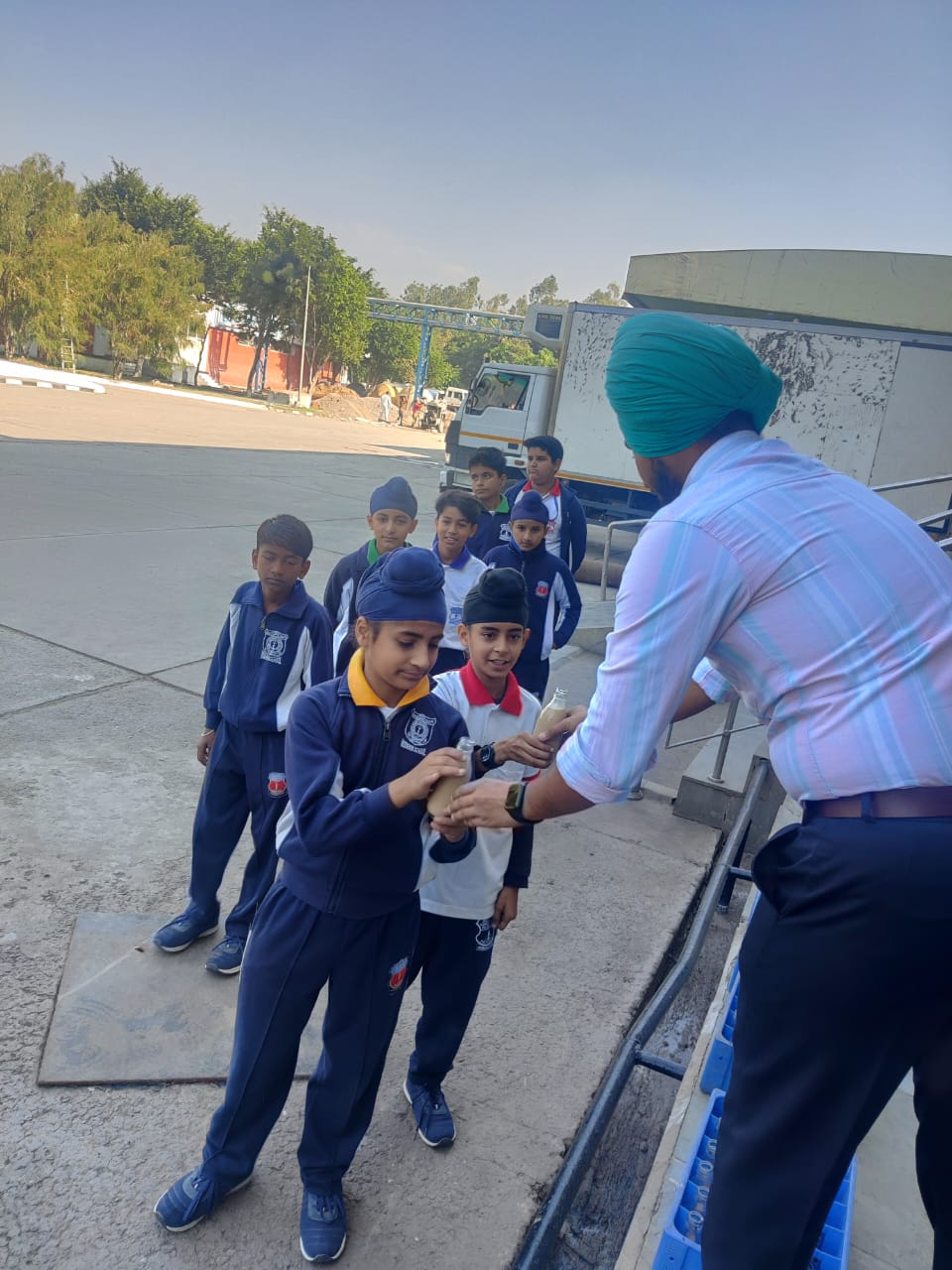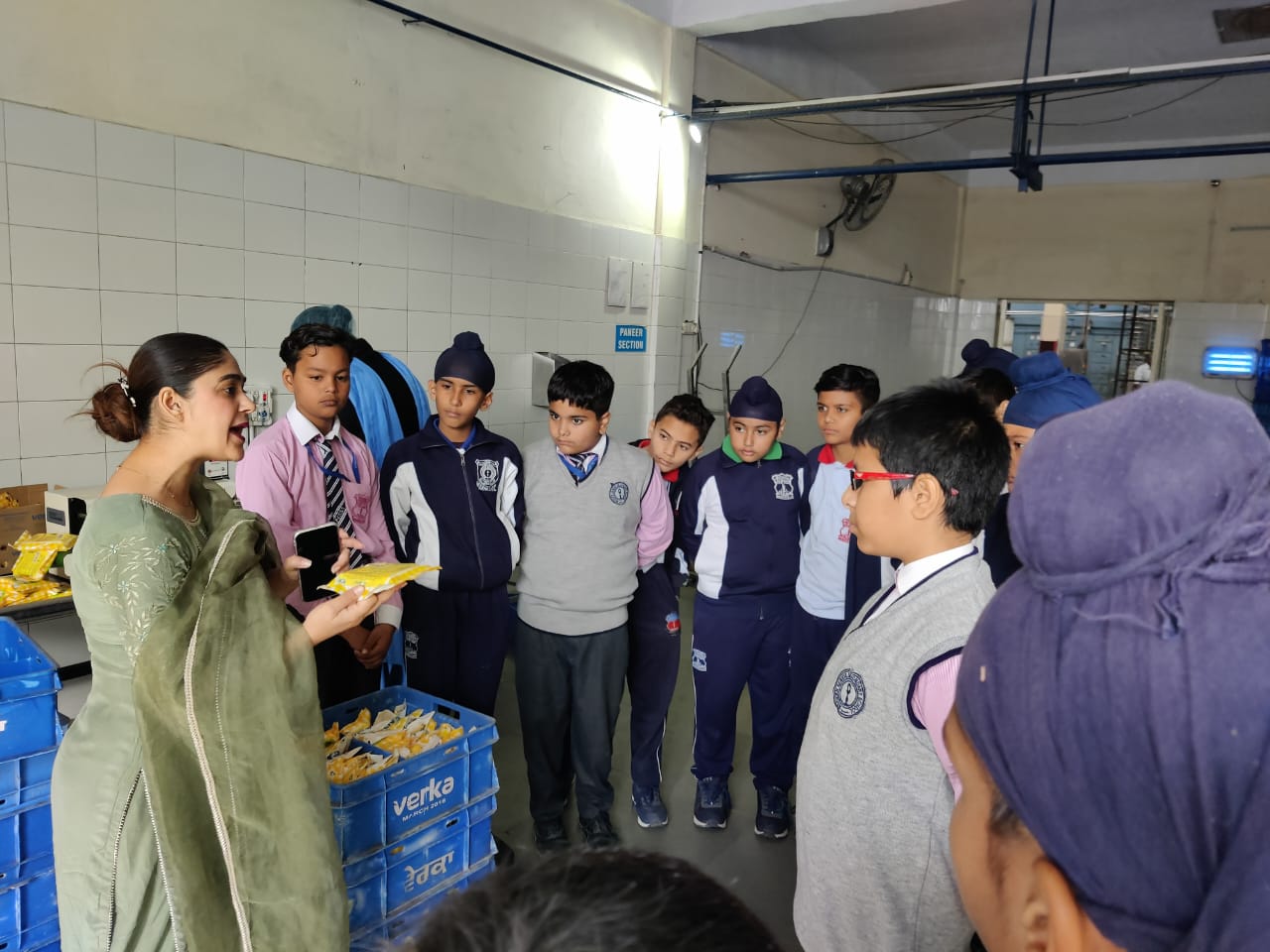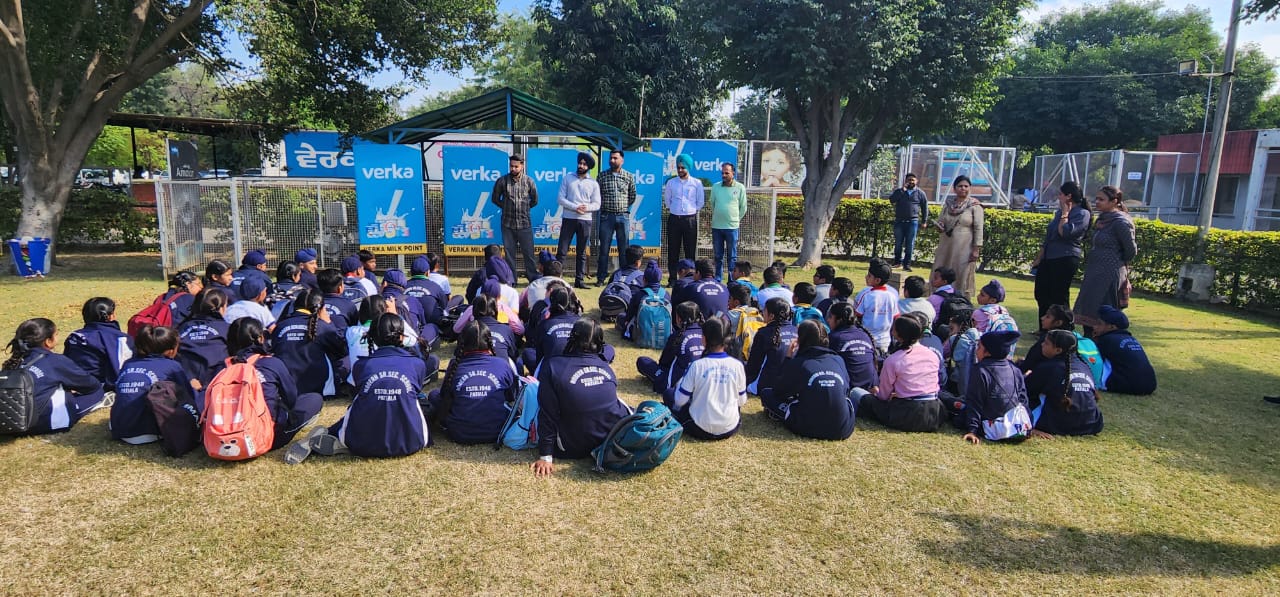 Field Trip to Verka Milk Plant, Patiala
Class 6 students visited the milk plant to understand how milk from farms reaches their homes - the entire process of manufacturing and processing of milk and milk products like curd and paneer. Also, its nutritional value! Verka marketing head, Mr. Gurpreet Singh, received the students at the plant. And yes, the kids got to drink milk too!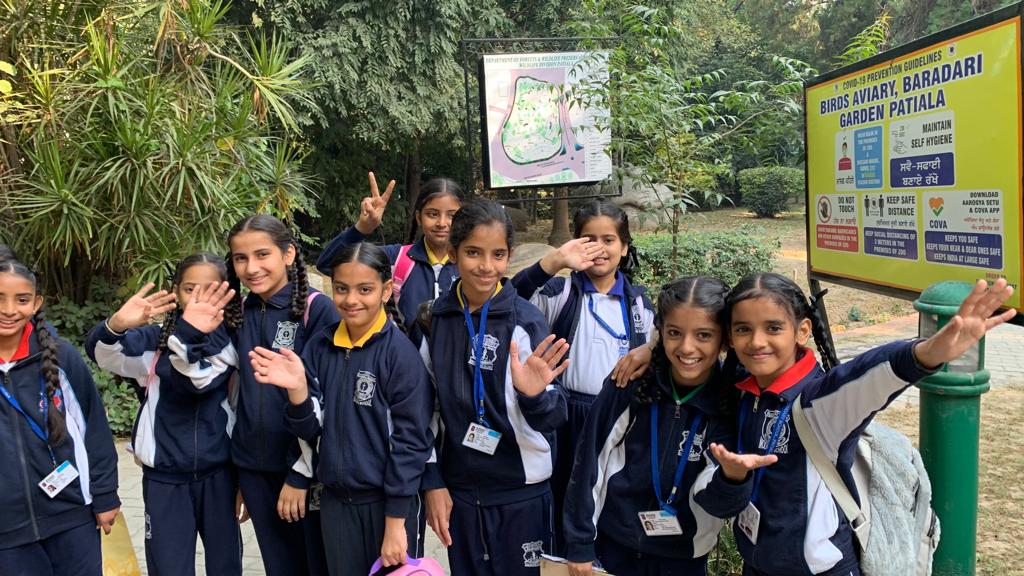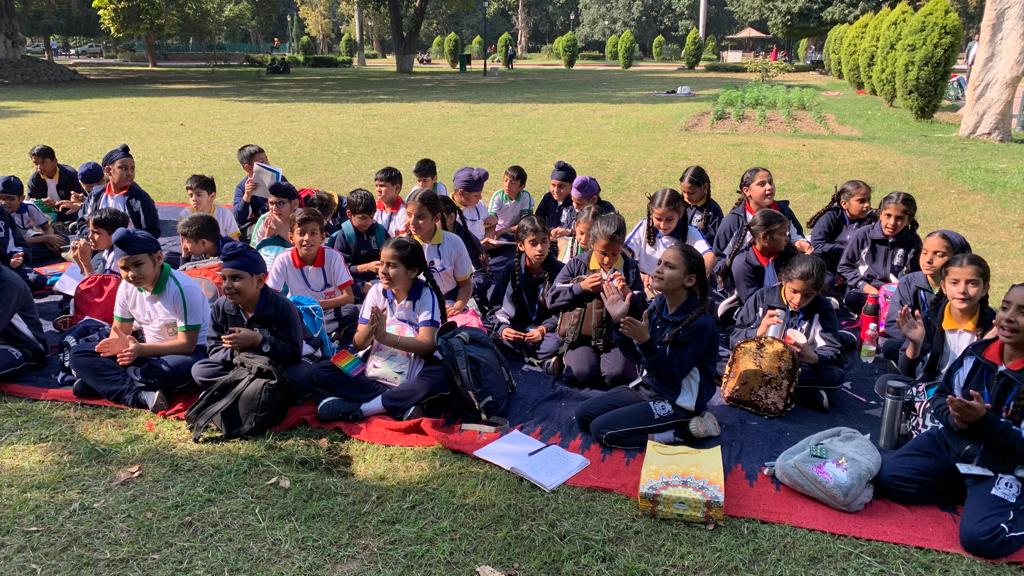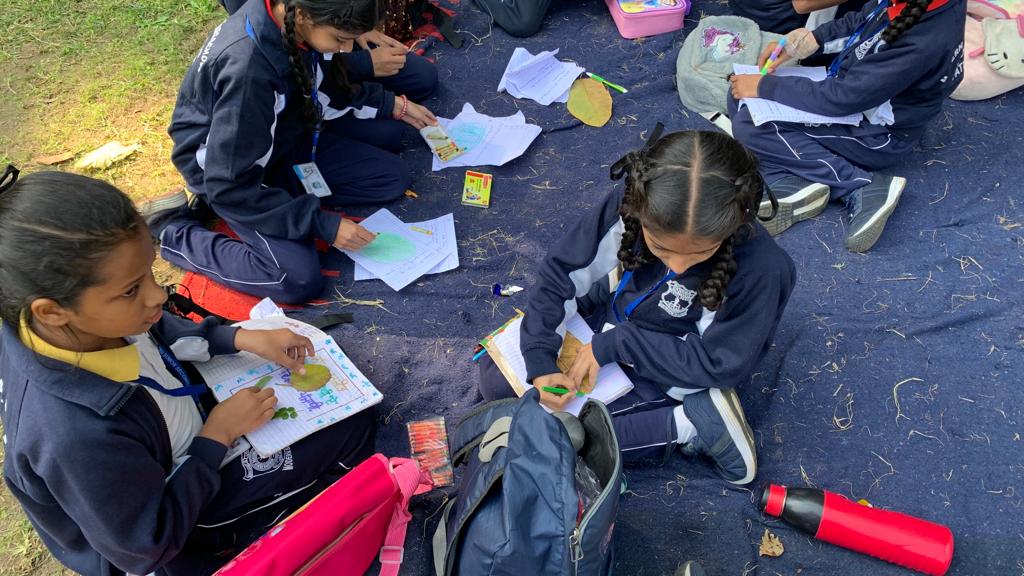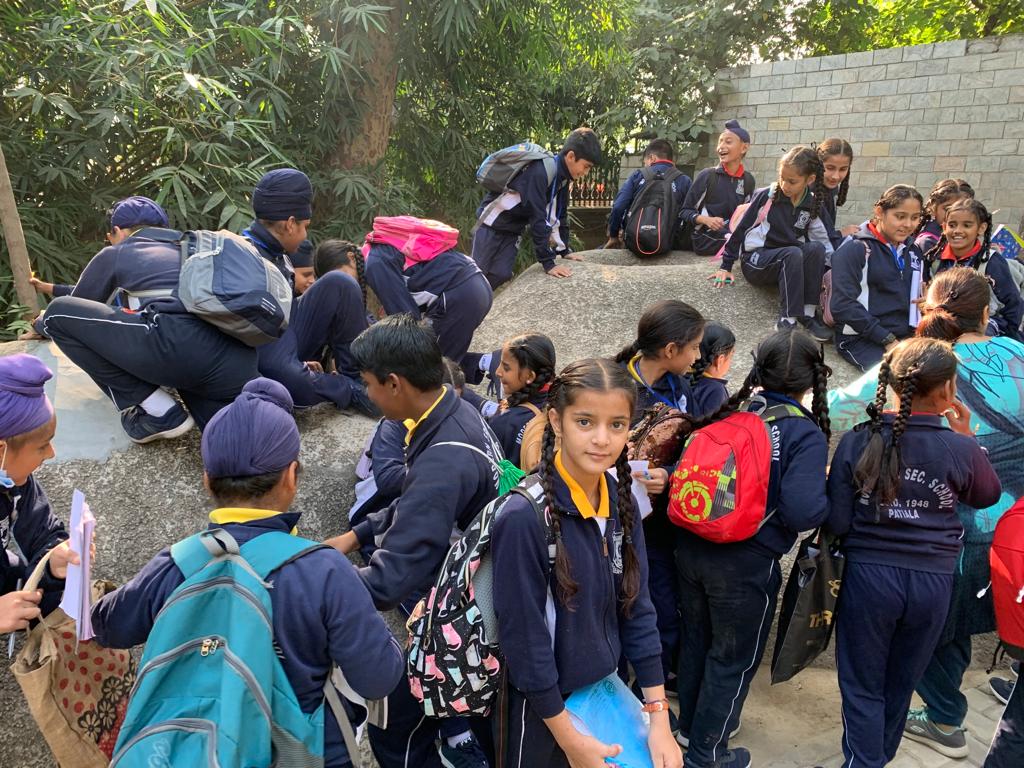 Field trips to Avairy Garden & Baradari Garden
Students of Classes 4 and 5 visited the above mentioned in November 2022. At Aviary, they saw Golden Pheasants, White Pigeons, Turkey, White Doves, etc. The students also noted down their scientific names, their food, number of eggs they lay and more. The teachers asked them to observe their different types of claws, colours and beaks. The next destination was Baradari, where they had fun sharing their eatables and lunch with each another and played games. They saw different kinds of trees and came to know about the age of the trees. One of them was 100 years old. They saw the banyan tree's prop roots and hollow trunks of the trees. They collected various kinds of fallen leaves and made their impressions in their notebooks with colours.
Children's Day: Modern School On-the-spot Painting Competition
Nearly 1,700 children of Patiala from 27 schools, including ours, turned out on a beautiful morning on 14 November 2022 for the Modern School On-the-spot Painting Competition held at the large, lush green grounds of the school! The mega event was open and free for all children of Patiala to show their creativity and talents.
The chief judge was Mrs. Deepika Lamba. Prizes were awarded to the winners in six different age categories. Each age category was given a theme around which the works of art were to be created.
Lots of parents also turned up to encourage their children. There were also food stalls, fun games, a lucky draw and music - all of which added to the fun and joy!
Children, keep yourselves free on 14 November 2023 now!!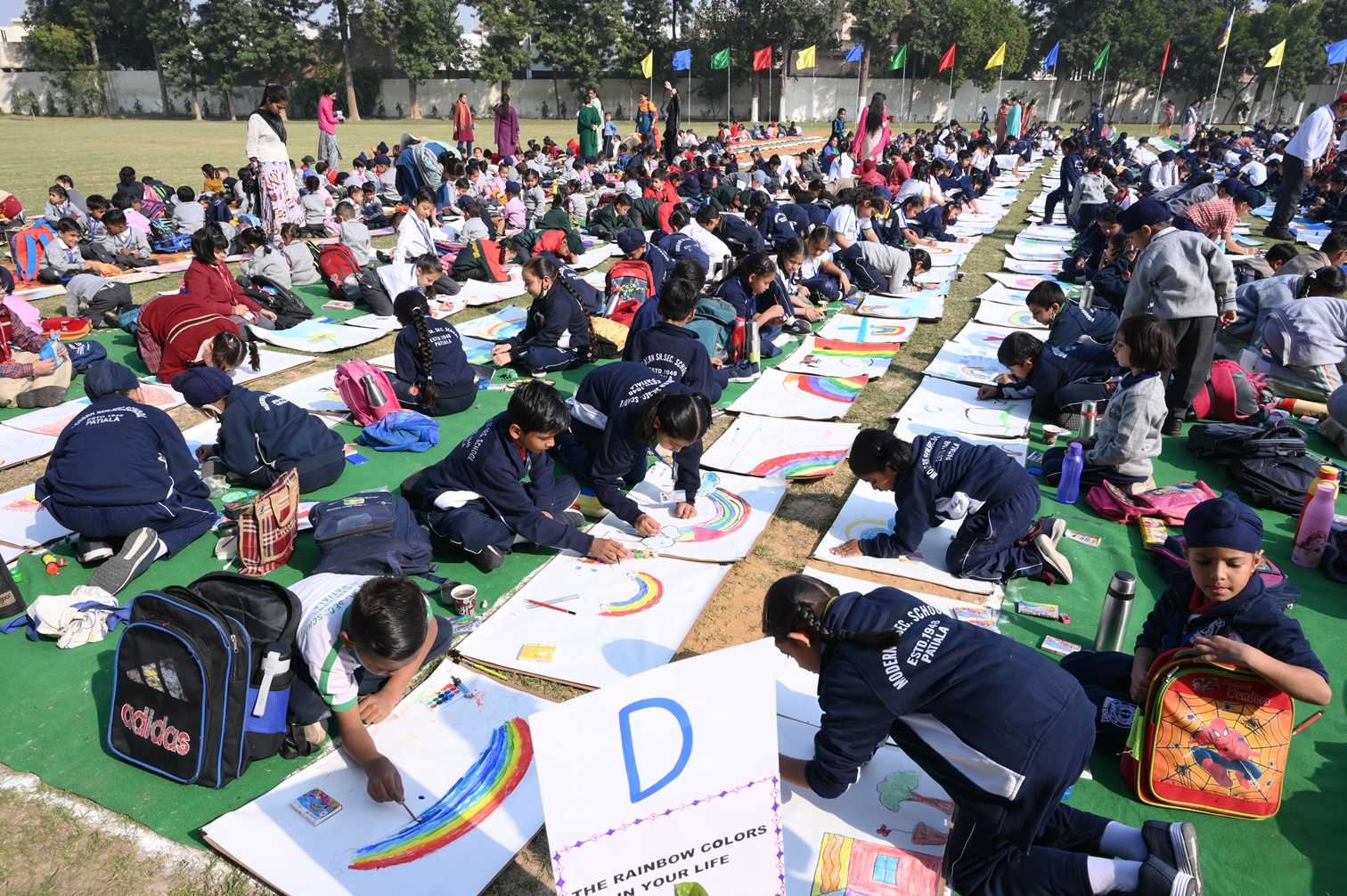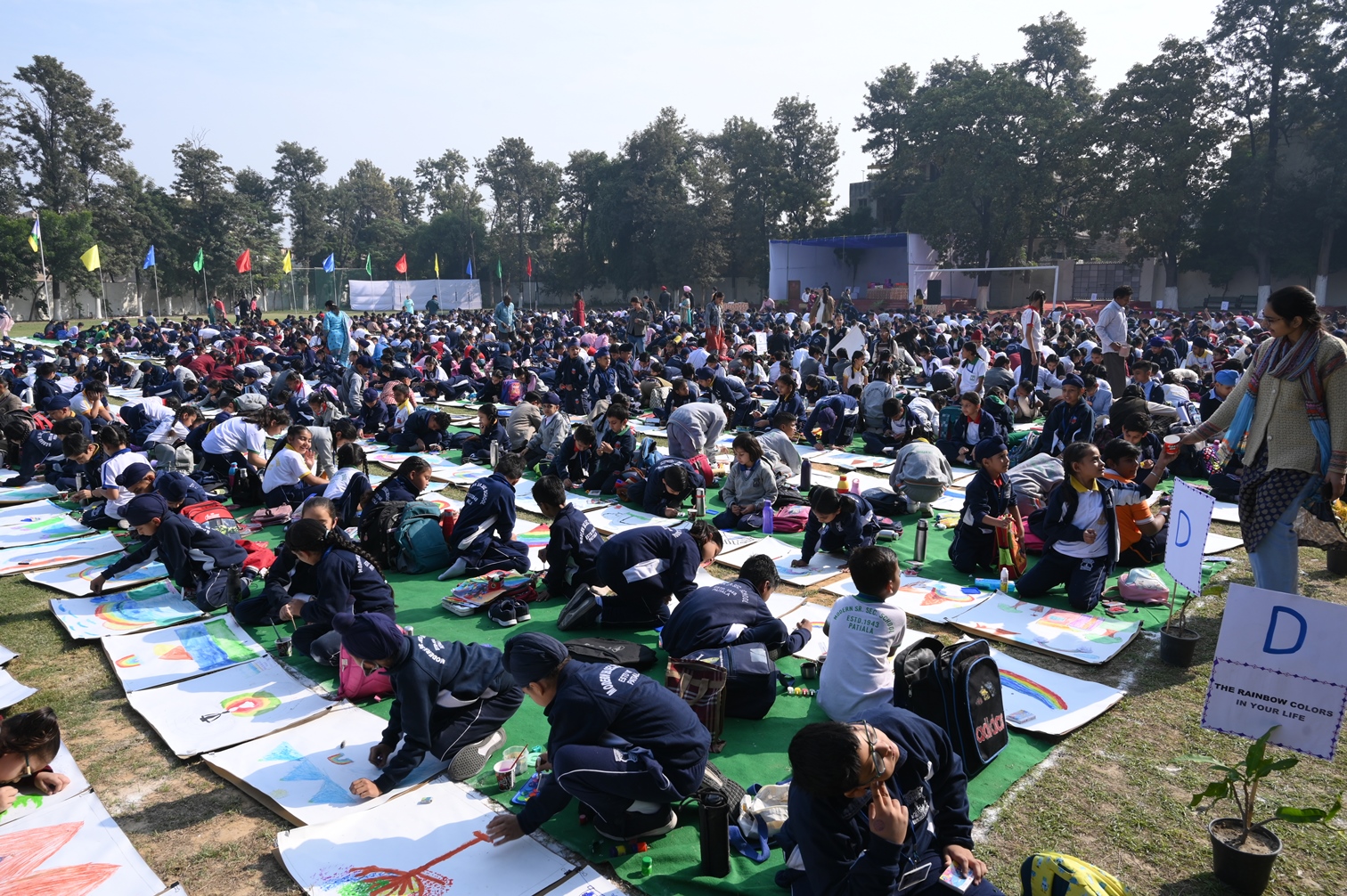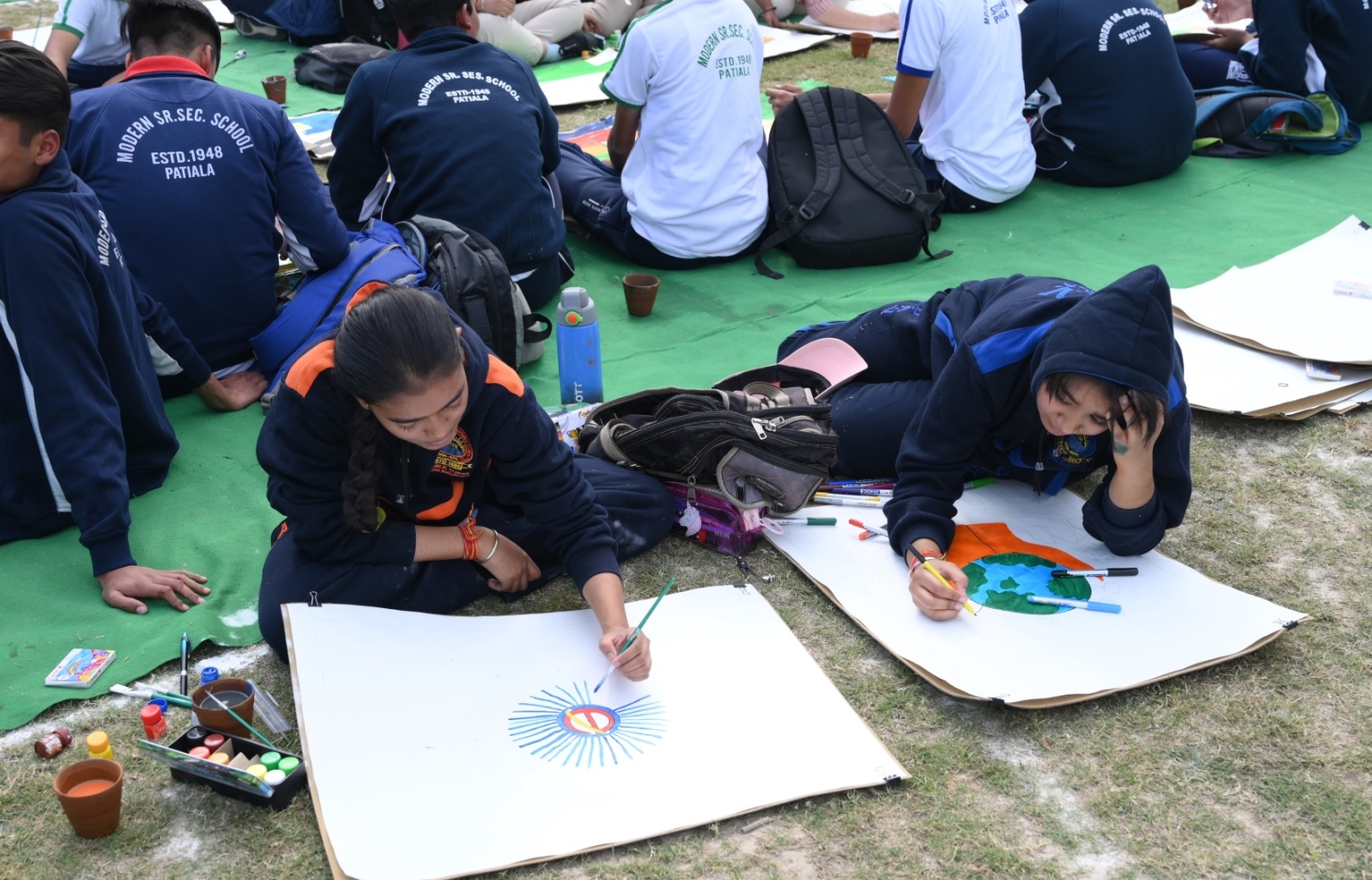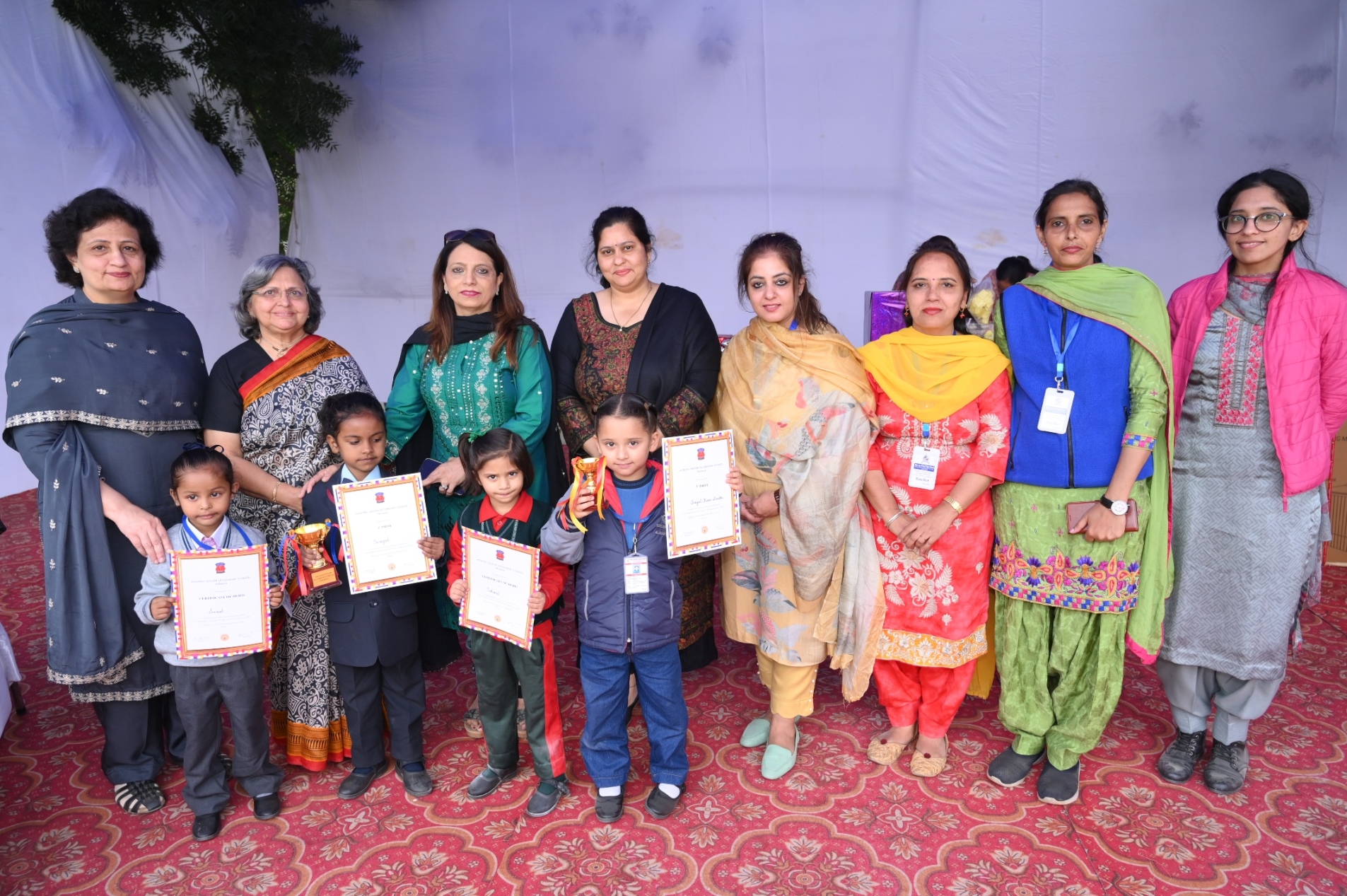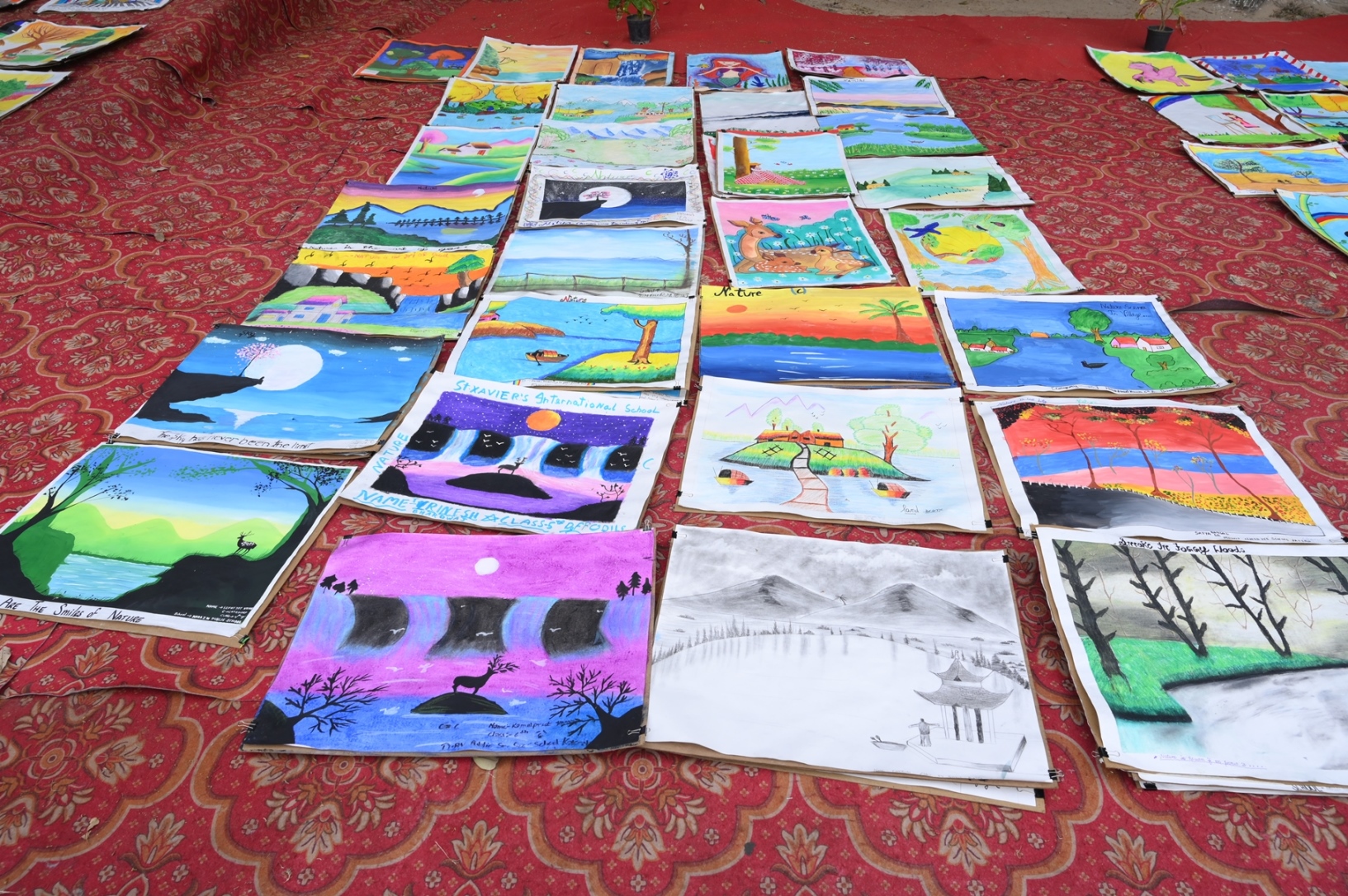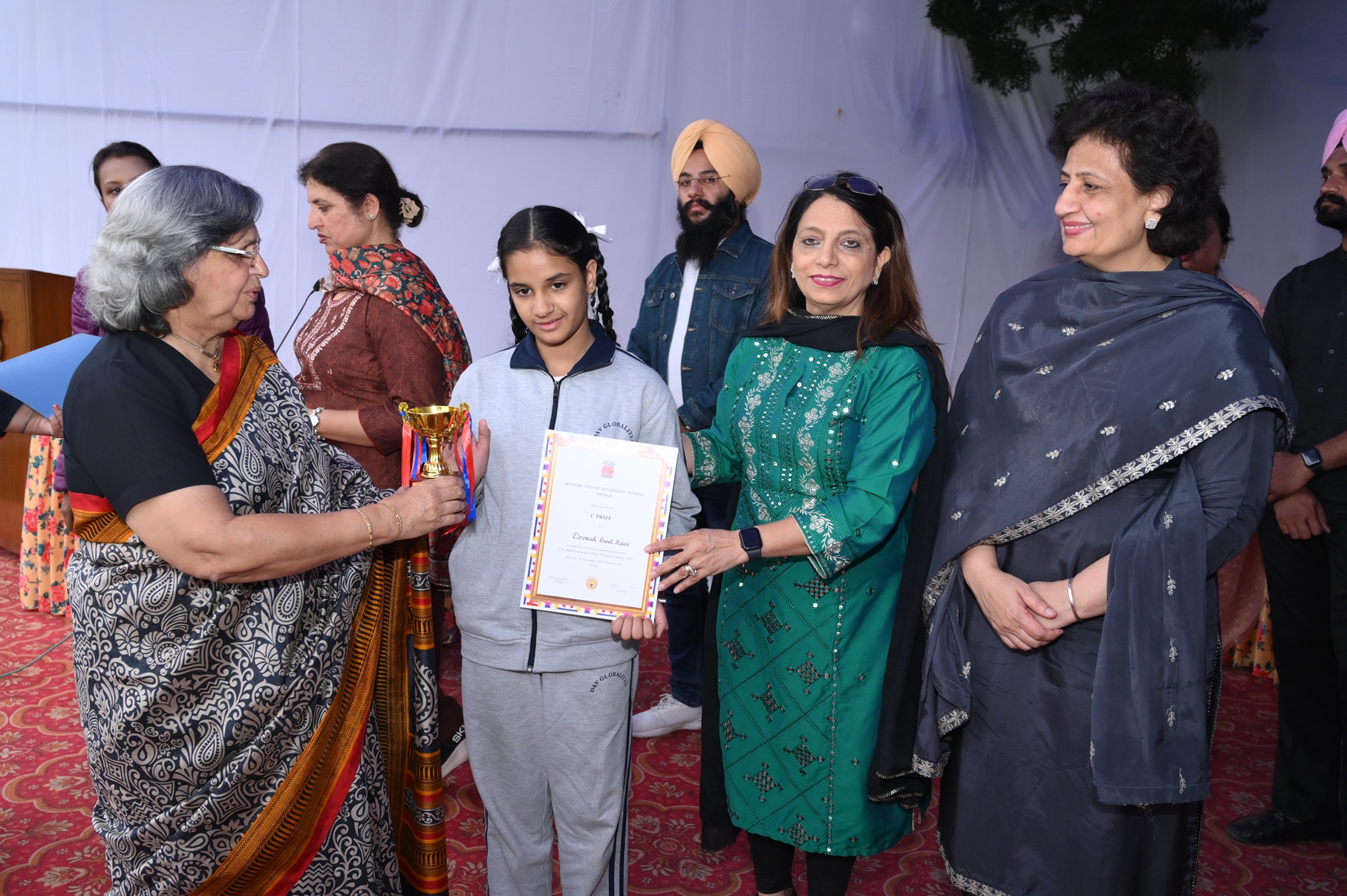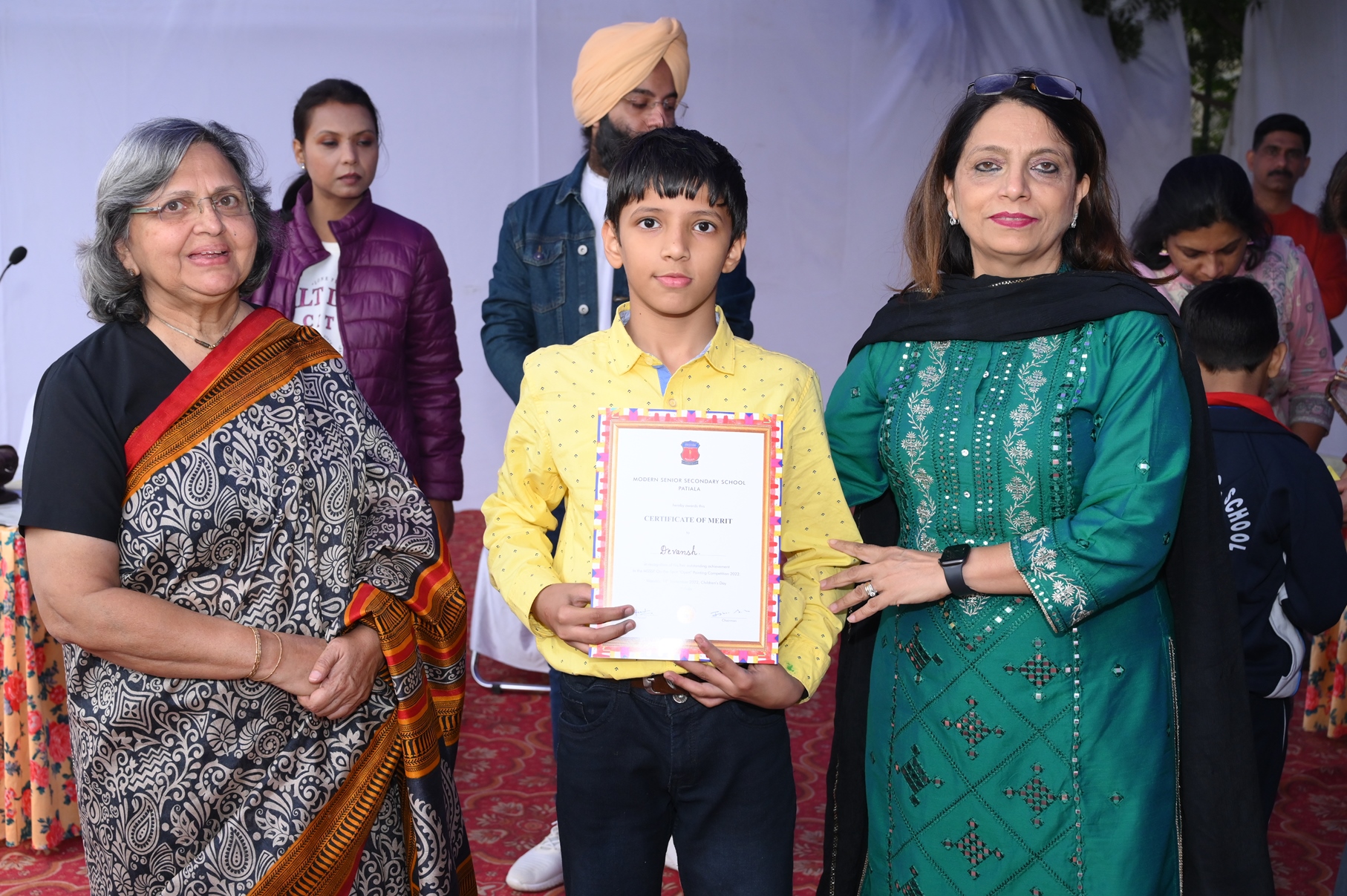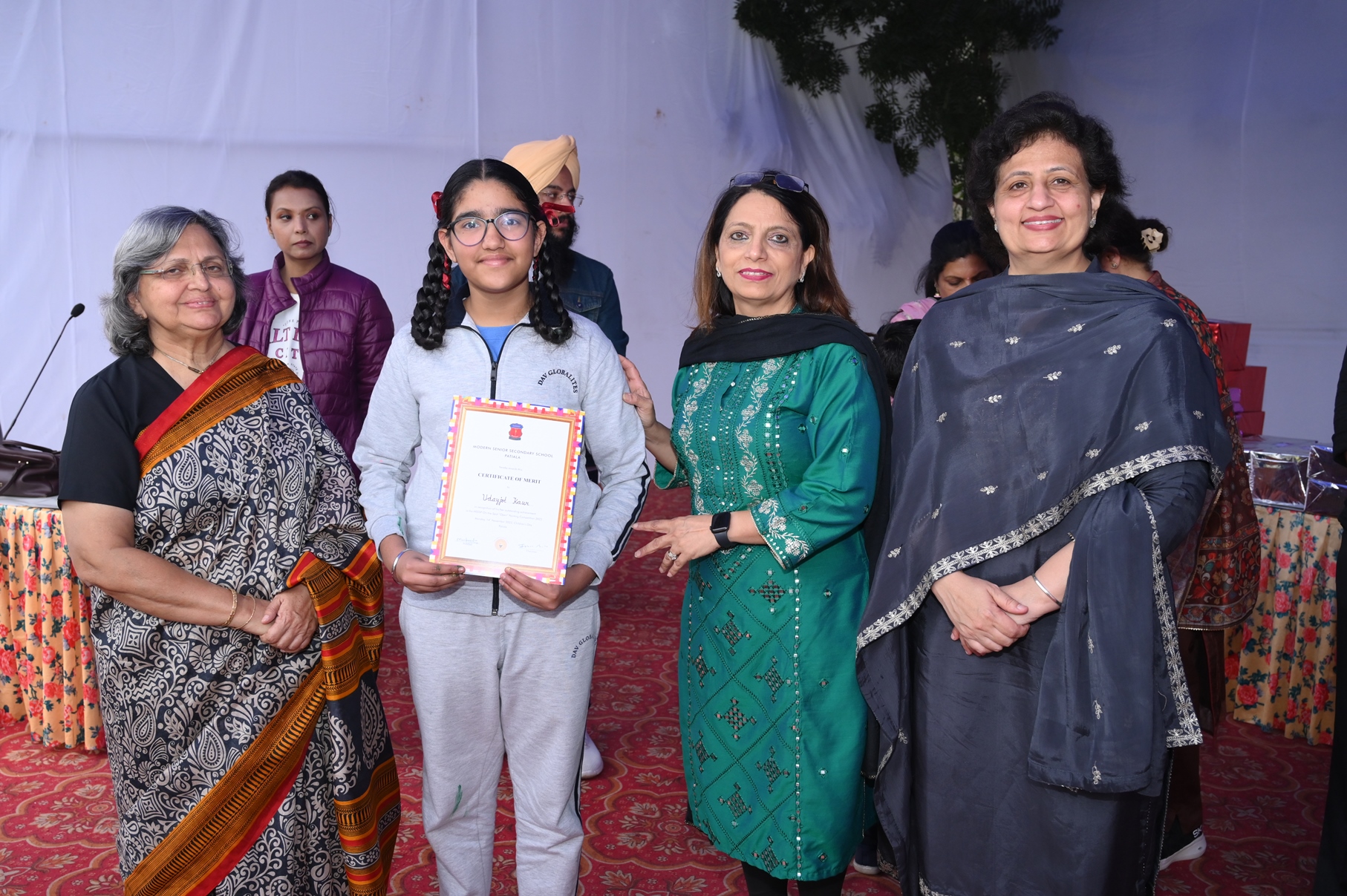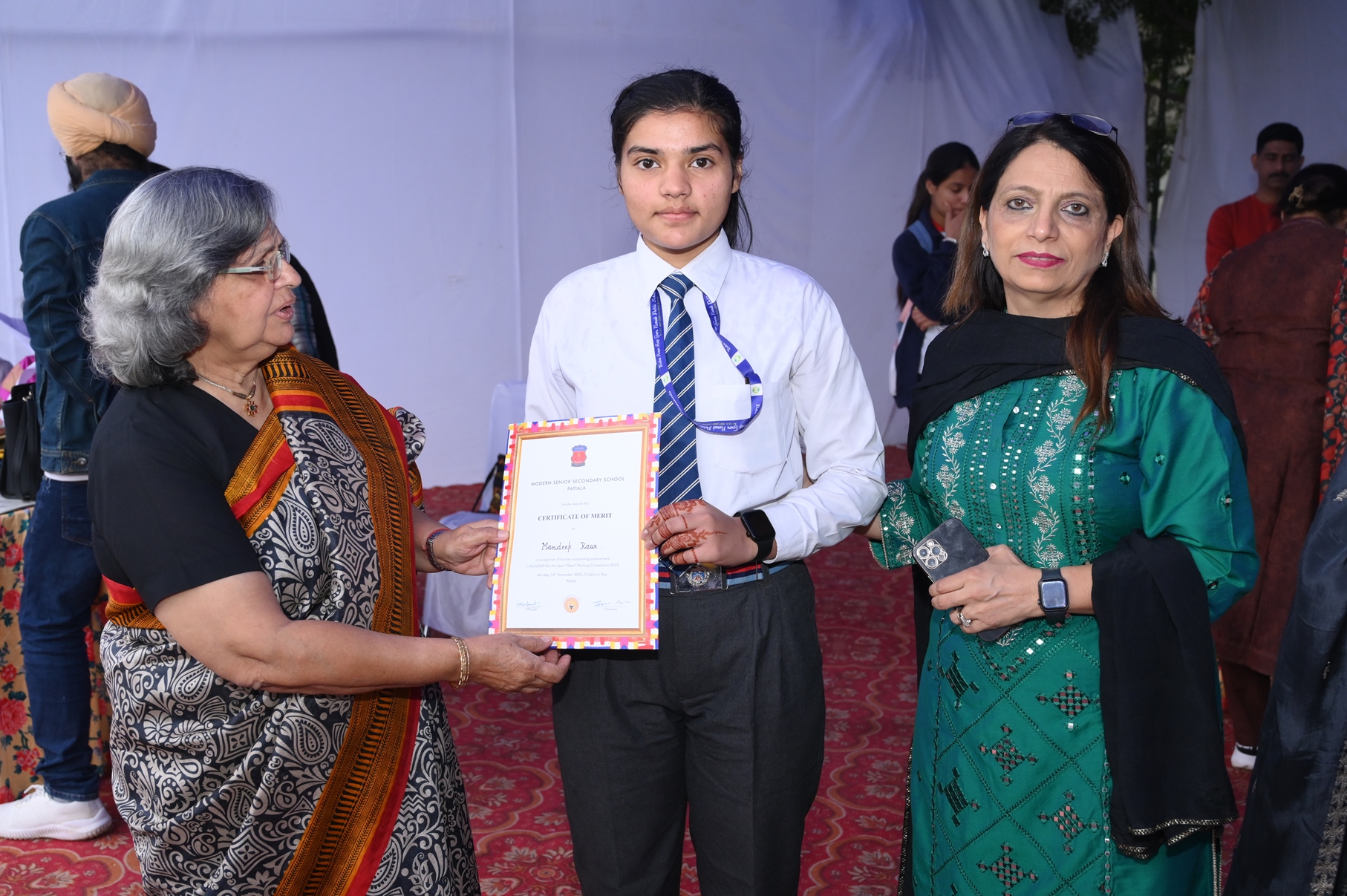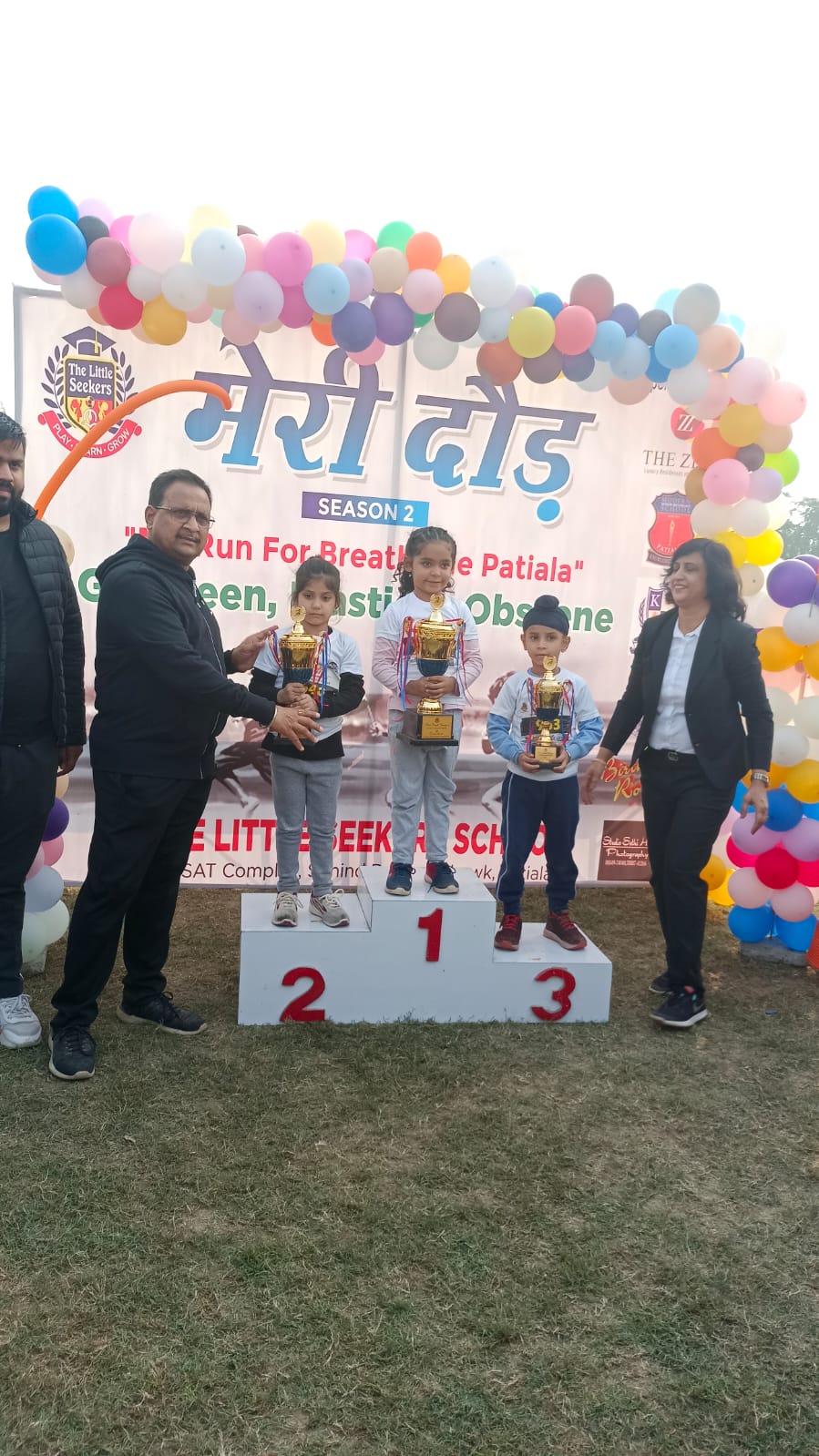 Go green, go run!
School students participated in a run in Patiala in support of green causes, particularly clean air and no plastics. The school was a supporting partner in the event.
MSSSP Sports Day!
Sports Day was actually a three-day bonanza of Track & Field Athletics, Football, Tennis and Badminton from 19 to 21 October 2022 in the school grounds.
On the opening day, the Chief Guest was former India, Punjab & Kings XI Punjab cricketer and school alumnus, Pankaj Dharmani. The Guest of Honour was India's Olympic middleweight boxer, Ashish Kumar. Here are a few pictures from day 1.
For more details, please click here.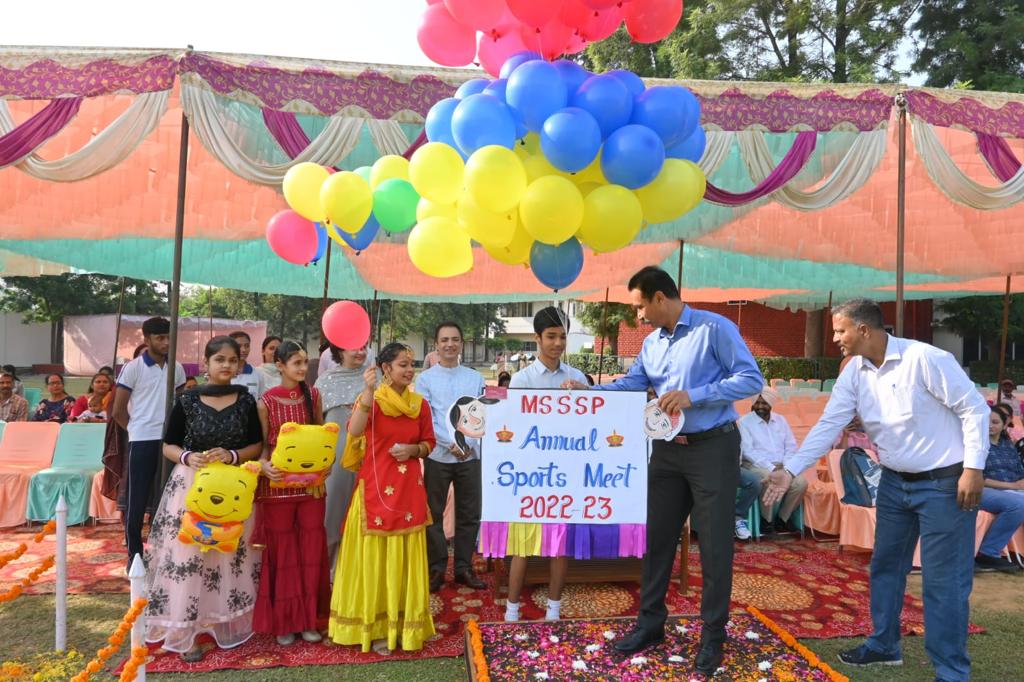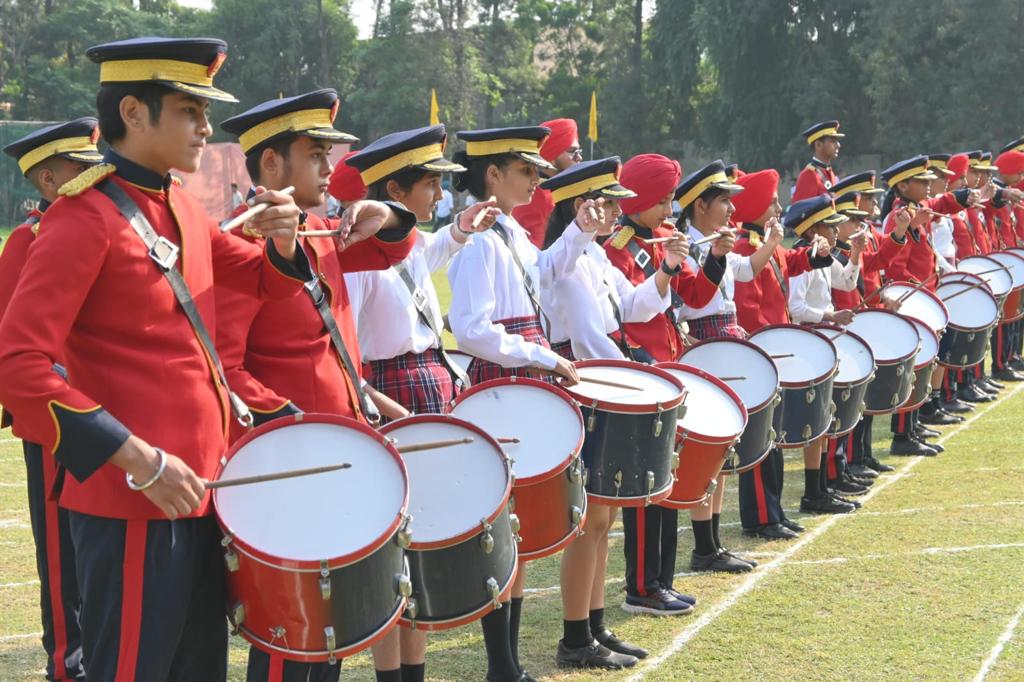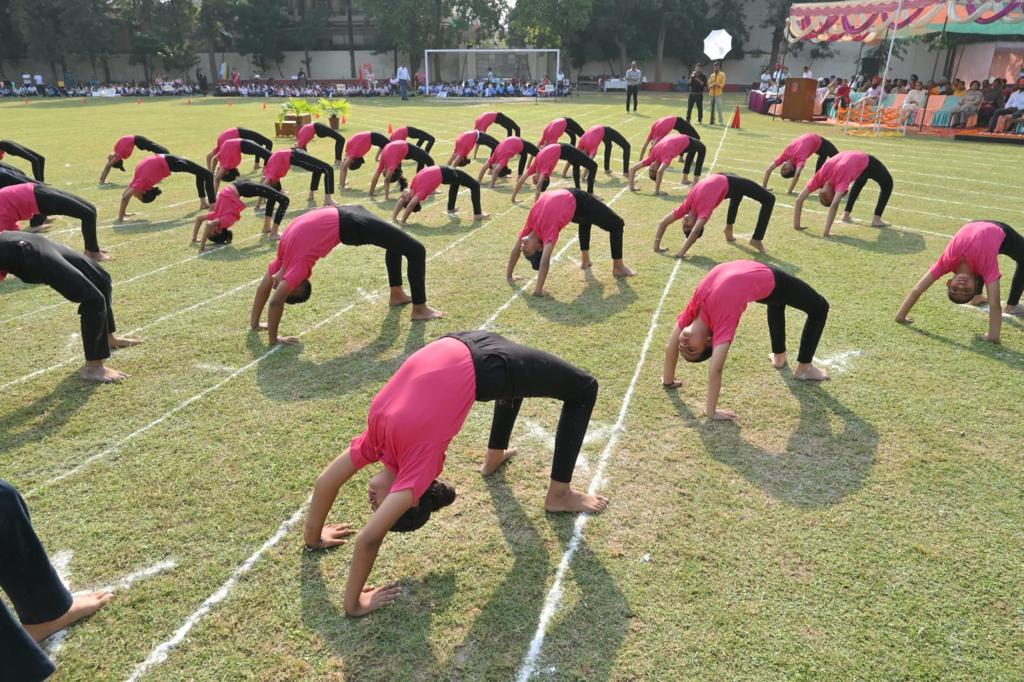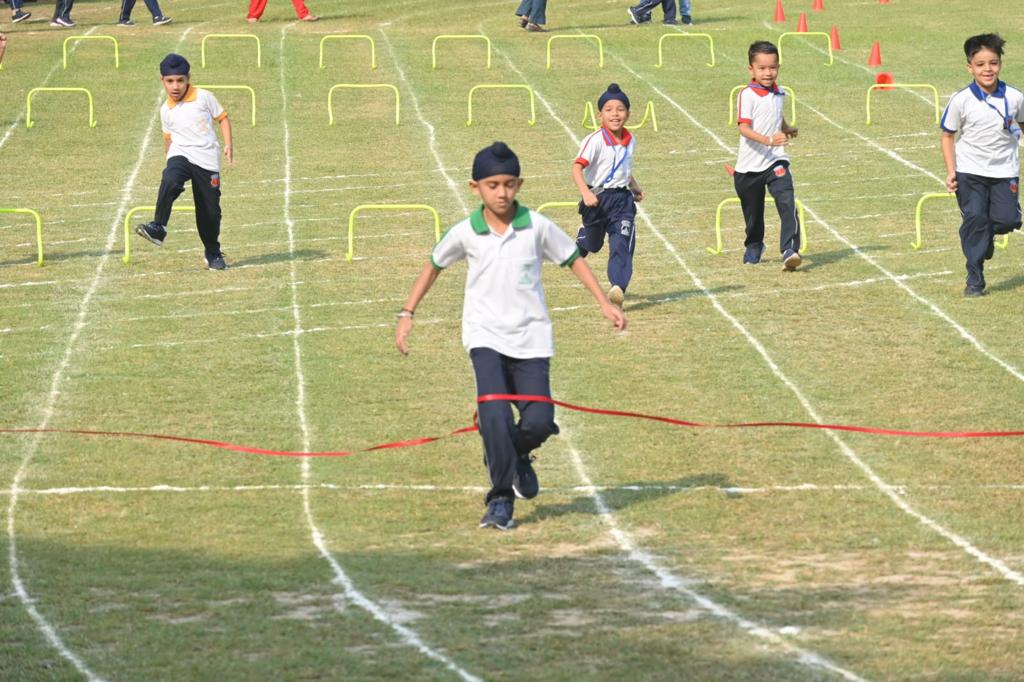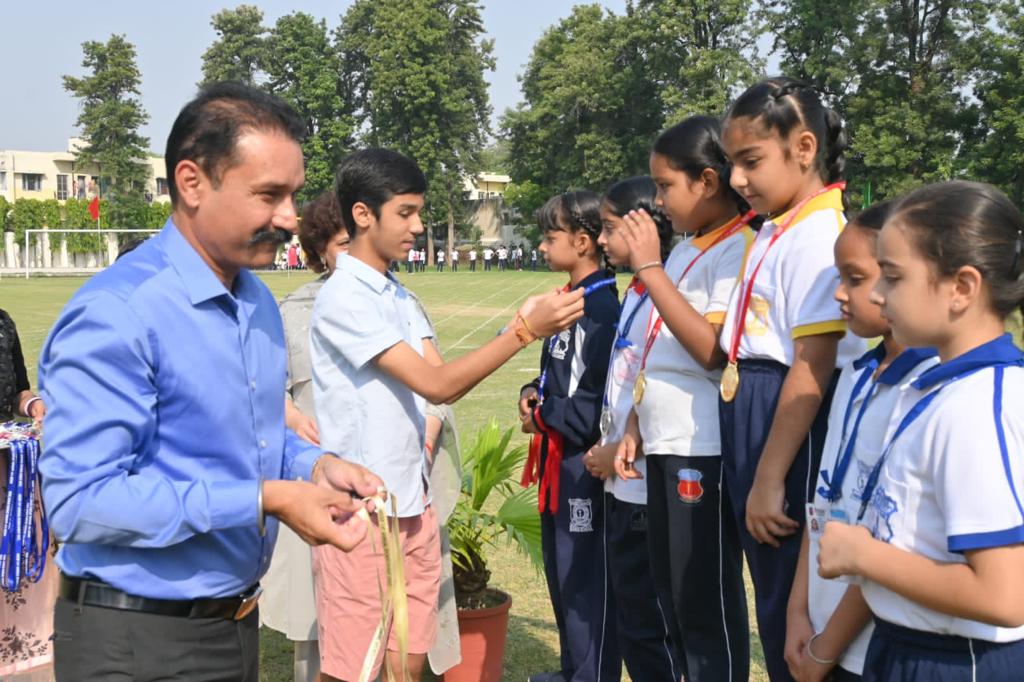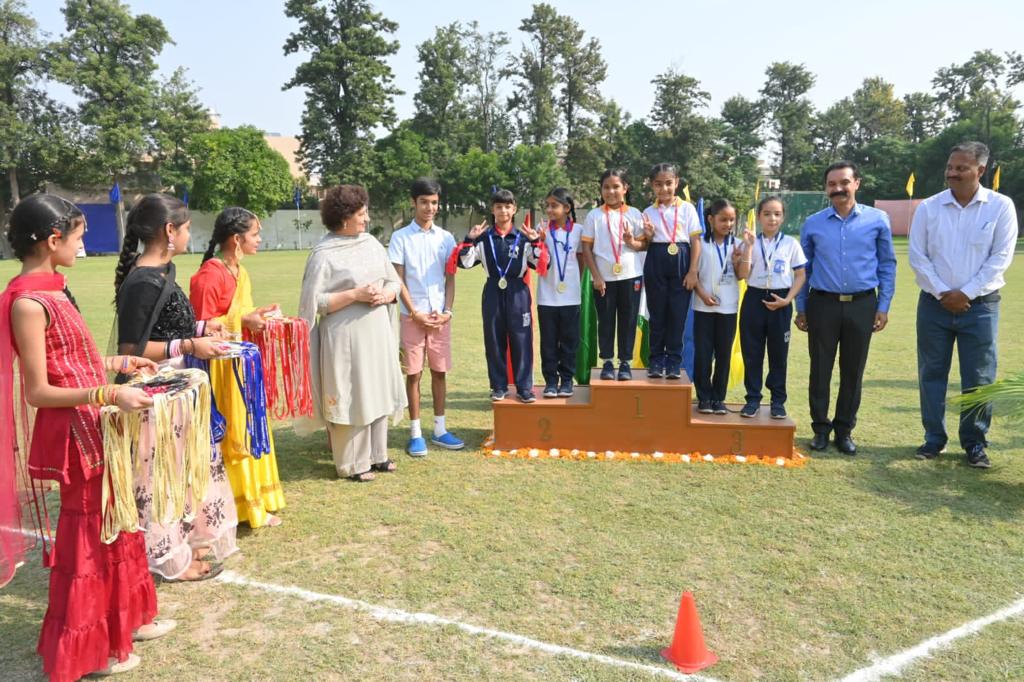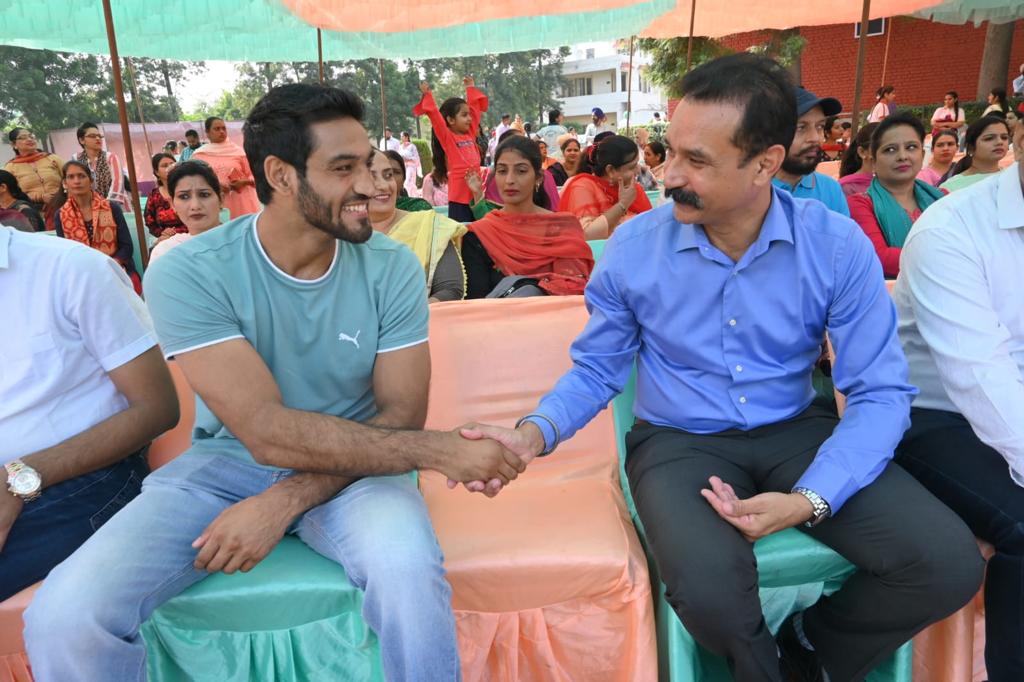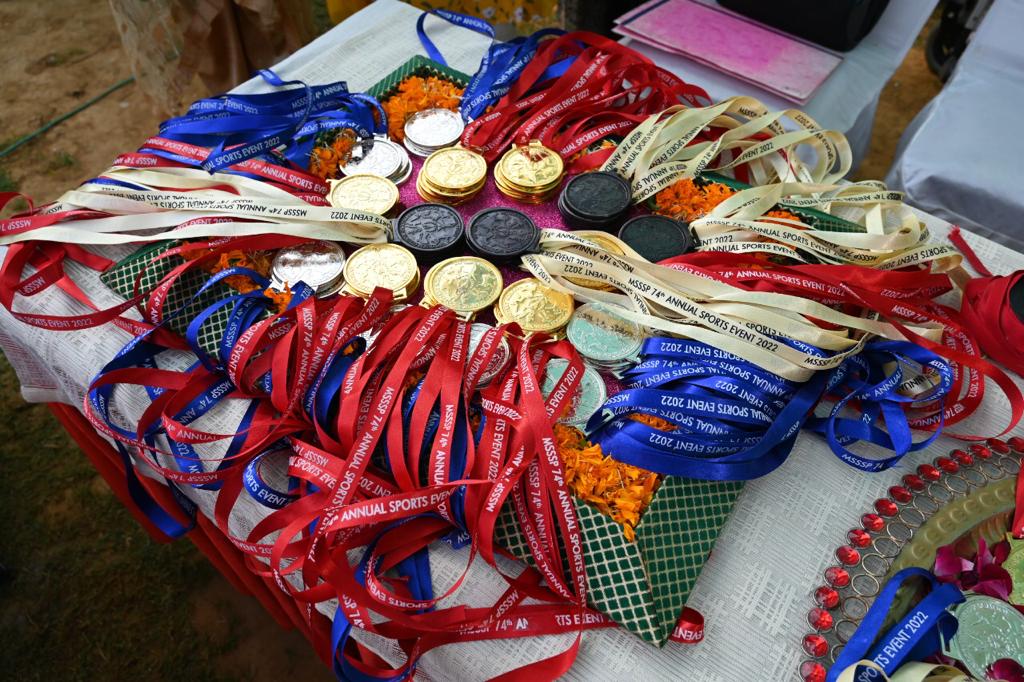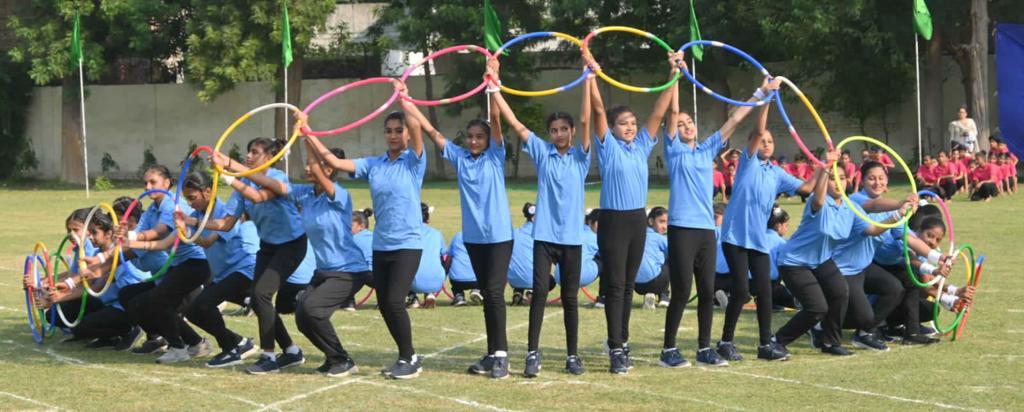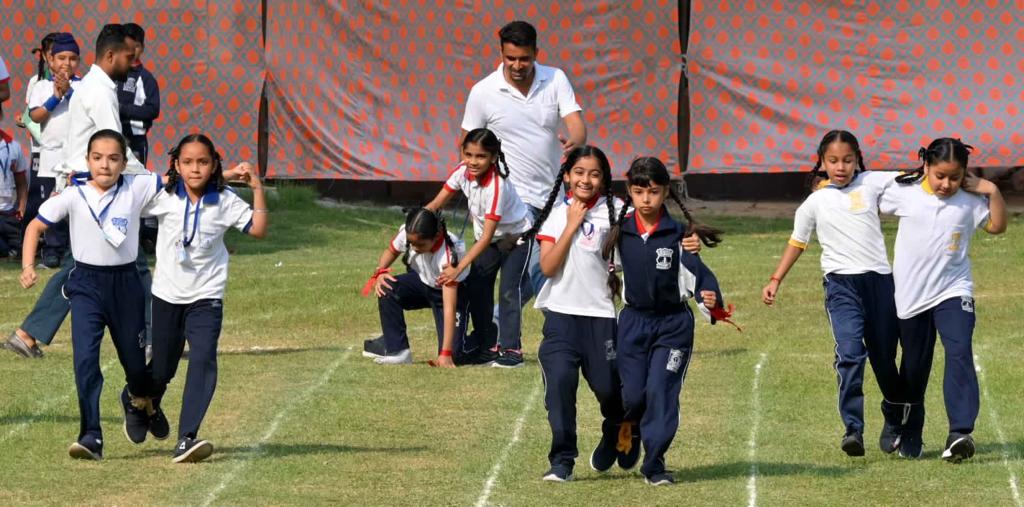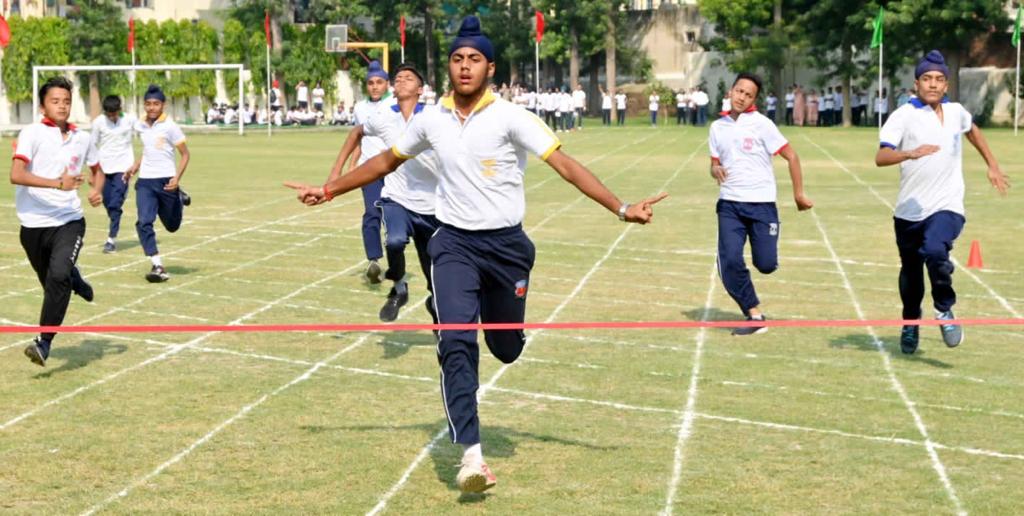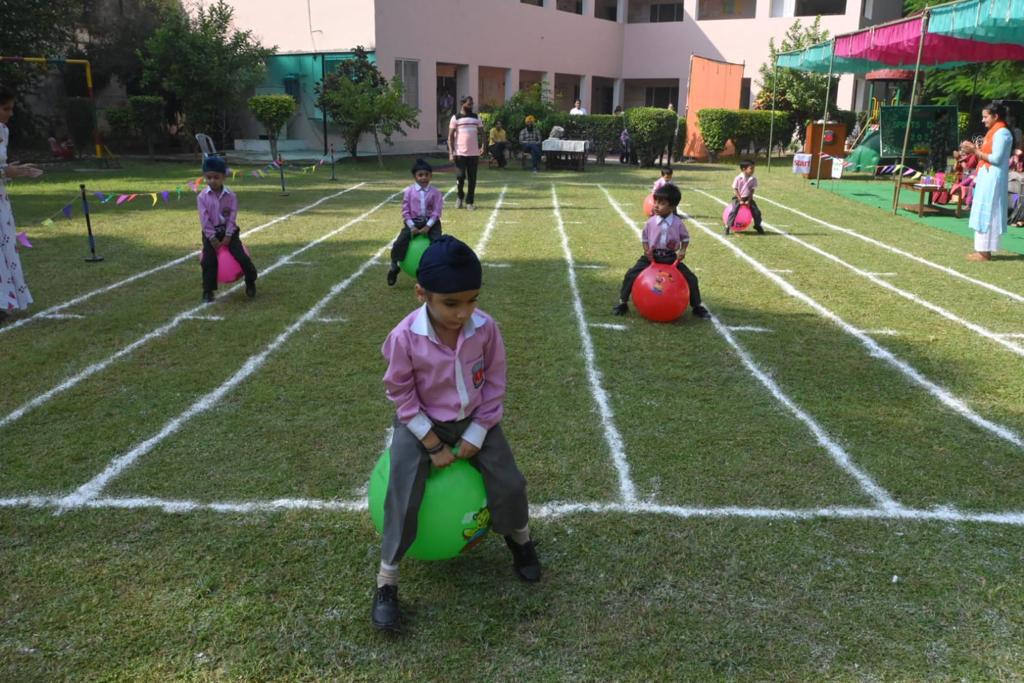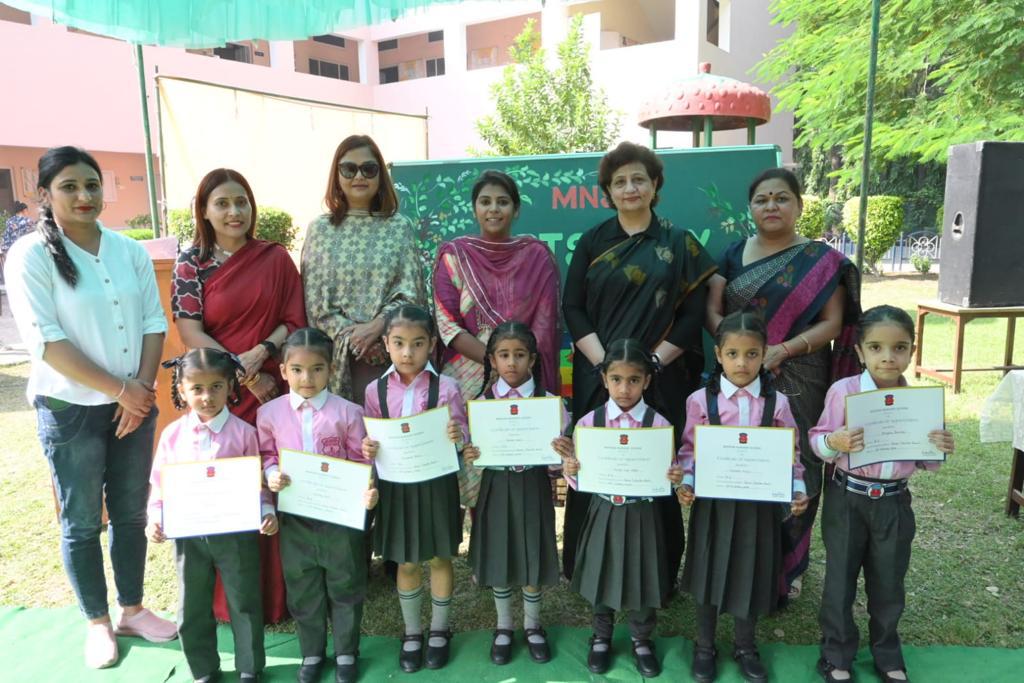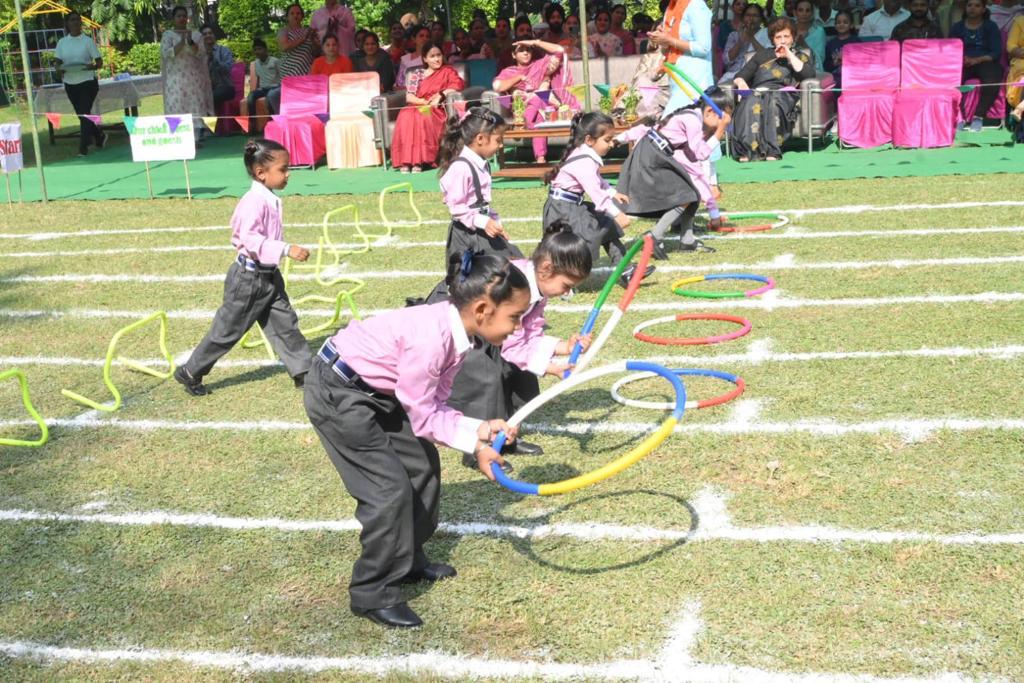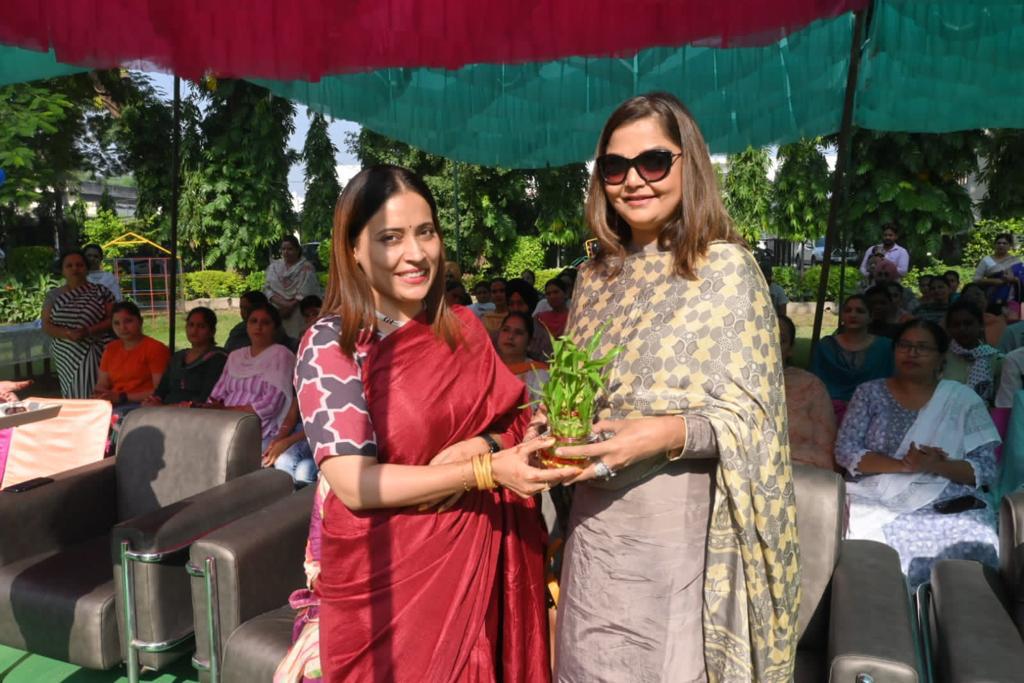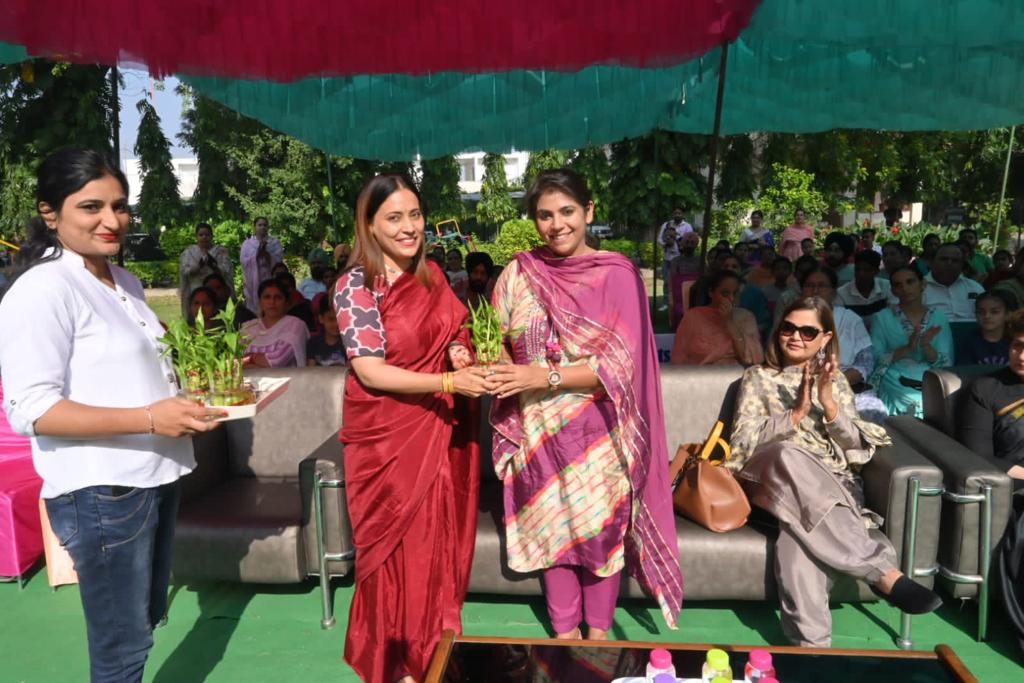 Modern Nursery School Sports Day!
Per-Nursery, Nursery & KG kids had their fun-filled Sports Day on 15 October 2022. There were many different races such as hopping race, bouncing with ball race, pick and run race, hurdles race, etc. Parents and children thoroughly enjoyed the morning!
Mrs. Shaina Kapoor, District Child Protection Officer, was our chief guest and Mrs. Ritu Sarao, President, Pre-schools Association, was also present.
Saluting Gandhiji
'Gandhi Jayanti' was celebrated in the school on 1 October 2022 with great enthusiasm. There was a cleanliness drive, viewing of a cartoon film 'Gattu's Gandhigiri' and also a documentary on the life of Gandhiji. Some students shared stories about him, while others participated in a quiz competition. There was also an art and craft activity of making Charkhas and mops.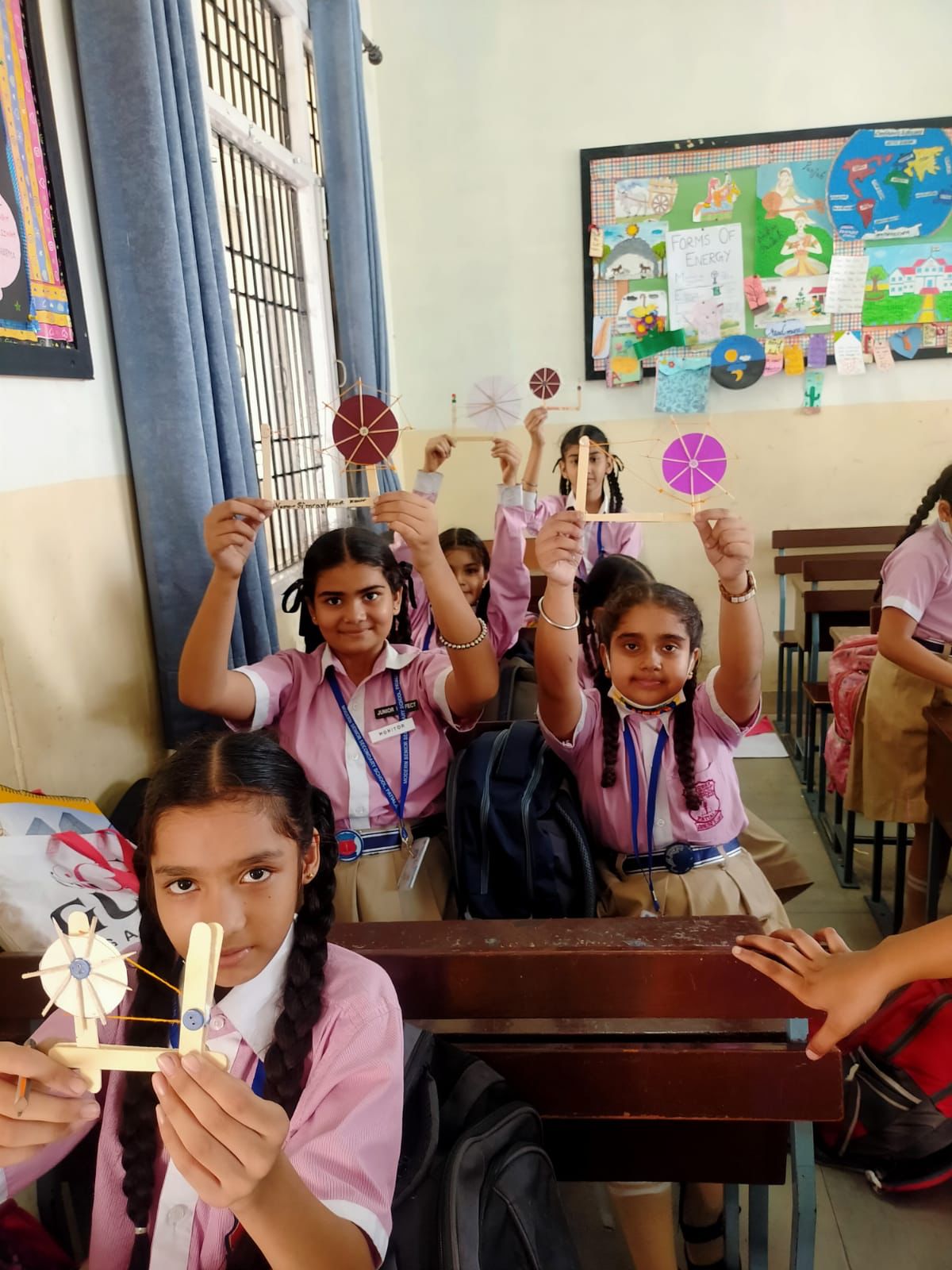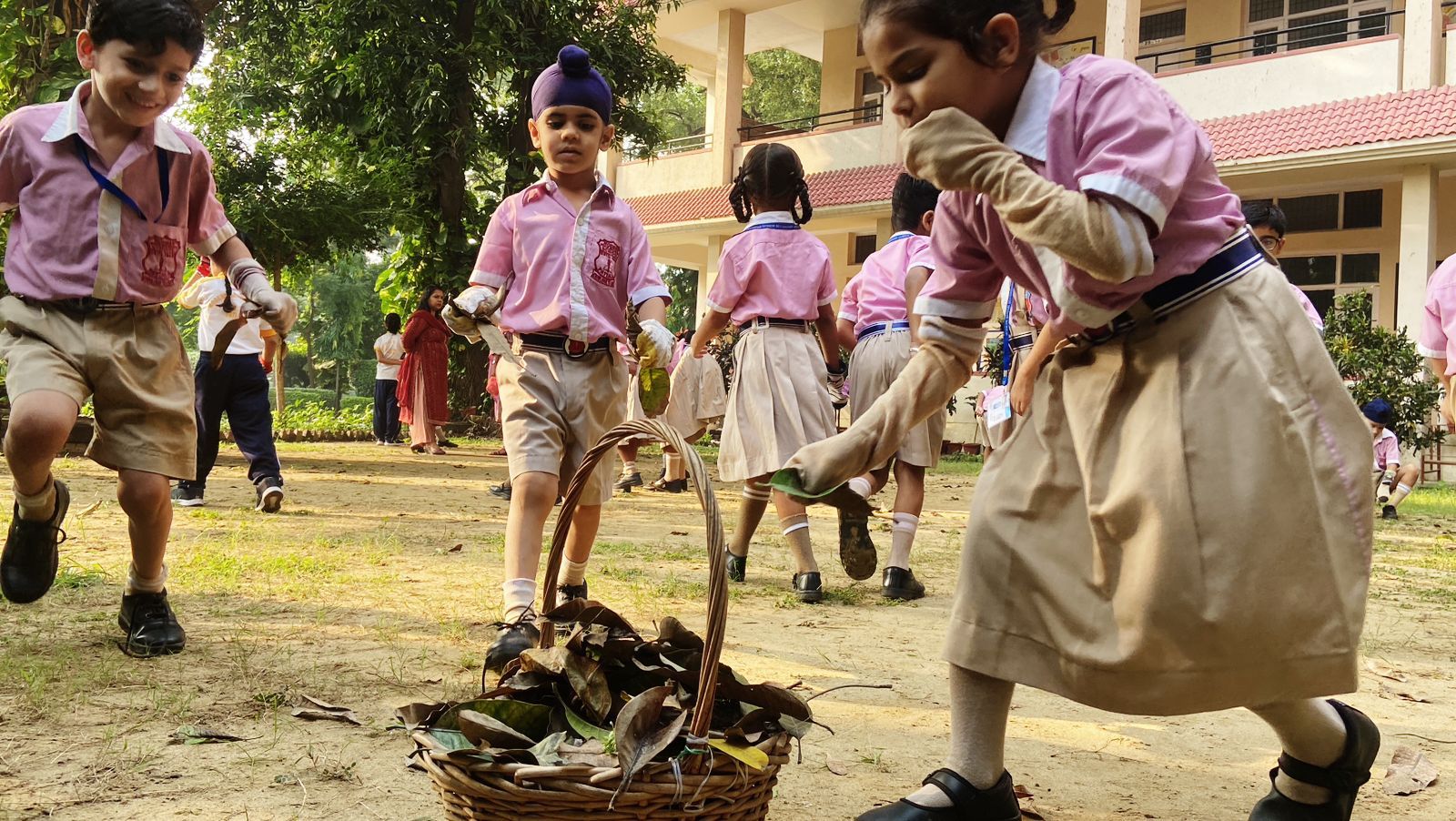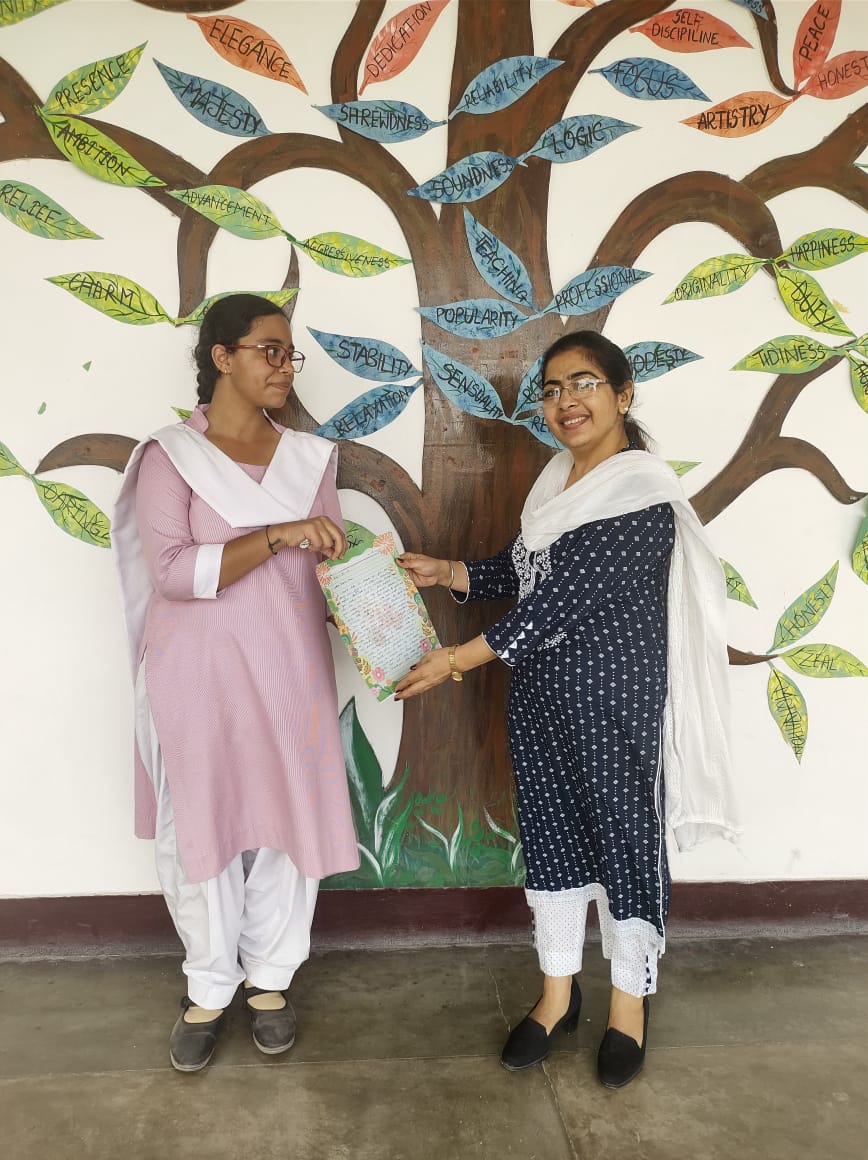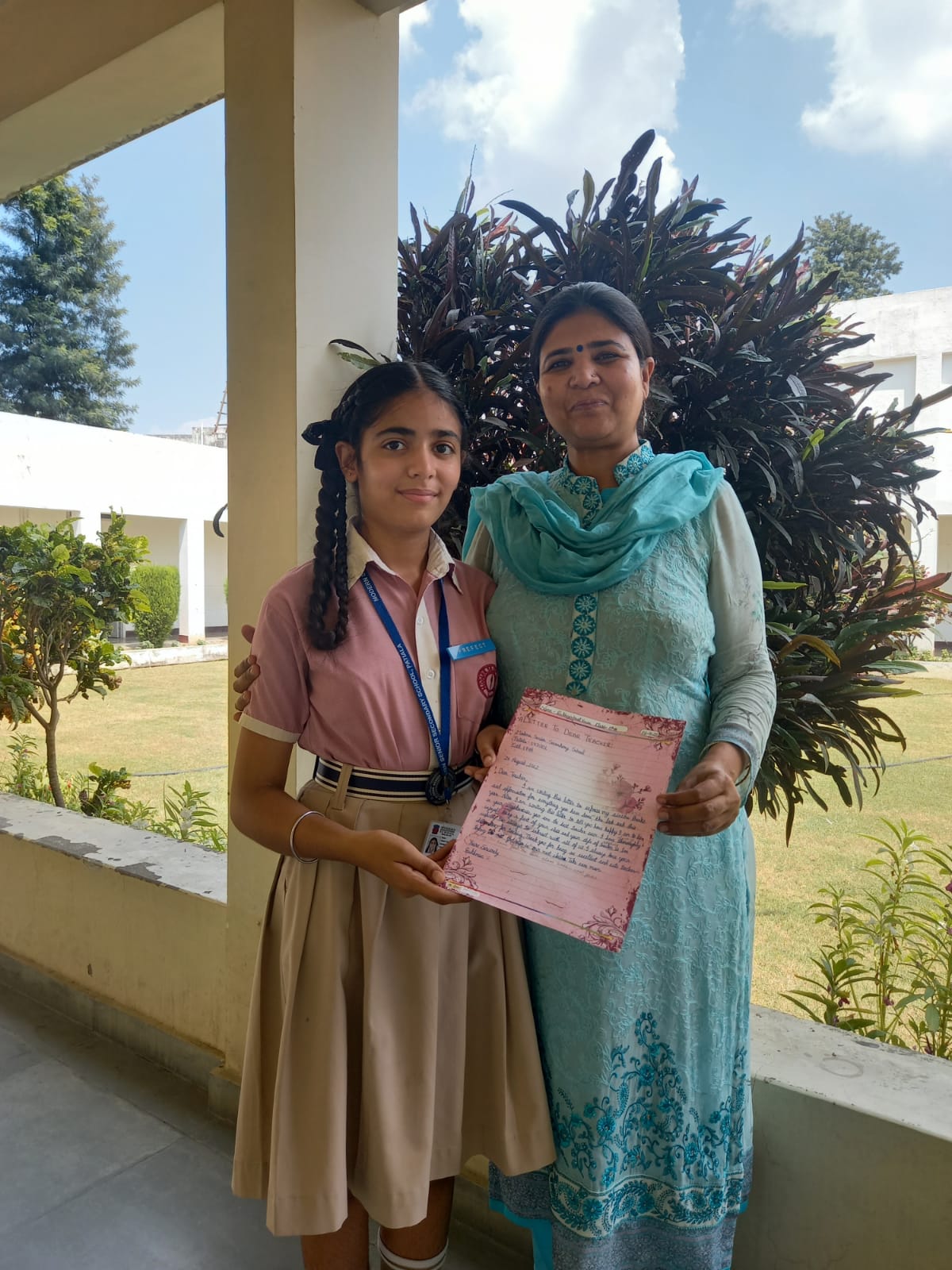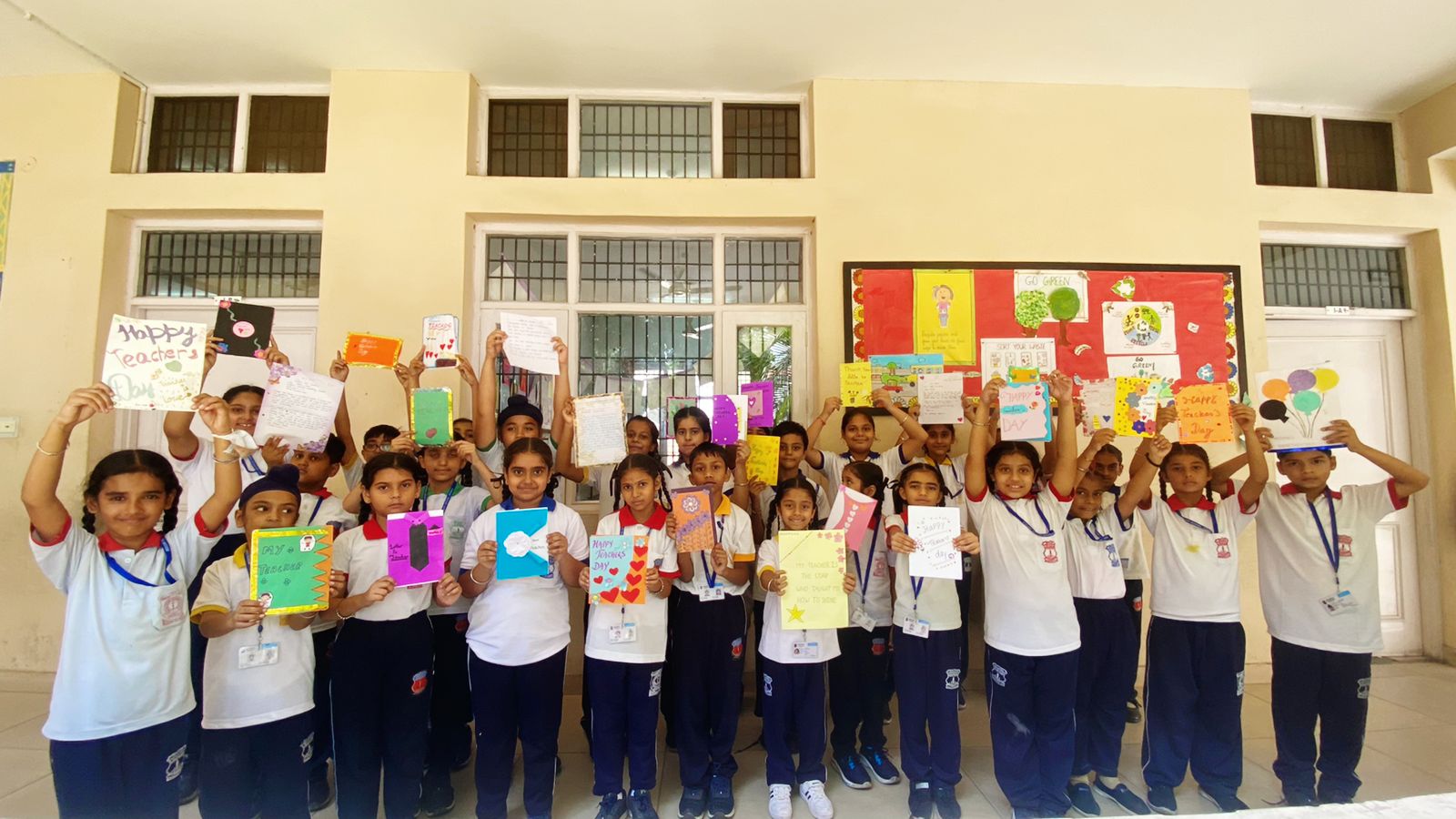 Happy Teacher's Day!
Students celebrated Teacher's Day by enthusiastically participating in an organized activity titled 'A Letter to Dear Teacher'. There were also beautiful cards made by students expressing their deep gratefulness to teachers. Earlier, during the School Assembly, Japneet Kaur of 5-B recited a very nice poem for all the teachers.
Dikshpreet Kaur is runner-up in Inter-School Declamation!
Dikshpreet Kaur of Class 12 came second in the Inter-School Declamation contest organised by Sri Dasmesh Public Senior Secondary School, Patiala, on 26 August 2022. The topic was: 'Impact of social media on teenagers'. 12 leading schools participated in the competition. Congratulations Dikshpreet!!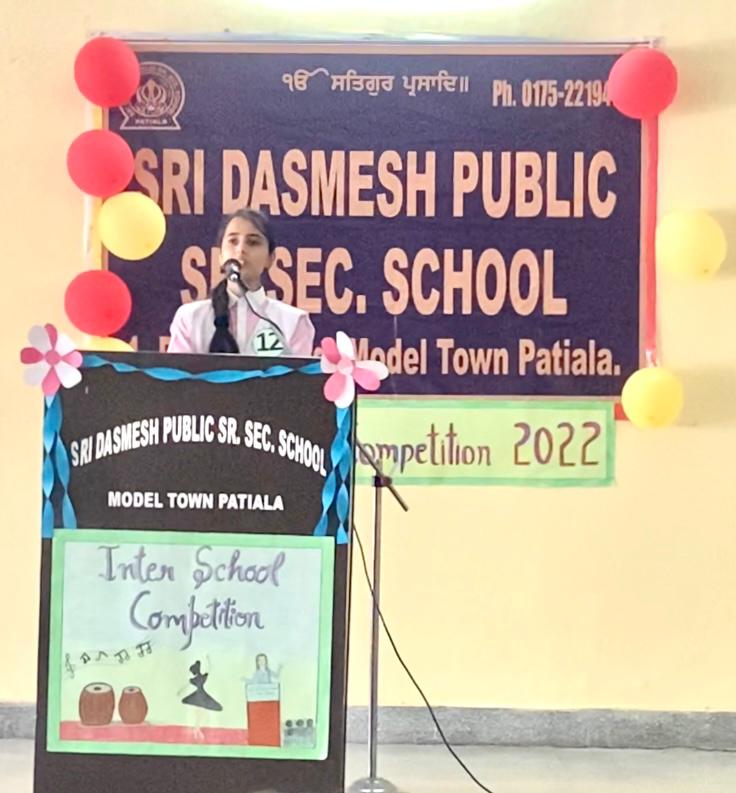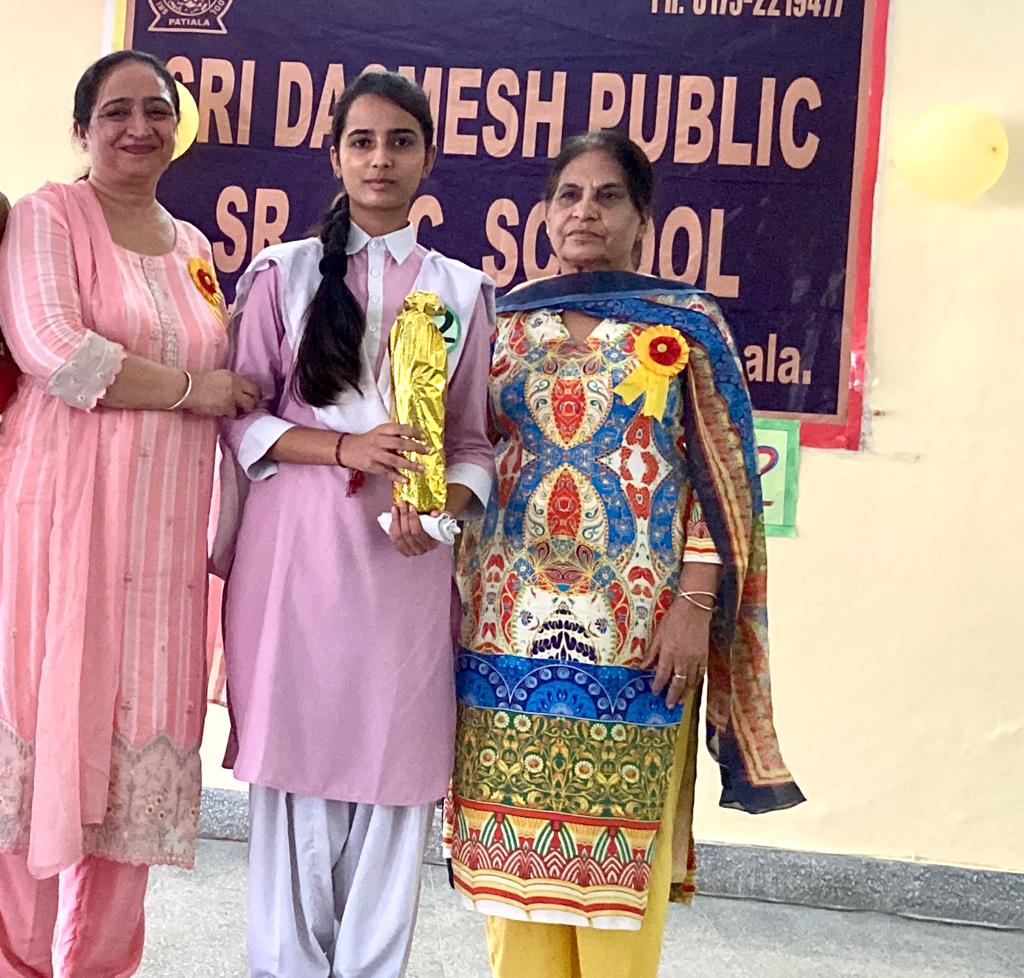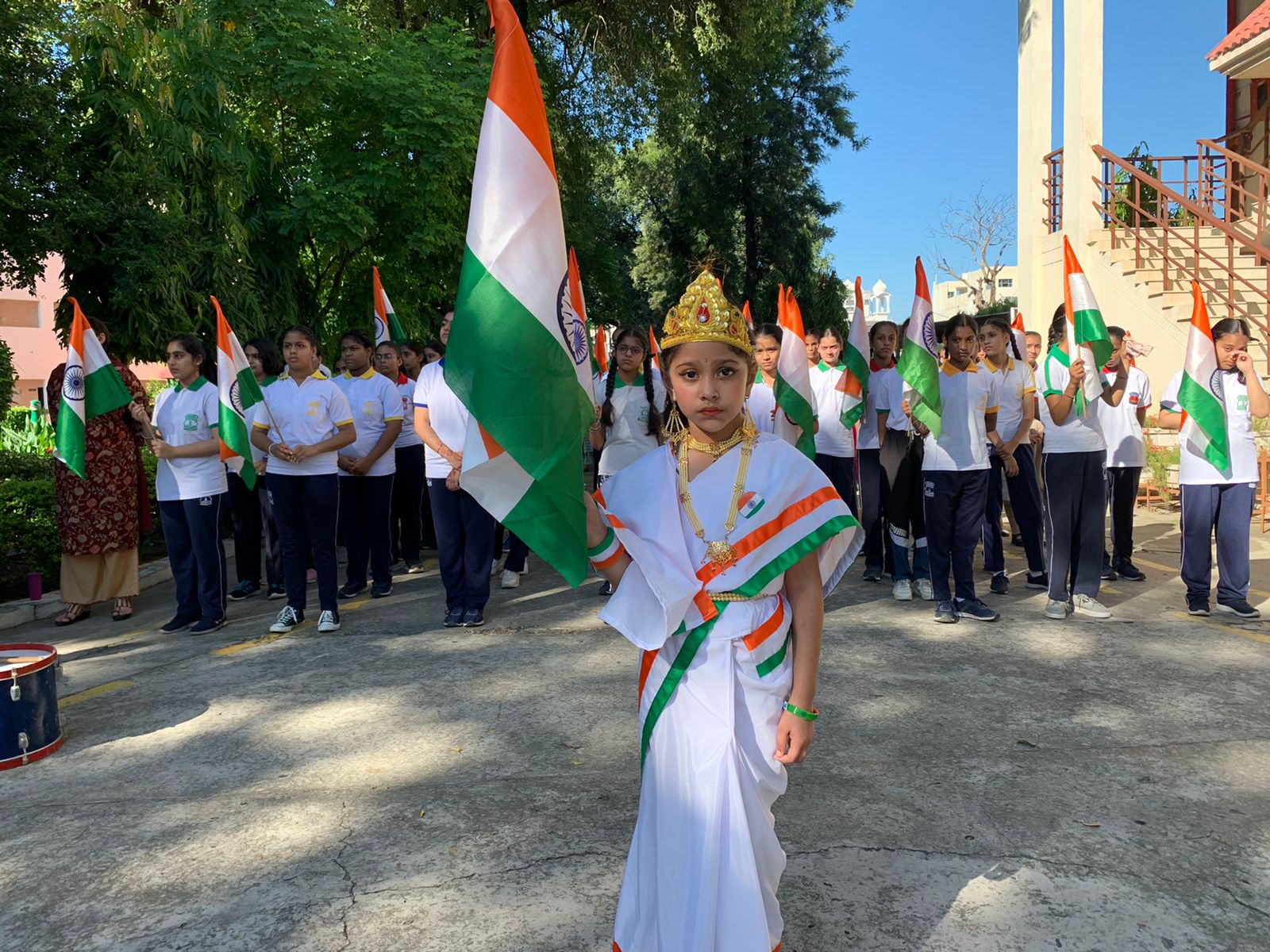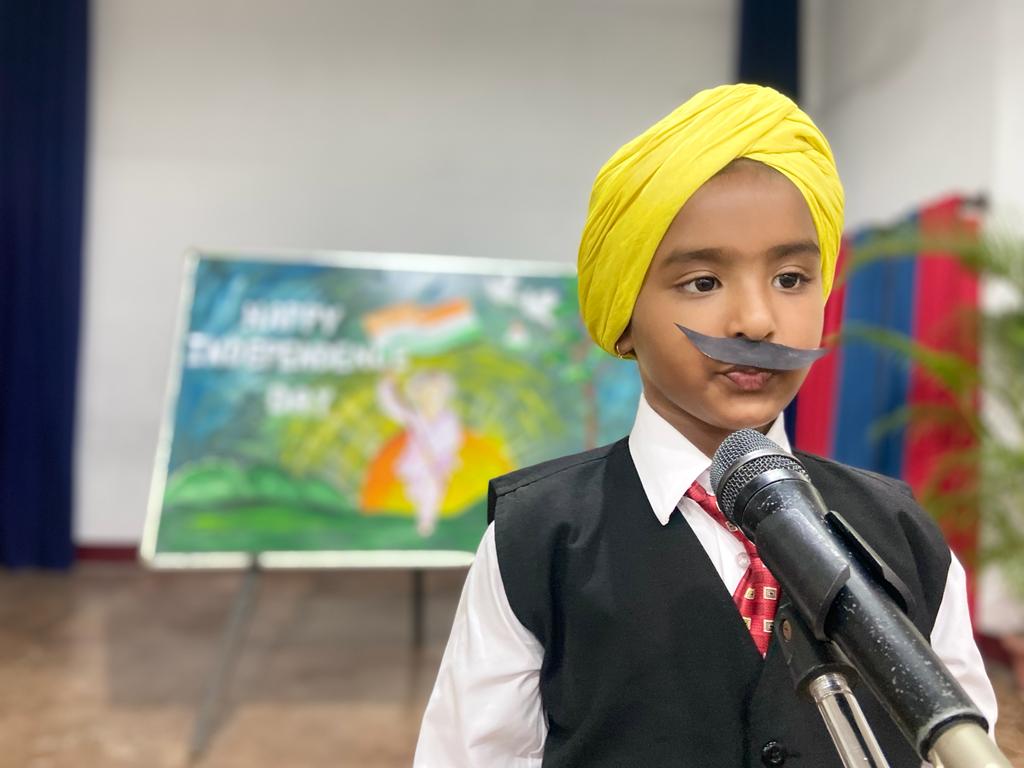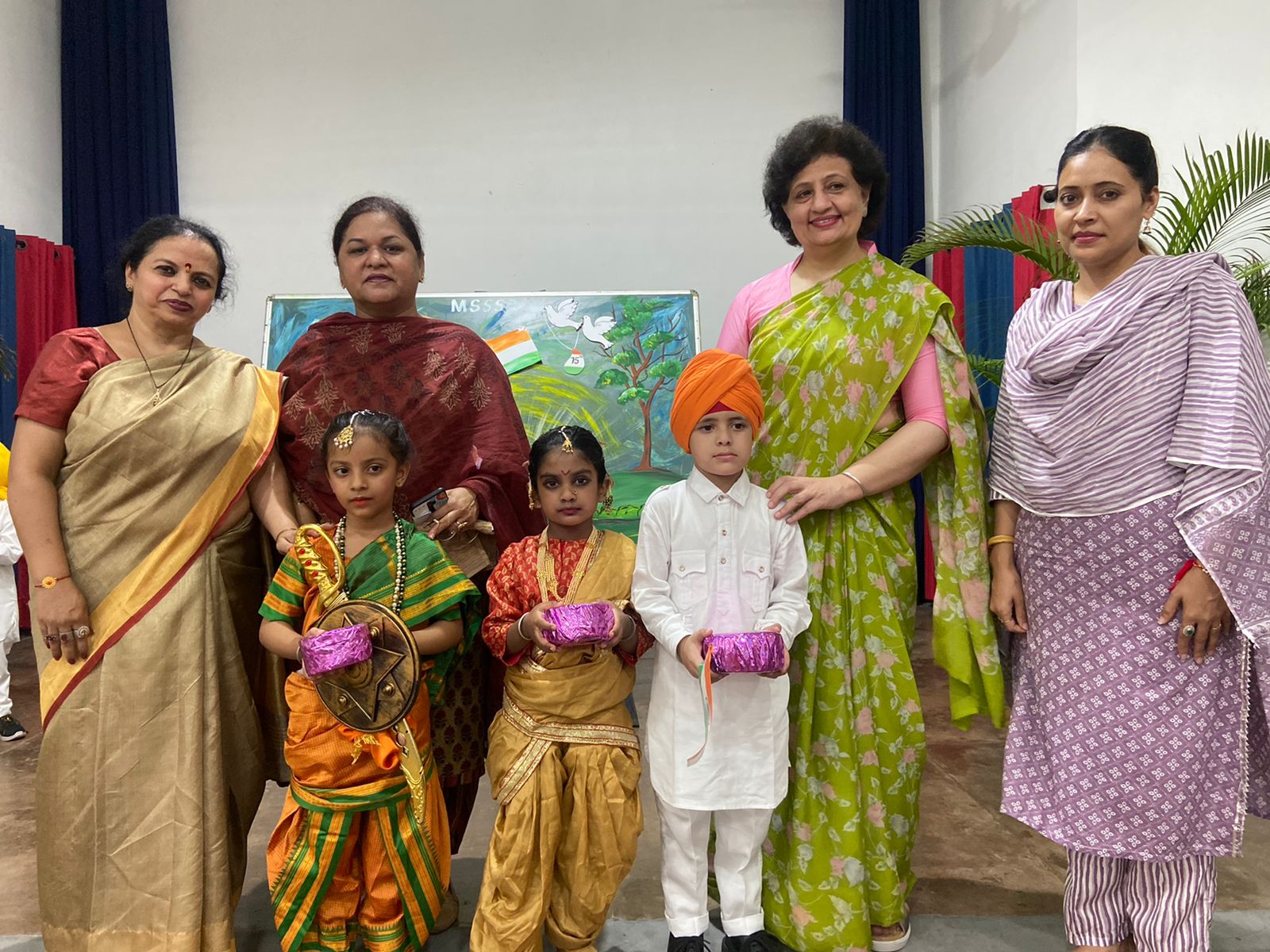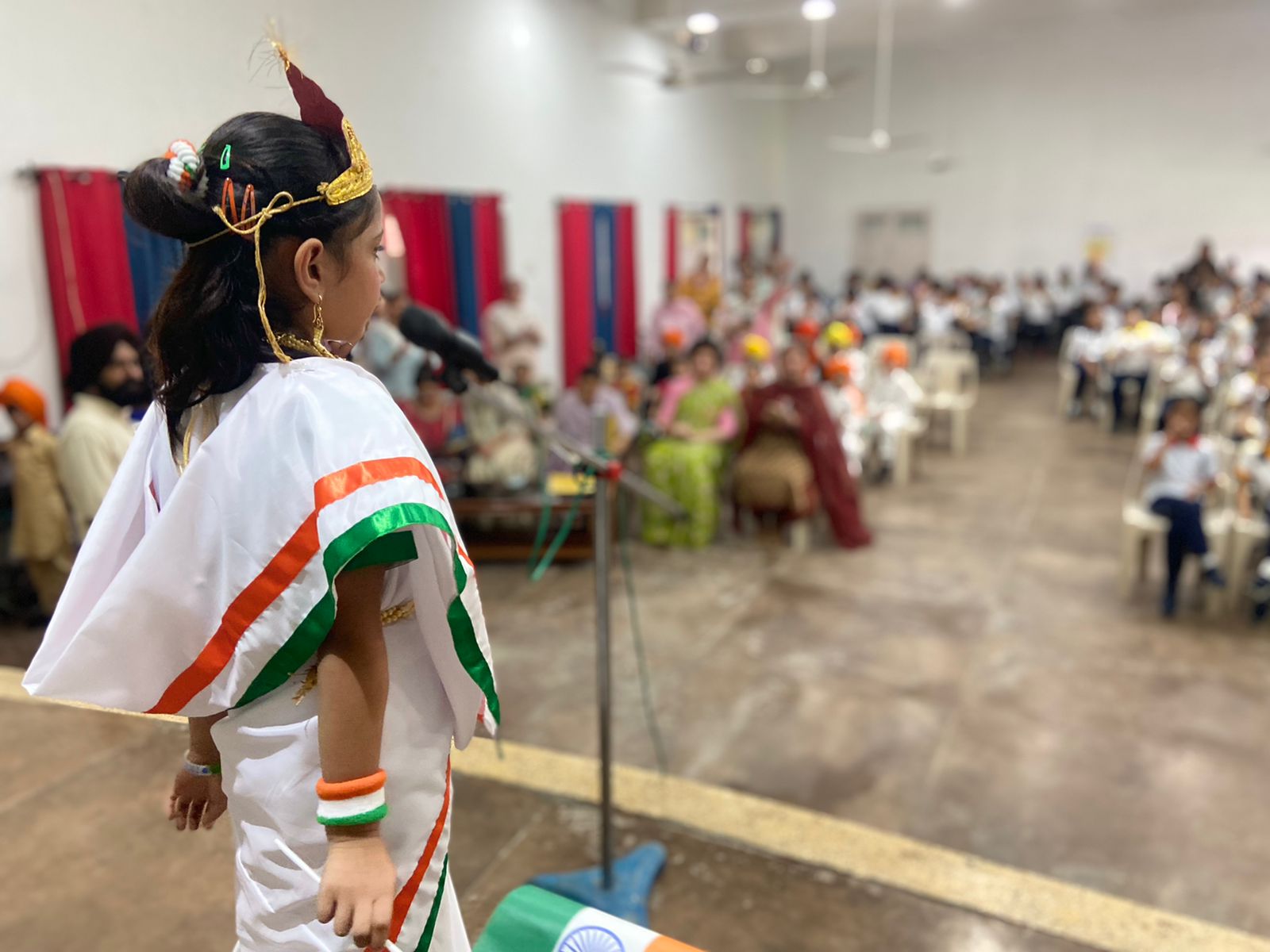 Culmination of 75th Independence Day Celebrations
Patriotic songs at a special school assembly and an inter-house fancy dress competition for Classes 1 and 2 on the theme 'Our Freedom Fighters' were held as part of a multi-event celebration of India's 75 years of Independence. The fancy dress saw kids dressed as Shaheed Bhagat Singh, Rani Lakshmi Bai, Sukhdev, several other great patriots - and also as Bharat Mata!
Flavours of India on 75 years of Independence!
The school organized a Mega Food Carnival for Classes 3 to 12 as part of Independence Day celebrations. Students created 122 sumptuous 'tricolour' dishes from around the country - and they were yummy! Here are some pics.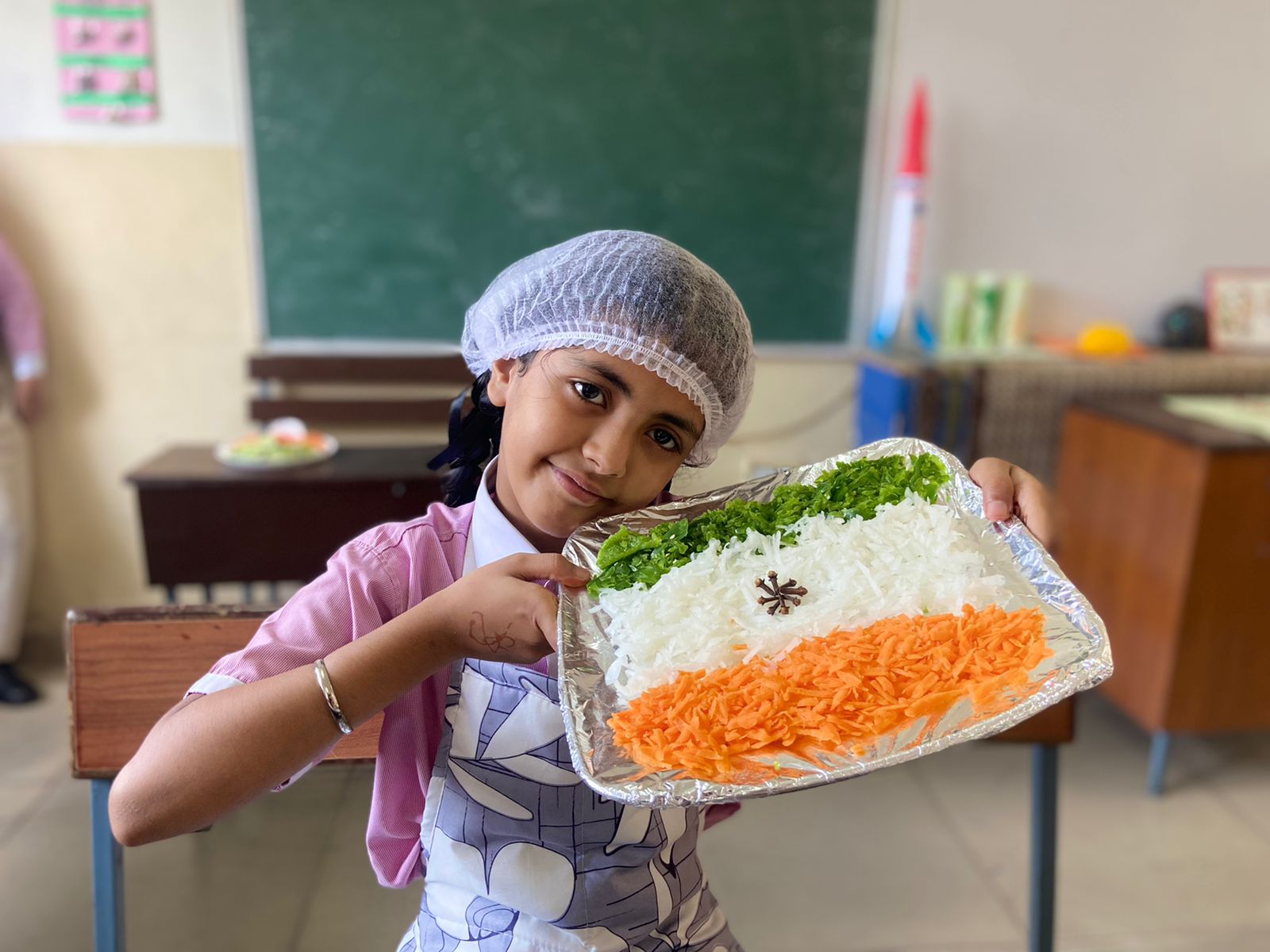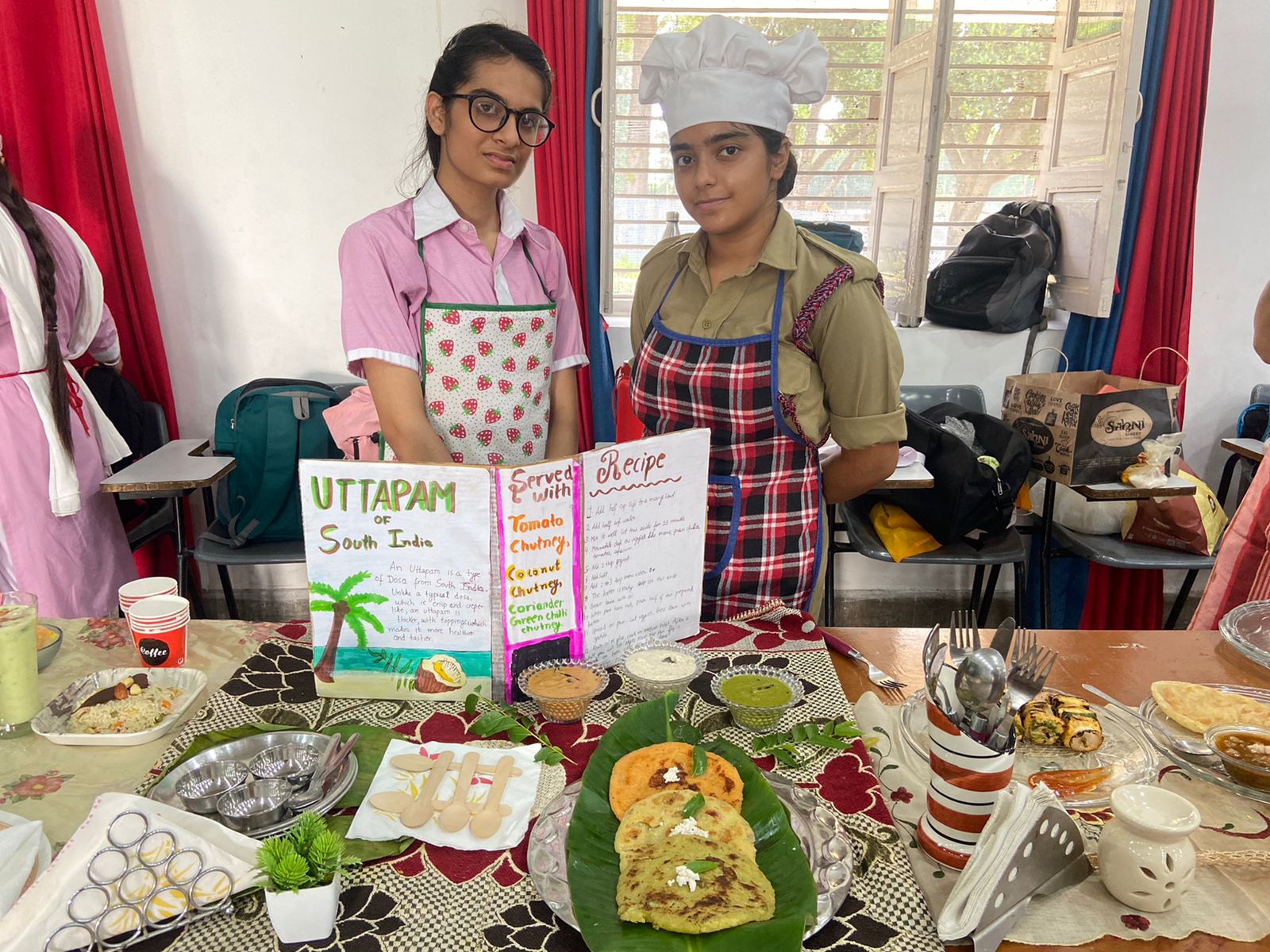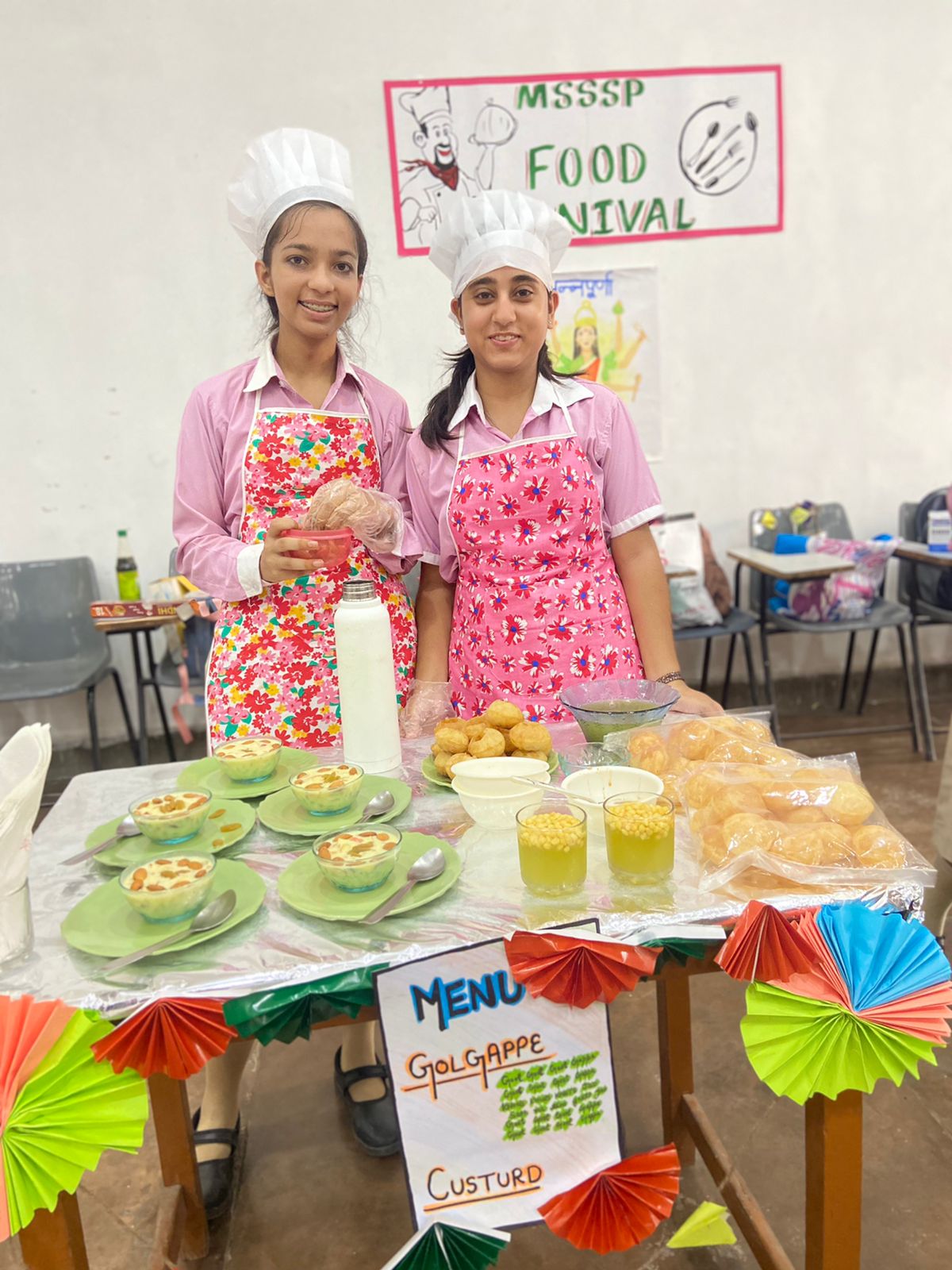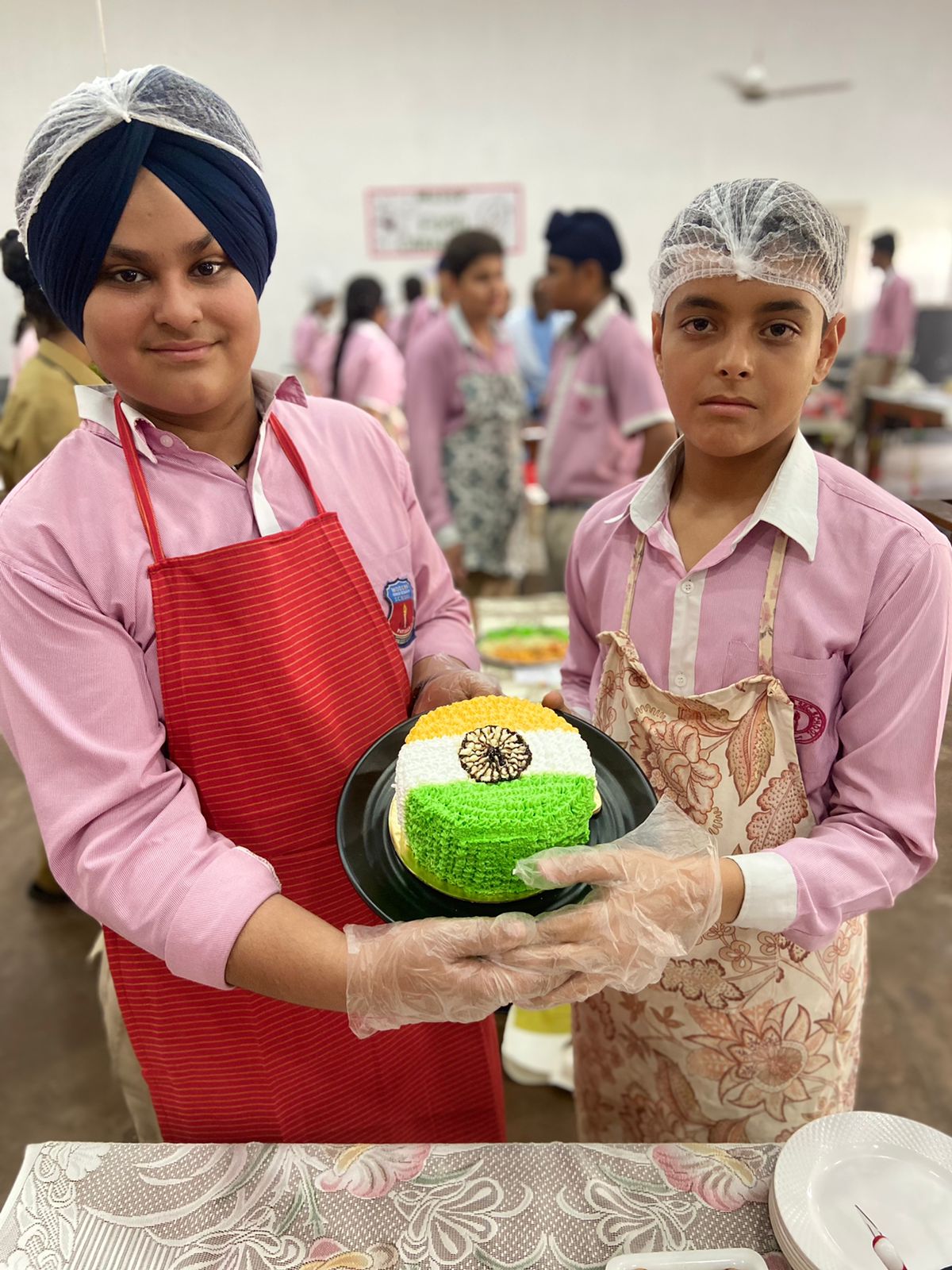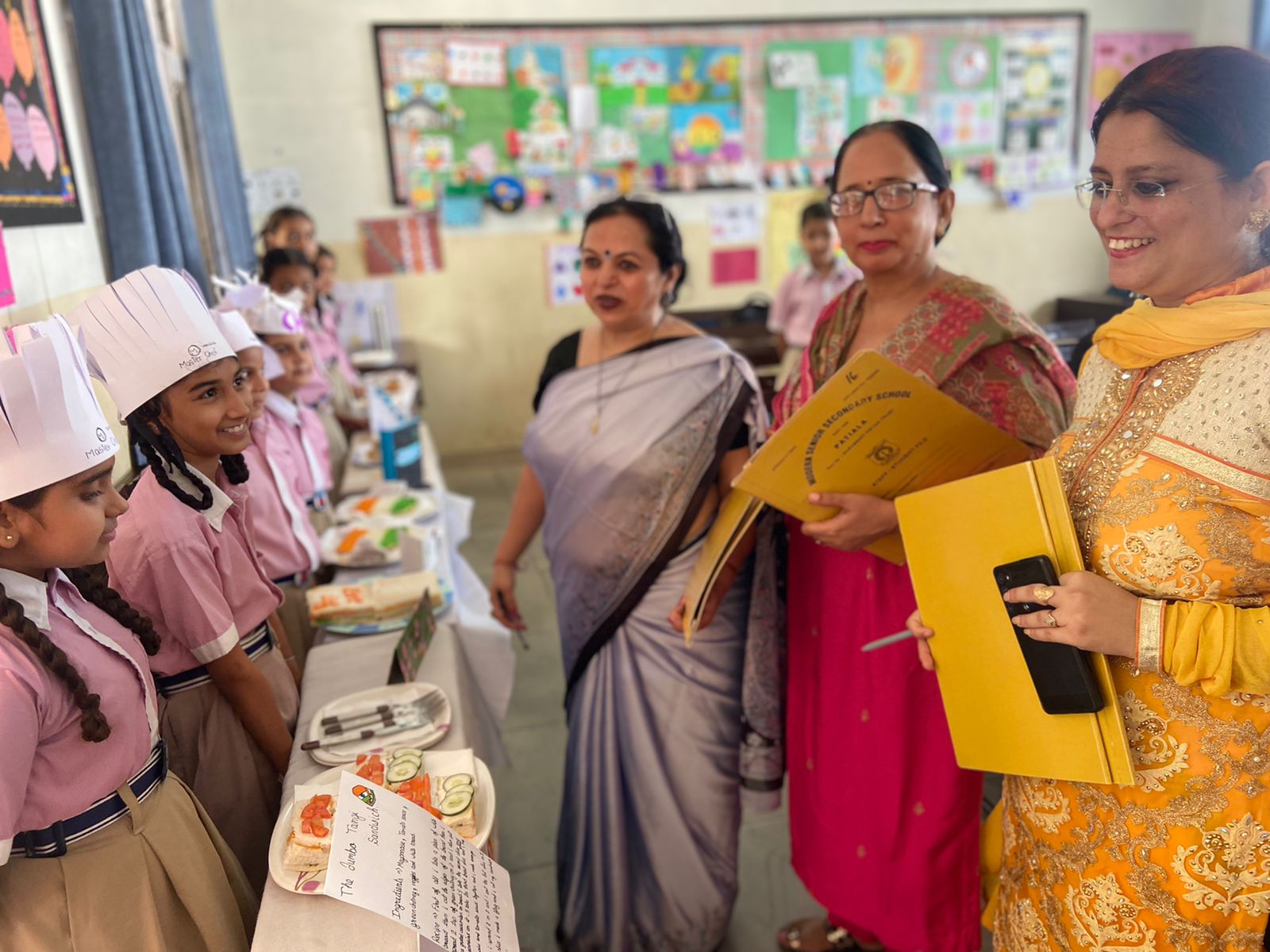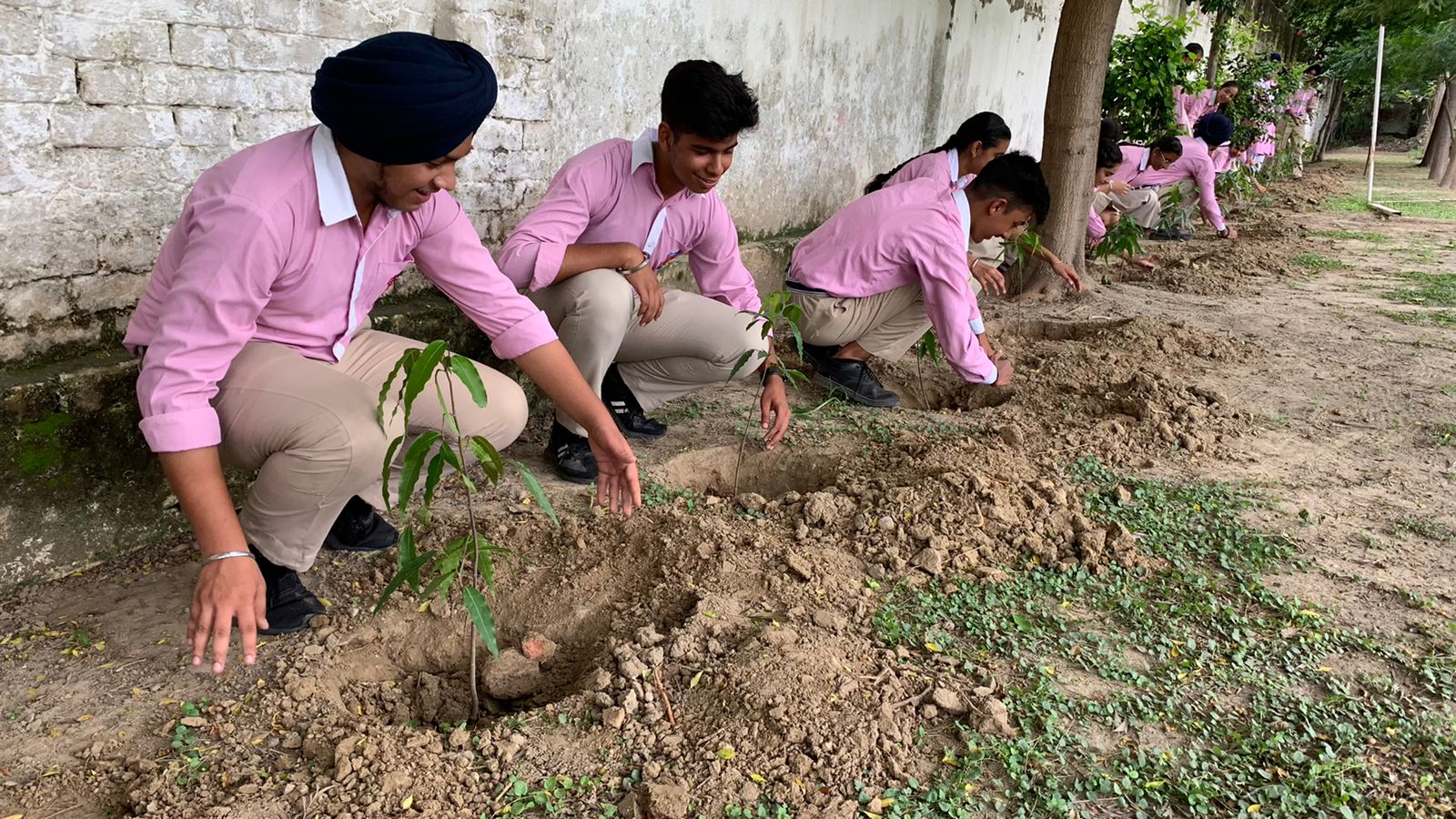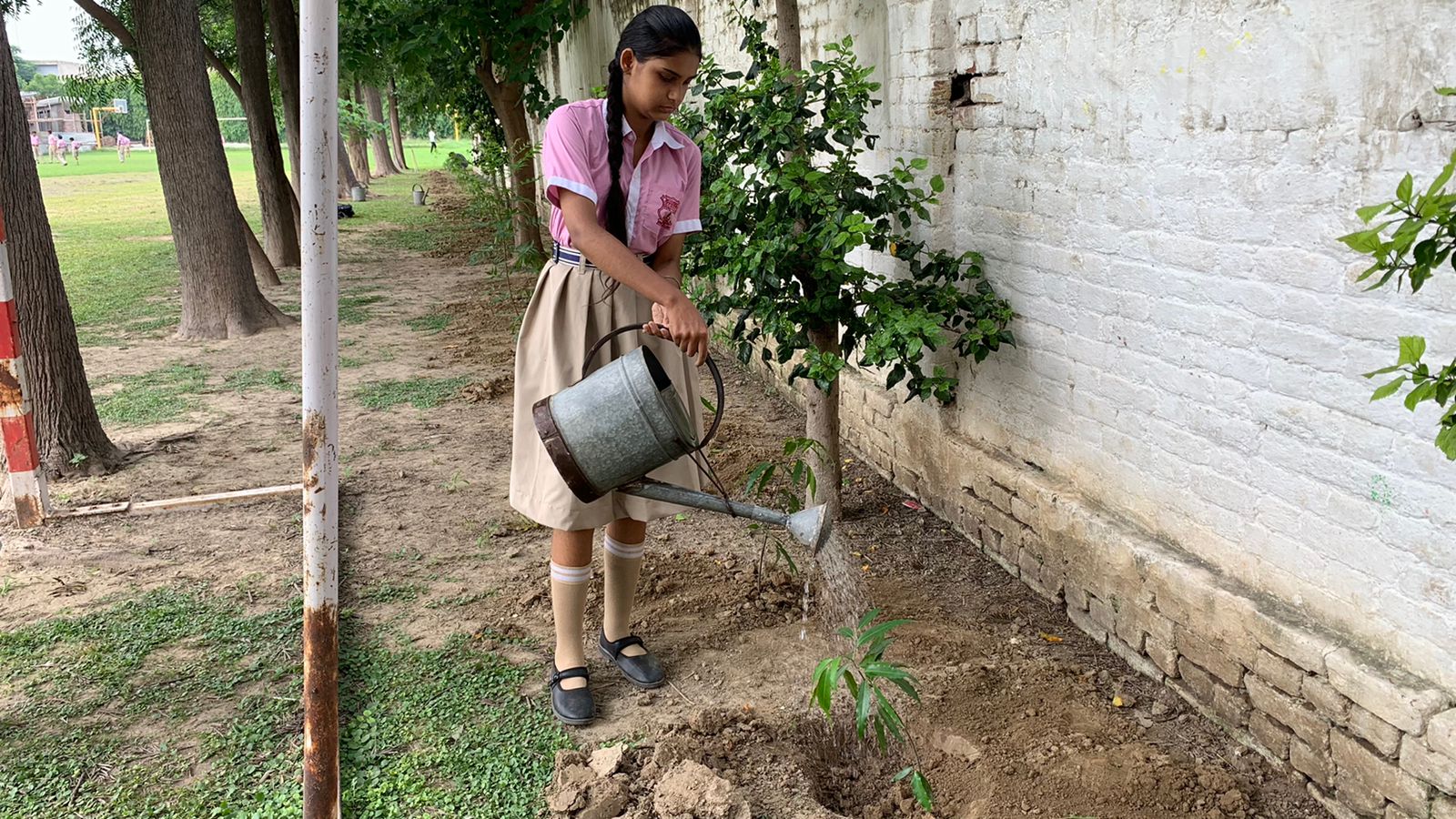 75 saplings for 75 years of freedom
Students of the school planted 75 saplings around the campus as part of Independence Day celebrations. We are doing our bit for a clean and green India!
75 years of glorious freedom!
The Art and Craft Department of the school organized several fun activities for primary wing students. The little artists enjoyed hand-painting and made some beautiful paintings and collages.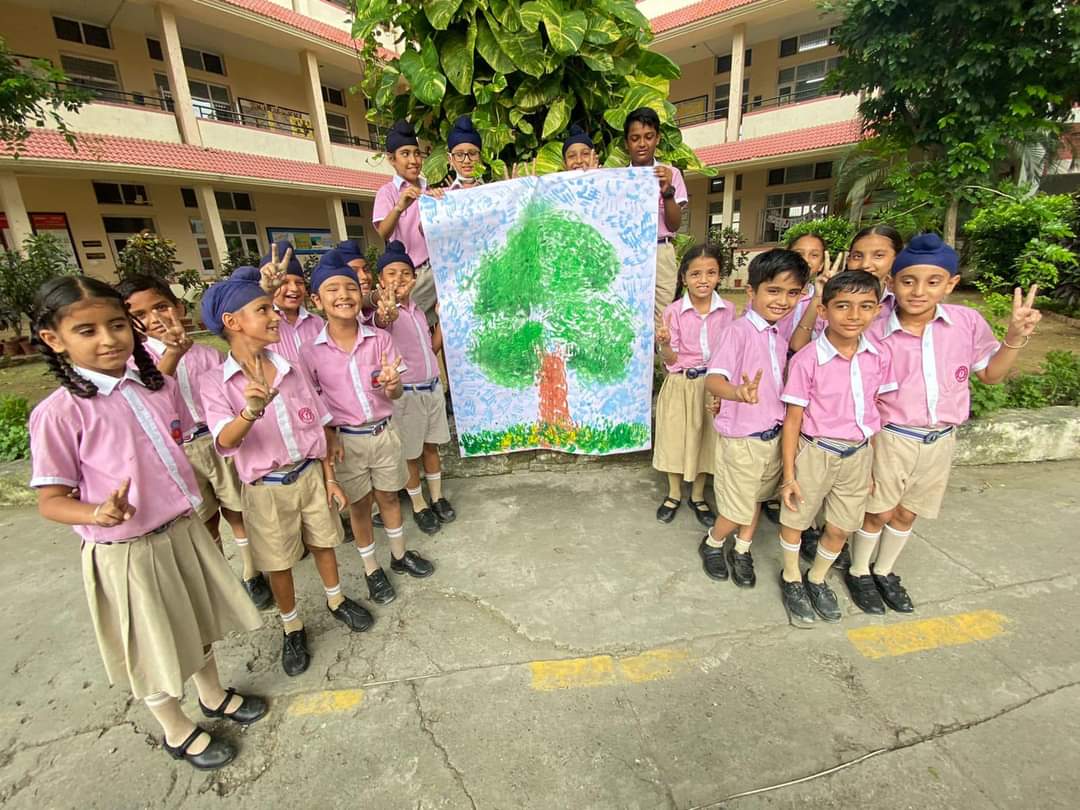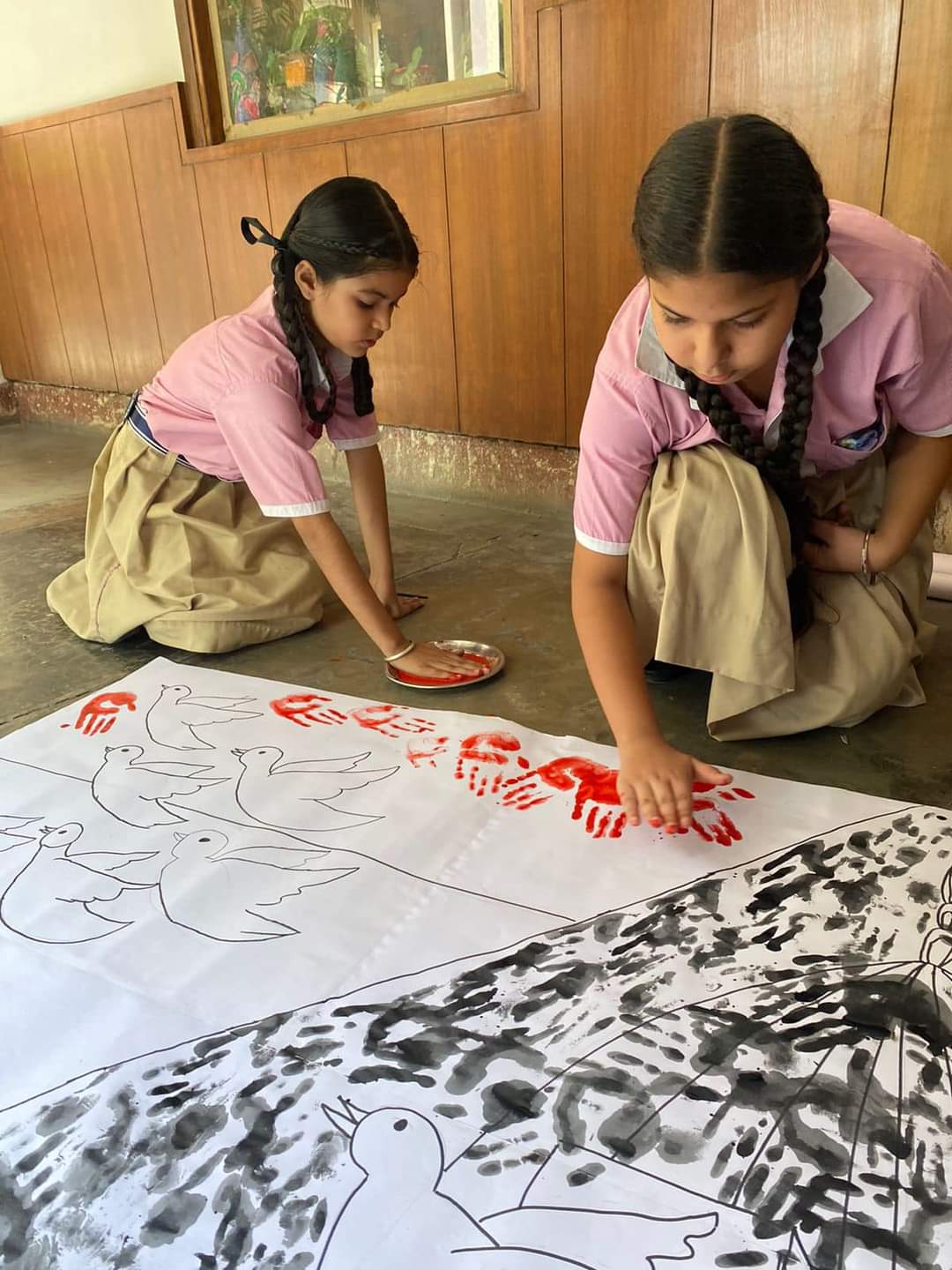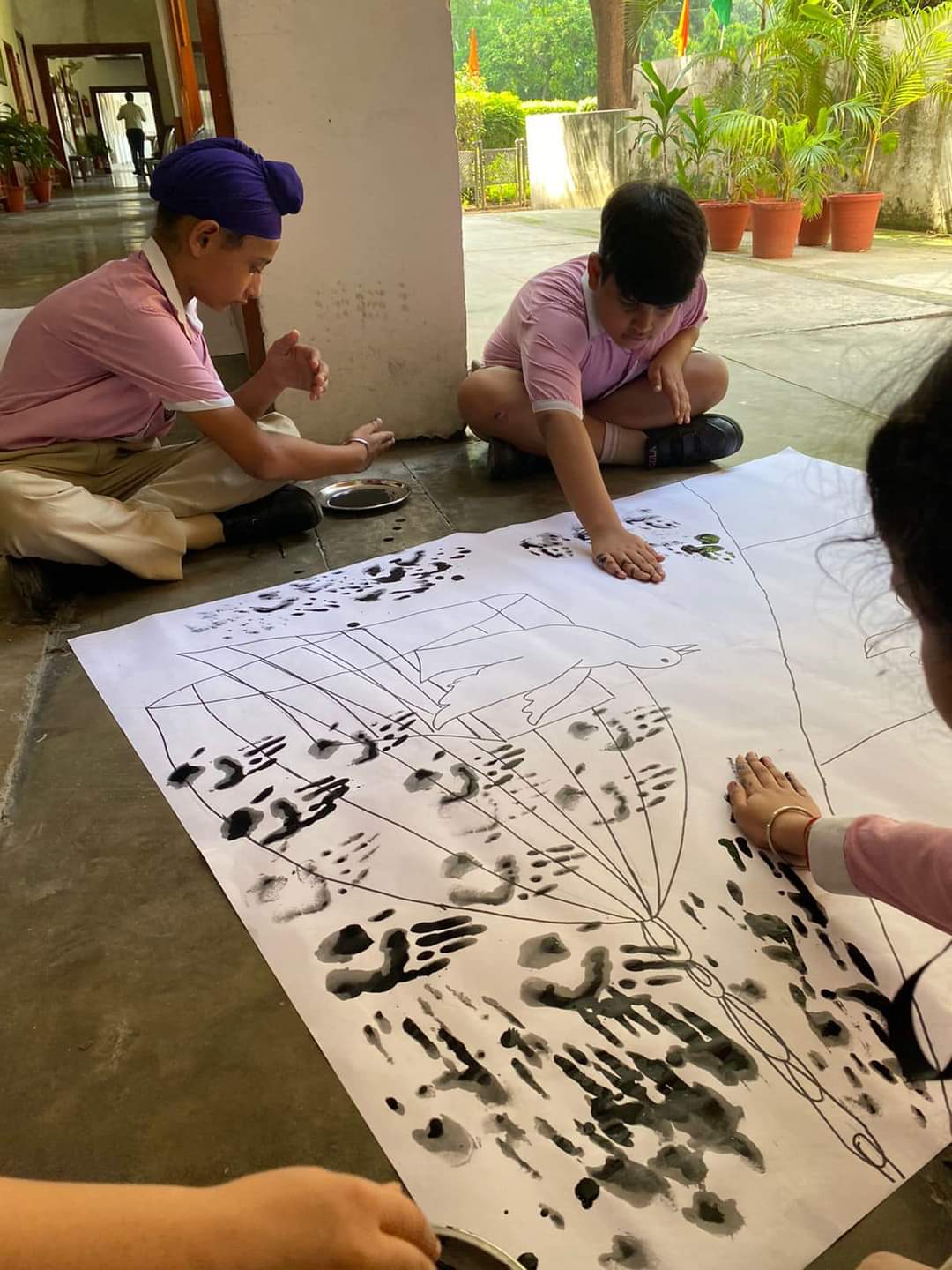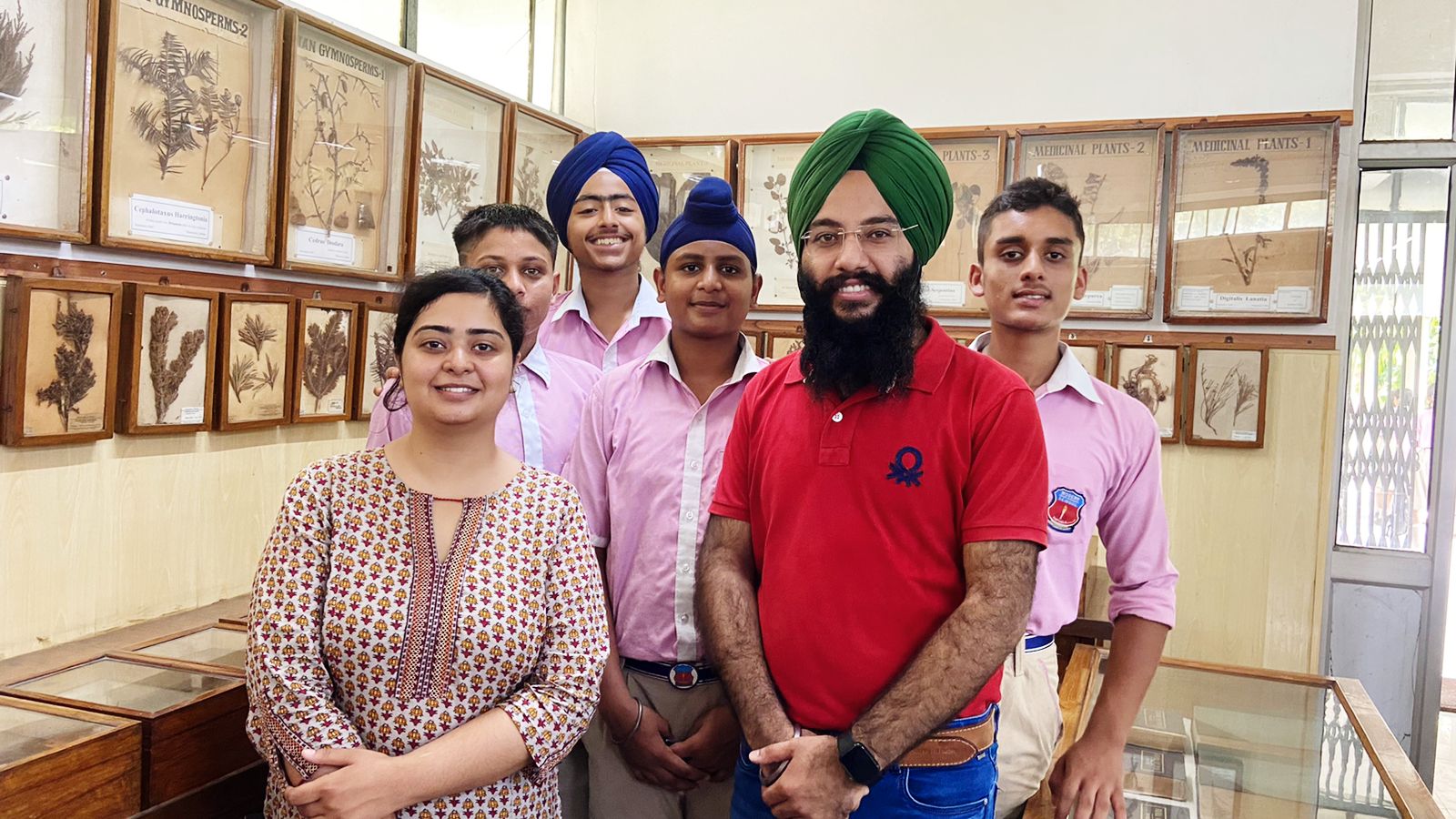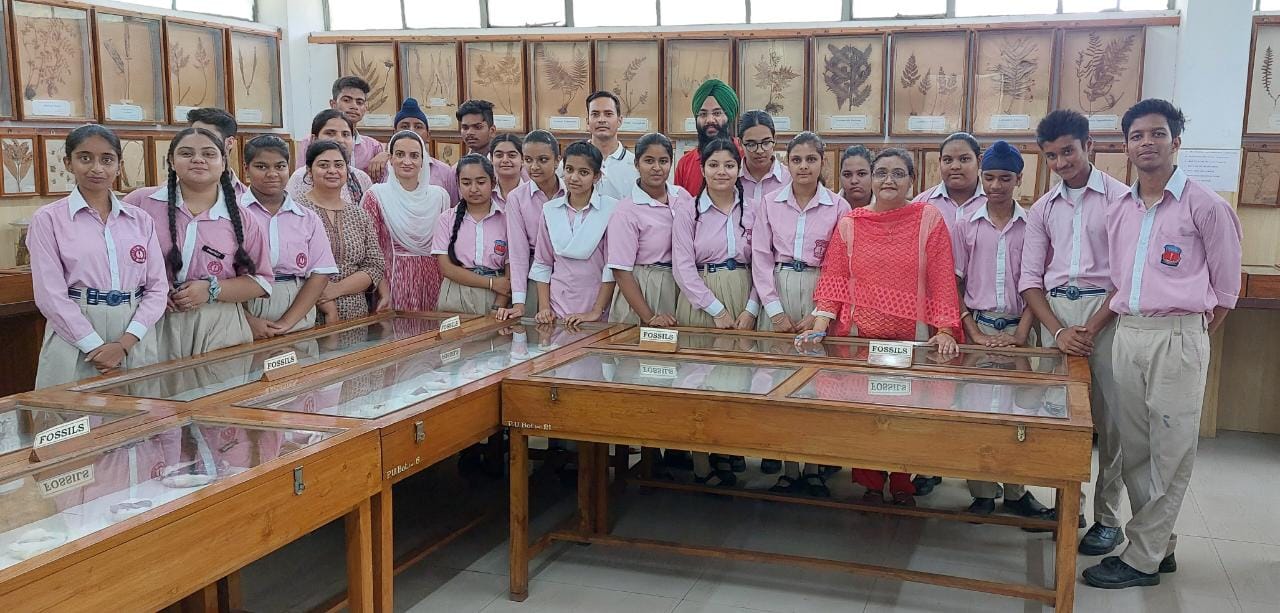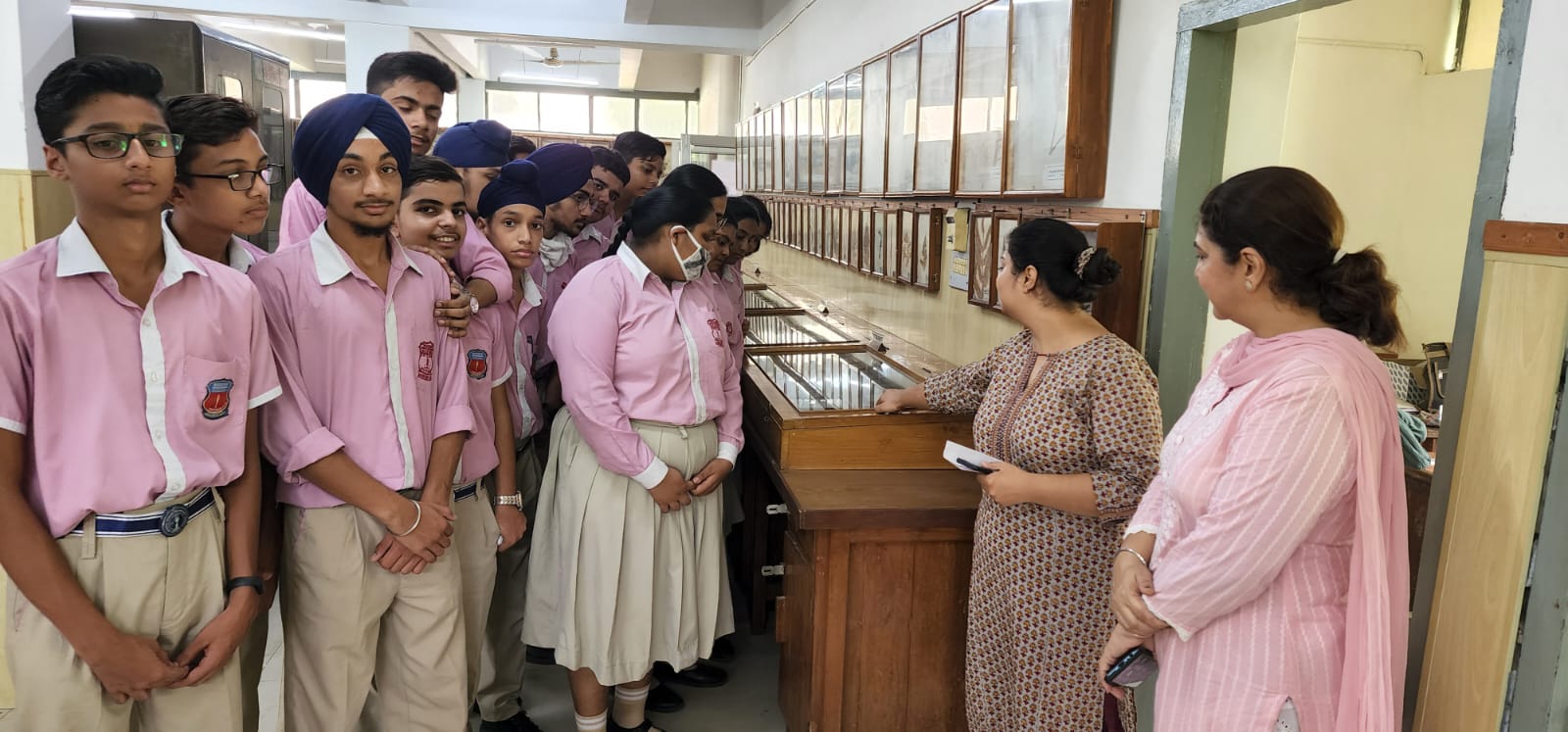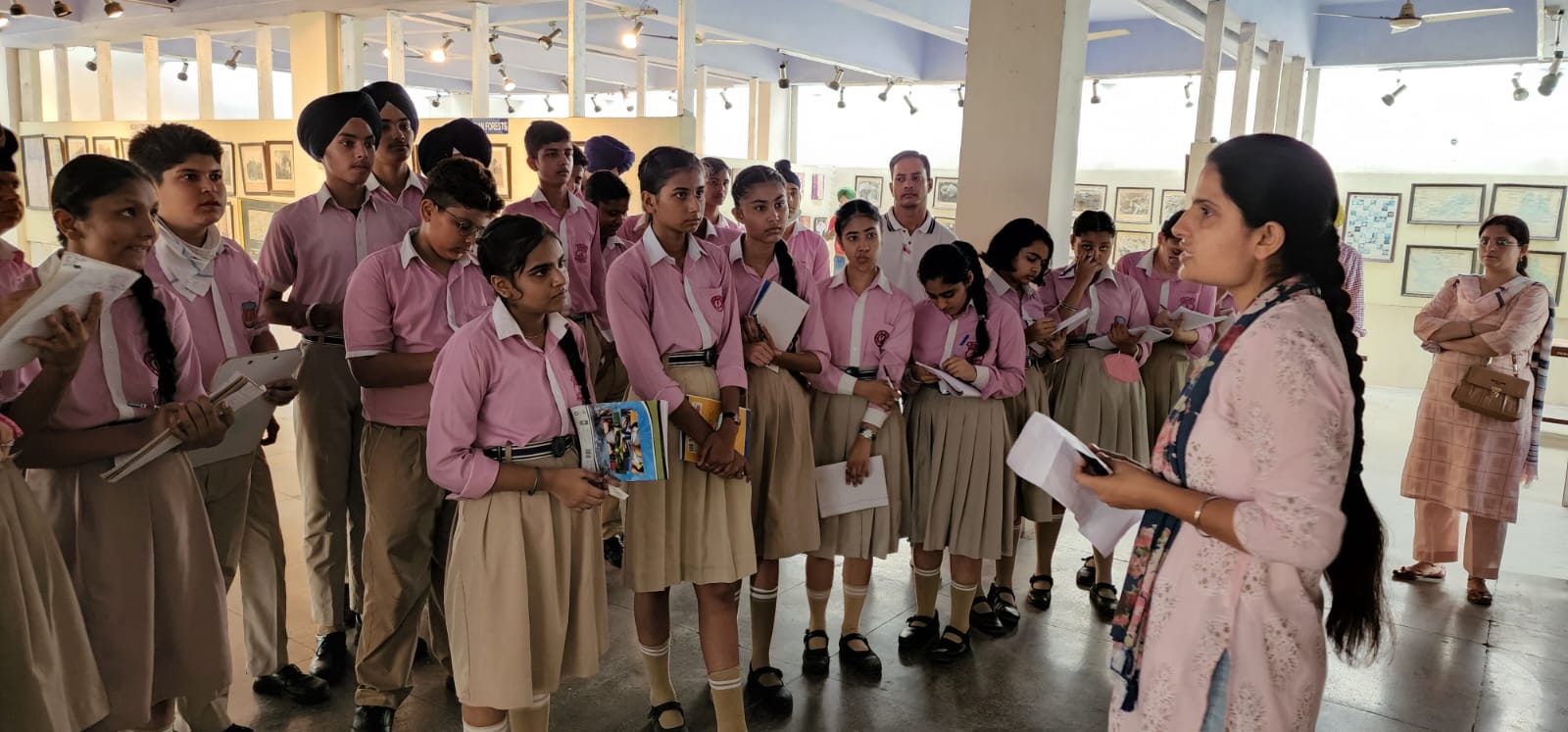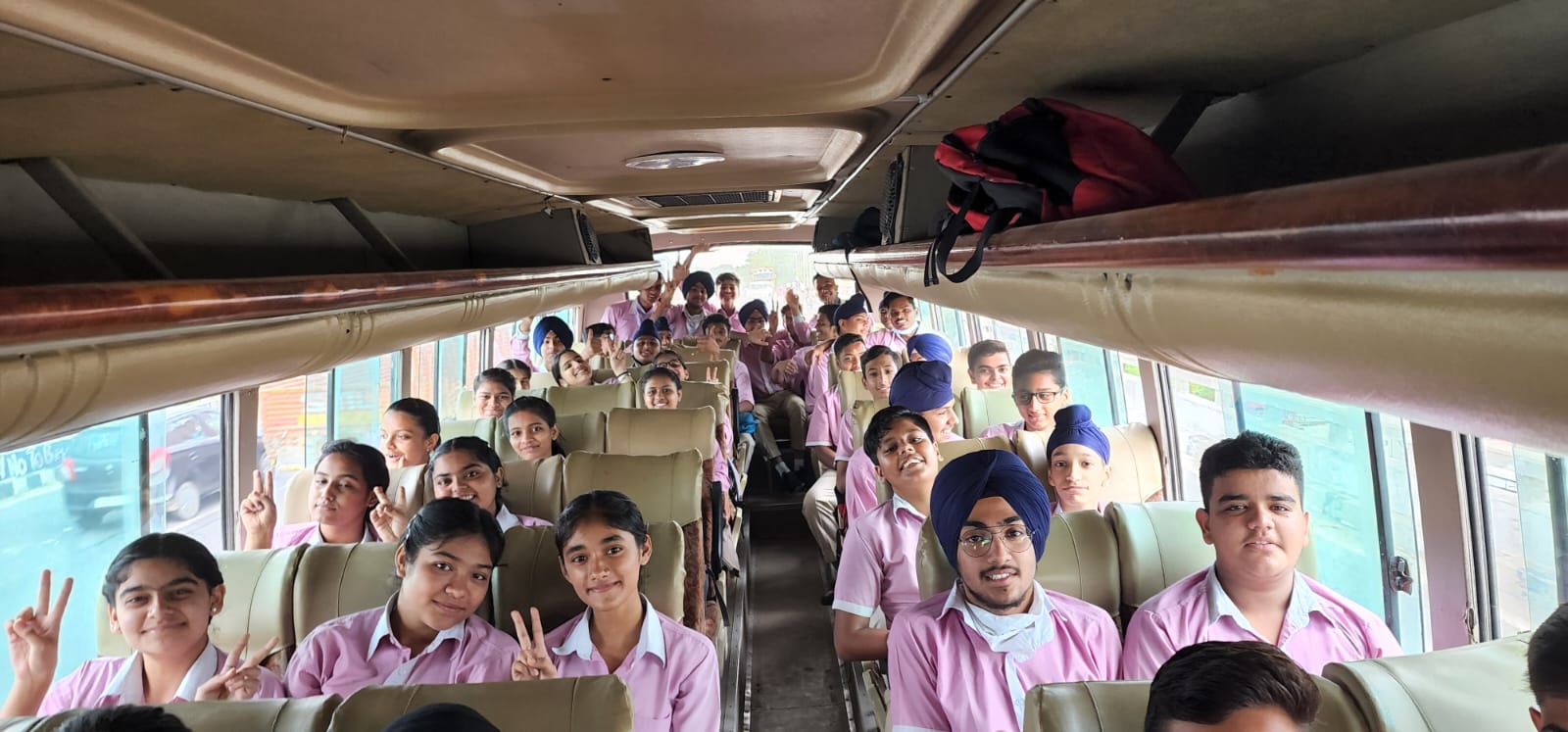 Field Trip to Botany Dept., Punjabi University
84 students of Class 10 visited the Museum, Herbarium and Photo Art Gallery during this field trip on 26 July 2022. The students were explained the evolutionary history of plants starting from Algae to Angiosperms (modern plants), their characteristic features, types and different categories with examples.
The Herbarium is where the various specimens collected from different regions are pressed, dried and fumigated with formaldehyde to avoid the growth of any pathogen. Students were provided details about specimens - from where, by whom and on which dates they were collected, etc. At the museum, the students saw the various specimens stored in liquid formaldehyde solution to avoid pathogenic growth. They also studied the fossils of many plants stored there.
Are mobile phones a boon or bane?
On 28 July 2022, a passionate Inter-House Debate for Classes 11 and 12 took place on the topic of mobile phones. The winner was Dikshpreet Kaur. In second place was Rukminder Kaur. The third place was taken by Uday Pratap Singh. All three are from Class 12. Consolation prizes were awarded to Achita Sood and Sukhnoor Kaur, both also of Class 12.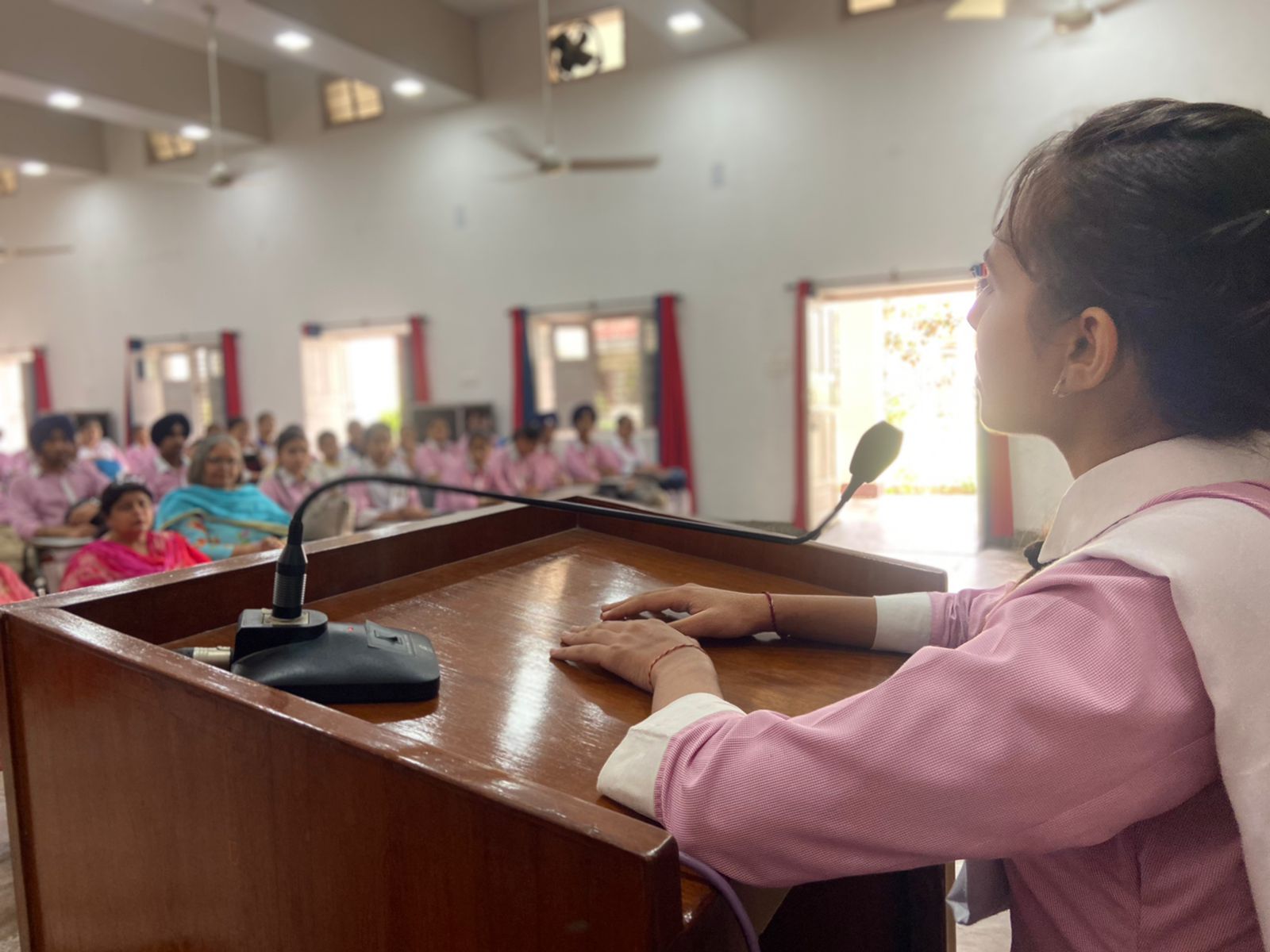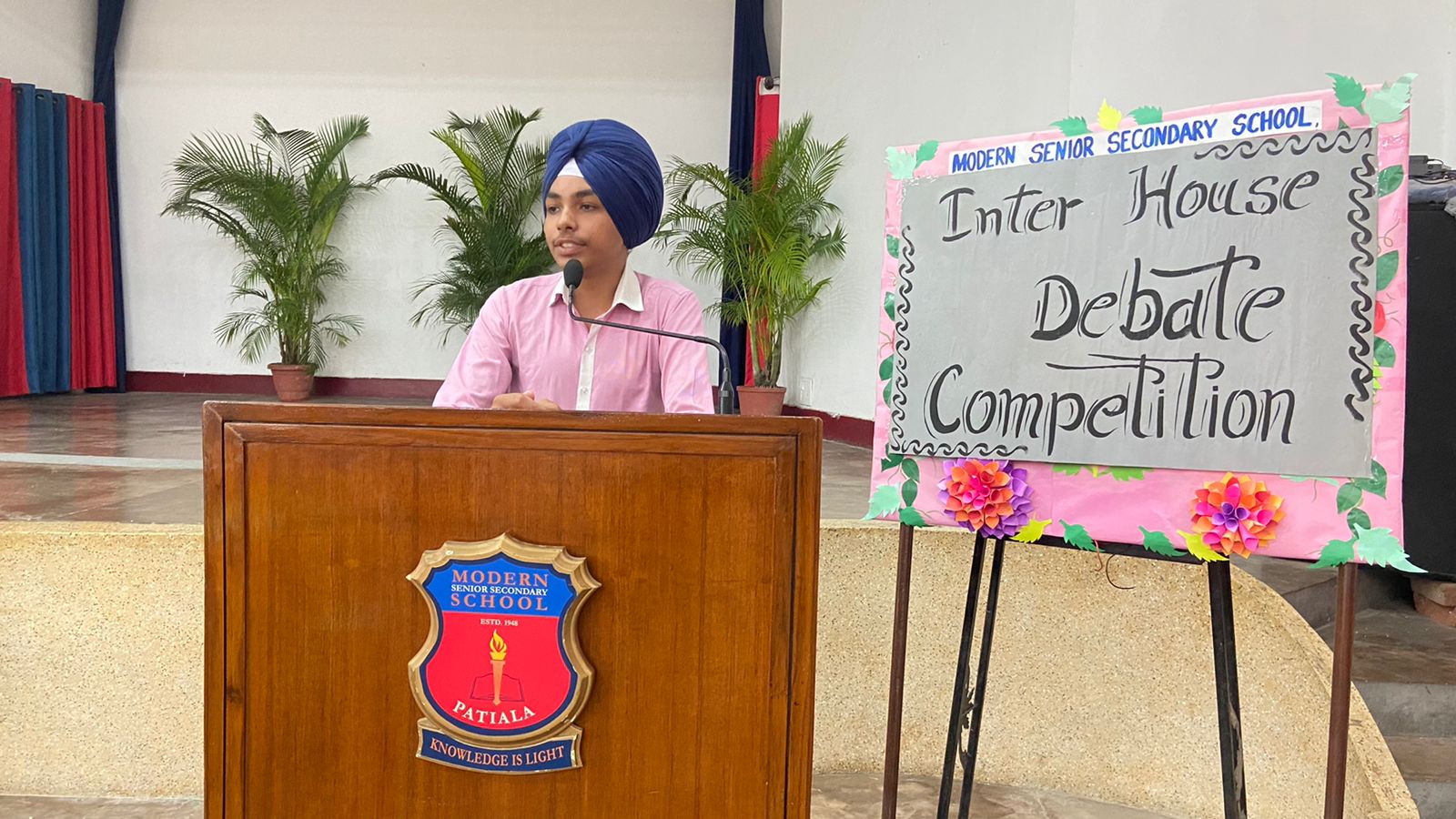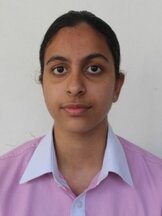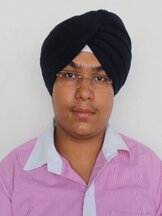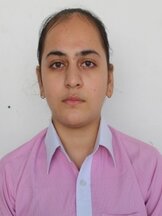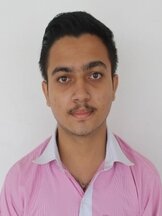 Modern School Students Star in CBSE Board Examinations 2022!
In Class 12, 15 of our students scored an overall of over 90% marks. In Class 10, 18 students got an overall of over 90% marks! Congratulations to all students, parents and staff!! Here are the school toppers.
(Class 12 - Humanities)
Simarpreet Kaur: 98%
Nidhi Hans: 94%
Charanjot Kaur: 93.8%
(Class 12 - Science)
Bhawneet Singh: 95%
Sameer Jain: 94.8%
Paras Kaur: 91.4%
(Class 12 - Commerce)
Anshleen Kaur: 92.8%
Jashandeep Singh Ranu: 92.6%
Simranpreet Kaur: 91.8%
(Class 10)
Vinayak Sharma: 98%
Simarjot Singh: 97.2%
Aashiya Kaur: 96.4%
Inter-House Poetry Recitation Competition
The themes were 'Beti Padhao, Beti Bachao', 'Environment' and 'Dear God' for Classes 6 to 8.
The winners were Avleen Kaur (8-A) of Greesham House and Simranpreet Kaur (6-B) of Varsha House! The second position was bagged by Kritika (8-A) of Greesham House and Anshpreet Kaur (7-A) of Hemant House. The third place was taken by Harsimrat Preet Singh (8-A) of Basant House. A consolation prize was given to Jasmine Kaur (8-A) of Varsha House.
Mokshita Garg and Tavish Sood presented their self-written poems on the occasion. Sargunjit Kaur (10-A) conducted the stage beautifully.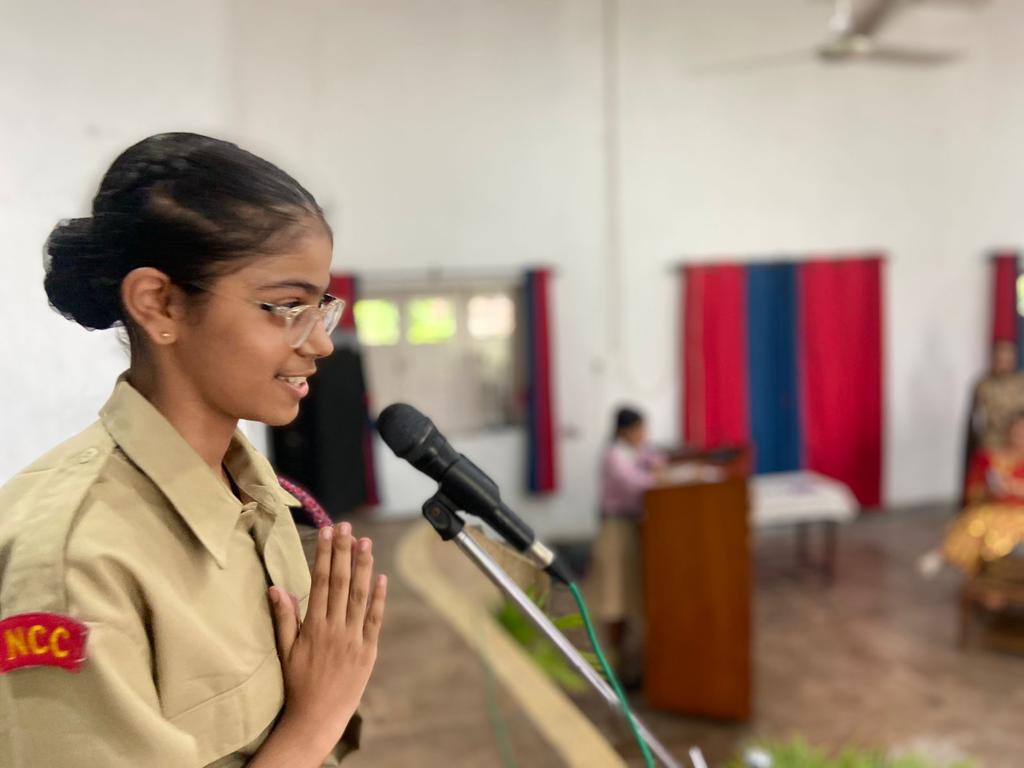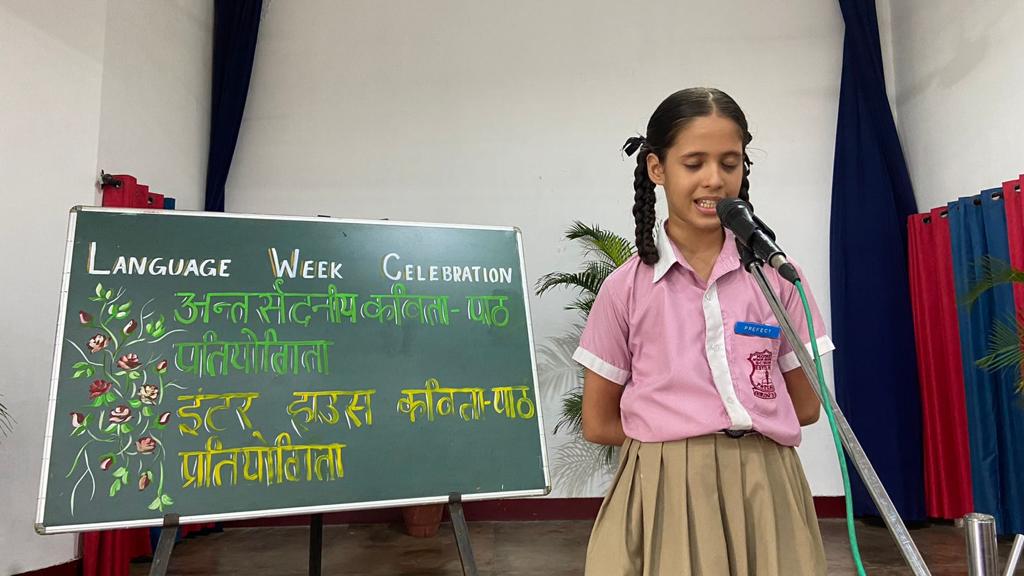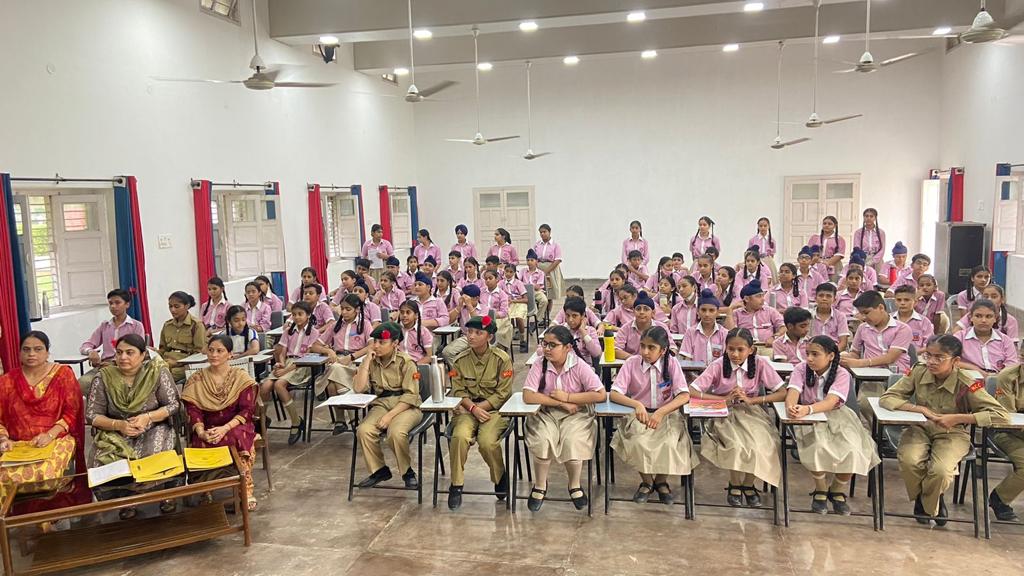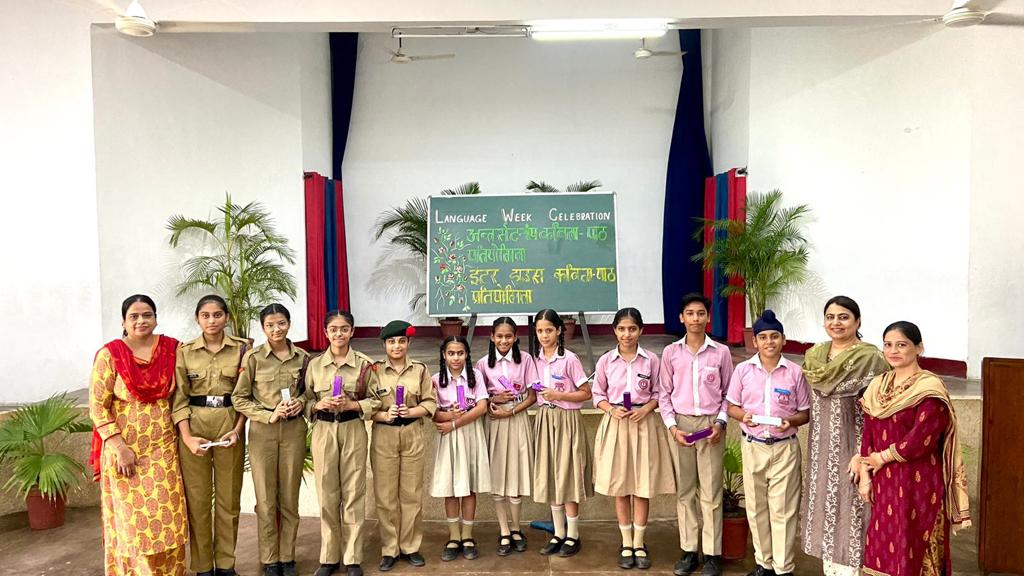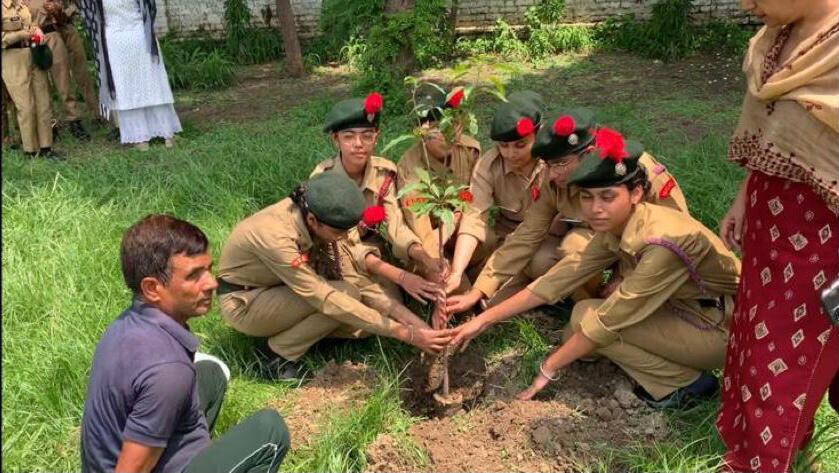 'Plant a Tree, Plant a Hope!'
On 19 July 2022, a tree plantation drive was held at the school to commemorate 75 years of 'NCC Raising'. 39 cadets of the senior and junior wings, with Lt. Surinder Kaur Baxi and CTO Gita Puri, planted saplings of Mango, Jamun, Cassia and Hibiscus. The gardeners assisted the cadets and provided them with a wealth of information about the plants.
Visit to Weather Radar Station
Class 12 Science students visited the Doppler Weather Radar Station of the India Meteorological Department, Patiala, on 18 July 2022. The tour was organised to study electromagnetic waves, electronic instruments and electronic components which are taught in physics. Students were also given a brief on weather forecasting. The visit was very informative - and fun!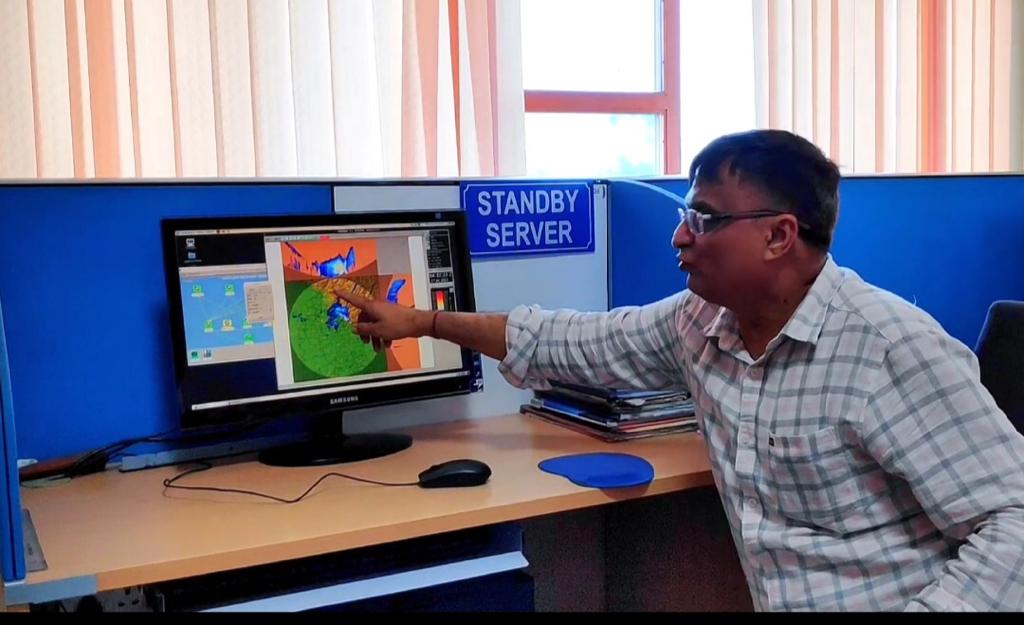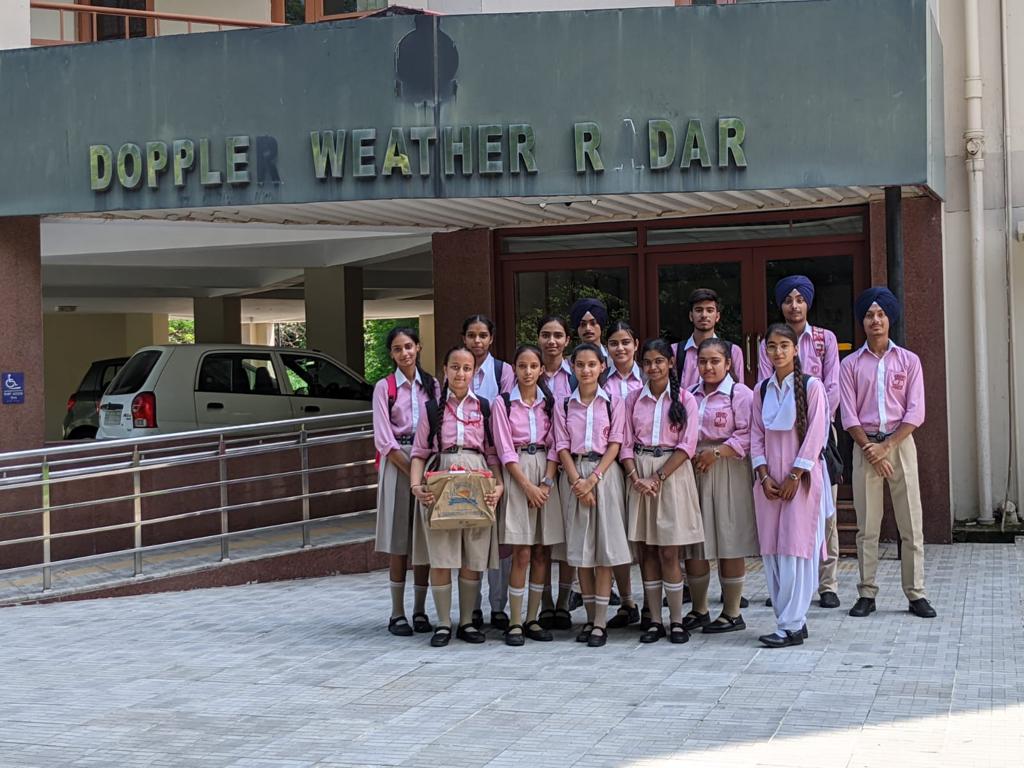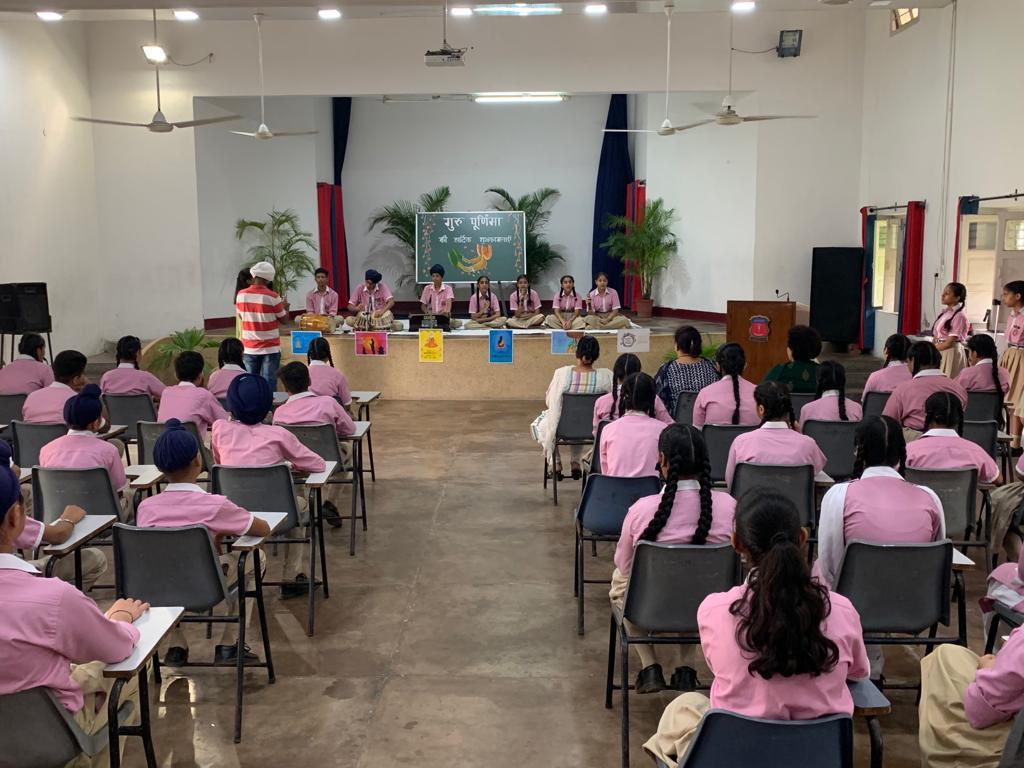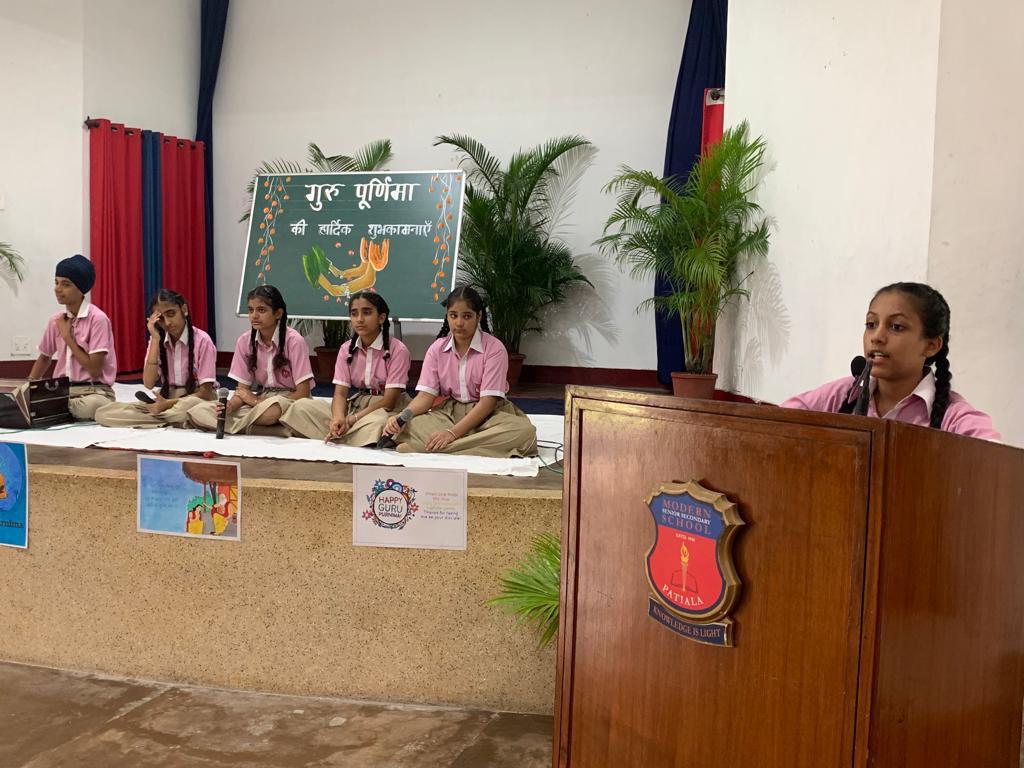 Guru Purnima Celebrations
On this auspicious occasion, a programme was organized on 13 July 2022 in the school auditorium. At the start was a recitation of the Saraswati Vandana by students of the music department. Sacred dohas were also sung by music students and explained by Kudrat Bansal (X-B) and Kayna (IX-A). There were poems of gratitude towards all our Gurus. The Principal, Mrs. Manpreet Sharma, made the concluding address.
Balle Balle!
Our primary students were enthralled with the visit of well-known choreographer, Prince, to the school on 26 May 2022. The kids danced like folk stars to the beats of the dhol!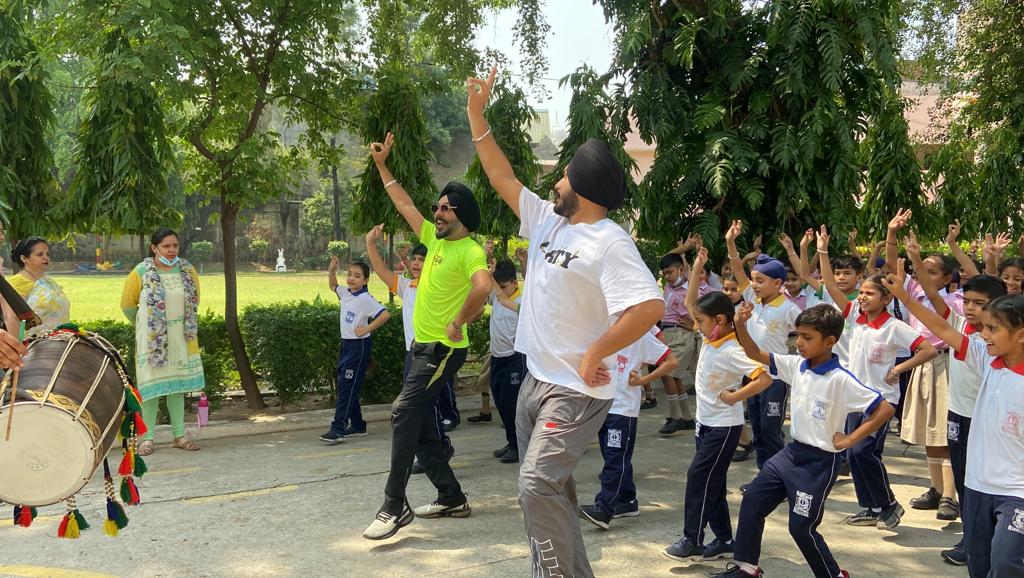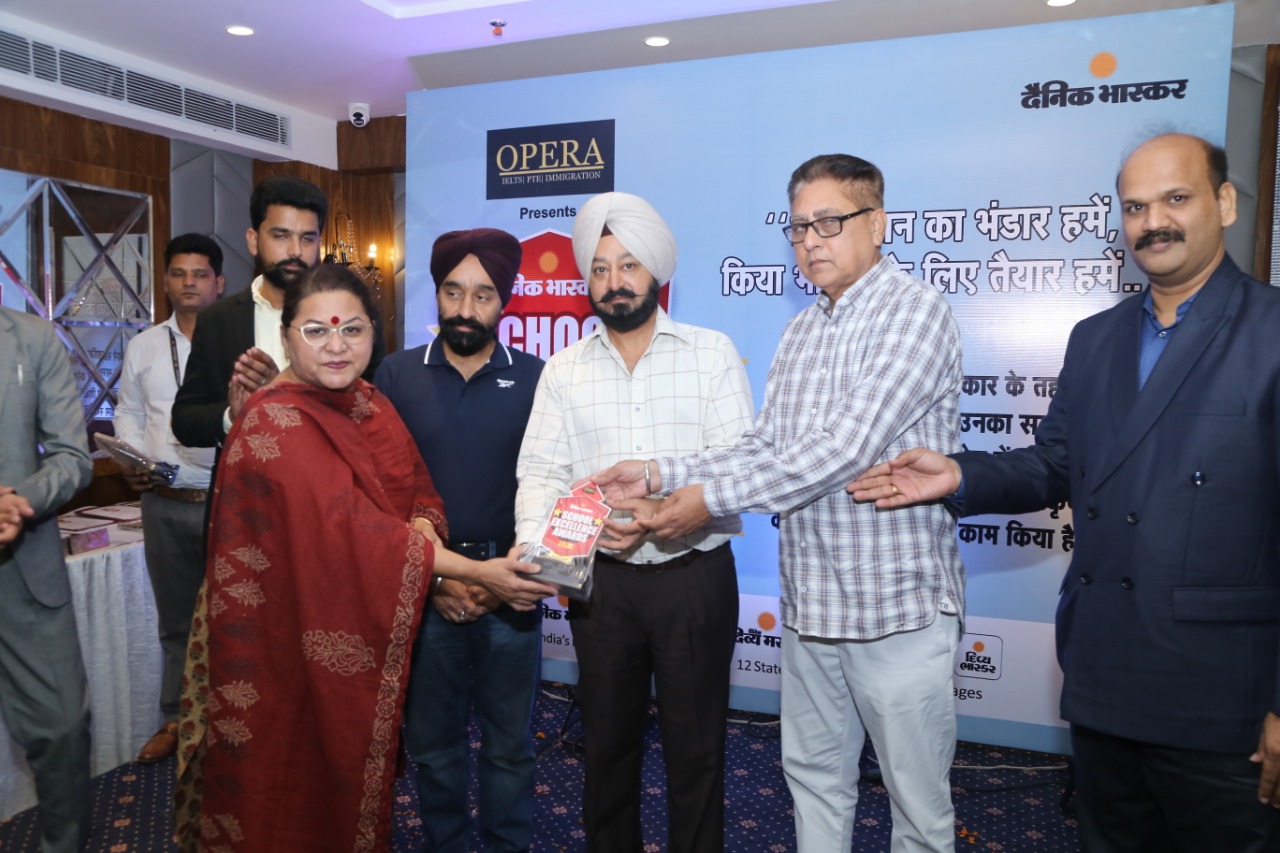 Modern School, Patiala, Wins Award For Excellence!
Our school has been given an Award for Excellence at a ceremony organized by Dainik Bhaskar News Agency on 21 May 2022 in Patiala! The school was also commended for appreciable work during the pandemic time.
Head of Middle School, Mrs. Meenakshi Tewari, received the award on behalf of the school.
Pre-Nursery, Nursery & KG kids celebrating their mothers!
Watch this wonderful video: Click here!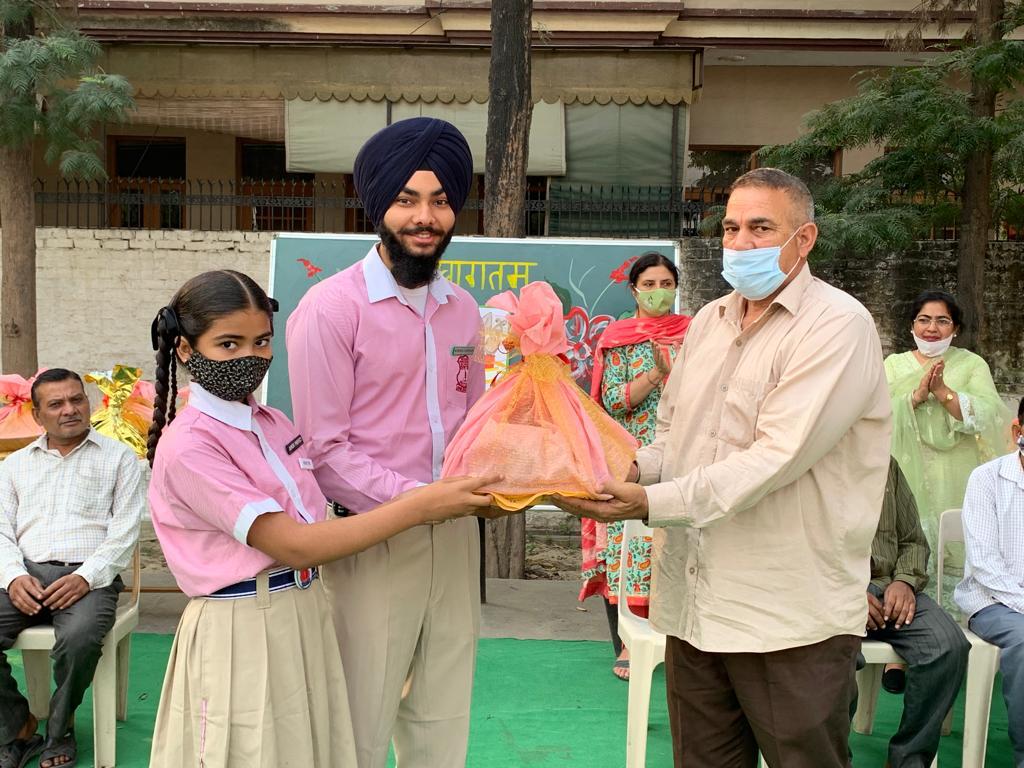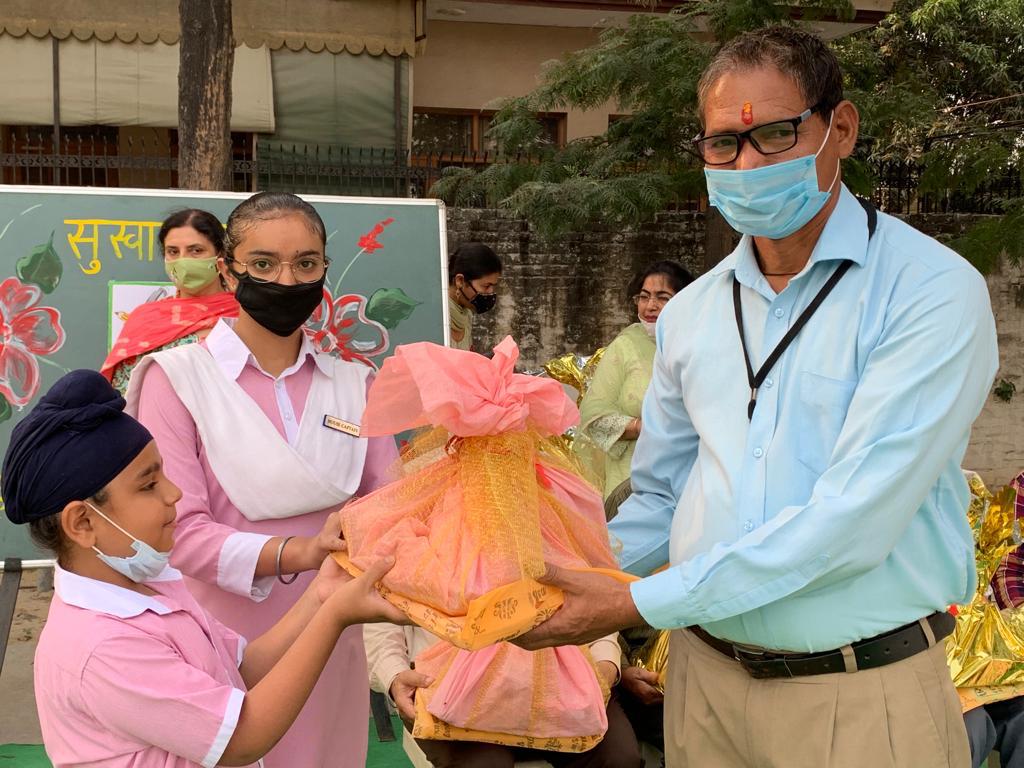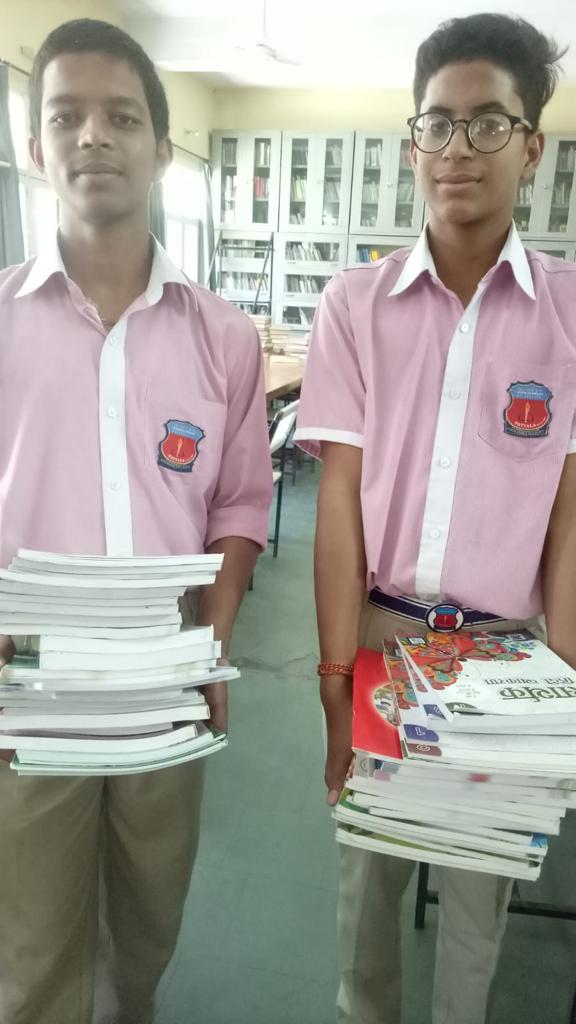 Thanking School Support Staff
On 1 May, students celebrated Labour Day by recognising and thanking the school support staff - with gifts from Student Council members and prefects - for keeping the school clean, green and safe.
Students also cleaned up the school grounds, arranged the library and adorned the bulletin boards in honour of Labour Day.
The school choir recited 'Ae Malik Tere Bande Hum' during a Special Assembly, hosted by Jupinder Kaur (XII-A), exclusively for the support staff. Sargunjit Kaur (X-A) recited a poem dedicated to the support staff, expressing gratitude on behalf of the MSSSP family.
CELEBRATING EARTH DAY!
Earth Day was celebrated in a big way on 22 April 2022. The Eco Club of the school led a very special assembly to mark Earth Day.
The middle & primary school students made posters, slogans and held quiz and spell bee competitions on the environment.
Watch this wonderful video: Click here!
Meanwhile, our KG, Nursery and Pre-Nursery children taught each other about the value of reducing noise pollution, saving resources by turning off taps and lights when not in use, reducing paper and plastic use, not wasting food and planting greenery.
A short video: Click here!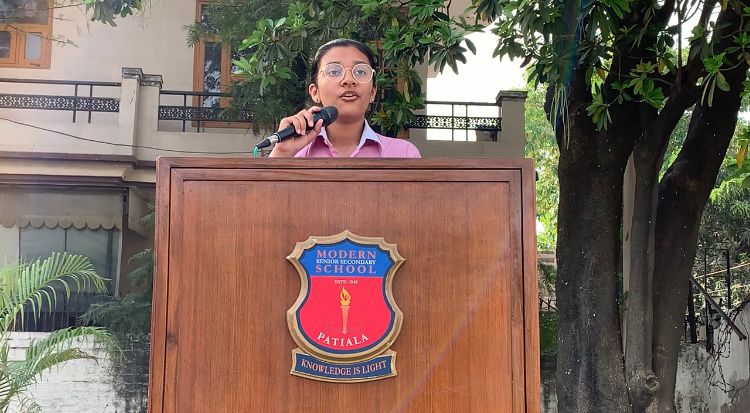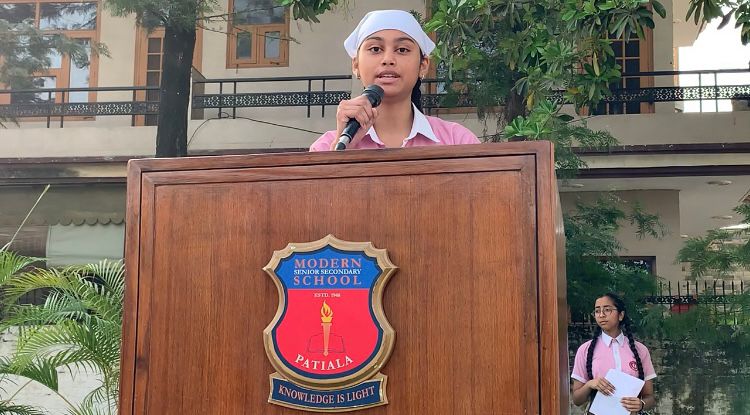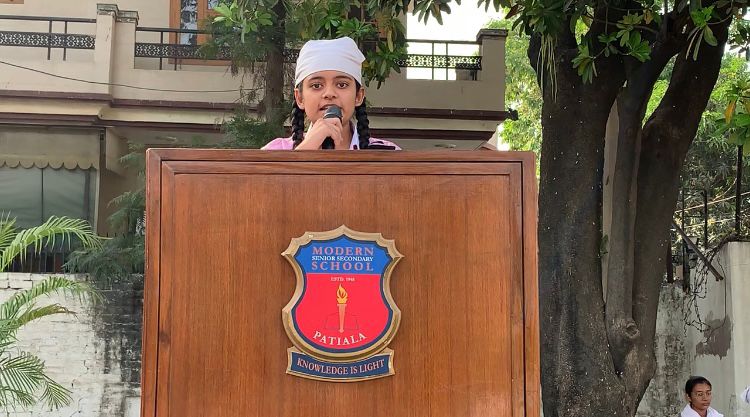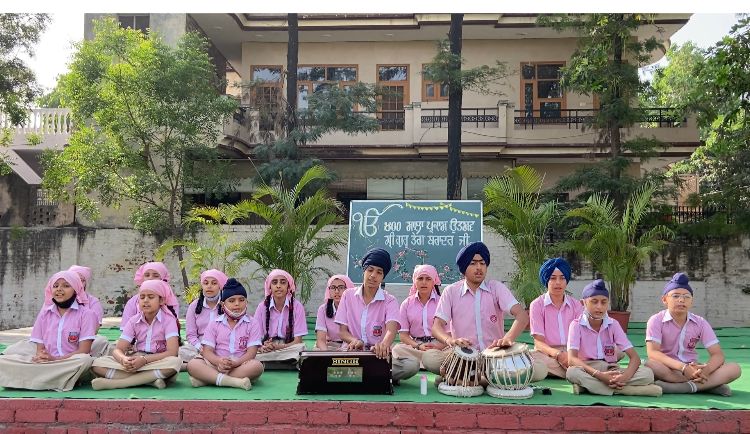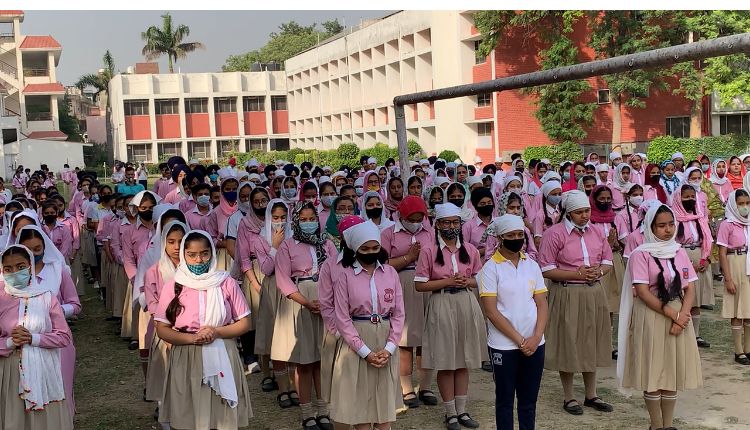 Celebrating 400 years of Guru Tegh Bahadur ji!
The school had a very special assembly to celebrate and pay reverence to the ninth Guru of the Sikhs. A famous shabad 'Guru Tegh Bahadur Simariye' was recited by primary students. There were also wonderful speeches by Tanya (Class 8-A), Mokshita Garg (Class 9-A) and Sukhnoor Kaur Khanna (Class 12-C). The programme was anchored very ably by Karmanpreet Kaur (Class 9-C).
Nursery kids celebrating Baisakhi
Here's a video: Click here!
Graduation Day for KG Kids!
Our KG kids celebrated their graduation from KG to Class 1 with little performances, speeches and fun, in the presence of their families and teachers. Next stop - senior school!
Here's a video: Click here!
Teachers as students!
A session on 'Social and Emotional Well-Being of Our Learning Community' was conducted on 5 March 2022 for our teachers by Dr. Jasmine Vij on how to handle emotions, manage time, manage job stress and create mindfulness. Thereafter, Zumba trainer, Zin Simran, guided teachers on how to destress while dancing to the beats of music!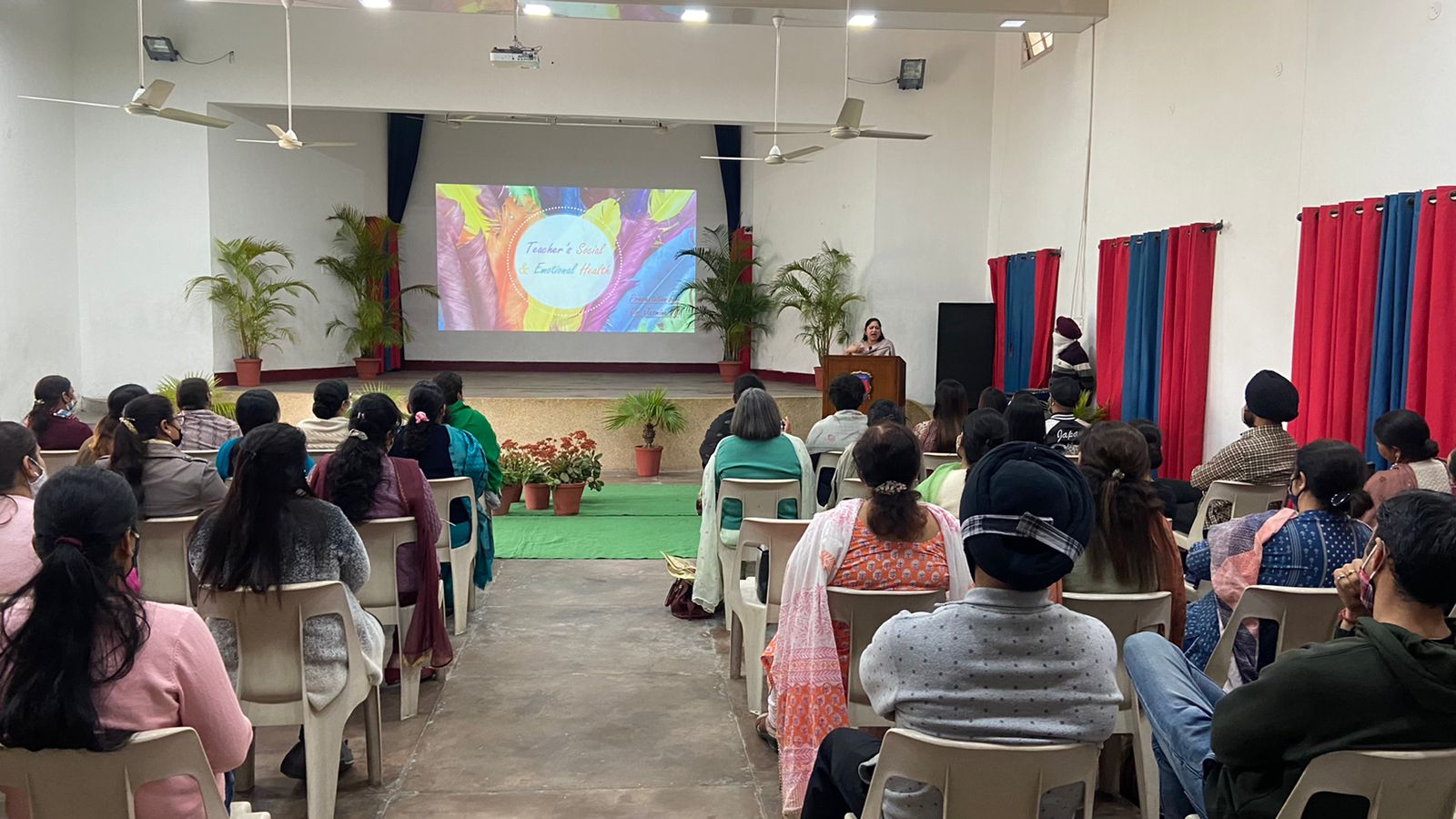 Women's Day Celebration
A special assembly was held to celebrate Women's Day on 8 March 2022. Students from different classes expressed their views on gender equality and the achievements women in India and abroad. 21 students from Classes I to 5 stole the show with their song and dance performances on the role of women in our lives.
Here's a video: Click here!
Celebrating 'Mother Language Day'
21 February was Mother Language Day - a UNESCO effort to promote cultural diversity and multilingualism. Our school organized a special assembly, where Sargunjeet Kaur (9-A) gave a speech on the importance of one's mother language. Senior students also participated in activities to show (off!) their mother language skills (see pics).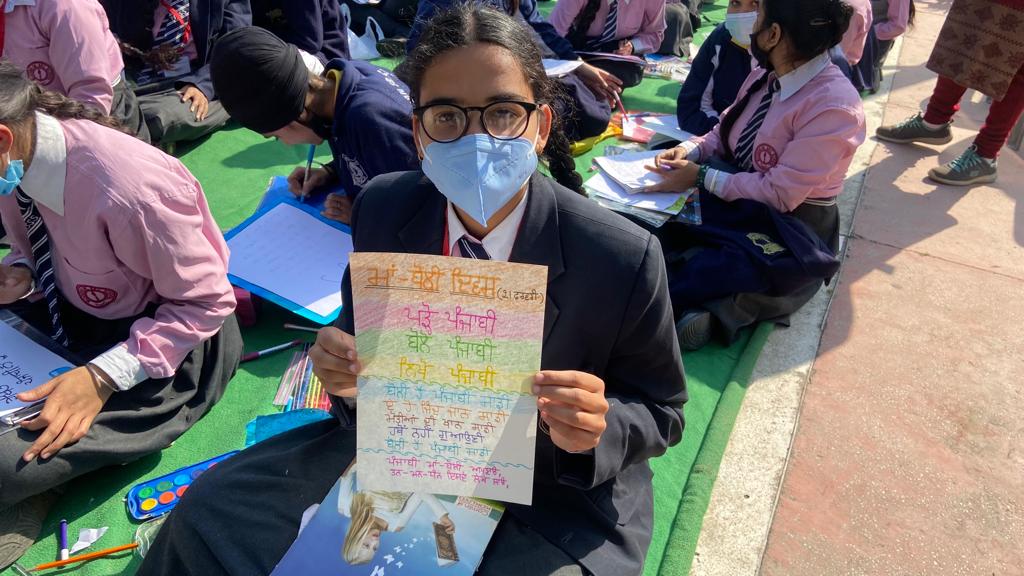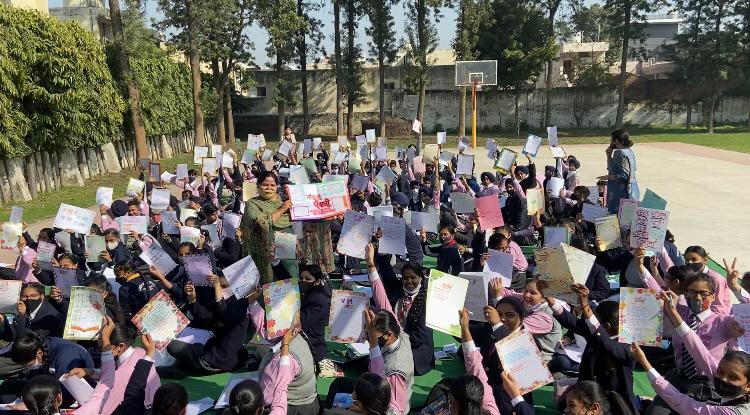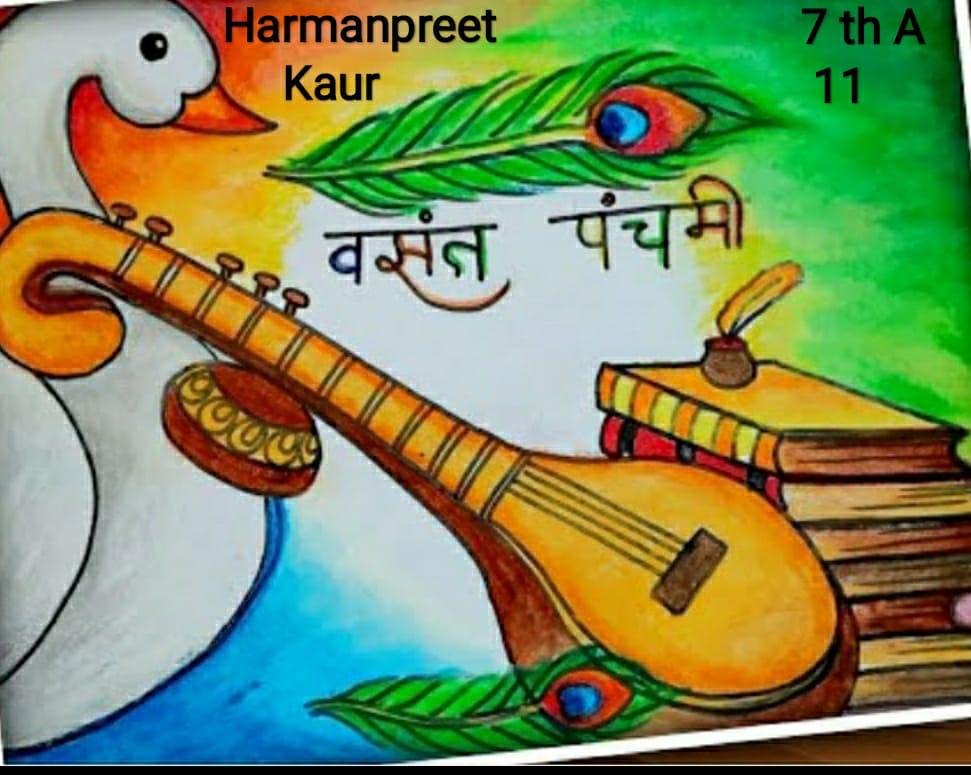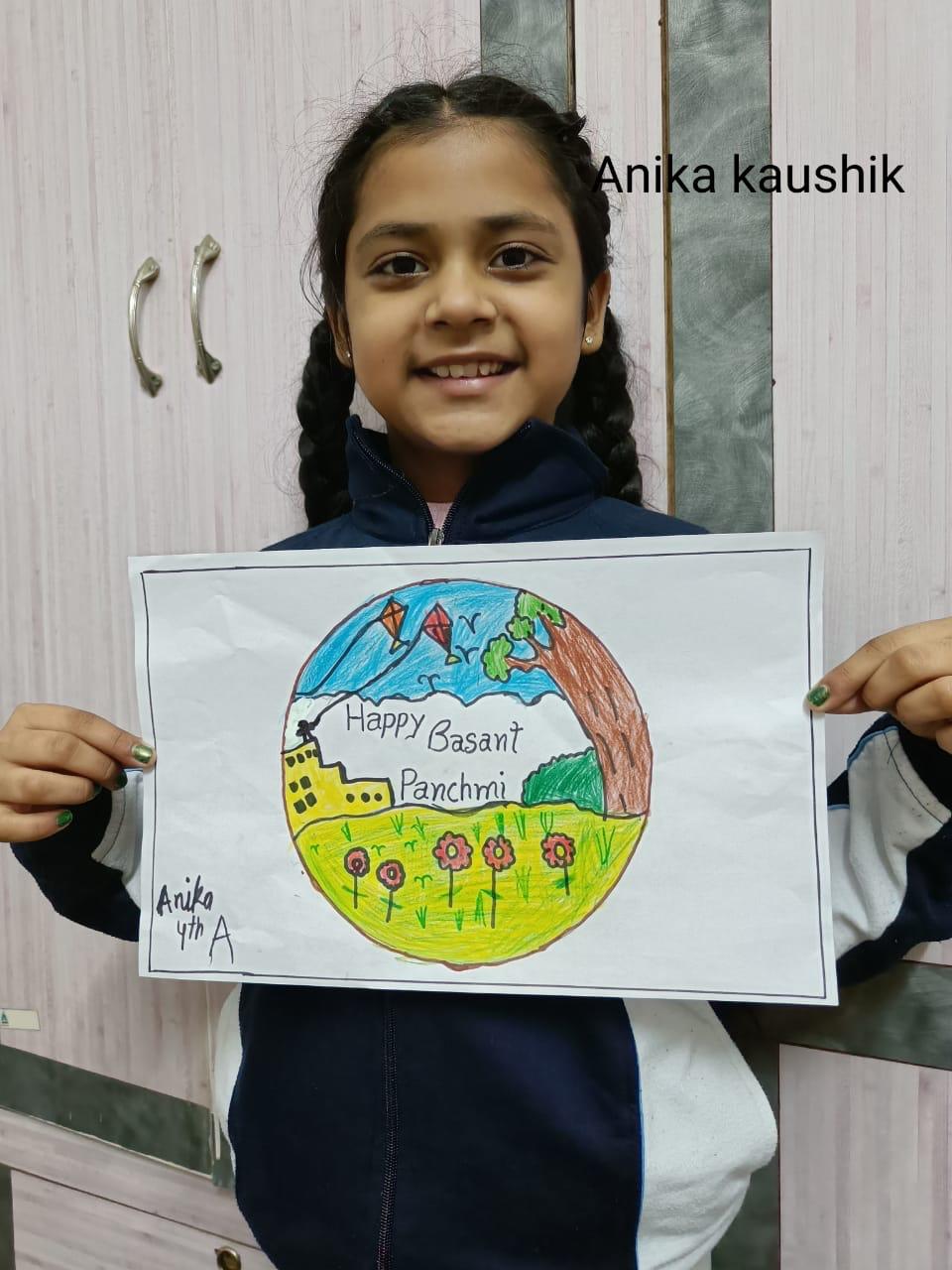 Basant Panchami Greetings!
Here are a couple of images from the celebrations of this auspicious day.
Republic Day 2022
The school celebrated Republic Day - online. We had special assemblies for all classes with patriotic music, dance, poetry, rangoli, poster-making and even patriotic food! Jai Hind!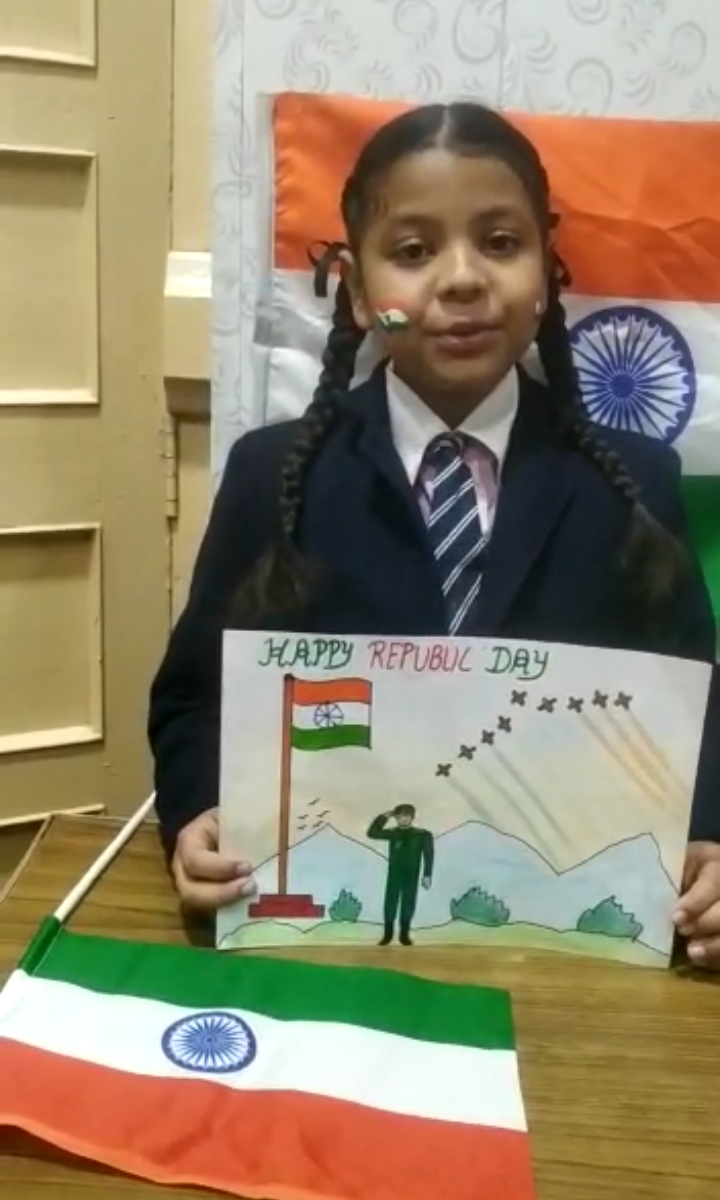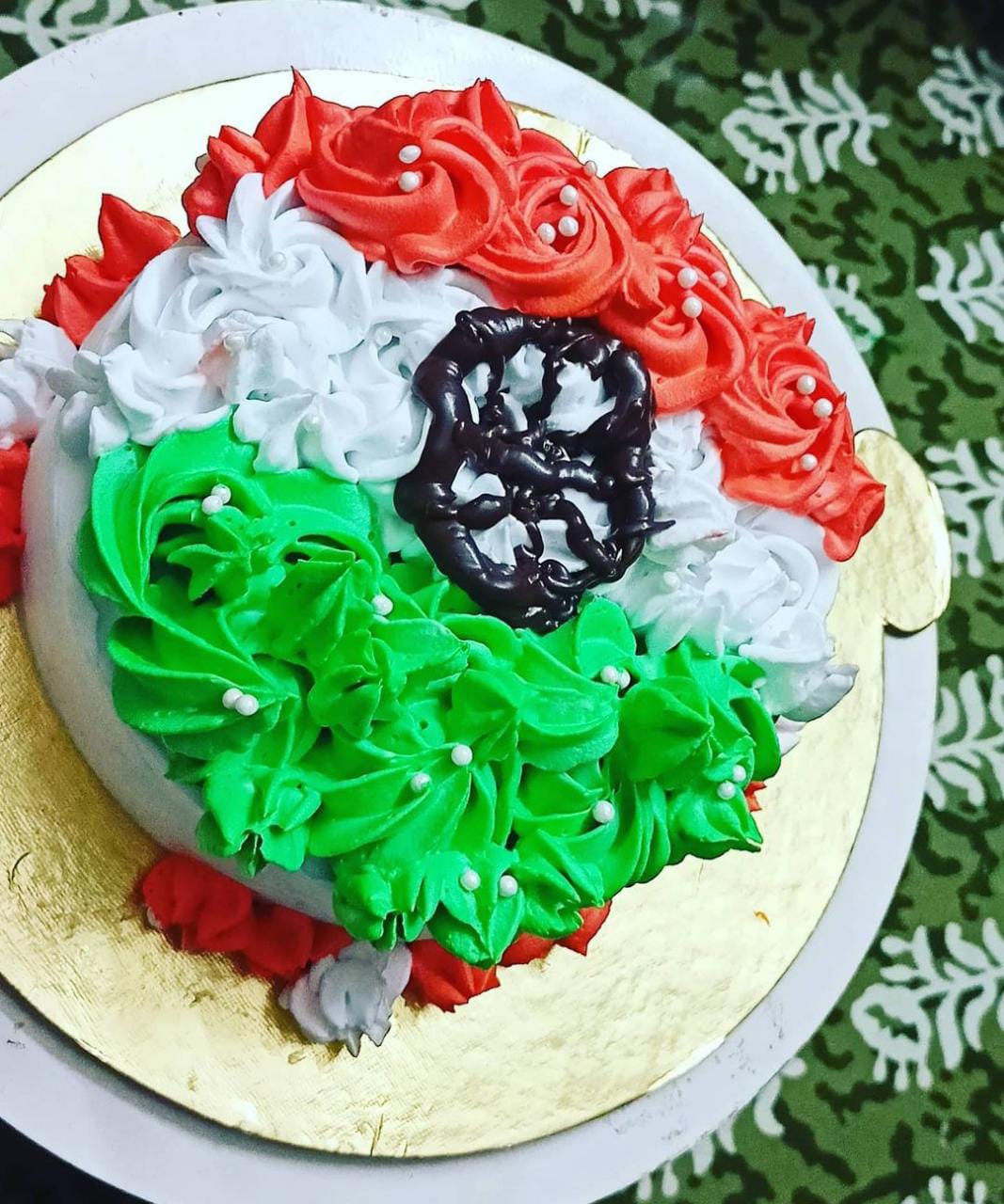 Vaccination Camp at School
The school tied-up with Radio Orange 106.4 FM and Mata Kaushalya Hospital, Patiala, to hold a Covid vaccination camp for children between the ages of 15 and 18 and adults on 24 January 2022 at the school campus. Booster shots were also available for elderly people.
Here's a video: Click here!
Founder's Day celebrations!
The school marked its 74th Founder's Day on 8 January 2022, the birth anniversary of its founder, Sardar Mohan Singh. There was a special online assembly to mark the day.
As we move towards 75 years, students are enthusiastically working on the theme 'My Dream School: A Green School'. We will keep you posted!
Link to YouTube video: Click here!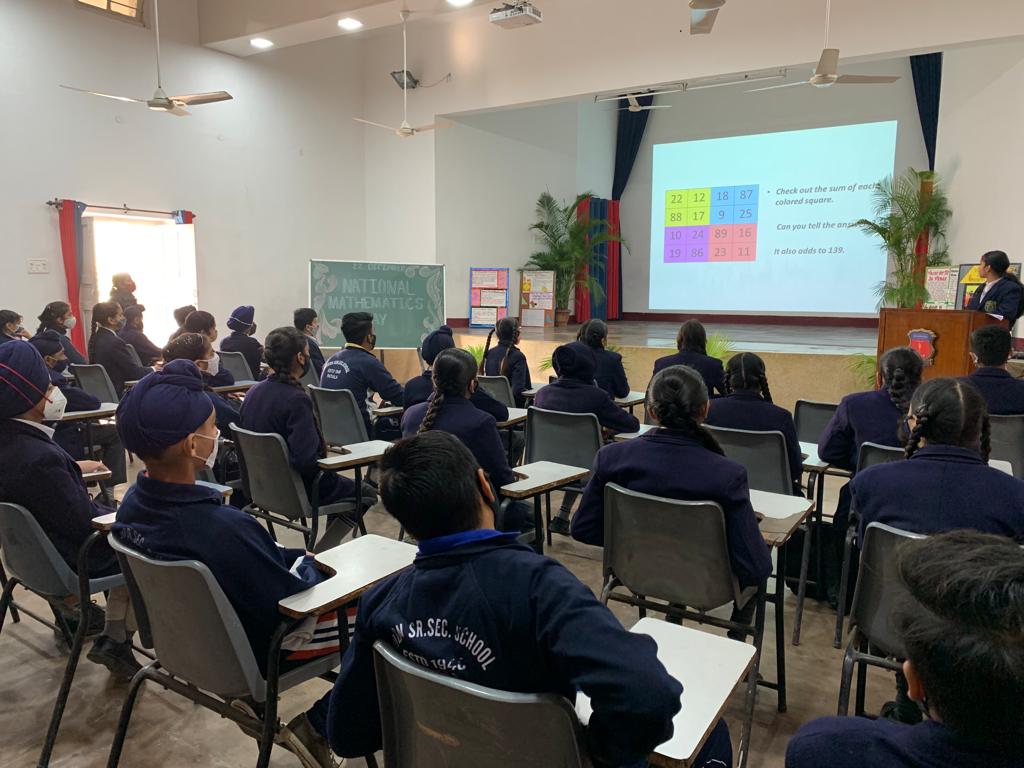 Celebrating the genius S. Ramanujan!
The birthday of the great Indian Mathematician Srinivasa Ramanujan, celebrated as 'National Mathematics Day', was marked by students on 22 December 2021 with great interest. Mansi of Class 10A made a beautiful speech on Ramanujan. Achita of Class 11B explained experimentally the Ramanujan Magic Square. Mokshita Garg of Class 8A shared an inspiring short story around Ramanujan Number 139. Students of Class 8, along with Maths teachers, were the audience!
To watch celebration video: Click here!
Human Rights Day!
Students of Classes 7 and 8 participated in a school event to mark Human Rights Day on 10 December 2021. Jhanvi, Gurleen Kaur and Kayna (all of Class 8) made very thought-provoking speeches or recited poems on human rights.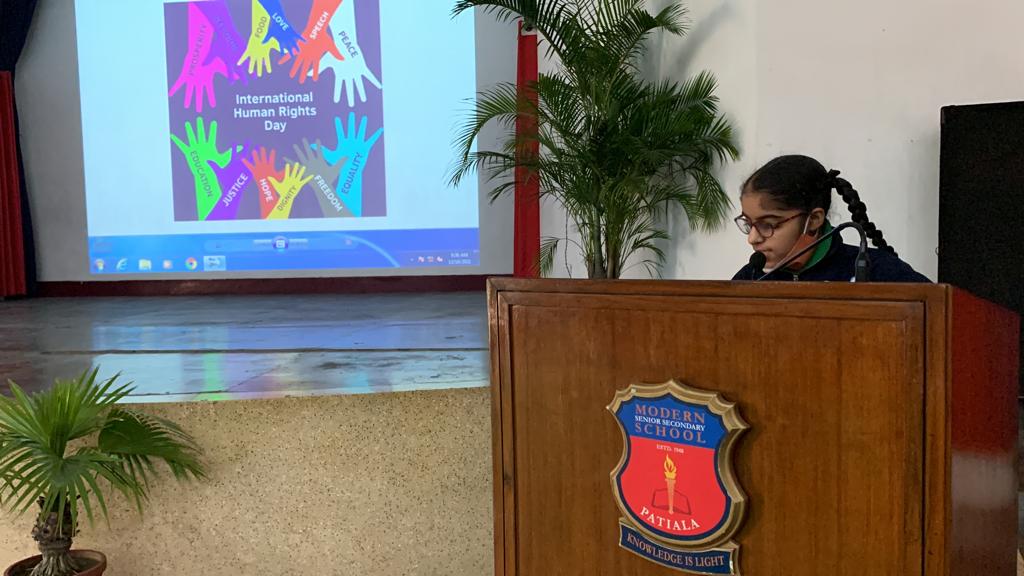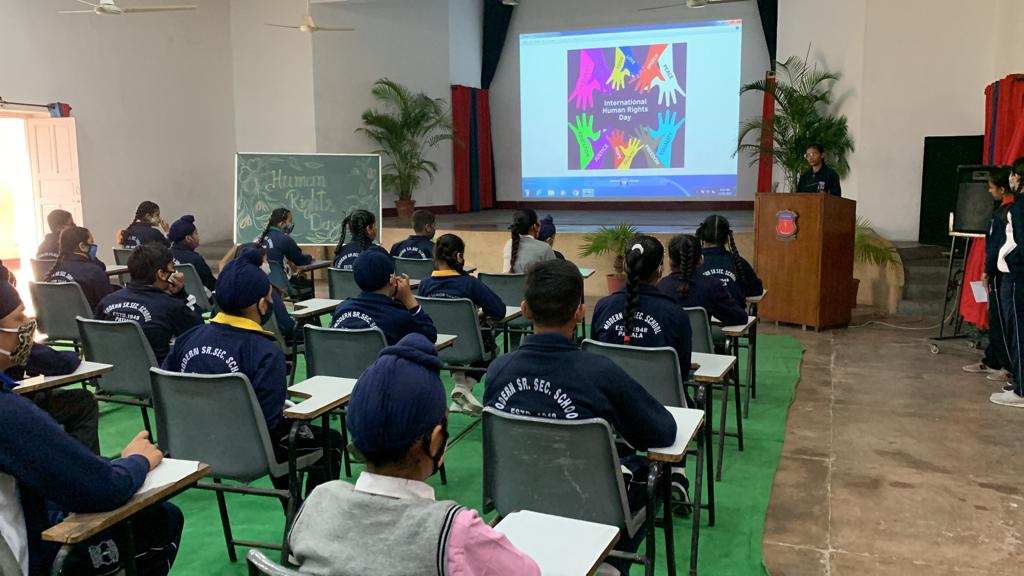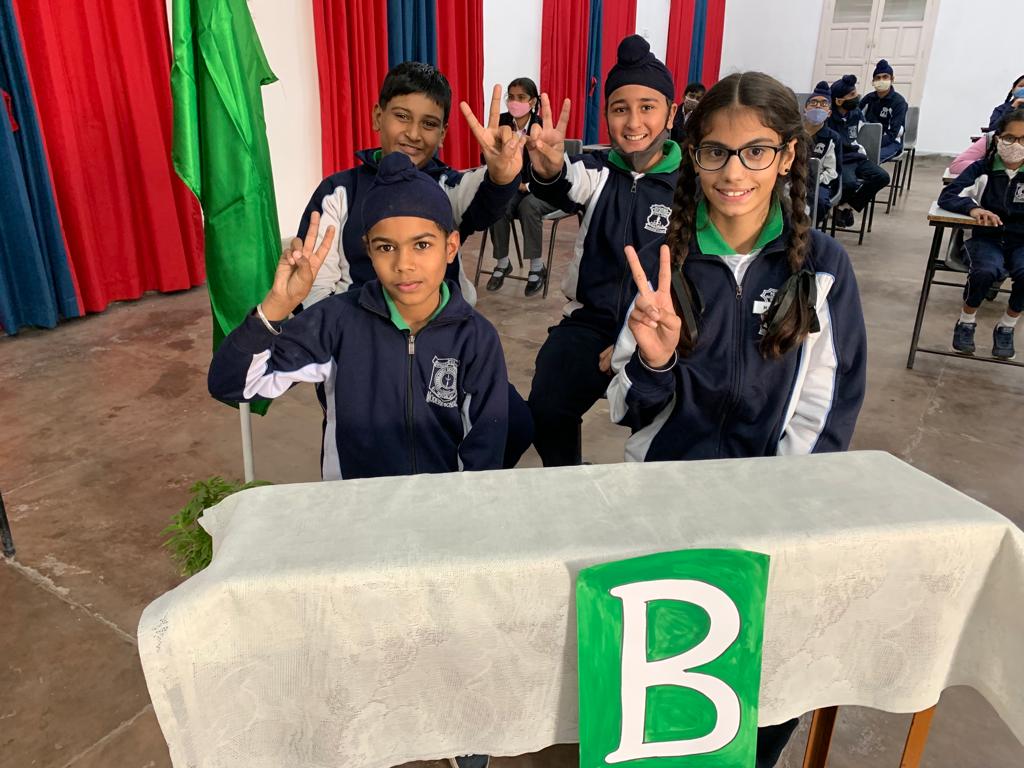 Inter-House Science Quiz!
An Inter-House Science Quiz for Class 6 students on 7 December 2021 saw Varsha House winning the day. Congrats Anmolpreet (6A), Pranav (6A), Ridhima (6B) & Amanpreet (6B)! The questions revolved around the environment, food, life processes, electricity, etc.
Story Time, Fun Time!
An English story-telling session has been held for Grade VI students, where students narrated interesting stories on topics like Friendship, Lying, Hard Work, Value of Time, Kindness and Anger. Students made use of props to bring extra drama to their stories!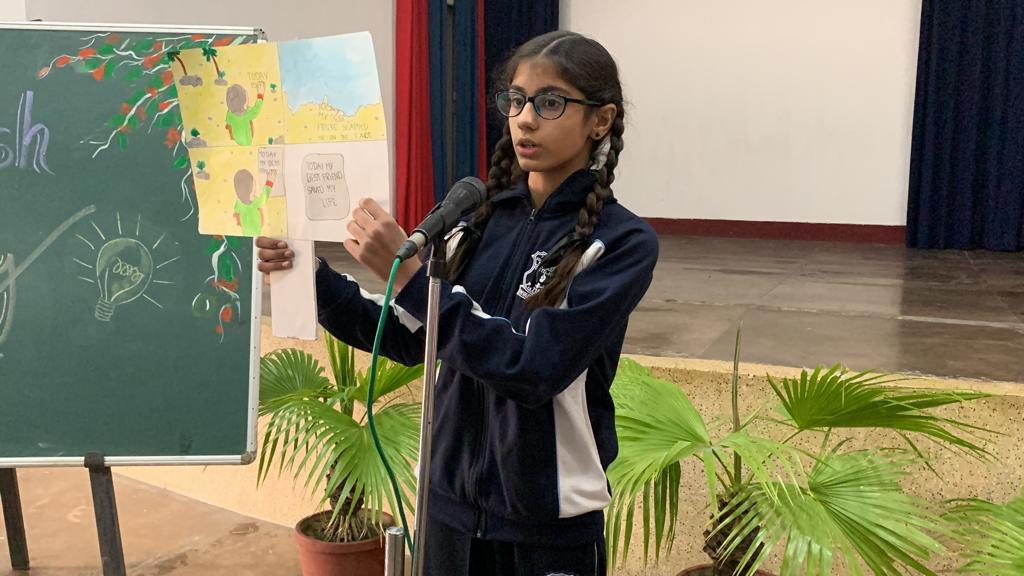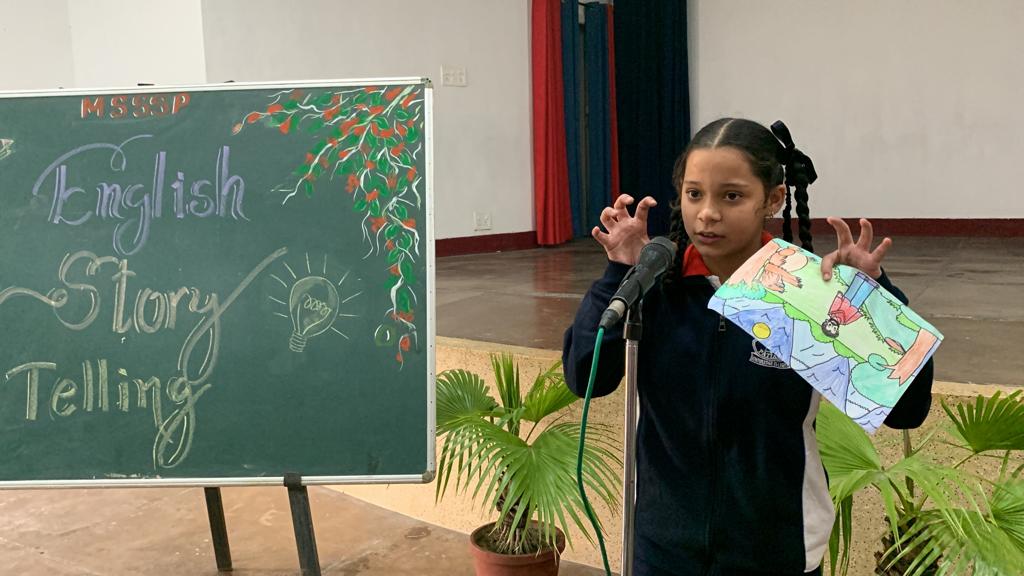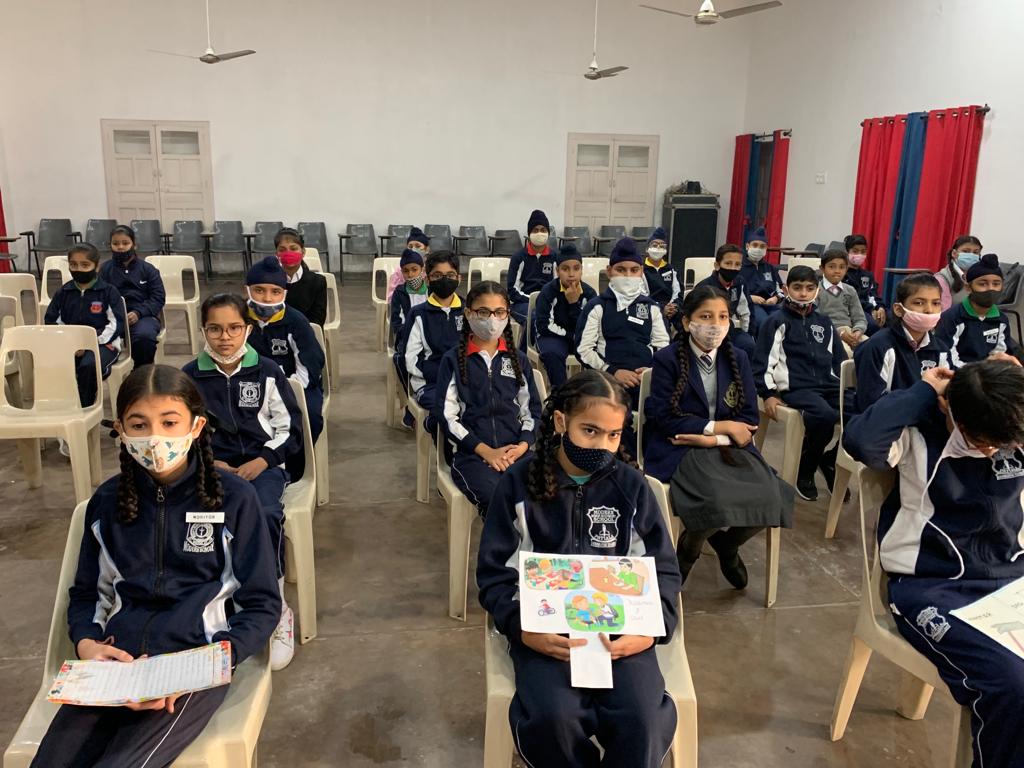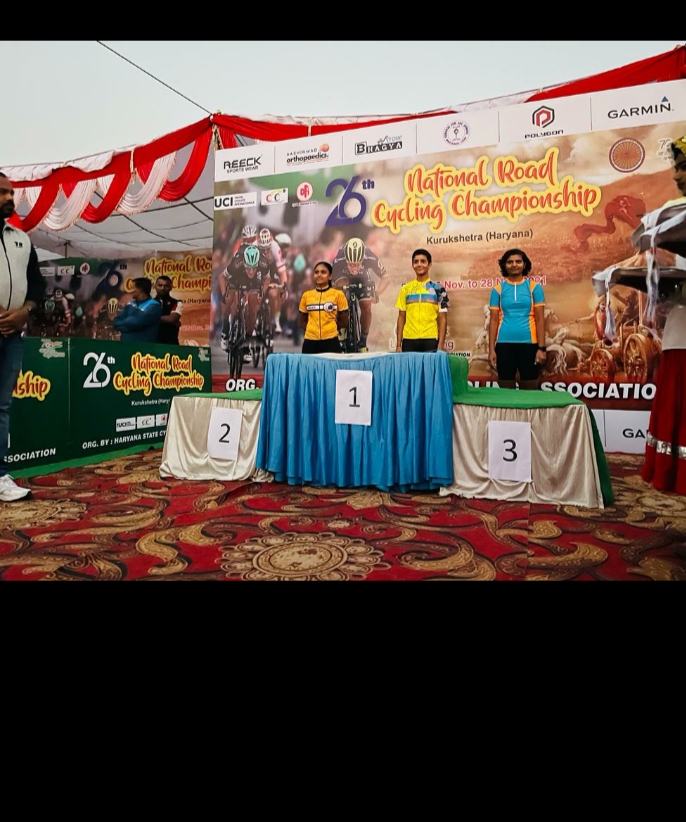 Modern School's Golden Girl!
Harshita Jhakhar of IX-C has won the Gold Medal in the 15 km Individual Time Trial, clocking 23:45 minutes, in the Sub-Junior category in the 26th National Road Cycling Championship. Three cheers (and many more) for Harshita!!
English Reading Activity!
A Paper Reading Activity for Class 5 students on 18 November 2021 saw 12 students speak on topics including 'Hard Work', 'Outdoor Games', 'Healthy vs Unhealthy Food', 'Books are our Best Friend' and 'Respecting Elders'.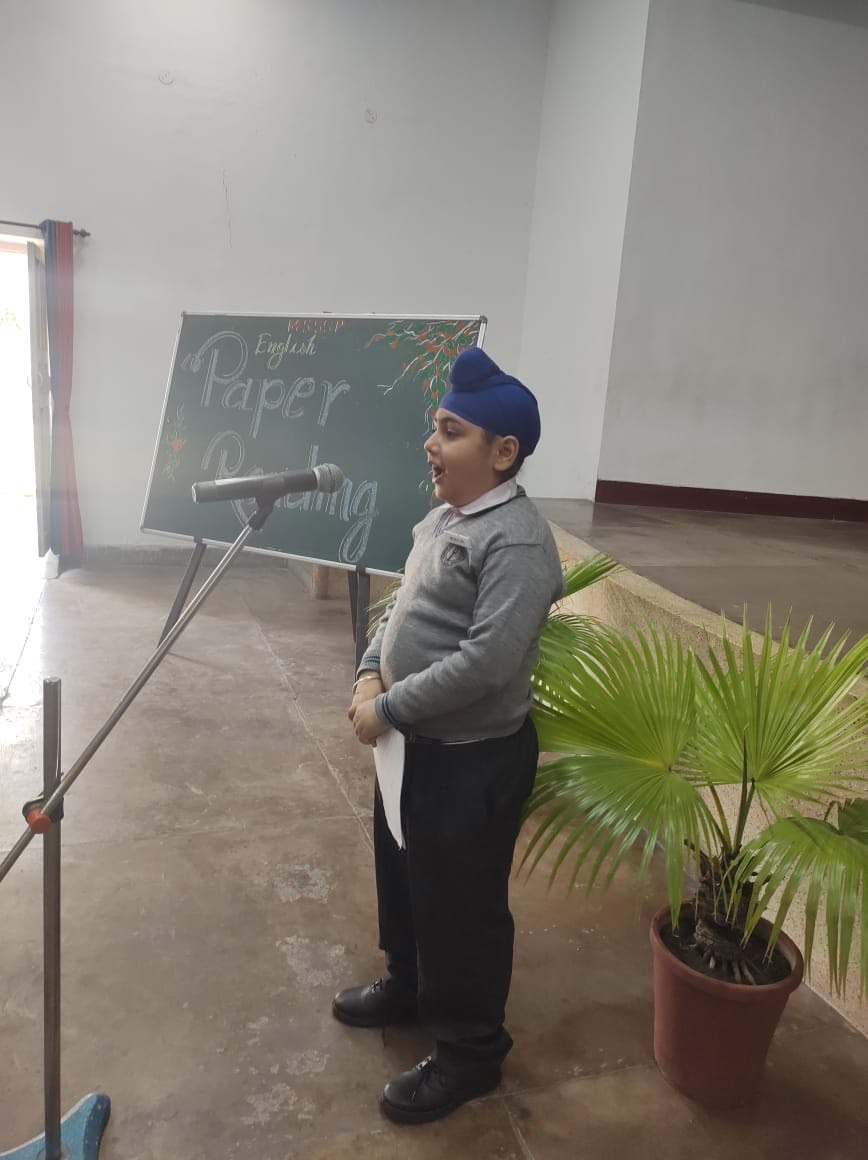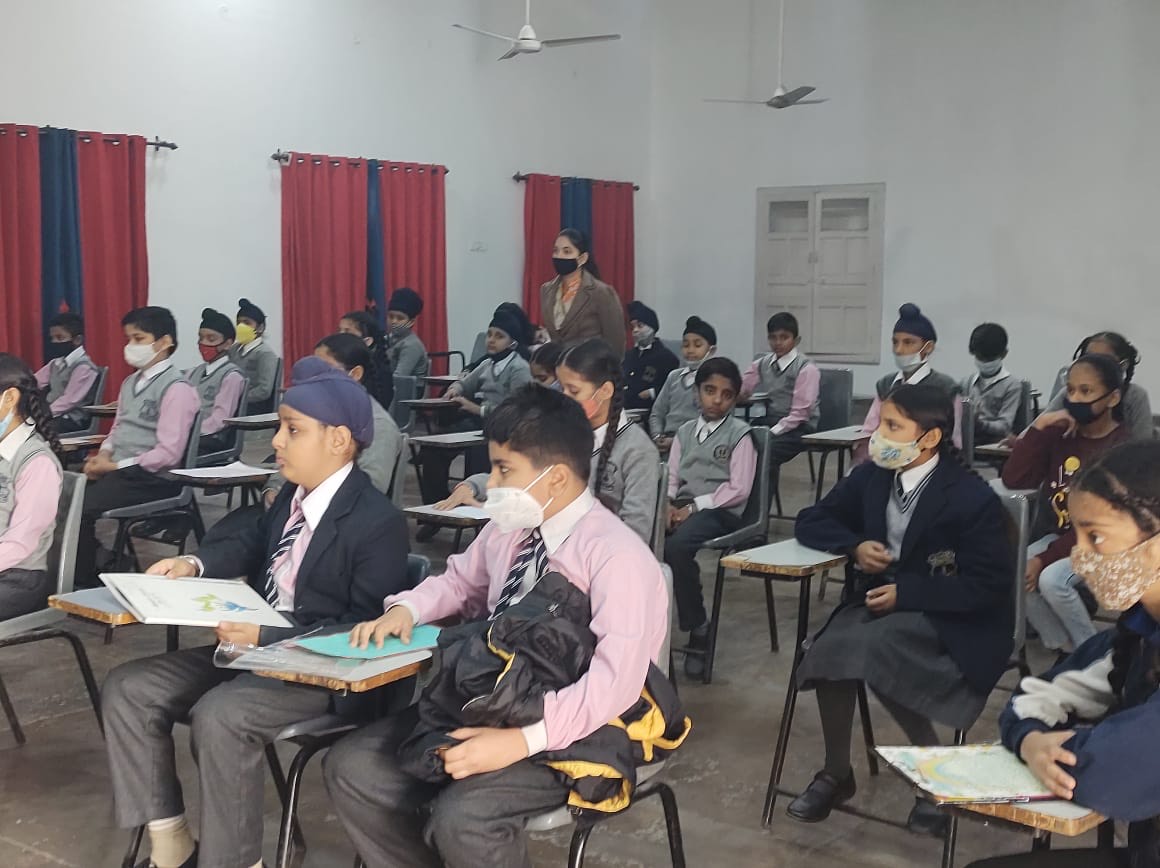 Fun on Children's Day!
Children's Day 2021 was celebrated with lots of fun games like a coin race, zig-zag race, German drill, etc. There were plenty of prizes given out. There were also talented performances put up by teachers - for students!
Check out the two videos - one from the middle and primary wings and one from the nursery wing of the school.
Say yes to diyas, no to patakas!
Students celebrating Diwali with prayers, rangoli (50 rangolis around the school), art & craft and making of diyas & candles!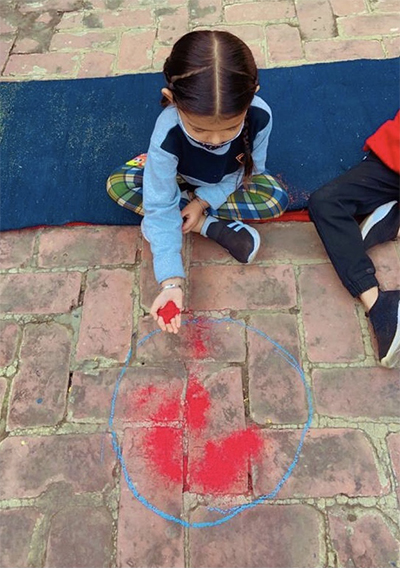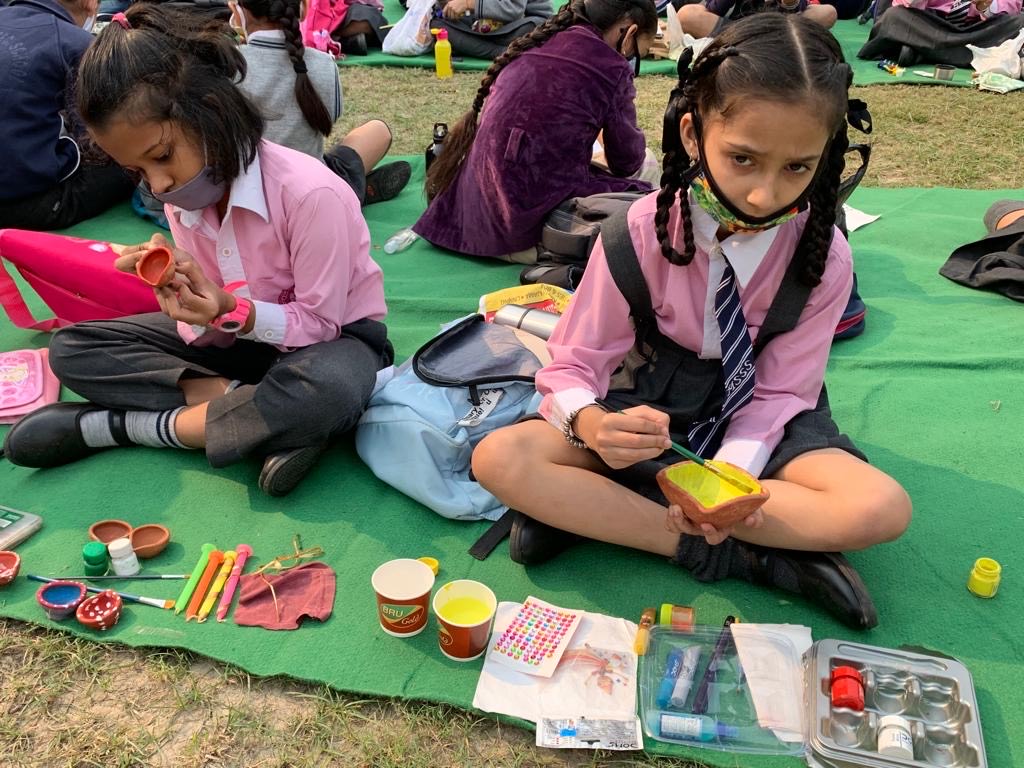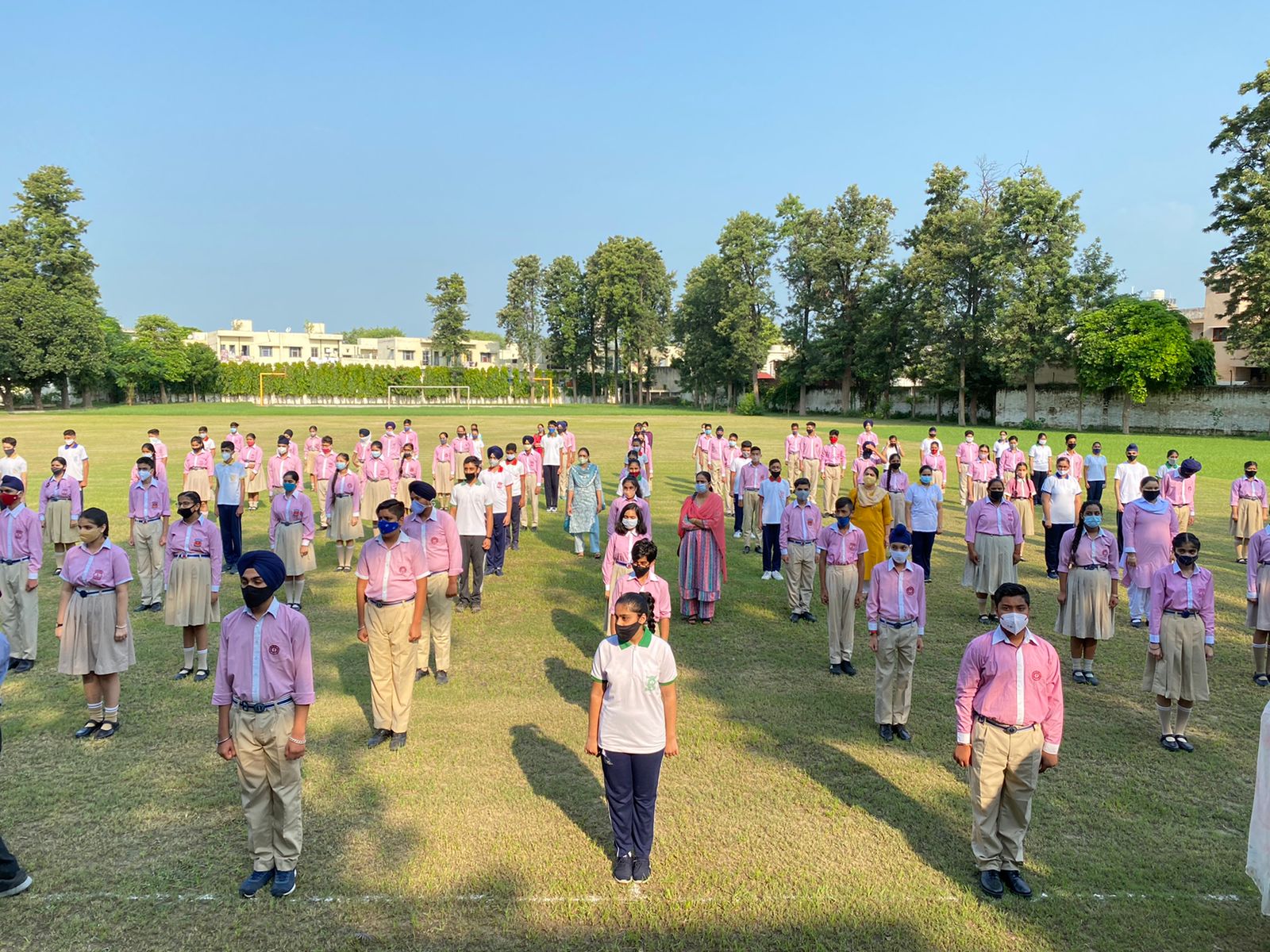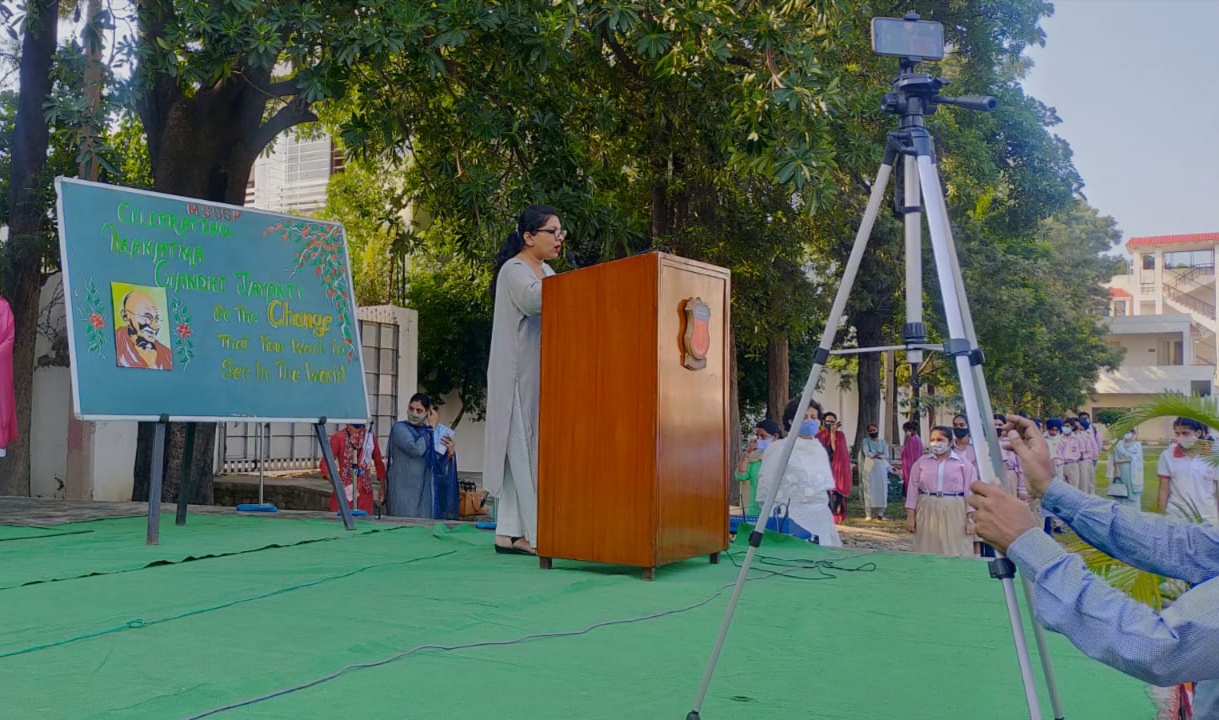 Remembering Bapu
Gandhi Jayanti on 2 October 2021 was celebrated with stories of Gandhiji and renditions of his favourite bhajans. Vaishnava Janato really touched the hearts of students and staff! For Classes 9 and 10, the celebration was offline. For others, it was online.
Gratitude on Teachers' Day!
Teachers' Day (5 September) was celebrated both online and offline with students offering their gratefulness to teachers in various creative ways. In our country's tradition, the teacher (Guru) occupies a very reverential space - and for good reason. Kudos to them!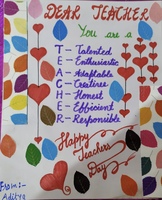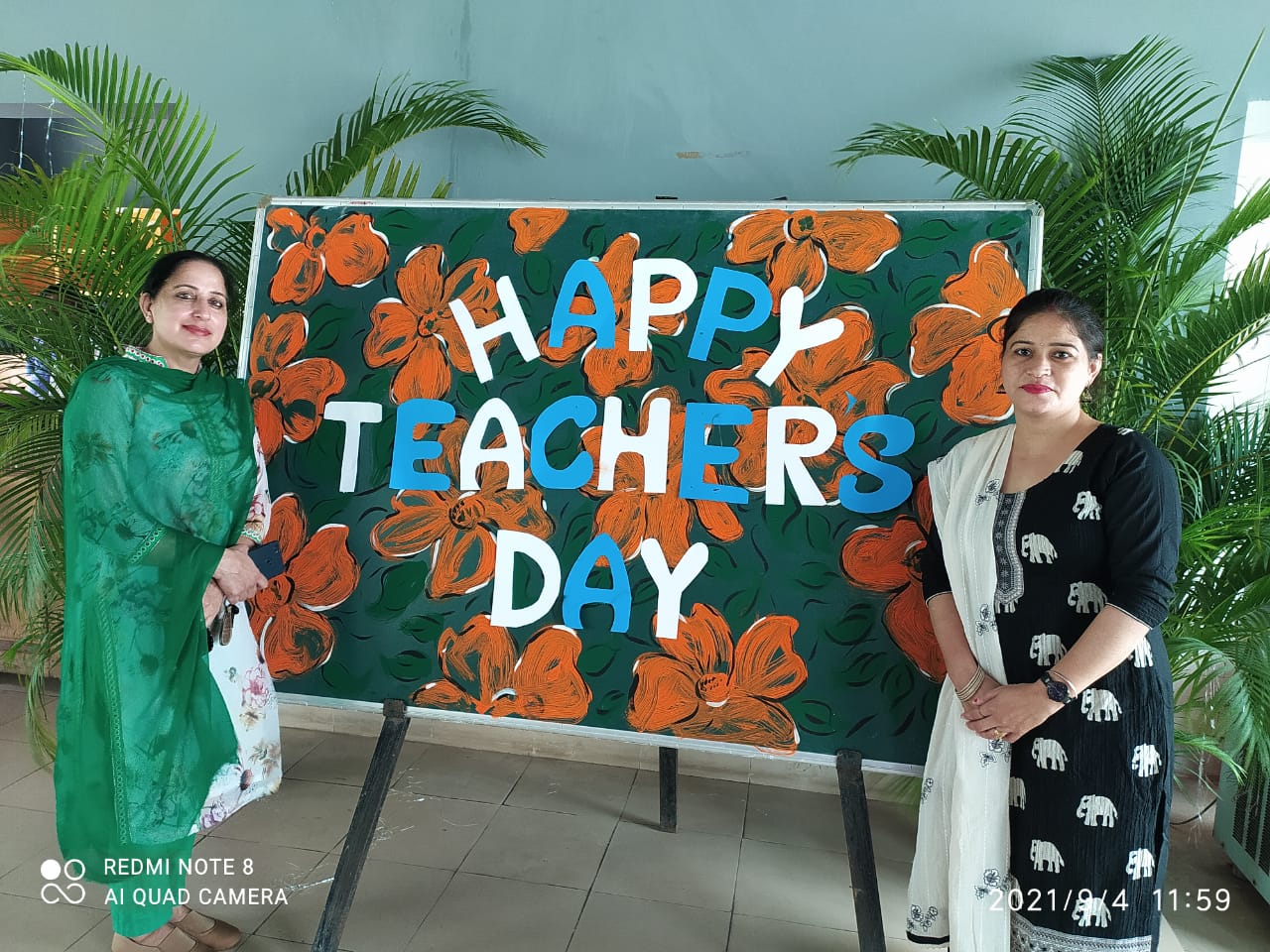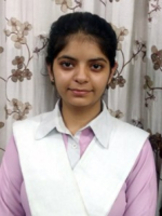 Jashanpreet Kaur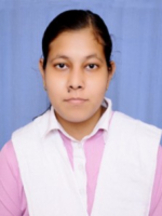 Yashana Goel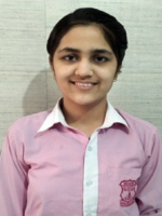 Manjyoat Kaur Pawar
MSSSP shines in Class 12 CBSE Board Examinations 2021!!
24 of our students have got 90% and above! 28 have got between 80% and 90%. 100% of our students have passed. The school toppers are:
(Commerce)
Jashanpreet Kaur: 97.2%.
Sampda Goel: 95.8%.
Anamika Sharma, Harpreet Singh & Yugum Kumar: 95.6%.
(Humanities)
Yashana Goel: 96.6%.
Priya Khanna: 95.6%.
Aritika Sharma: 95.4%.
(Science)
Manjyoat Kaur Pawar: 96%.
Gurnaaz Grewal & Harshpreet Singh: 94%.
Sagarika: 93.2%.
BIG BIG CONGRATULATIONS to the toppers and ALL the Class 12 students and all the staff of the school for these strong, fabulous results!!
MSSSP toppers in Class 10 CBSE Board Examinations 2021!
3 of our students have got over 90% and 16 have got between 80% and 90% marks! 100% of our students have passed. Here are the toppers!
Harpreet Singh Rajput: 92.6%.
Vishavjeet Singh: 92%.
Anoop Kaur: 90.4%.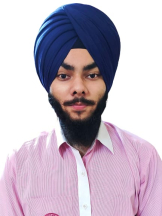 Harpreet Singh Rajput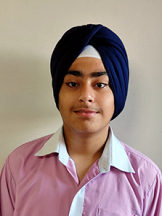 Vishavjeet Singh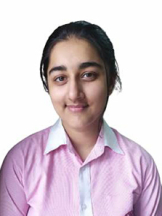 Anoop Kaur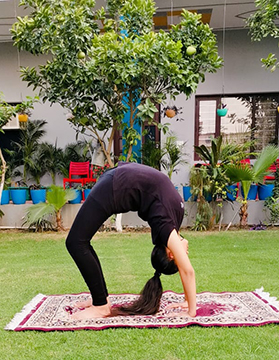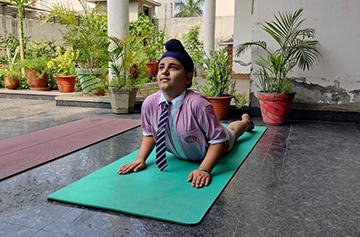 International Day of Yoga
On 21 June 2021, Modernites celebrated International Day of Yoga - from their homes. Yoga is one of the activities offered by our school and so many of our students do it on a regular basis. May all have peace and health!
Gunbir Singh, Class 5, is Punjab Champion!
Gunbir Singh of Class 5A has participated in the 58th National Roller-Skating Championship in Mohali in April 2021.
Earlier, he won the Gold Medal in the 1,000 metres and the Bronze Medal in the 500 metres at the 32nd Punjab Roller - Skating Championship at Rink Hall, Patiala, in February 2021.
Very proud of you Gunbir!!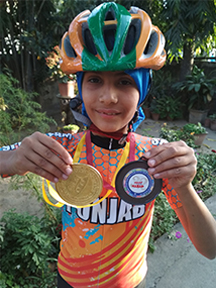 Gunbir Singh, Class 5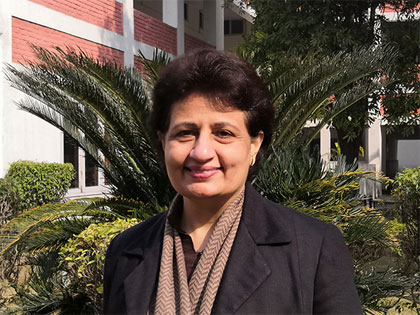 Mrs. Manpreet Sharma, M.Sc., B.Sc., B.Ed.
New School Boss Appointed!
Modern Senior Secondary School, Patiala, is pleased to announce that Mrs. Manpreet Sharma, M.Sc., B.Sc., B.Ed., has been chosen to officiate as the Principal of the School with effect from 1 April 2021!
Manpreet ji has been with the institution for nearly 25 years. She loves teaching Chemistry to Class 12 students. She's been serving as Vice Principal and has considerable administrative experience as well. All the very best to Mrs. Manpreet Sharma!!
Modernite Becomes National Chamption!
It's a matter of huge pride that Harshita Jakhar of Class 9C has, in the Youth Girls category, won the 10 KM Time Trial event at the 72nd National Track Cycling Championship in Hyderabad in March 2021 AND at the 24th National Road Cycling Championship in Mumbai!! A major celebration is due!!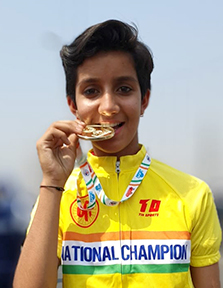 G.D.N.S. Road, Patiala - 147001, Punjab
Telephone: 0175-5007335
Email: mssspatiala@gmail.com
G.D.N.S. Road, Patiala - 147001, Punjab
Telephone: 0175-5007335
Email: mssspatiala@gmail.com